Show User Social Media
Hide User Social Media
Joined

Sep 8, 2006
Messages

15,788
The May Digimon Calendar
has been uploaded!
'Digimon Calendar' will be delivered at the beginning of each month to allow easy 'at a glance' Digimon updates for what is coming up.
Digimon Calendar contains 2 sections...
The actual calendar, which is quick at a glance details. (Dates/days are for Japan, based on on where you live it might be off slightly.)
It should be noted, the info, while decently wide, is not comprehensive. For example, they aren't showing Fun Digica and various other things which might be released as a surprise, along with some things that they just aren't announcing specific dates for (and some things that they've just chosen not to list.)
If there is a symbol in the top right, that means there is a magazine with planned Digimon content (the 21st for V-Jump for example.)
The reddish box on Sundays is for episodes of Digimon Adventure: (with the orange box on Monday being on demand repeats.)
Yellow boxes are for videos delivered via Bandai (the ones with the logo are delivered by Bandai Mania, which has been Digimon Classroom, Road to Digimon Card Master, etc.).
The slightly greyish boxes on Thursday are for Digimon Card Battle episodes.
Digimon Profile is the 2nd and 4th Wednesday of the month with the magnifiying glass icon.
There are also various additional things for May:
May 1st- Digimon Adventure: Best Selection, episodes being distributed free digitally for Golden Week
May 12th- Medawatch Revival (with Dim) Pre-orders close, 29th Fan Vote Starts,
May 15th and 22nd- Digimon Kitchen Car for Digimon Tamers 20th Anniversary
May 21st- Dim Card Capture Update (I believe this is when the App goes down for a bit to update for future Dim Card data to be added)
May 28th- Digimon Card Game Booster Set 6 Double Diamond is out, Digimon Adventure: SD illustrated goods are out, DigiCommunications Update at Digimon Partners
May 30th- Kaeko Living Fair Digimon Adventure: Collaboration held
May 31st- Dim Card Set volume 0.5 Mad Black Roar & True Shadow Howl Pre-orders close
On top of the calendar itself...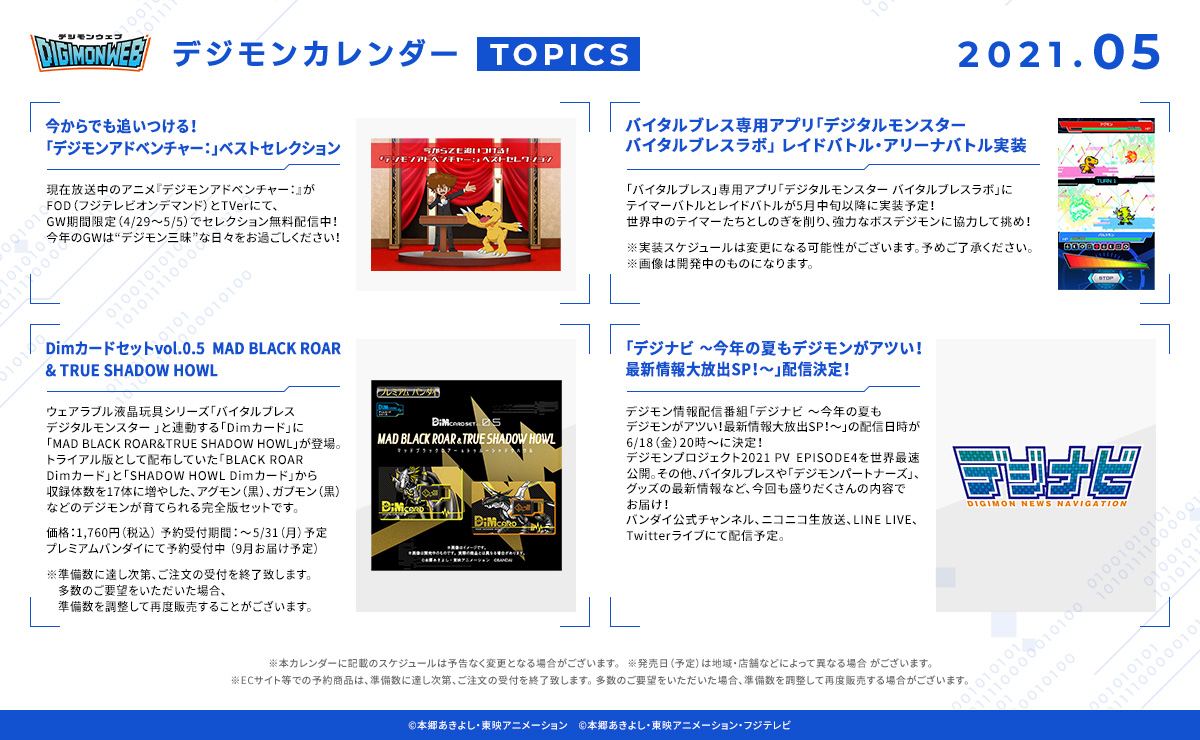 Topics covers a few specific items of note.
Best Selection gets detailed.
Dim Card Set Volume 0.5 gets detailed. They also mention that while they will close pre-orders once they hit the number they plan to make, if that happens quickly enough they may do a 2nd pre-order period.
The Vital Bracelet app will get updated with the online battle and raid functions after mid-May. There is a small mention of competing 'with tamers from around the world', which hopefully bodes well with those waiting for the app outside of Japan (this timeframe roughly lines up with the Premium Bandai US release.)
DigiNavi- 'Digimon is hot this summer! The latest information big release special!' A full DigiNavi will be June 18th at 8pm (Japan time). The 4th Vital Bracelet short will also be shown during DigiNavi. They will 'deliver a lot of content such as the vital bracelet, Digimon Partners, the latest info on products, etc.'
Most of the May stuff we knew, but it still had a few reveals. Most notably... the collaboration at the end of May, and a full DigiNavi in June!