Show User Social Media
Hide User Social Media
Joined

Sep 8, 2006
Messages

13,779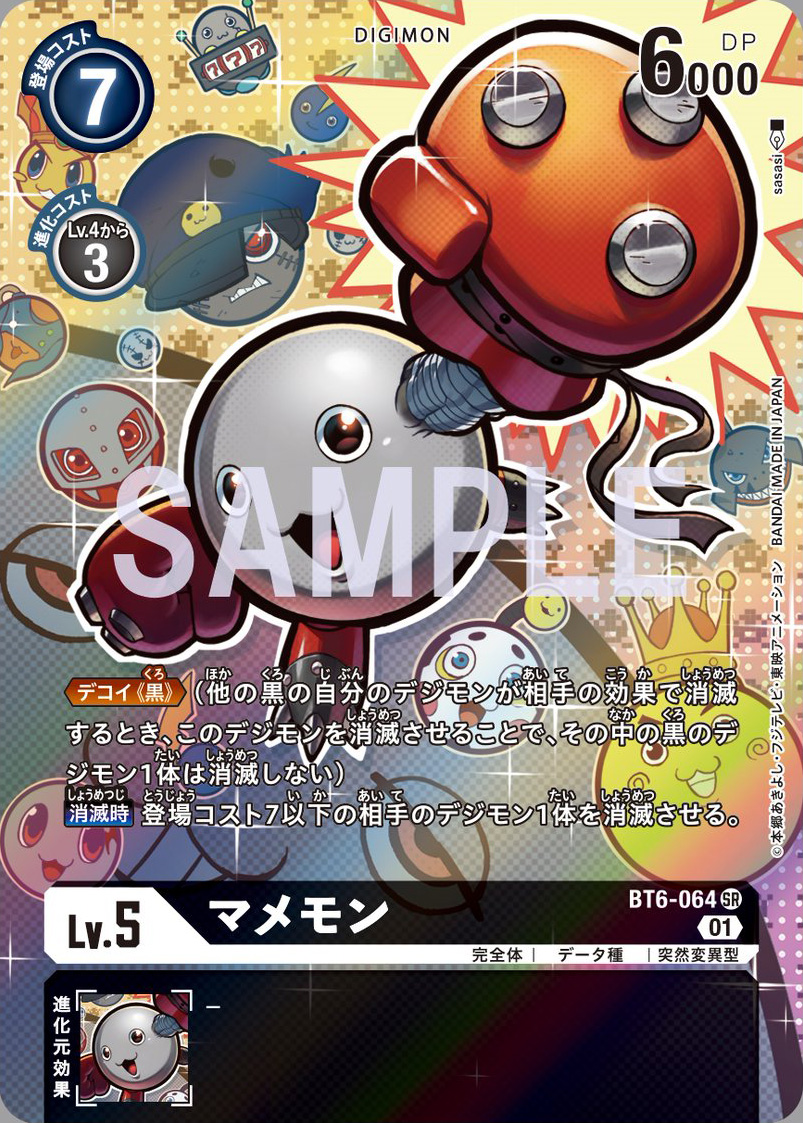 The Digimon Card Game Twitter
has updated with a bonus card preview from Booster Set 6 Double Diamond. This time it's the parallel card for Mamemon!
Mamemon gets some stylish almost comic book styled artwork, which features all the other Mamemons, along with his sprite in the background repeated.
Plus more...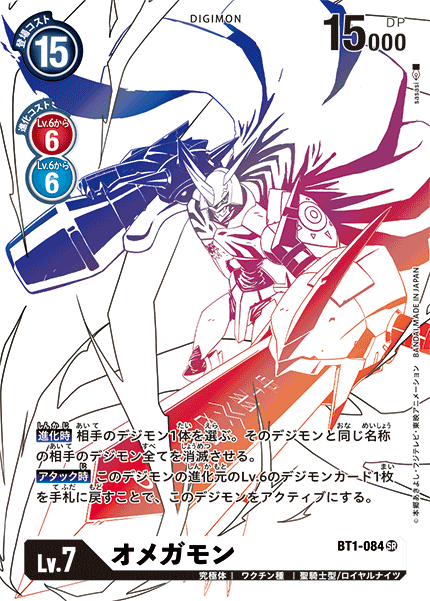 The card game site has added a clean image of the special parallel card of the Booster 1 Omegamon card included with BT06.
And even more...
Photos of a few more parallel cards of Booster set 6 cards! These are early looks at the parallel cards for Dynasmon, SkullGreymon (battling a tiny Ogremon), and Titamon (who is battling 2 Digimon who are quite small in the image, I think it's Minervamon and Marsmon [the 2nd is harder to tell with the image as is, it could be one of the alternate forms of one of the Olympos XII, or even Plutomon], and it appears they may also be on top of Ceresmon.)
And yet some more...
A set of box toppers for BT06 will feature parallel cards of the Baby 2 level Digimon in the set. So we get parallel cards of: PetitMeramon, Kyaromon, Bibimon, Pinamon, Pagumon, and Tsunomon.
These all feature the same artwork as the normal cards, but feature foil and various background effects.
And one more batch!
Most of the remaining 1 Year Vote Parallel Cards. These are pre-existing cards that didn't get parallel cards when they were initially released, so fans were able to vote for them to get them as box toppers. These all feature new artwork.
We previously saw Chaosmon: Valdur Arm awhile ago and Devimon yesterday, and with these 8 we've gotten looks at all 10 of the cards.
The previews this time are of the parallel cards for:
ST1-10 Hououmon
BT1-003 Upamon
BT2-083 Millenniumon
BT3-021 V-mon
BT3-039 Angewomon
BT3-046 Terriermon
BT3-057 SaintGalgomon
BT4-016 Aldamon
Thanks to
Digimon TCG Blog
for the card photos.
We have the the full set of standard card images for Booster Set 6.
Booster Set 6 Double Diamond is scheduled for release tomorrow in Japan.
Previous Card previews for Booster Set 6:
Sistermon Blanc & Sistermon Noir Titamon Dynasmon Kizuna Character Cards from V-Jump Gankoomon Pulsemon Packaging Preview, plus box topper Chaosmon: Valdur Arm Parallel Card Mojyamon, Shoutmon, Mamemon, Arbormon, Babmon, SkullGreymon, Grave Memory Booster, & Takeru and Hikari Flamon & Strabimon Machmon Bulkmon Kinkakumon & Ginkakumon ModokiBetamon Hackmon, plus Higher Resolution Packaging & Updated Looks at Agumon, Gabumon, Pulsemon, & Sistermon Noir and Blanc Jesmon Petaldramon Gundramon Reinforce Memory Boost Tamer Sora & Mimi & Magazine Previews of Bibimon and Parallel Cards of Agumon Bonds of Courage & Gabumon Bonds of Friendship Morphomon & Magazine 1st Look at Eosmon Ultimate plus more Agumon Tamer Menoa Taichi, Yamato, Eosmon Adult, & Parallel Cards of Agumon Bonds of Courage & Gabumon Bonds of Friendship Eosmon (Ultimate) Qinglongmon & More Majiramon Gewaltschwarmer MagnaKidmon Wizarmon Chikurimon Impmon BelleStarmon Alphamon & More Special Anniversary Parallel Omegamon Sistermon Blanc & Noir Parallels Jesmon & Gankoomon Parallels Pulsemon Parallel Agumon & Gabumon Parallels, plus photo of BelleStarmon Parallel
We have
clean card images of Booster Set 6 Double Diamond Cards, the 1st Anniversary Adventure Pack, and more
!
We've also gotten our
first details for Booster EX-01 Classic Collection
!
And images from previous Digimon Card Game releases:
Starter Decks 1, 2, and 3, and first 10 promo cards
Booster Set 1 New Evolution
Booster Set 2 Ultimate Power
V-Tamer Promo Cards
Purple/Black Promo Set
Tamer Battle Pack 1 and Tamer Battle Winner's Card
Booster Set 3 Union Impact
Starter Decks 4, 5, & 6, plus Tamer Battle Pack 2 & winner's Card 2, & 1st 2 scene vote cards
Booster Set 4 Great Legend, Tamer Battle Pack 3, 3rd Scene Vote, Dark Digimon Promo Pack, & Apparel Cards
Booster Set 5 Battle of Omega, plus Tamer Battle Pack 4, 4th Scene Vote, & Vital Bracelet Pack-In Cards
Starter Decks 7 & 8, plus Delay Promos, Tamers Battle Pack 5, 1st Anniversary Promos, & Pulsemon