Show User Social Media
Hide User Social Media
Joined

Sep 8, 2006
Messages

13,600
Laid-Back Camp
was slow moving and calm, so this time we have something that is still a bit slow moving, but has a bit more drama thrown in...
Rascal Does Not Dream of Bunny Girl Senpai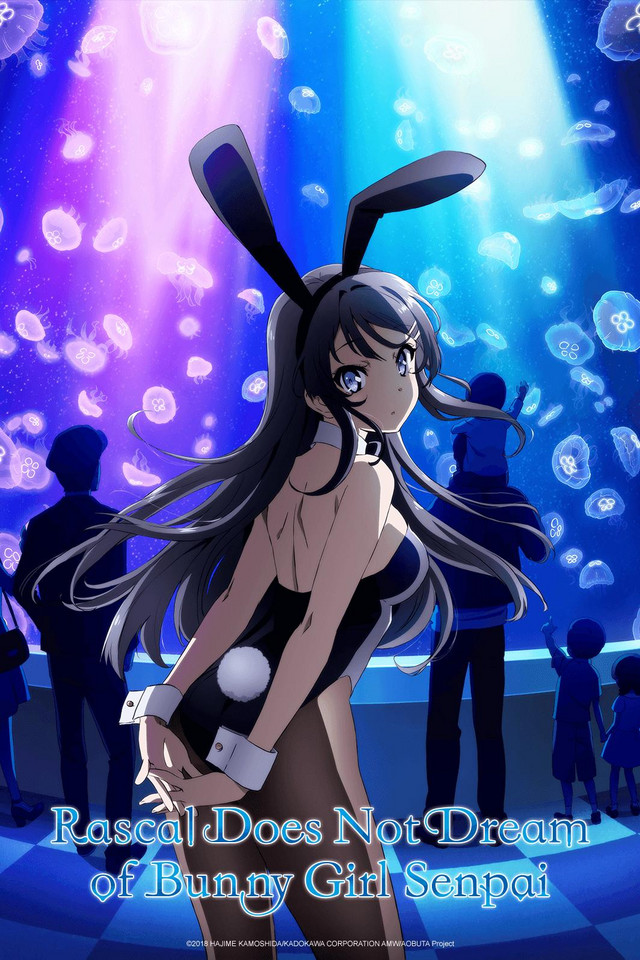 Some general fanservice and perverted comments by characters along with showing some blood and scars.
The series can be watched on the following officially:
Subbed on Crunchyroll
Subbed on Funimation
Subbed on Hulu
For this one we'll do the entire TV show, episodes 1 thru 13. This Wednesday and Thursday in the US the sequel movie "Rascal Does Not Dream of a Dreaming Girl"
will be in theaters
, so based on how quickly you can watch it, and if you like it, you might be able to see the movie on the big screen!
Bunny Girl Senpai (just to shorten it) takes various concepts that have shown up in other things and sort of makes them it's own. If you've watched Haruhi, Chunibyo, and a number of other shows you'll get some familiar ideas/concepts showing up, while the show itself feels very unique in how it makes use of them.
It starts off with Sakuta seeing a bunny girl that no one else seems to see, and recognizing it as an upper classman from his school. After talking to Mai, the bunny girl, and realizing the bubble of who can still see her is expanding (not to mention other elements beginning to become invisible), he dedicates himself to finding a way to help. From there other odd mysterious happenings keep swirling around him, along with him revealing elements of his own life that happened prior to the series. And not to mention it has a time loop at some point... but one that is far more pleasant to watch than the best known anime example...
A short description, but as part of them have to do with reveals of things, it's a proper enough one.
As for Digimon connections... only one decent one to go over:
Inori Minase plays Shoko in Bunny Girl Senpai. In Appmon she played Hajime, Sleepmon, and also Alice (including her singing.)
I've embedded a trailer as a preview.
Feel free to post as you wish in this thread. You can post as you are watching, episode by episode, when you finish. Whatever you want. Try and give it a couple days for later spoilers so people have time to try and view stuff without spoilers, while still interacting in the thread (especially if you decide to keep watching past the episode listed as the last one for the leadup.) If you watch one episode and it isn't for you, pop in to explain why. Have fun with it!
A new show/movie will go up each Sunday night (or early on Monday), but feel free to keep talking about older shows in their threads, or even watching past the listed episode.
If you want to
chat in the Discord you can
.
Hopefully you enjoy. Feel free to make any suggestions or ask an questions regarding the threads or the shows also.
Prior Leadups:
Final Leadup to tri.- Gundam Unicorn
(with index of tri. Leadup)
Leadup to Kizuna Week 1- Gundam Build Fighters
Week 2- Kimagure Orange Road
Week 3 (and 4)- Lupin the 3rd Part 4
Week 4 Movie- Redline
Week 5- Love, Chunibyo & Other Delusions
Week 6- Voltron
Week 7 (Devkyu Guest Slot!)- That Time I Got Reincarnated as a Slime
Week 8- Laid-Back Camp