Show User Social Media
Hide User Social Media
Joined

Sep 8, 2006
Messages

12,887
Voltron
skewed much older, so now we are jumping to something almost brand new!
This week is also a guest slot, with the show chosen by (with much of the writing also being done by...) Devkyu!
That Time I Got Reincarnated as a Slime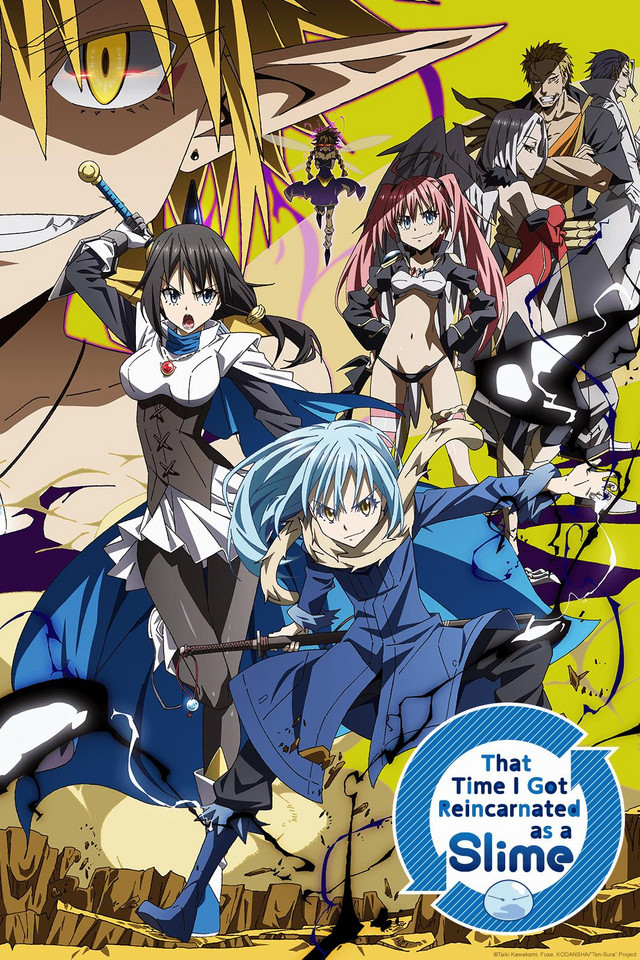 Some light fanservice on this one and a bit of fantasy violence.
The series can be watched on the following officially:
Subbed on Crunchyroll
Dubbed on Funimation
For this one we'll do the first overall arc of the series, the first 14 episodes. There are further episodes along with some OVAs if you want to continue watching.
The elements above are a combination of writing from Devkyu and myself, but the show description is all from her! (Slime was actually on my shortlist to end up in the leadup, so for her to pick it is extra fun!)
This is one of my favorite series and contains a lot of elements I've always been fond of: Monsters, more monsters, hilarious shenanigans, interesting character designs, continued worldbuilding and a protagonist I actually care about. Also monsters. Did I mention monsters? They are fluffy.

Originally I discovered the light novel while browsing around in B&N during a lunch break and the bordering ridiculous title caught my eye. A extremely refreshing take on the isekai genre, the protagonist is a slightly reclusive businessman with no romantic prospects whose coworker wants him to meet his girlfriend. That doesn't really go as planned and he gets shanked defending the two from a random stabbing and ends up… Reincarnated at a Slime in another world.

Rimuru then proceeds to befriend the hell out of everyone and build a peaceful monster society, sometimes via punching someone to their senses. Basically like recruiting Digimon to File City in Digimon World, each new addition adding skills and knowledge everyone can partake in.

Oh, and did I mention that monsters evolve? Because that's a thing. After gaining power, often bestowed by another giving them a Name, they have the ability to change into a variety of forms.
As for Digimon connections... there is a ton! So we'll only be going over a few (a number of which don't even show up in the episodes we'll be watching.)
Yoshimasa Hosoya, who played Yamato in tri. plays Youmu in Slime (although I don't believe he shows up in the episodes we'll be watching.)
Not to be outdone though, Natsuki Hanae, who plays Taich in tri. plays Yuki in Slime (although again... not in these episodes.)
We also get Hikari from tri., MAO! She plays Shion in Slime
Kenji Nomura plays Geld in Slime. Digimon fans would known him best as Nanimon in Adventure or Arbormon in Frontier.
Kazuya Nakai plays Laplace in Slime. In Digimon Savers he was Gaomon.
Makoto Furukawa was Yuujin in Appmon and he's Benimaru in Slime.
And we finish with Takahiro Sakurai, who plays Diablo in Slime (but not in these episodes!) In Digimon he's played a ton of characters, but is probably best known as Tentomon and his evolutions in Adventure, 02, and tri, Dorurumon and Dondokomon in Xros, and Psychemon in Hunters.
I've embedded a Youtube clip of a preview of the series.
Feel free to post as you wish in this thread. You can post as you are watching, episode by episode, when you finish. Whatever you want. Try and give it a couple days for later spoilers so people have time to try and view stuff without spoilers, while still interacting in the thread (especially if you decide to keep watching past the episode listed as the last one for the leadup.) If you watch one episode and it isn't for you, pop in to explain why. Have fun with it!
A new show/movie will go up each Sunday night (or early on Monday), but feel free to keep talking about older shows in their threads, or even watching past the listed episode.
If you want to
chat in the Discord you can
.
Hopefully you enjoy. Feel free to make any suggestions or ask an questions regarding the threads or the shows also.
Prior Leadups:
Final Leadup to tri.- Gundam Unicorn
(with index of tri. Leadup)
Leadup to Kizuna Week 1- Gundam Build Fighters
Week 2- Kimagure Orange Road
Week 3 (and 4)- Lupin the 3rd Part 4
Week 4 Movie- Redline
Week 5- Love, Chunibyo & Other Delusions
Week 6- Voltron