Show User Social Media
Hide User Social Media
Joined

Sep 8, 2006
Messages

16,417
After
Lupin
and
Redline
were both more actiony, something a bit... well not quite calmer, just less actiony seems like it'd be fun.
Love, Chunibyo & Other Delusions!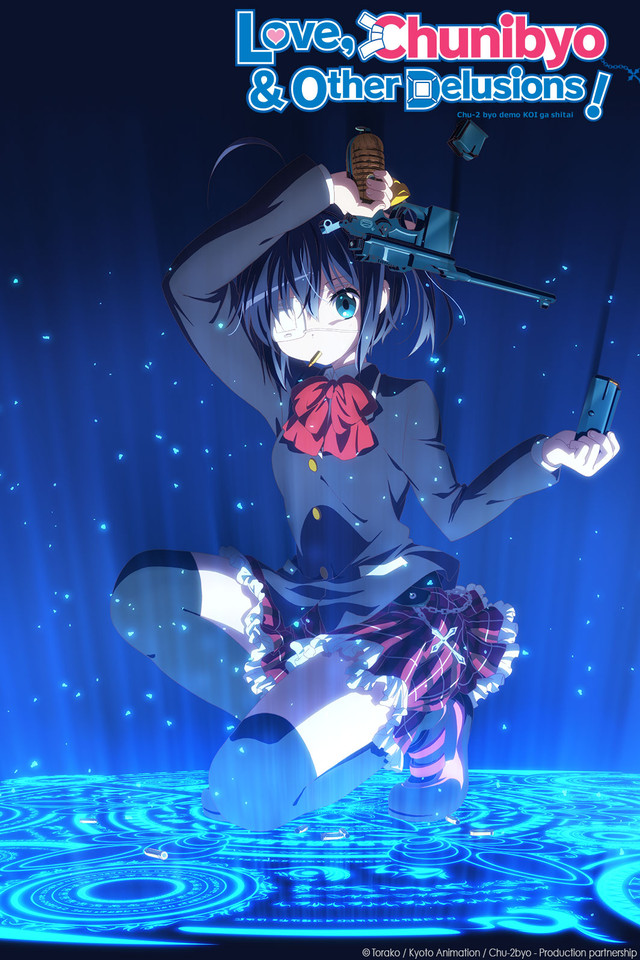 This one has some fanservice, but nothing that wild.
Love, Chunibyo & Other Delusions is just well... fun.
The entire film can be watched on the following officially: (some are free, others are paid subscription)
Subbed on Crunchyroll
Subbed on Hulu
Subbed and dubbed on HiDive
This one is just season 1, 12 episodes.
Yuta is starting high school, and eager to get away from the life he had in junior high, when he was a chunibyo. One of a number of young kids so eager to be special, he convinced himself he had special powers and knowledge. But he was able to break free of his delusions and chunibyo and can make a fresh start. Until he meets Rikka, a chunibyo in his class, and also his neighbor... and also she knows about his chunibyo past.
On top of Rikka, Yuta meets a number of other people at his new school, some chunibyo, some not. But they all seem to want to crush him dream of being a normal student.
Love, Chunibyo & Other Delusions as I mentioned above, is just a fun show to watch. It has great animation care of KyoAni, and all the characters in it have their personalities and characters defined extremely well. The show isn't just comedy, as it mixed in some good character drama in with it.
Those familiar with any number of other KyoAni shows will recognize a number of themes and elements that have shown up in other shows (an obvious example being Haruhi, as the theme here is effectively an inversion of Haruhi.)
While we are only doing season 1, the series had a season 2, a few OVAs, a compilation film for season 1, a bunch of minisodes, and a rather great finale movie.
There are only a handful of major obvious connections with Digimon, so here they both are!:
Soichiro Hoshi, who was Masaru in Digimon Savers plays Yuta's first high school friend, who is always suffering, often due to his own actions.
Kanae Oki, who was Yuu in Digimon Xros Wars plays... a random student! And also the cat!
And while not a direct connection... based on a number of character elements (to say nothing of the character designs themselves), Impmon X seems very likely to be based on Rikka.
I've embedded a Youtube clip of the intro to the series as a preview.
Fans of anime memes will recognize any number of them that came from the opening alone.
Feel free to post as you wish in this thread. You can post as you are watching, episode by episode, when you finish. Whatever you want. Try and give it a couple days for later spoilers so people have time to try and view stuff without spoilers, while still interacting in the thread (especially if you decide to keep watching past the episode listed as the last one for the leadup.) If you watch one episode and it isn't for you, pop in to explain why. Have fun with it!
A new show/movie will go up each Sunday night (or early on Monday), but feel free to keep talking about older shows in their threads, or even watching past the listed episode.
If you want to
chat in the Discord you can
.
Hopefully you enjoy. Feel free to make any suggestions or ask an questions regarding the threads or the shows also.
Prior Leadups:
Final Leadup to tri.- Gundam Unicorn
(with index of tri. Leadup)
Leadup to Kizuna Week 1- Gundam Build Fighters
Week 2- Kimagure Orange Road
Week 3 (and 4)- Lupin the 3rd Part 4
Week 4 Movie- Redline