Show User Social Media
Hide User Social Media
Joined

Sep 8, 2006
Messages

16,417
This time we have something much more actiony and a bit newer.
Lupin the 3rd Part 4!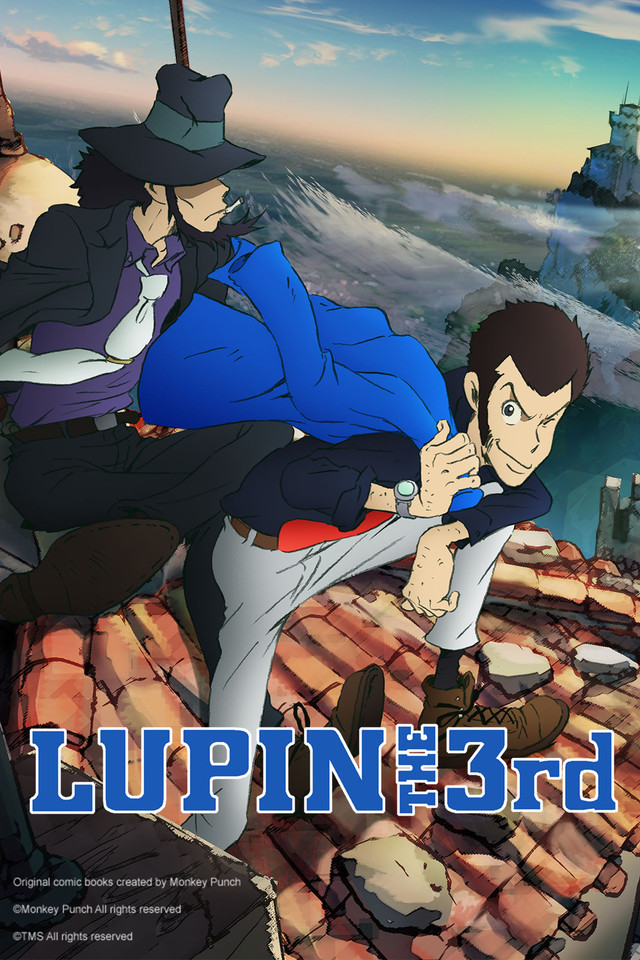 Some fanservice, violence, etc. for this one.
Lupin the 3rd Part 4 might mean a bit more (and have a few things) if you've seen prior Lupin, but it honestly isn't needed. If you're completely unfamiliar with Lupin this is a great place to start, so no worries on that.
The entire show can be watched on the following officially:
Subbed on Crunchyroll
Dubbed on Funimation
This one we will say is 'officially' one we will do for 2 weeks and it'll be the full 26 episode run, although Week 4 will get a movie or other short content for those who end up not interested in Lupin (or who just have the time.)
For reasons of disclosure, I worked a bit on this show.
Due to the way this specific series was produced, the sub and dub are different. It originally aired in Italy with an Italian soundtrack, and then later aired in Japan with a soundtrack by Lupin's normal composer. In addition, the episodes "Venice of the Dead" and Nonstop Rendezvous" didn't air on Japanese TV, but were included as bonus episodes on DVD/Blu-ray later. Those 2 episodes are included in the lineup on Crunchyroll, but at the end of the series.
Lupin the 3rd Part 4 also feels like it's where we started to get some longer term cast consistency for the 'primary' type Lupin content, as it brings back the popular English cast from Lupin the 3rd Part 2 (dubbed over 15 years prior), who have continued to be the English cast in most dubbed Lupin content since then. The dub uses the Italian episode order and soundtrack.
This is the Lupin series that was sort of a return to form for Lupin. After Part 3 Lupin stopped getting TV shows, got a handful of standard films, but was mostly just TV specials. After the spinoff "The Woman Called Fujiko Mine" series went for a slightly more mature and darker take (which still continues on through a series of films with different branding) it was decided to try doing another mainline Lupin TV series for the first time in 30 years, and it was not only very good, it was received insanely well.
The show feels like it really lit a fire under a sort of Lupin renaissance that (at least to me) feels like it began a few years earlier with the special Blood Seal of the Eternal Mermaid. That renaissance has continued on with the 'darker' "Lupin the IIIrd" content that continued on from the Fujiko series, more TV specials, a recent 5th TV series (currently in the midst of it's run on Toonami, after Part 4 had a successful run awhile back), and even an upcoming and very nice looking CGI film in Japan.
Lupin is fun, and while the most common comparison is probably something like James Bond, Lupin tends to be looser and more aimed at 'fun' in most cases.
There are so many Digimon connections with Lupin Part 4 I had to skip over quite a few prominent ones just to keep it reasonably short.
Daisuke Namikawa is the Japanese voice of Goemon in Lupin Part 4. Digimon fans will recognize him as Daigo in tri.
As for English, just some of the more major characters in the show are all Digimon cast members... (and many of them played many more roles than listed, but chose to pick prominent ones to again keep it somewhat brief.)
Doug Erholtz is Zenigata in Lupin. In Digimon he was Chuumon and MetalSeadramon in Adventure, TK in 02, Dinohumon in the Frontier movie, and Daigo in tri. (Both Daigos are in Lupin!)
Jamieson Price plays Leonardo da Vinci in Lupin! in Digimon he also had many roles... including... Oikawa in 02, Janyu Wong in Tamers, Seraphimon in Frontier, Sampson in Data Squad, and later in tri. took over the role of Angemon and his higher forms.
Lex Lang is Goemon in Lupin! (in fact, all the main Lupin gang minus one have prominent Digimon roles.) In Digimon he was WarGreymon in Adventure and 02 and Cyberdramon in Tamers, plus the Locomon in the 2nd Tamers movie.
Michelle Ruff is Fujiko in Lupin. In Digimon she was Lopmon in Tamers, Zoe in Frontier, and Sparrowmon in Fusion.
And Richard Epcar directed the dub and played Jigen. His Digimon roles included Etemon and Myotismon in Adventure, Mephistomon in the Tamers movie, Merukimon in Data Squad, and Tuwarmon in Fusion.
I've embedded a Youtube clip of the opening to the series as a bit of a preview.
Feel free to post as you wish in this thread. You can post as you are watching, episode by episode, when you finish. Whatever you want. Try and give it a couple days for later spoilers so people have time to try and view stuff without spoilers, while still interacting in the thread (especially if you decide to keep watching past the episode listed as the last one for the leadup.) If you watch one episode and it isn't for you, pop in to explain why. Have fun with it!
A new show/movie will go up each Sunday night (or early on Monday), but feel free to keep talking about older shows in their threads, or even watching past the listed episode.
If you want to
chat in the Discord you can
.
Hopefully you enjoy. Feel free to make any suggestions or ask an questions regarding the threads or the shows also.
Prior Leadups:
Final Leadup to tri.- Gundam Unicorn
(with index of tri. Leadup)
Leadup to Kizuna Week 1- Gundam Build Fighters
Week 2- Kimagure Orange Road