Show User Social Media
Hide User Social Media
Joined

Sep 8, 2006
Messages

14,708
After
Gundam NT
going back to doing a show that's a bit easier for people to watch...
Interviews With Monster Girls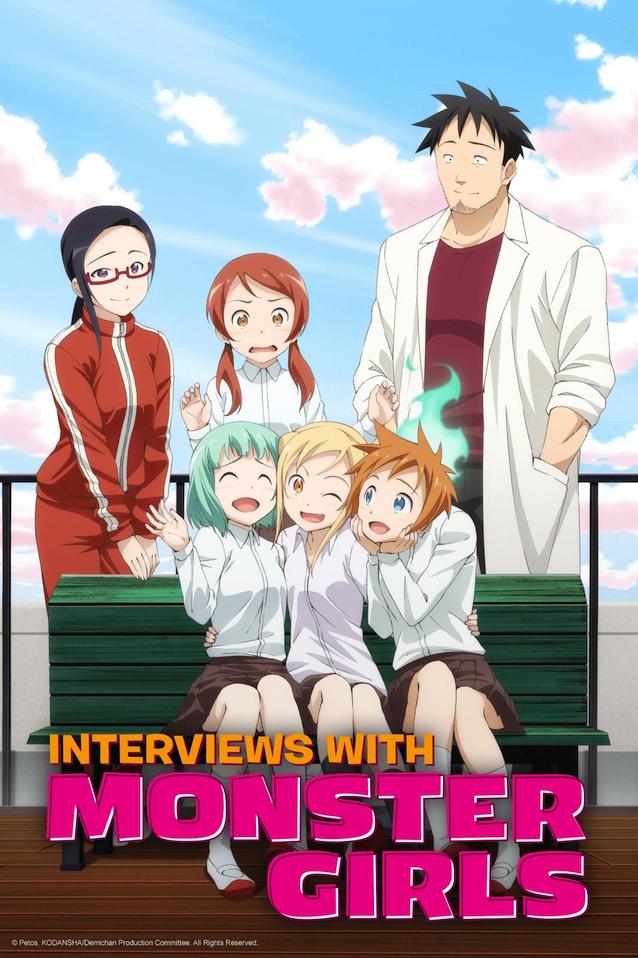 Some fanservice in this one.
The series can be watched on the following officially:
Subbed on Crunchyroll
Dubbed on Funimation
The show is just 12 episodes plus a single OVA episode, so the whole thing works.
Takahashi wants to study the phenomena of demi-humans, who used to just appear in stories, but have been more and more accepted into normal society. While once thought to just be stories, they are still exceedingly rare, and it's not very likely to happen in his job as a biology teacher. And then he meets a vampire, a dullahan, a snow woman, and a succubus.
Monster Girls is a fun comedy drama that does more than a few interesting things with the various characters in the show, and it's an enjoyable watch that even does throw in some actual issues for the various characters, generally using their status as demi-humans as a stand in for being different.
As for Digimon connections... there aren't many notable ones, but here are a few:
Haruo Satou is the Vice-Principal in Monster Girls. In Tamers he was Juri's father, plus he had a few other bit roles in the series.
Natsuki Hanae plays Takahashi's old friend Souma. In Digimon he was of course Taichi in tri. and is playing him again in Kizuna.
I've embedded the first episode as a preview:
Feel free to post as you wish in this thread. You can post as you are watching, episode by episode, when you finish. Whatever you want. Try and give it a couple days for later spoilers so people have time to try and view stuff without spoilers, while still interacting in the thread (especially if you decide to keep watching past the episode listed as the last one for the leadup.) If you watch one episode and it isn't for you, pop in to explain why. Have fun with it!
A new show/movie will go up each Sunday night (or early on Monday), but feel free to keep talking about older shows in their threads, or even watching past the listed episode.
If you want to
chat in the Discord you can
.
Hopefully you enjoy. Feel free to make any suggestions or ask an questions regarding the threads or the shows also.
Prior Leadups:
Final Leadup to tri.- Gundam Unicorn
(with index of tri. Leadup)
Leadup to Kizuna Week 1- Gundam Build Fighters
Week 2- Kimagure Orange Road
Week 3 (and 4)- Lupin the 3rd Part 4
Week 4 Movie- Redline
Week 5- Love, Chunibyo & Other Delusions
Week 6- Voltron
Week 7 (Devkyu Guest Slot!)- That Time I Got Reincarnated as a Slime
Week 8- Laid-Back Camp
Week 9- Rascal Does Not Dream of Bunny Girl Senpai
Week 10- Yowamushi Pedal
Week 11- Demon King Daimao
Week 12 (onkei Guest Slot!)- Aggretsuko
Week 13- Kill la Kill
Week 14- Super Gals
Week 15 (and 16)- Yu Yu Hakusho
Week 16 Short Series- Please Tell Me! Galko-chan
Week 17 (Classic Leadup)- Tenchi Muyo
Week 18 (Devkyu Guest Slot 2!)- Dragon Pilot: Hisone & Masotan
Week 19- The Irresponsible Captain Tylor
Week 20 (Logan Guest Slot)- The Legend of Black Heaven
Week 21 (Classic Leadup)- Haganai
Week 22- Ultraman
Week 23- SSSS.Gridman
Week 24- Haruka Nogizaka's Secret
Week 25 (Classic Leadup)- Tenchi Universe
Week 26- Samurai Troopers/Ronin Warriors
Week 27- Gundam NT