Show User Social Media
Hide User Social Media
Joined

Sep 8, 2006
Messages

12,248
After
Haruka Nogizaka's Secret
it seemed like a good time to jump back to a classic leadup. And this one certainly has no relevance to recent news at all...
Tenchi Universe!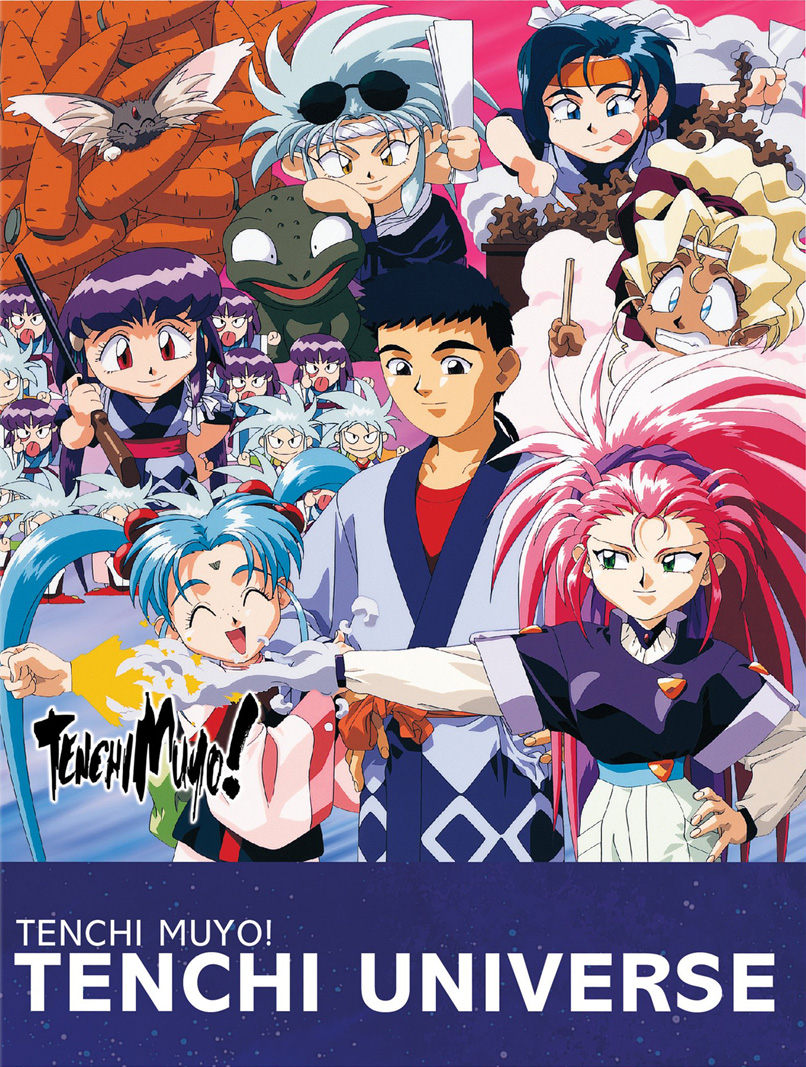 Mild violence, mild ecchi, not much to worry about.
The series can be watched on the following officially:
Subbed and dubbed on Funimation
Subbed on Youtube
(There are dubbed episodes on Funimation's Youtube also, but only a handful.)
Most of the this I actually rewrote from when
we did Tenchi Universe for the tri. leadup
. Some is reused from the original though...
We'll do half of the series, 13 episodes, which also ends a story.
Tenchi Universe is one of the more obvious reboots to do based on the recent news of the Digimon Adventure reboot.
Taking familiar characters and situations from the original OVAs, much of Tenchi Universe feels familiar while also putting it's own spin on things. By and large Tenchi has gone with stand alone spinoff universes, or even continuations of it's original universe, but most of the stand alone universes tend to take heavy inspiration from Universe itself.
While I'd say Universe isn't quite as good to me as the early OVA content, it tends to feel a bit smoother overall (likely partially based on general planning and having more episodes to do things in.)
If you've seen the OVAs there is some good things to compare and contrast (especially when the OVAs continued on years later), but Tenchi Universe acts as a pretty great introduction to the series even if you haven't been introduced to Tenchi before.
We have a few fun Digimon connections this time... (Copy pasted from the last few times Tenchi has been used in Kizuna and tri. leadups, with one recent addition...)
Tenchi himself is voiced by Masami Kikuchi who will be familiar to Digimon fans from more than a few roles... he had almost a dozen different roles in Adventure and Zero-Two, but most people will recognize him as Jou and Demon. In Tamers he was Grani and Rob McCoy. In Frontier he was the narrator AND Neemon. In Savers he was Kurata and Belphemon. And in Xros he was Damemon. His roles outside Digimon are so numerous it would take pages to just to explain them all.
Ayeka is voiced by Yuko Mizutani. Most of us would recognize her as Sora among many other non Digimon roles.
The primary villain in Tenchi is voiced by Norio Wakamoto, one of the best known 'villain' actors in anime. he didn't do much in Digimon, but his IceDevimon in Frontier was certainly memorable.
Wataru Takagi plays Kamidake in Tenchi Universe! In Appmon he was Denemon Shinkai and the voice of the AppliDrive.
I've embedded the old Toonami intro for the series as a preview:
Feel free to post as you wish in this thread. You can post as you are watching, episode by episode, when you finish. Whatever you want. Try and give it a couple days for later spoilers so people have time to try and view stuff without spoilers, while still interacting in the thread (especially if you decide to keep watching past the episode listed as the last one for the leadup.) If you watch one episode and it isn't for you, pop in to explain why. Have fun with it!
A new show/movie will go up each Sunday night (or early on Monday), but feel free to keep talking about older shows in their threads, or even watching past the listed episode.
If you want to
chat in the Discord you can
.
Hopefully you enjoy. Feel free to make any suggestions or ask an questions regarding the threads or the shows also.
Prior Leadups:
Final Leadup to tri.- Gundam Unicorn
(with index of tri. Leadup)
Leadup to Kizuna Week 1- Gundam Build Fighters
Week 2- Kimagure Orange Road
Week 3 (and 4)- Lupin the 3rd Part 4
Week 4 Movie- Redline
Week 5- Love, Chunibyo & Other Delusions
Week 6- Voltron
Week 7 (Devkyu Guest Slot!)- That Time I Got Reincarnated as a Slime
Week 8- Laid-Back Camp
Week 9- Rascal Does Not Dream of Bunny Girl Senpai
Week 10- Yowamushi Pedal
Week 11- Demon King Daimao
Week 12 (onkei Guest Slot!)- Aggretsuko
Week 13- Kill la Kill
Week 14- Super Gals
Week 15 (and 16)- Yu Yu Hakusho
Week 16 Short Series- Please Tell Me! Galko-chan
Week 17 (Classic Leadup)- Tenchi Muyo
Week 18 (Devkyu Guest Slot 2!)- Dragon Pilot: Hisone & Masotan
Week 19- The Irresponsible Captain Tylor
Week 20 (Logan Guest Slot)- The Legend of Black Heaven
Week 21 (Classic Leadup)- Haganai
Week 22- Ultraman
Week 23- SSSS.Gridman
Week 24- Haruka Nogizaka's Secret