Show User Social Media
Hide User Social Media
Joined

Sep 8, 2006
Messages

12,844
After
Ultraman
and
SSSS.Gridman
decided to go less actiony.
Haruka Nogizaka's Secret!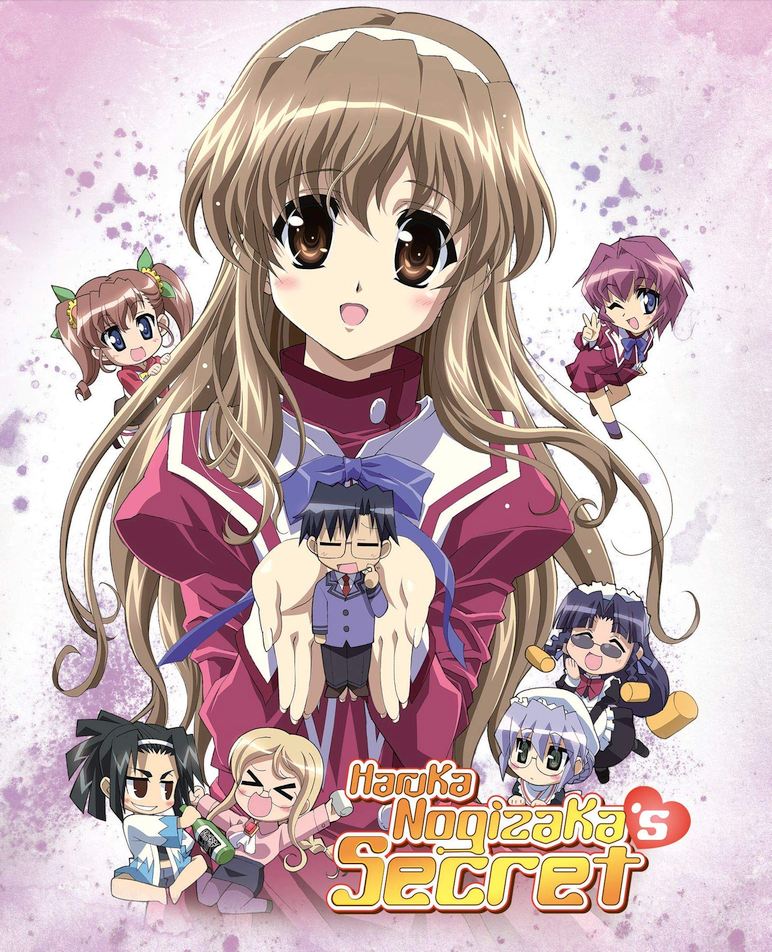 This one has fanservice, but nothing that goes super far.
The series can be watched on the following officially:
Subbed on Crunchyroll
Season 1 is 12 episodes, so we will go with that (Season 2 is on a different page on CR, so it'll at least be easy to avoid anyone getting confused.)
Discotek released this one, but I didn't work on it (the work on it had been complete by the time I was there.)
A kind of lighter take on a harem series, this one was near the top of my 'want it to be licensed so I can own a disc list' for basically a decade.
Yuuto Ayase goes to a private high school and is relatively average in nearly every way. When returning a book to the library he finds out the schools most unattainable girl is an otaku who goes far out of her way to hide her hobby since she's worried what'll happen if others find out.
The show is a cute and fun show that is filled with more than a few cliches, but put the pieces together in just a different enough way that it all works rather well and it ends up being a rather relaxing show to watch.
On top of Season 1, Season 2 (titled Purezza) was also licensed and released concurrently with Season 1 in the US. The OVA series that acts as a finale is unlicensed.
As for Digimon connections... Haruka Nogizaka's Secret has only a few (although if you look at animators, and other staff, quite a few worked on early Digimon films as key animators):
Hiroki Yasumoto plays Takenami, one of the 'classroom idiots', in Nogizaka. In Savers he played Belphemon and Franz Norstein.
Mamiko Noto plays Haruka herself in the show (along with singing in the end theme.) She's had a few small roles in Digimon, most notably Chocomon's baby voice in the 02 movie Hurricane Touchdown.
I've embedded the opening as a preview:
Feel free to post as you wish in this thread. You can post as you are watching, episode by episode, when you finish. Whatever you want. Try and give it a couple days for later spoilers so people have time to try and view stuff without spoilers, while still interacting in the thread (especially if you decide to keep watching past the episode listed as the last one for the leadup.) If you watch one episode and it isn't for you, pop in to explain why. Have fun with it!
A new show/movie will go up each Sunday night (or early on Monday), but feel free to keep talking about older shows in their threads, or even watching past the listed episode.
If you want to
chat in the Discord you can
.
Hopefully you enjoy. Feel free to make any suggestions or ask an questions regarding the threads or the shows also.
Prior Leadups:
Final Leadup to tri.- Gundam Unicorn
(with index of tri. Leadup)
Leadup to Kizuna Week 1- Gundam Build Fighters
Week 2- Kimagure Orange Road
Week 3 (and 4)- Lupin the 3rd Part 4
Week 4 Movie- Redline
Week 5- Love, Chunibyo & Other Delusions
Week 6- Voltron
Week 7 (Devkyu Guest Slot!)- That Time I Got Reincarnated as a Slime
Week 8- Laid-Back Camp
Week 9- Rascal Does Not Dream of Bunny Girl Senpai
Week 10- Yowamushi Pedal
Week 11- Demon King Daimao
Week 12 (onkei Guest Slot!)- Aggretsuko
Week 13- Kill la Kill
Week 14- Super Gals
Week 15 (and 16)- Yu Yu Hakusho
Week 16 Short Series- Please Tell Me! Galko-chan
Week 17 (Classic Leadup)- Tenchi Muyo
Week 18 (Devkyu Guest Slot 2!)- Dragon Pilot: Hisone & Masotan
Week 19- The Irresponsible Captain Tylor
Week 20 (Logan Guest Slot)- The Legend of Black Heaven
Week 21 (Classic Leadup)- Haganai
Week 22- Ultraman
Week 23- SSSS.Gridman