Show User Social Media
Hide User Social Media
Joined

Sep 8, 2006
Messages

12,701
After
Ultraman
it felt like it might be fun to continue with variations on a theme...
SSSS.Gridman!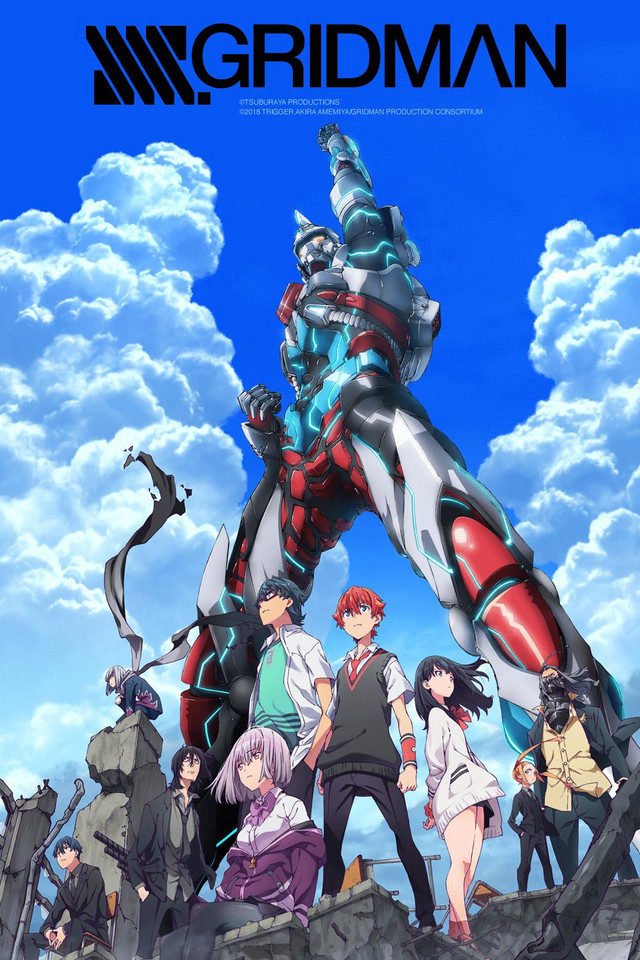 Action and violence and fanservice is about what to expect.
The series can be watched on the following officially:
Subbed on Crunchyroll
Dubbed on Funimation
The show is 12 episodes, which fits in nicely, so the whole thing if you have time.
A new take on the tokusatsu series Gridman, as an anime series, Yuta wakes up with amnesia and can see things others can't. Giant monsters appear and those they kill don't just die, they vanish from the memories of those who knew them. And then Yuta sees Gridman inside of old computer equipment.
Most interesting overall as far as random facts go, is the show takes inspiration not just from Gridman, but it's American counterpart, Superhuman Samurai Syber-Squad, along with a ton of references and bits for people to notice from other things (Transformers stuff especially.)
Ultraman went with an all CGI sequel, while the new Gridman goes with something a bit more classic in style (while also taking borrowing bits from a cancelled Gridman sequel.)
In a few different places even voices are references. If you watch SSSS.Gridman in English having seen SSSS, you'll notice the voice of the villain in the new show is a decent take on Tim Curry (who was the villain in the English version of the original series.)
And more with Gridman that's been happening...
SSSS.Gridman is getting it's US home video release in just a few weeks: (affiliate links)
SSSS.Gridman Blu-ray
SSSS.Gridman Blu-ray Limited Edition Version
Recently it was announced the primary staff is returning for SSSS.Dynazenon. (And SSSS.Gridman itself continues to get a relatively high amount of products coming out.)
And a few people who have been good sources for Mill Creek Ultraman info have been more than hinting that the original Gridman may be coming from Mill Creek sooner rather than later (which wouldn't surprise anyone since Mill Creek has been doing all the Ultraman BDs with Tsuburaya.)
As for Digimon connections... SSSS.Gridman has a few on the Japanese side, and interestingly enough, none on the English side. A few of the larger connections:
Suzuko Mimori plays Namiko (a friend of the one of the leads) and also sung an insert song. In Digimon she's Sora in tri. and Kizuna.
Kenichi Suzumura plays the mysterious boy in SSSS.Gridman. In Digimon Frontier he was Kouichi and his various Digimon forms.
Hikaru Midorikawa is Gridman himself. In Digimon he was Hippogryphomon in the Frontoer movie and Splashmon in Xros Wars.
I've embedded the opening as a preview:
Feel free to post as you wish in this thread. You can post as you are watching, episode by episode, when you finish. Whatever you want. Try and give it a couple days for later spoilers so people have time to try and view stuff without spoilers, while still interacting in the thread (especially if you decide to keep watching past the episode listed as the last one for the leadup.) If you watch one episode and it isn't for you, pop in to explain why. Have fun with it!
A new show/movie will go up each Sunday night (or early on Monday), but feel free to keep talking about older shows in their threads, or even watching past the listed episode.
If you want to
chat in the Discord you can
.
Hopefully you enjoy. Feel free to make any suggestions or ask an questions regarding the threads or the shows also.
Prior Leadups:
Final Leadup to tri.- Gundam Unicorn
(with index of tri. Leadup)
Leadup to Kizuna Week 1- Gundam Build Fighters
Week 2- Kimagure Orange Road
Week 3 (and 4)- Lupin the 3rd Part 4
Week 4 Movie- Redline
Week 5- Love, Chunibyo & Other Delusions
Week 6- Voltron
Week 7 (Devkyu Guest Slot!)- That Time I Got Reincarnated as a Slime
Week 8- Laid-Back Camp
Week 9- Rascal Does Not Dream of Bunny Girl Senpai
Week 10- Yowamushi Pedal
Week 11- Demon King Daimao
Week 12 (onkei Guest Slot!)- Aggretsuko
Week 13- Kill la Kill
Week 14- Super Gals
Week 15 (and 16)- Yu Yu Hakusho
Week 16 Short Series- Please Tell Me! Galko-chan
Week 17 (Classic Leadup)- Tenchi Muyo
Week 18 (Devkyu Guest Slot 2!)- Dragon Pilot: Hisone & Masotan
Week 19- The Irresponsible Captain Tylor
Week 20 (Logan Guest Slot)- The Legend of Black Heaven
Week 21 (Classic Leadup)- Haganai
Week 22- Ultraman