Show User Social Media
Hide User Social Media
Joined

Sep 8, 2006
Messages

16,640
After
Haganai
I decided to go with something 'really' new. In fact, it's new enough that based on your equipment, the show might look different...
Ultraman!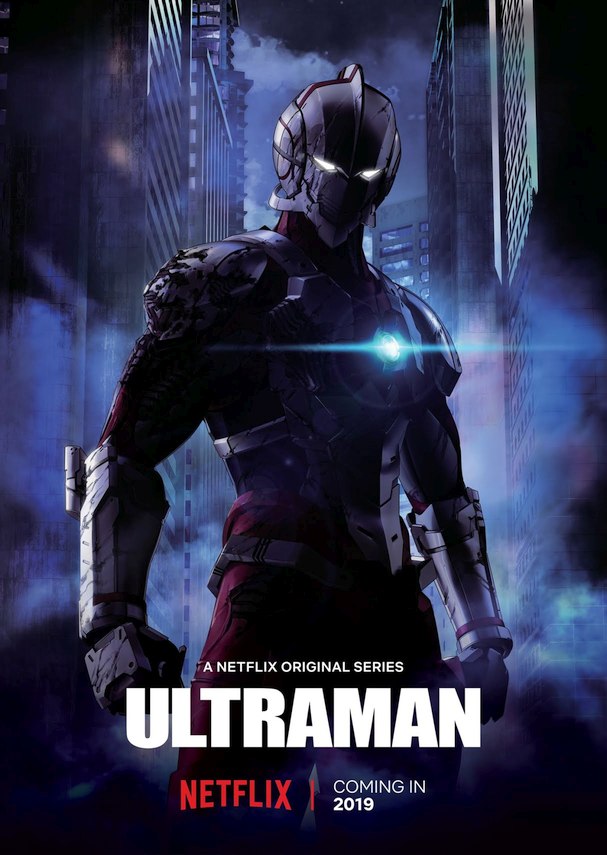 Violence and blood, think a PG-13 movie.
The series can be watched on the following officially:
Subbed and dubbed on Netflix
We'll do 13 episodes, which is all of Season 1.
Years have passed since Ultraman saved the Earth, with the giant becoming memory and legend. Shin, the Minister of Defense of Japan, and ex-member of the Science Special Search Party, a team that protected Earth from monsters and aliens, ends up regaining lost memories of his time as Ultraman, right when Ultraman is needed again. But his son Shinjiro appears to have inherited more than his father's name...
The CGI anime Ultraman is based on the currently running manga, which is a direct sequel to the original Ultraman tokusatsu series. It goes with a CGI style that has often shown up in anime, and often isn't liked, but the show makes it work well for it, and it's a decent watch. While the show is a direct sequel, it is aware of itself being a sequel where a lot of time has passed in the real world, and sets up it's own characters and elements well enough that you don't have to have seen the original show to watch the new one.
A few interesting bits of note... the show has been renewed for a second season, and if you have the proper TV and equipment, while the show isn't 4k, it has a proper HDR pass for richer colors and brightness.
The anime also ended up being the first step of a big 2019 for Ultraman fans in the US, as awhile after the show aired, it was announced 'all' of Ultraman had been licensed for Blu-ray in the US, with a number of affordable boxsets already available with them going back and forth between older classic shows and newer ones, with quite a few more announced for early 2020.
As for Digimon connections... Ultraman actually has a rather large selection, but here is a slim selection of a few interesting ones:
From the Japanese side...
Megumi Han plays Seiji Hokuto in Ultraman. She's also been a number of Digimon characters including Airu in Hunters, the 2nd voice of young Takeru in Adventure related content, and Nokia in Cyber Sleuth.
Hiroaki Hirata is Ace Killer in Ultraman. This is a change from Digimon where he plays Leomon, along with a number of other notable characters such as the Adventure narrator, young Gennai, Yamato and Takeru's father (not to mention others.)
Hideyuki Tanaka is Shin Hayata, Ultraman himself! In Digimon he was Omegamon for X-Evolution, along with Apollomon in Xros Wars.
Tatsuhisa Suzuki sung the theme song for Ultraman. In Digimon Savers he was Magnamon.
Shinji Aramaki, well known as a director and character/mech designer, was one of the directors and storyboarders for Ultraman. For Digimon Tamers he did CG design work later in the series.
From the English side...
Tara Sands plays Ultraman fan Rena Sayama in Ultraman. In tri. she was Kari.
Robbie Daymond plays Jack in Ultraman. In tri. he was Joe.
Matthew Mercer plays Bemlar in Ultraman (who you will meet quickly after the show begins.) In Fusion he was Omnimon, Beelzemon, and SkullKnightmon.
Jeff Nimoy is the dub director for Ultraman! For Digimon he did far to much to list, but he did writing and directing to different degrees for... Adventure, 02, the Movie, and Data Squad, and played a number of characters including Tentomon and young Gennai in Adventure, 02, and tri., Spencer Daimon in Data Squad, and a stack of other characters throughout.
I've embedded a trailer as a preview:
Feel free to post as you wish in this thread. You can post as you are watching, episode by episode, when you finish. Whatever you want. Try and give it a couple days for later spoilers so people have time to try and view stuff without spoilers, while still interacting in the thread (especially if you decide to keep watching past the episode listed as the last one for the leadup.) If you watch one episode and it isn't for you, pop in to explain why. Have fun with it!
A new show/movie will go up each Sunday night (or early on Monday), but feel free to keep talking about older shows in their threads, or even watching past the listed episode.
If you want to
chat in the Discord you can
.
Hopefully you enjoy. Feel free to make any suggestions or ask an questions regarding the threads or the shows also.
Prior Leadups:
Final Leadup to tri.- Gundam Unicorn
(with index of tri. Leadup)
Leadup to Kizuna Week 1- Gundam Build Fighters
Week 2- Kimagure Orange Road
Week 3 (and 4)- Lupin the 3rd Part 4
Week 4 Movie- Redline
Week 5- Love, Chunibyo & Other Delusions
Week 6- Voltron
Week 7 (Devkyu Guest Slot!)- That Time I Got Reincarnated as a Slime
Week 8- Laid-Back Camp
Week 9- Rascal Does Not Dream of Bunny Girl Senpai
Week 10- Yowamushi Pedal
Week 11- Demon King Daimao
Week 12 (onkei Guest Slot!)- Aggretsuko
Week 13- Kill la Kill
Week 14- Super Gals
Week 15 (and 16)- Yu Yu Hakusho
Week 16 Short Series- Please Tell Me! Galko-chan
Week 17 (Classic Leadup)- Tenchi Muyo
Week 18 (Devkyu Guest Slot 2!)- Dragon Pilot: Hisone & Masotan
Week 19- The Irresponsible Captain Tylor
Week 20 (Logan Guest Slot)- The Legend of Black Heaven
Week 21 (Classic Leadup)- Haganai