Show User Social Media
Hide User Social Media
Joined

Sep 8, 2006
Messages

16,640
After a month of less standard leadups, 2 weeks for
YYH
, then a short series with
Galko
, then
Tenchi
from the prior leadup, and then a guest slot with
Dragon Pilot
, I decided to go with a true true amazing classic this time that will be a bit more of a standard leadup
The Irresponsible Captain Tylor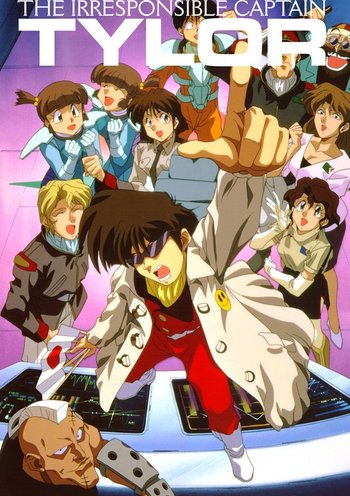 A bit of fanservice, a bit of violence, nothing that bad.
The series can be watched on the following officially:
Subbed on Youtube
Dubbed on Youtube
We'll do 13 episodes, half of the series.
Justy Ueki Tylor, a man with no real goals, joins the United Planets Space Force after deciding on one specific goal... having an easy life. His reasoning... food and clothes and necessities will be provided for, he'll be able to get free training, and all he will have to do is follow his orders (not to mention a military pension when he decides to retire.) His unnatural luck (or sly skill?) leads to him quickly being promoted to the rank of captain with his own ship and a reputation as a man who always wins.
The (mis?)adventures of Tylor and his crew, with his successes that upset and annoy his superiors who are busy fighting a war (with Tylor becoming friends with the Empress of the enemy forces) causes the audience, and other characters, to have to continually question the true mystery of the series. Is Tylor a fool with the devil's own luck or a brilliant strategist who is steps ahead of everyone and everything he comes across while disarming almost everyone he meets with the persona of a lovable, if goofy, everyman?
The show is a true classic that has been released time after time in Japan and the US and it's still a pretty solid gold standard for something that is fun and entertaining. The later sequel OVAs weren't able to come close to touching the original, and the occasional small follow up in one fashion or another has never been able to escape the large shadow of the original.
Tylor was one of the shows that was planned to be towards the end of the original leadup as an example of a truly amazing show, but with the original leadup ending early with the surprise day 1 subtitle release it's one that has been waiting for it's turn.
As for Digimon connections... Tylor has a decent number of big ones on the Japanese side, here is a small selection:
Jouji Yanami plays Dr. Hidesaburo Kitaguchi in Tylor. In Tamers he was Xyanwumon and in Xros Wars he was Karatenmon, but Digimon fans would best known him as the voice of old Gennai from Adventure.
Kousuke Okano plays a soldier named Jason who wears a hockey mask... in Appmon he was Cameramon, Scopemon, and Satellamon.
Kotono Mitsuishi plays Kim Kyung Hwa in Tylor. In the Tamers movie, Battle of the Adventurers she plays Minami.
Sho Hayami plays Tylor's suffering second in command Makoto Yamamoto. In Xros Wars he was Wisemon and in Appmon he was Leviathan
And from the crew outside of the cast...
Koji Ito did the mecha design for Tylor. For Digimon he was the animation director for most of tri., along with being the character designer for the final animation designs of the main characters.
The English dub has one connection...
Crispin Freeman plays Tylor himself. In Frontier he was Kouichi and his various Digimon forms (along with a few other Digimon) and in Data Squad he was Thomas.
I've embedded the shows opening as a preview:
Feel free to post as you wish in this thread. You can post as you are watching, episode by episode, when you finish. Whatever you want. Try and give it a couple days for later spoilers so people have time to try and view stuff without spoilers, while still interacting in the thread (especially if you decide to keep watching past the episode listed as the last one for the leadup.) If you watch one episode and it isn't for you, pop in to explain why. Have fun with it!
A new show/movie will go up each Sunday night (or early on Monday), but feel free to keep talking about older shows in their threads, or even watching past the listed episode.
If you want to
chat in the Discord you can
.
Hopefully you enjoy. Feel free to make any suggestions or ask an questions regarding the threads or the shows also.
Prior Leadups:
Final Leadup to tri.- Gundam Unicorn
(with index of tri. Leadup)
Leadup to Kizuna Week 1- Gundam Build Fighters
Week 2- Kimagure Orange Road
Week 3 (and 4)- Lupin the 3rd Part 4
Week 4 Movie- Redline
Week 5- Love, Chunibyo & Other Delusions
Week 6- Voltron
Week 7 (Devkyu Guest Slot!)- That Time I Got Reincarnated as a Slime
Week 8- Laid-Back Camp
Week 9- Rascal Does Not Dream of Bunny Girl Senpai
Week 10- Yowamushi Pedal
Week 11- Demon King Daimao
Week 12 (onkei Guest Slot!)- Aggretsuko
Week 13- Kill la Kill
Week 14- Super Gals
Week 15 (and 16)- Yu Yu Hakusho
Week 16 Short Series- Please Tell Me! Galko-chan
Week 17 (Classic Leadup)- Tenchi Muyo
Week 18 (Devkyu Guest Slot 2!)- Dragon Pilot: Hisone & Masotan