Show User Social Media
Hide User Social Media
Joined

Sep 8, 2006
Messages

12,887
With
Yu Yu Hakusho
still going for another week for those continuing to watch it, something nice and short for those who finished it, or simply weren't interested in the whole thing, this time we have a short series, that's about as long as a movie would be.
Please Tell Me! Galko-chan!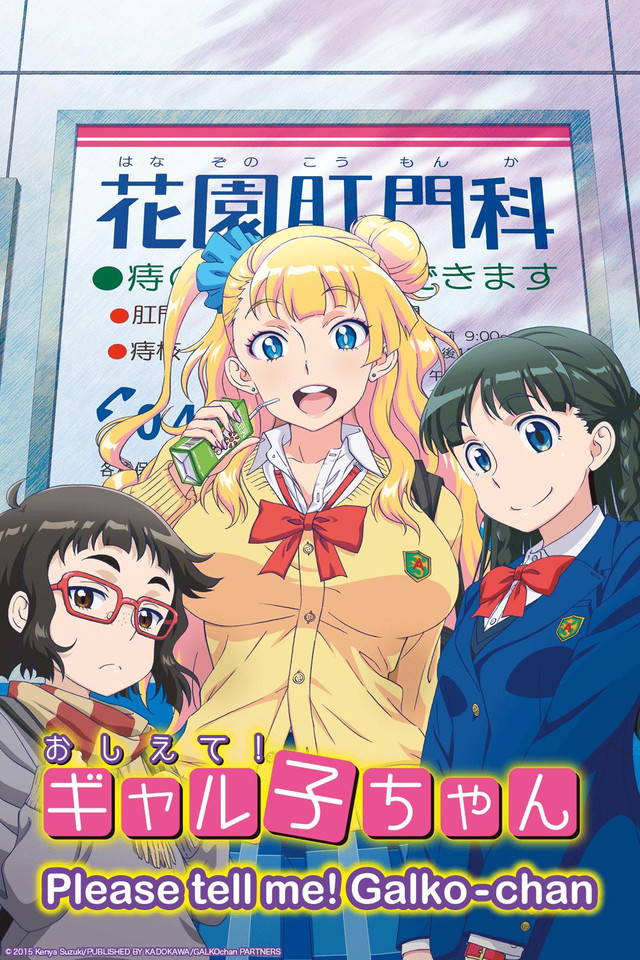 Fanservice and general content might take a few people by surprise. The English release of the manga the anime is based on is rated for 15 and up.
The series can be watched on the following officially:
Subbed on Crunchyroll
Since YYH is still going, this is a short one, rather than doing a movie. The show is 12 episodes that are easy reasonably short, so the show ends up being about 90 minutes long. There is a longer OVA that isn't currently available officially at the moment that came out after the series finished.
Galko-chan shows high scroll from a slightly more comedic appearance, while often swinging hard to play with the general stereotypes you'd expect from anime and people in general. While a number of characters show up, the primary ones are Galko, a gal, Otako, an otaku, and Ojou, a 'young lady'. The show leans into the names being part of the gags in a pretty obvious way, and it works well.
It's a great comedy that is very funny, quite clever, and has characters that have a bit more depth to them than you might expect. This is one I've been very pleased not only with the anime, but with the manga the series is based on. Still hoping we get a home video release in the US at some point, preferably with the OVA included. On top of that, the art style of the show has a nice look to it.
While I don't bring it up as much anymore, it used to be a borderline recurring joke on the podcast how much I thought tri. Mimi could be transplanted into a Galko-chan style show if she were to get her own series.
As for Digimon connections, Galko-chan doesn't have a ton, but does have a few familiar faces:
Yuichi Nakamura plays Abesen in Galko-chan. For Digimon he was Charismon in Appmon.
Takahiro Sakurai plays Charao in Galko-chan (the show doesn't really have a male lead, but Charao is about as close as it comes.) For Digimon he's played a number of characters, but is probably best known as Tentomon and his evolutions in Adventure. A few other larger roles he's had in the franchise was the adult Koushiro at the end of 02, Dorurumon and Dondokomon in Xros Wars, and Psychemon and his evolution Astamon in Hunters.
Mamiko Noto does narration in Galko-chan. She's only had a few small roles in Digimon, most notably Chocomon's baby voice in the 02 movie Hurricane Touchdown.
Makoto Furukawa plays Bomuo in Galko-chan. For Digimon he was Yuujin Ozora in Appmon.
I've embedded an intro as a preview:
Feel free to post as you wish in this thread. You can post as you are watching, episode by episode, when you finish. Whatever you want. Try and give it a couple days for later spoilers so people have time to try and view stuff without spoilers, while still interacting in the thread (especially if you decide to keep watching past the episode listed as the last one for the leadup.) If you watch one episode and it isn't for you, pop in to explain why. Have fun with it!
A new show/movie will go up each Sunday night (or early on Monday), but feel free to keep talking about older shows in their threads, or even watching past the listed episode.
If you want to
chat in the Discord you can
.
Hopefully you enjoy. Feel free to make any suggestions or ask an questions regarding the threads or the shows also.
Prior Leadups:
Final Leadup to tri.- Gundam Unicorn
(with index of tri. Leadup)
Leadup to Kizuna Week 1- Gundam Build Fighters
Week 2- Kimagure Orange Road
Week 3 (and 4)- Lupin the 3rd Part 4
Week 4 Movie- Redline
Week 5- Love, Chunibyo & Other Delusions
Week 6- Voltron
Week 7 (Devkyu Guest Slot!)- That Time I Got Reincarnated as a Slime
Week 8- Laid-Back Camp
Week 9- Rascal Does Not Dream of Bunny Girl Senpai
Week 10- Yowamushi Pedal
Week 11- Demon King Daimao
Week 12 (onkei Guest Slot!)- Aggretsuko
Week 13- Kill la Kill
Week 14- Super Gals
Week 15 (and 16)- Yu Yu Hakusho