Show User Social Media
Hide User Social Media
Joined

Sep 8, 2006
Messages

12,733
Kill la Kill is fun, but decided to go with something wildly in the other direction this week...
Super Gals!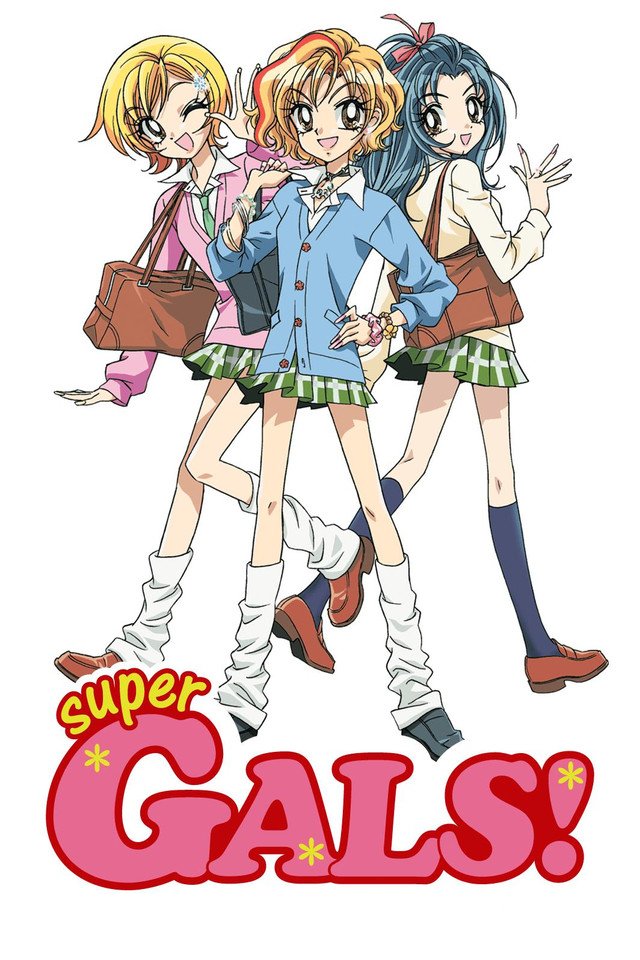 No real warnings here. Super mild content and violence is about it.
The series can be watched on the following officially:
Subbed and dubbed on Crunchyroll
First half dubbed and second half subbed on Youtube
We'll do 13 episodes, a quarter of the series.
Small warning, if you decide to watch it dubbed and to keep going past the leadup, the dub ends at episode 26.
Super Gals follows Ran, the worlds greatest gal, and her friends in their various adventures in Shibuya. The show is just really fun to watch with amusing characters.
On top of Ran and her friends, there is a wide variety of recurring and main characters, included in this is Ran's family, who are all policemen.
It's been a long time since I watched Super Gals, but it used to be a great go to to recommend to people who weren't familiar with shoujo, as it's fun and an enjoyable watch.
Super Gals has also been unique in a few ways. Despite the original manga 'Gals' ending roughly 17 years ago, there have been occasional appearances of the characters (often to celebrate long runs of other manga), and even the release of the anime is a bit odd... the full series has never come out in Japan on DVD.
On top of that, just a few days ago it was announced by the original creator that she was bringing Gals back in just a few days (the first new chapter will be released in the middle of the leadup in fact), so it seemed like a great time to recommend the show.
As for Digimon connections... Super Gals has a ton from beginning to end. I listed a decent number of bigger ones, but there are a ton more small ones...:
Oma Ichimura plays Aya Hoshino, one of the leads, in Super Gals. Her main role in Digimon was Relena, Touma's sister, in Savers, but she also showed up as a Botamon in 02.
Ginzo Matsuo is Taizo Kotobuki (Ran's father) in Super Gals. In Adventure he shows up as TonosamaGekomon, and in the first Tamers movie he shows up as Takato's grandfather Wataru Urazoe.
Rie Kugiyama plays Sayo Kotobuki (Ran's sister) in Super Gals. In Savers she was Ikuto.
Kouki Miyata plays Masato Iwai, Sayo's boyfriend, in Super Gals. in Adventure he was a Bakemon, a Gekomon, and PicoDevimon.
Hiroki Takahashi plays Yamato Kotobuki, Ran and Sayo's older brother, and Miyu's boyfriend, in Super Gals. In Adventure he was Monzaemon and WaruMonzaemon, in 02 he was Daisuke's dad, in Tamers he was Impmon, Beelzebumon, and Dobermon, and in Savers he showed up as Omegamon.
Kenichi Suzumura plays Yuya Asou, one of the leads, in Super Gals. In Frontier he was Kouichi and his various Digimon forms.
Hiroshi Kamiya plays Rei Otohata, another lead, in Super Gals. IN Frontier he was Kouji and his various Digimon forms, and in Savers he showed up as Craniummon.
Daisuke Sakaguchi plays Naoki Kuroi, the younger brother of Tatsuki, in Super Gals. In Digimon he's most notably Hackmon in Appmon.
I've embedded a trailer as a preview:
Feel free to post as you wish in this thread. You can post as you are watching, episode by episode, when you finish. Whatever you want. Try and give it a couple days for later spoilers so people have time to try and view stuff without spoilers, while still interacting in the thread (especially if you decide to keep watching past the episode listed as the last one for the leadup.) If you watch one episode and it isn't for you, pop in to explain why. Have fun with it!
A new show/movie will go up each Sunday night (or early on Monday), but feel free to keep talking about older shows in their threads, or even watching past the listed episode.
If you want to
chat in the Discord you can
.
Hopefully you enjoy. Feel free to make any suggestions or ask an questions regarding the threads or the shows also.
Prior Leadups:
Final Leadup to tri.- Gundam Unicorn
(with index of tri. Leadup)
Leadup to Kizuna Week 1- Gundam Build Fighters
Week 2- Kimagure Orange Road
Week 3 (and 4)- Lupin the 3rd Part 4
Week 4 Movie- Redline
Week 5- Love, Chunibyo & Other Delusions
Week 6- Voltron
Week 7 (Devkyu Guest Slot!)- That Time I Got Reincarnated as a Slime
Week 8- Laid-Back Camp
Week 9- Rascal Does Not Dream of Bunny Girl Senpai
Week 10- Yowamushi Pedal
Week 11- Demon King Daimao
Week 12 (onkei Guest Slot!)- Aggretsuko
Week 13- Kill la Kill