Show User Social Media
Hide User Social Media
Joined

Sep 8, 2006
Messages

12,845
After
Aggretsuko
from onkei calmed things down, it felt like the next show needed to pick up the action a bit...
Kill la Kill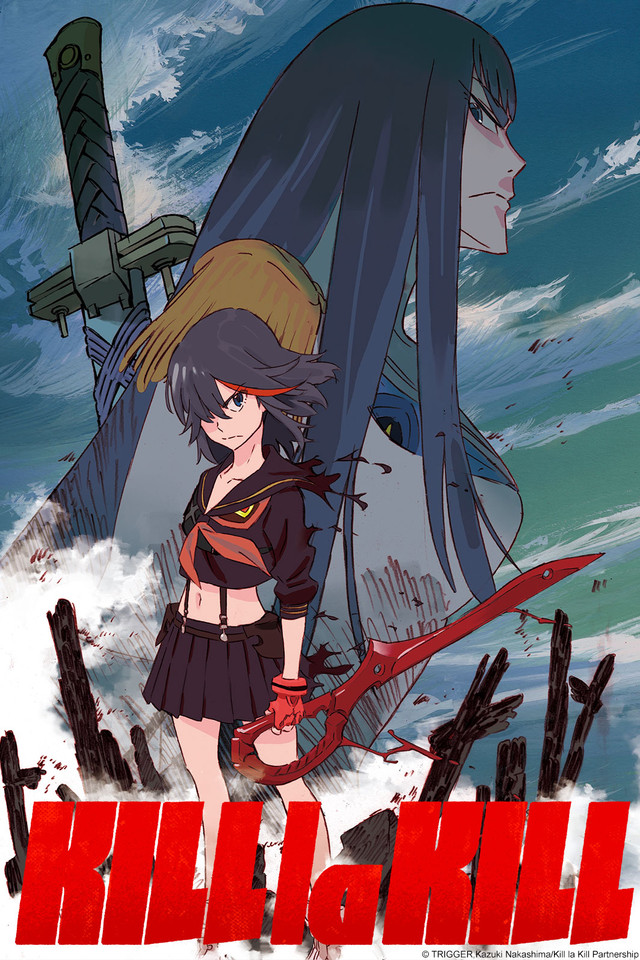 Violence, language, fanservice, talking clothes, all the good things people crave.
The series can be watched on the following officially:
Subbed and dubbed on Crunchyroll
Subbed and dubbed on Netflix
Subbed and dubbed on Hulu
We'll do 10 episodes, a bit under half the series.
Kill la Kill is decently well known at this point, it's streamed a bunch of places, aired on Toonami, got a recent video game (and is about to get it's second home video release in the US) and the show also does an especially good job of framing what to expect with episode 1.
Ryuko carries half of a giant pair of scissors that she uses as a weapon, and is looking for the murderer of her father, who she knows has the other half of the scissors. She transfers to a school that has something who seemingly knows the identity of the killer. When she enters she finds craziness, including but not limited to, school uniforms that give superpowers (and super outfits that don't cover much), along with her new best friend Mako.
As for Digimon connections... Kill la Kill has a pretty massive list, so here is one each from Japanese and English, since I had considered doing a handful from each, and still ended up with more than I wanted to pare down...:
Nobuyuki Hiyama is Uzu Sanageyama in the Japanese version of Kill la Kill! In 02 he was BlackWarGreymon, in Frontier he was Seraphimon, and he showed up for a few episodes of Xros Wars as SlashAngemon.
Derek Stephen Prince is Guts the dog in the English version of Kill la Kill! In Adventure he was DemiDevimon and Piedmon, in 02 he was Veemon and his various evolutions and Ken. In tamers he was Impmon and Beelzebumon, in Frontier he was Dynasmon, Grumblemon, and a few others, and in Fusion he ended up being Jeremy, along with a few other characters.
I've embedded the shows intro as a preview:
Feel free to post as you wish in this thread. You can post as you are watching, episode by episode, when you finish. Whatever you want. Try and give it a couple days for later spoilers so people have time to try and view stuff without spoilers, while still interacting in the thread (especially if you decide to keep watching past the episode listed as the last one for the leadup.) If you watch one episode and it isn't for you, pop in to explain why. Have fun with it!
A new show/movie will go up each Sunday night (or early on Monday), but feel free to keep talking about older shows in their threads, or even watching past the listed episode.
If you want to
chat in the Discord you can
.
Hopefully you enjoy. Feel free to make any suggestions or ask an questions regarding the threads or the shows also.
Prior Leadups:
Final Leadup to tri.- Gundam Unicorn
(with index of tri. Leadup)
Leadup to Kizuna Week 1- Gundam Build Fighters
Week 2- Kimagure Orange Road
Week 3 (and 4)- Lupin the 3rd Part 4
Week 4 Movie- Redline
Week 5- Love, Chunibyo & Other Delusions
Week 6- Voltron
Week 7 (Devkyu Guest Slot!)- That Time I Got Reincarnated as a Slime
Week 8- Laid-Back Camp
Week 9- Rascal Does Not Dream of Bunny Girl Senpai
Week 10- Yowamushi Pedal
Week 11- Demon King Daimao
Week 12 (onkei Guest Slot!)- Aggretsuko