Show User Social Media
Hide User Social Media
Joined

Sep 8, 2006
Messages

12,707
After
Demon King Daimao
it seemed like a jump into something a bit different was a good idea...
This week is also a guest slot, with the show chosen by (with much of the writing also being done by...) onkei!
Aggretsuko!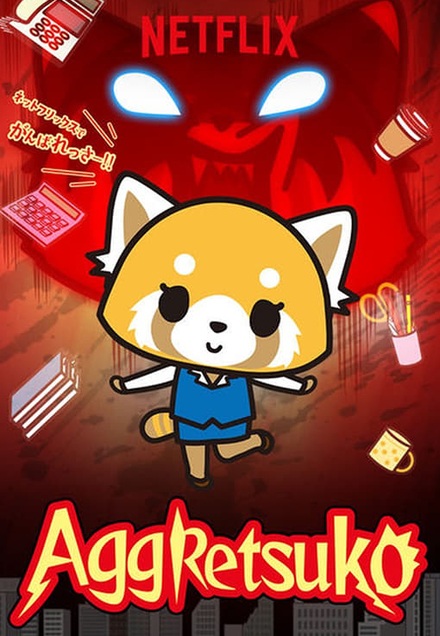 No warnings on this one.
The series can be watched on the following officially:
Dubbed and Subbed on Netflix
(Main Series)
Dubbed and Subbed on Netflix
(Christmas Special)
For this one we'll do everything currently available for the series. The main series link contains season 1 and 2 (each is 10 episodes that are 15 minutes long) and the Christmas special is 22 minutes long and goes inbetween season 1 and 2.
The elements above is from myself, but the show description is all from her! (Unlike Slime with Devkyu, Aggretsuko was never on my list to include until onkei suggested it.)
"Aggrestuko" is the story of Retsuko, a once starry-eyed college graduate who quickly grows jaded with her job as an office worker. She tentatively searches for happiness, or at least a purpose, in her life, but faces daily pent-up frustration from her selfish boss and annoying co-workers. At work, she's the mild-mannered, model employee, but every night, she secretly vents by going to a local karaoke bar to sing her favorite death metal. One night, her secret is found out by her superiors...

A nice slice-of-life satire for a Sanrio property, where adult viewers can commiserate with Retsuko on life's natural messes and self-discoveries. What are the connections of it to Digimon? Probably that those adults who grew up with Digimon would be able to relate to the protagonist on their naivete of how they had pictured adult life to be VS how adult life really is, in a similar vein à la the theme of Digimon Adventure tri.
As for Digimon connections... there are a few bigger ones, all on the English side.
Ben Diskin is Haida in Aggretsuko. For Digimon he was Shoutmon, Cutemon, and a few other characters in Fusion, plus is Dorumon in ReArise.
Jamieson Price is the CEO in Aggretsuko. In 02 he was Oikawa, in Tamers he was Janyu Wong, he was Seraphimon in Frontier, Sampson in Data Squad, and the second voice of Angemon in tri.
Patrick Seitz is the dub director and script adaptor for Aggretsusko. In Digimon Fusion he played a number of characters incluing Starmon and MailBirdramon.
Tood Haberkorn plays Komiya in Aggretsuko. He played a few smaller parts in Fusion, was the Digimon Emperor disguise in tri., and while I don't think it was ever confirmed, appears to be Mameo in Next Order.
Tara Platt plays Washimi in Aggretsuko. She was Darcmon in the Digimon Frontier Movie and Mervamon in Fusion.
I've embedded a Youtube clip of a preview of the series.
Feel free to post as you wish in this thread. You can post as you are watching, episode by episode, when you finish. Whatever you want. Try and give it a couple days for later spoilers so people have time to try and view stuff without spoilers, while still interacting in the thread (especially if you decide to keep watching past the episode listed as the last one for the leadup.) If you watch one episode and it isn't for you, pop in to explain why. Have fun with it!
A new show/movie will go up each Sunday night (or early on Monday), but feel free to keep talking about older shows in their threads, or even watching past the listed episode.
If you want to
chat in the Discord you can
.
Hopefully you enjoy. Feel free to make any suggestions or ask an questions regarding the threads or the shows also.
Prior Leadups:
Final Leadup to tri.- Gundam Unicorn
(with index of tri. Leadup)
Leadup to Kizuna Week 1- Gundam Build Fighters
Week 2- Kimagure Orange Road
Week 3 (and 4)- Lupin the 3rd Part 4
Week 4 Movie- Redline
Week 5- Love, Chunibyo & Other Delusions
Week 6- Voltron
Week 7 (Devkyu Guest Slot!)- That Time I Got Reincarnated as a Slime
Week 8- Laid-Back Camp
Week 9- Rascal Does Not Dream of Bunny Girl Senpai
Week 10- Yowamushi Pedal
Week 11- Demon King Daimao