Show User Social Media
Hide User Social Media
Joined

Sep 8, 2006
Messages

12,733
After
Yowamushi Pedal
, along with demands from TMS, it seemed time to get into some fanservice.
Demon King Daimao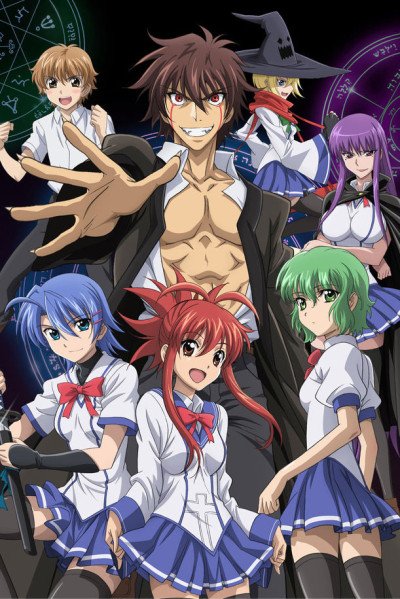 Fanservice and some violence. (It's been awhile since I watched this one, I think the violence was mild... but it's been awhile, so that may be wrong.)
The series can be watched on the following officially:
Subbed on Crunchyroll
Subbed and Dubbed on HiDive
Subbed on Amazon Prime
This one is 12 episodes, so the whole thing from beginning to end.
Also, general disclosure that I worked on this one quite a bit, although the current version on CR (I think) pre-dates anything I did with it.
Demon King Daimao has a pretty easy setup. On the first day of school at a magic academy, Akuto Sai's aptitude test predicts his future job will be... Demon King.
This leads to the standard miscommunication including the class representative deciding he needs to be destroyed, a childhood friend, a robot, among others, and as you would expect, they are all girls who like him. And of course, everythign he does to prove he 'won't' be the Demon King is misinterpreted, down to and including him ending up with girls around him.
As mentioned before, it's been a very long time since I watched this, but I do recall a few things.... I liked the characters in general, even though they felt as cliche as you'd expect. I remember the show deciding to stuff most (all?) of it's primary plot into just 2 or so episodes in a very odd way. And I also remember it being one of the 'last' of the older style harem shows before fanservice went into overdrive, so since TMS had been demanding/expecting fanservice and harem, it seemed a good idea to go with something slightly less explicit than might show up later.
I remember the show being a bit better than average. Entertaining with some interesting quirks, but not what I'd call special.
As for Digimon connections... there are only a few bigger ones, all from Appmon!:
Tsubawsa Yonada was Sakusimon in Appmon. In Demon King he's Hiroshi Miwa, one of Akuto's few friends, who is very loyal to Akuto and sees himself as his underline. But he has his own secrets...
Ryou Hirohashi was Watson in Appmon. In Demon King she's Lily Shiraishi, the student council president.
Tetsu Shiratori was Fakemon in Appmon. In Demon King he's Yamatagarasu, the oracle who ends up declaring Akuto will end up the Demon King.
I've embedded the shows intro as a preview:
Feel free to post as you wish in this thread. You can post as you are watching, episode by episode, when you finish. Whatever you want. Try and give it a couple days for later spoilers so people have time to try and view stuff without spoilers, while still interacting in the thread (especially if you decide to keep watching past the episode listed as the last one for the leadup.) If you watch one episode and it isn't for you, pop in to explain why. Have fun with it!
A new show/movie will go up each Sunday night (or early on Monday), but feel free to keep talking about older shows in their threads, or even watching past the listed episode.
If you want to
chat in the Discord you can
.
Hopefully you enjoy. Feel free to make any suggestions or ask an questions regarding the threads or the shows also.
Prior Leadups:
Final Leadup to tri.- Gundam Unicorn
(with index of tri. Leadup)
Leadup to Kizuna Week 1- Gundam Build Fighters
Week 2- Kimagure Orange Road
Week 3 (and 4)- Lupin the 3rd Part 4
Week 4 Movie- Redline
Week 5- Love, Chunibyo & Other Delusions
Week 6- Voltron
Week 7 (Devkyu Guest Slot!)- That Time I Got Reincarnated as a Slime
Week 8- Laid-Back Camp
Week 9- Rascal Does Not Dream of Bunny Girl Senpai
Week 10- Yowamushi Pedal