Show User Social Media
Hide User Social Media
Joined

Sep 8, 2006
Messages

12,704
After
Laid-Back Camp
and then
Rascal Does Not Dream of Bunny Girl Senpai
it felt like it'd be a good time to go with something more high energy...
Yowamushi Pedal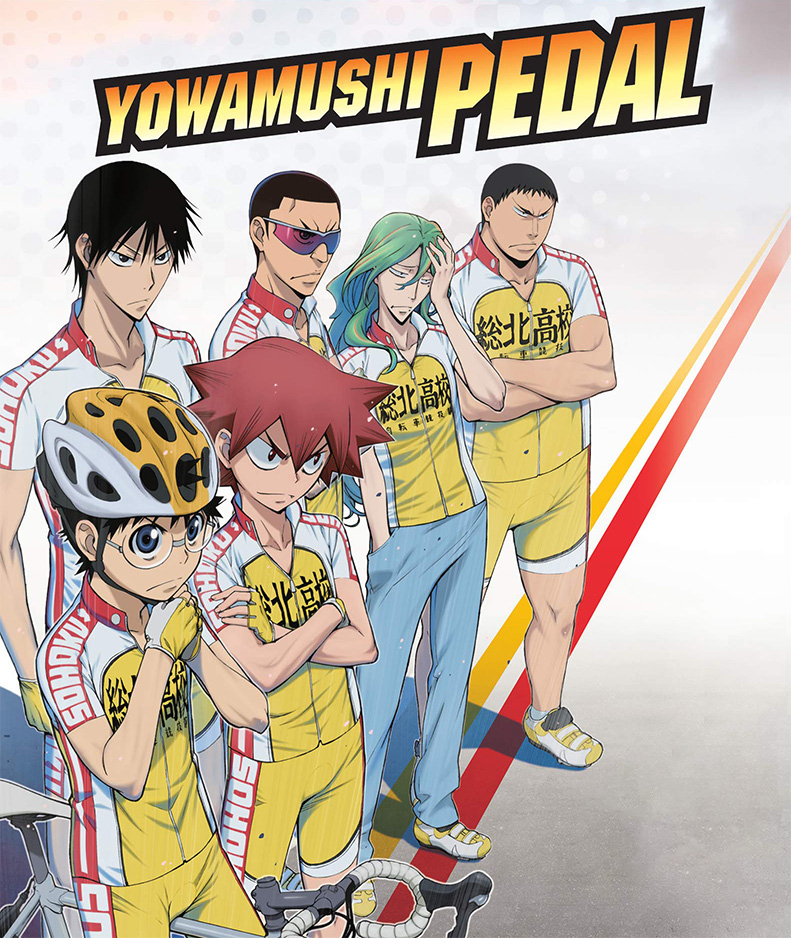 Nothing that anyone would likely find objectionable in show for this one. Depending on if you keep watching past the leadup, some of the end of show cards can get a bit fanservicey (and weird.)
The series can be watched on the following officially:
Subbed on Crunchyroll
For this one we'll go up to a decent natural break point, episodes 1 thru 11. The page on Crunchyroll not only includes Season 1, but Season 2 (Grande Road), the 2 compilation films (Re:Ride and Re:Road), along with the film followup. You just want 'vanilla' Yowamushi Pedal.
Also, general disclosure that I worked on this one quite a bit, although the current version on CR (I think) pre-dates anything I did with it.
Yowamushi Pedal is kind of easy to explain at a basic level, but it kind of needs to be seen to be properly appreciated. It's Dragon Ball Z on bicycles.
Sakamichi Onoda has just started high school and has decided to join the anime club, where he hopes to finally make friends. The club has, timed perfectly, disbanded. Using his 'mommy bike' to ride to and from school and to buy anime collectibles, he comes to the attention of a young professional cyclist, who ends up challenging him to a hill climb (which we are shown shouldn't really be possible for Onoda to ride on his type of bike.) This leads to quick changes in Onoda's general routine as he gains friends and joins the high school bicycle racing club and learns of their goals, of which he has a large part to play.
The show has a wide range of interesting characters that we get to learn about their origins and goals, along with a guy who shouts about his abs a lot.
It's also a show where it feels like the music is pitch perfect to add to the energy and excitement.
As for Digimon connections... they seem to be endless with Yowamushi Pedal. I did more than normal, but still left it to just a few more major (or interesting) ones, because the list could really go on forever:
Reiko Yoshida is a writer who has written for Adventure, 02, Tamers, Frontier, Xros Wars, Hunters, both Adventure films, and both 02 films. For Yowamushi Pedal she was the series composer, and wrote a small chunk of episodes.
Tsubasa Yonaga was Sakusimon in Appmon. In Yowamushi Pedal he plays Manami. He only shows up at the very tail-end of the episodes we are watching, but he has a larger part to play later.
Tsuya Kakihara was Ryouma in Hunters. In Yowamushi Pedal he plays Jinpachi. Another character who only shows up a bit in the episodes for the leadup.
Ryoko Shiraishi has a number of larger Digimon roles including: Akari, Mervamon, and ChibiKamemon in Xros, adding Opossumon/Cho-Hakkaimon in Hunters, plus the Hero in Re
igitize. her role in Yowamushi Pedal is smaller, as she just plays one of the main characters, Naruko, in a few flashbacks to when he was younger.
Daisuke Kishio has a number of Digimon roles including: Zenjirou, Beelzebumon, Blastmon, and Mailbirdramon in Xros Wars, adding on Dracmon and Gigabreakdramon in Hunters (among others), plus is Arata in Cyber Sleuth. In Yowamushi Pedal he's Teshima, one of the 2nd year students.
Hirofumi Nojima was Touma in Savers. In Yowamushi he's Ishigaki, someone who we won't meet until a bit after these episodes.
Hiroki Yasumoto is Belphemon and Franz Norstein in Savers. In Yowamushi Pedal he's Kinjo, the captain of the bicycle club that Onoda joins.
Kouki Miyata was a handful of smaller characters in Adventure and Tamers, but was most notibly PicoDevimon in Adventure. In Yowamushi he's Sugimoto, a classmate of Onoda's, and a self proclaimed experienced cyclist.
Megumi Han has been a number of characters in Digimon including Airu in Hunters, the 2nd voice of young Takeru in Adventure related content, and Nokia in Cyber Sleuth. In Yowamushi she's Aya, who isn't really interested in bikes, but she's the friend of Miki, the club manager, so she tends to show up, often believing that Onoda is trying to take advantage of Miki.
I've embedded an early trailer for the show (unsubbed) as a preview:
Feel free to post as you wish in this thread. You can post as you are watching, episode by episode, when you finish. Whatever you want. Try and give it a couple days for later spoilers so people have time to try and view stuff without spoilers, while still interacting in the thread (especially if you decide to keep watching past the episode listed as the last one for the leadup.) If you watch one episode and it isn't for you, pop in to explain why. Have fun with it!
A new show/movie will go up each Sunday night (or early on Monday), but feel free to keep talking about older shows in their threads, or even watching past the listed episode.
If you want to
chat in the Discord you can
.
Hopefully you enjoy. Feel free to make any suggestions or ask an questions regarding the threads or the shows also.
Prior Leadups:
Final Leadup to tri.- Gundam Unicorn
(with index of tri. Leadup)
Leadup to Kizuna Week 1- Gundam Build Fighters
Week 2- Kimagure Orange Road
Week 3 (and 4)- Lupin the 3rd Part 4
Week 4 Movie- Redline
Week 5- Love, Chunibyo & Other Delusions
Week 6- Voltron
Week 7 (Devkyu Guest Slot!)- That Time I Got Reincarnated as a Slime
Week 8- Laid-Back Camp
Week 9- Rascal Does Not Dream of Bunny Girl Senpai