Show User Social Media
Hide User Social Media
Joined

Sep 8, 2006
Messages

14,708
Last Evolution Kizuna Meeting Cafe at Ani-On Station Details, Menu & Products Part 1
Time for a big one!
After being announced last year, it's nearly time for the next Digimon Music Cafe at Ani-On Station!
This time it's
the Digimon Adventure: Last Evolution Kizuna Meeting Cafe
! We have a bunch of details, plus the key art!
The key art this time features the 6 older characters, with their Digimon partners having raided their childhood wardrobes, in a recreation of one of the earliest pieces of key from Digimon Adventure!
The Digimon Adventure: Last Evolution Kizuna Meeting Cafe will take place at 2 Ani-On Station locations, the Akihabara Main Store and Namba Parks locations for a decently long period, February 7th through April 5th.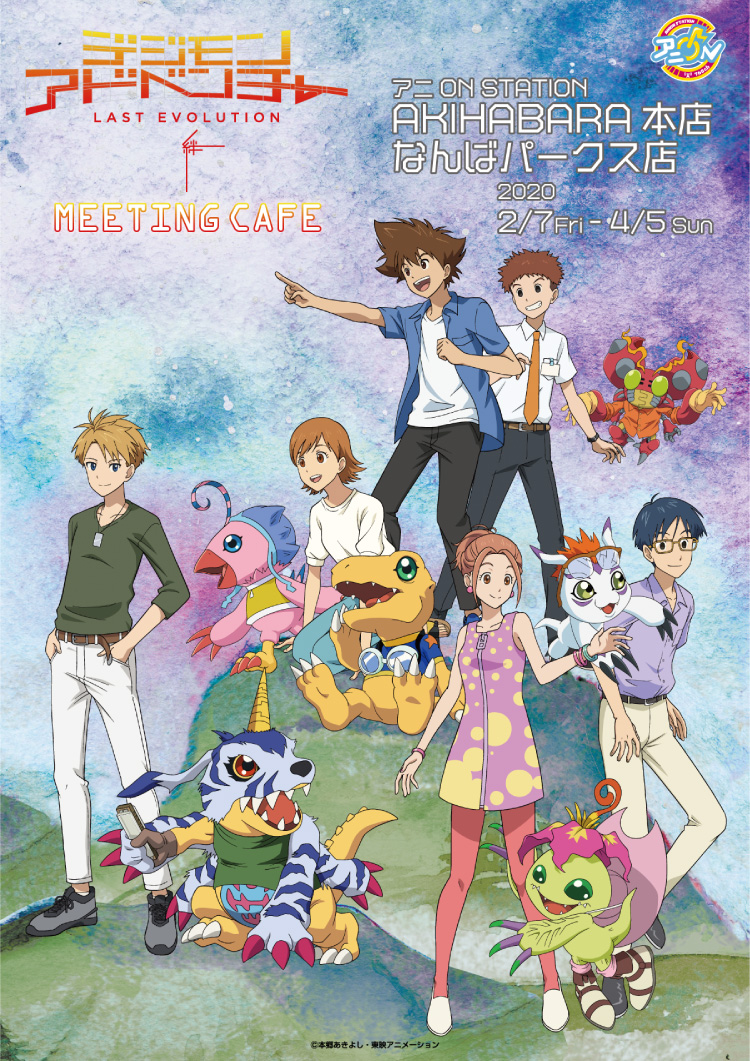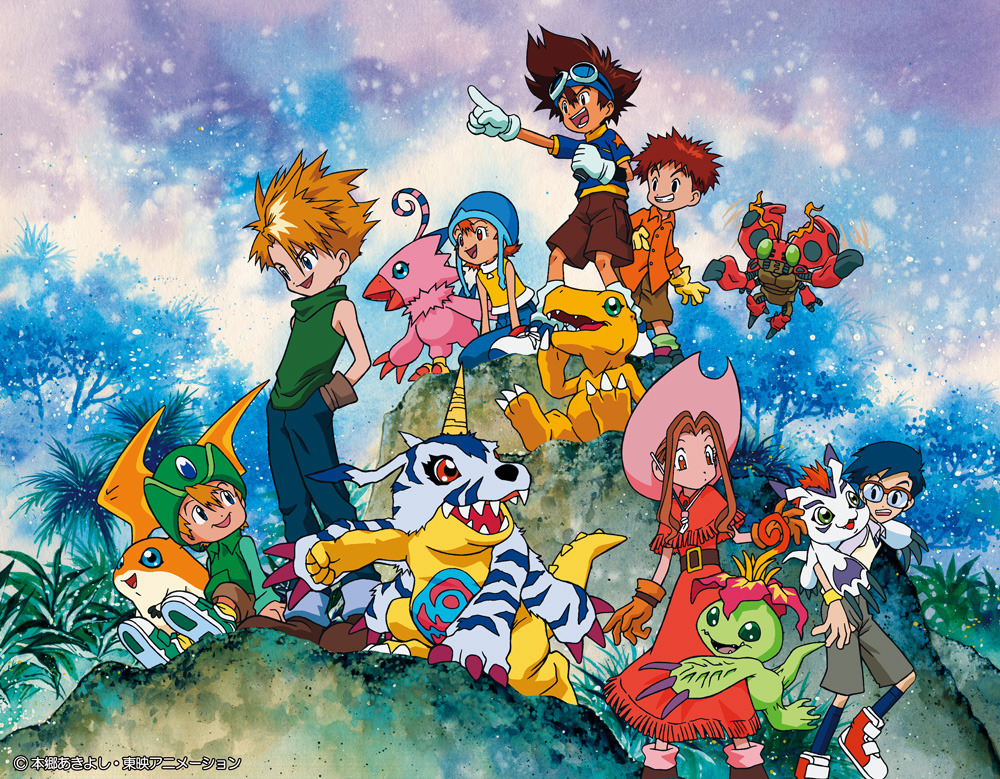 (Both the new and original image for comparison.)
Cafe seating periods will be in 90 minute increments.
The first few two are expected to be exceptionally busy, so those days will have ticketed entry for 600 yen. Tickets can be ordered
here for Akihabara
and
here for Namba Park
.
There is a minimum of one order per person.
When you enter you will receive one 'Jukebox Rock On' ticket for the cafe (you will also get additional tickets when you order menu items, or buy products.)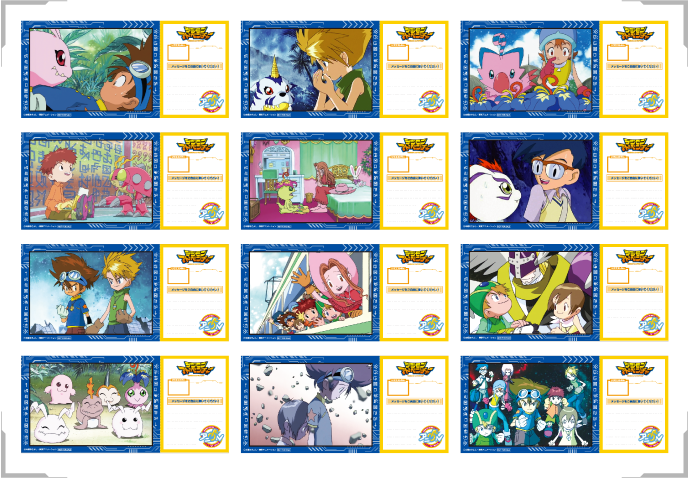 Images of the ticket designs that will be available day 1.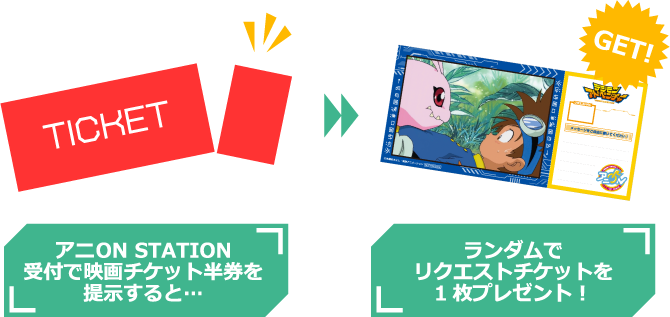 Presenting a movie ticket stub from Last Evolution beginning on February 21st gets you a free Jukebox Rock On ticket.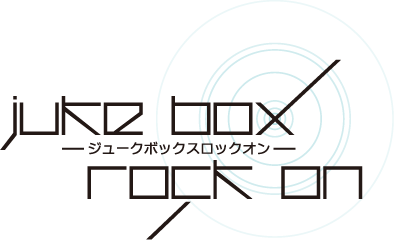 Jukebox Rock On is every 90 minutes while the cafe is open where an MC will play Digimon music, including those rquested via tickets.
You select the song you want by filling out the stub on the ticket and putting it in a request box.
Jukebox Rock On will be held at the following times:
Akihabara- 1pm, 2:30pm, 4pm, 5:30pm, 7pm, 8:30pm
Namba Park- Noon, 1:39pm, 3pm, 4:30pm, 6pm, 7:30pm
Then we have the menu! The drink and food menu will have 2 periods, all the menu items announced today will be at the cafe for either just period 1, or the entire time.

The drink menu for period 1 runs February 7th through March 5th.
Drinks will have an AR aspect to them. If you aim your camera at one of the drinks using the Cocoar2 app, characters will jump out of the drink for you to take photos.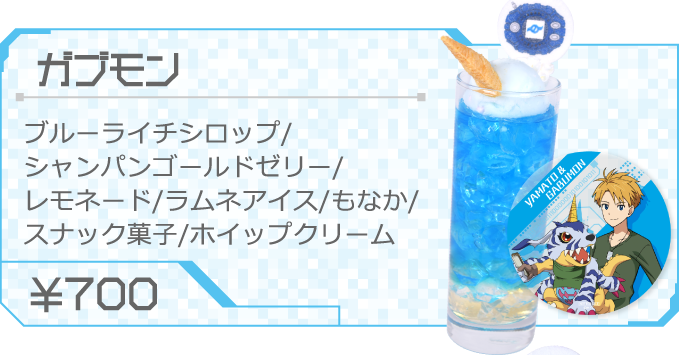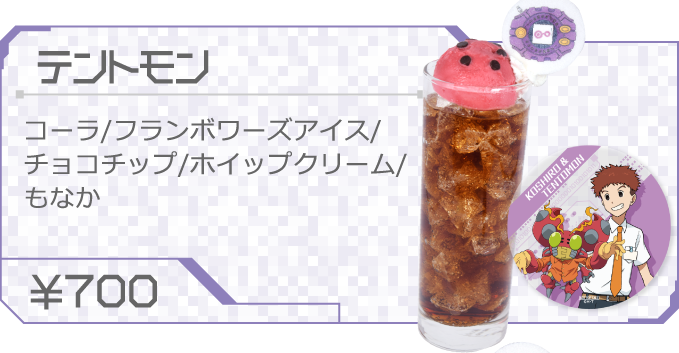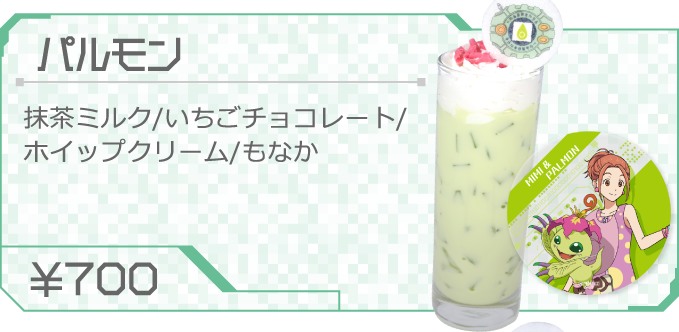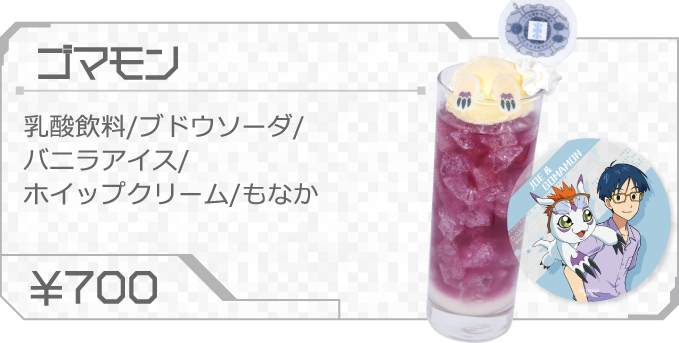 Each drink is 700 yen and named after a partner Digimon!
Agumon- Orange juice, topped with whipped cream, kiwi sauce, and a digivice monaka.
Gabumon- Blue lychee syrup mixed with champagne gold jelly in lemonade, topped with ramune ice cream, a digivice monaka, a horn shaped snack wafer, and whipped cream .
Piyomon- Marbled ice cream on top of peach jelly mixed with sakura white water, with whipped cream, and a digivice monaka.
Tentomon- Cola, topped with a framboise ice cream and chocolate chips that make a familiar looking design, whipped cream, and a digivice monaka.
Palmon- Green tea milk, topped with strawberry chocolate candies, whipped cream, and a digivice monaka.
Gomamon- Yogurt drink mixed with grape soda, topped with vanilla ice cream and whipped cream, with a digivice monaka (and a few extra monoka that look a bit familiar.)

The second drink period runs March 6th through April 5th.
Then we have the food menu!


First up, a food item that will be at the cafes the entire time.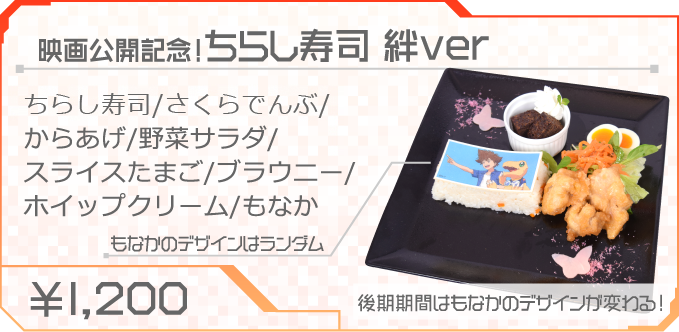 'In commemoration of the movie opening!' Chirashi-Sushi Kizuna ver., for 1,200 yen- Chirashi-sushi, sakura-denbu, fried chicken, garden salad, sliced egg, brownie, whipped cream, monaka (the monaka design will be at random)
The designs of the monaka during February 7th-March 5th will be the following 6.
The designs will change after March 5th.
Then we have the menu items that will only be available during the first period of February 7th through March 5th. Both of these items are 950 yen.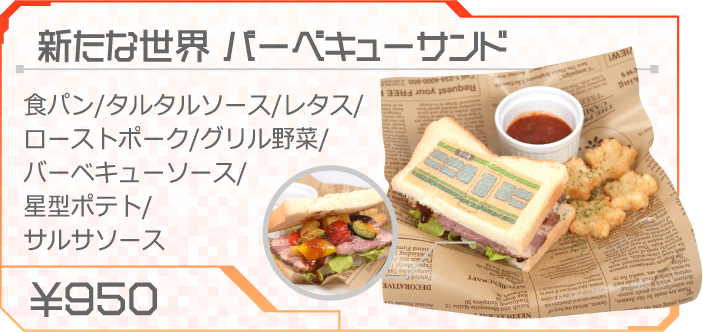 'A new world' BBQ Sandwich- A sandwich made from white bread topped with roast pork, grilled veggies, lettuce, tartar sauce, and bbq sauce. Serevd on the side is heart shaped fried potatos and a salsa sauce.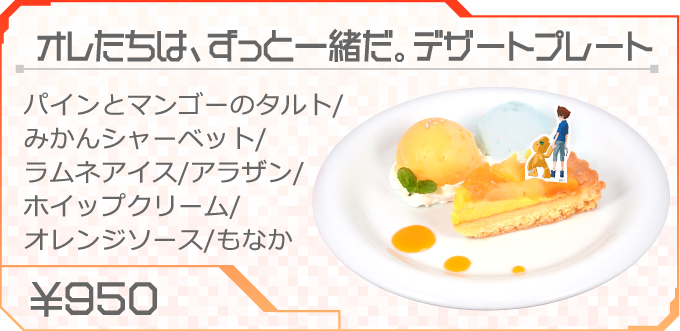 'We will always be together' Dessert Plate- A pineapple and mango tart, with scoops of orange sherbet and ramune ice cream. Topped with silver dragees, whipped cream, orange sauce, and a character monaka
Between February 7th and March 5th you will get a gift for each food item you order.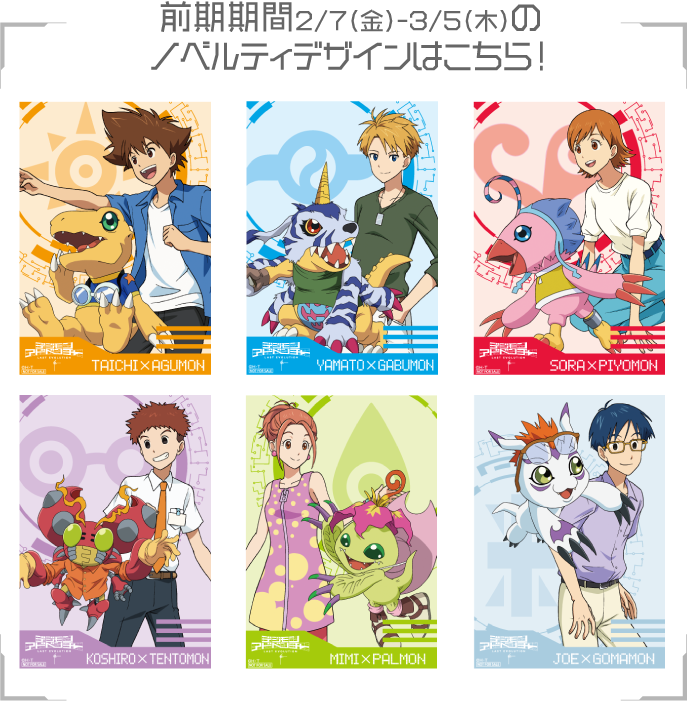 One of these six clear bromides at random. Different designs will begin on March 6th.

The second food period runs March 6th through April 5th.
Then there is never an event like this without stuff to buy!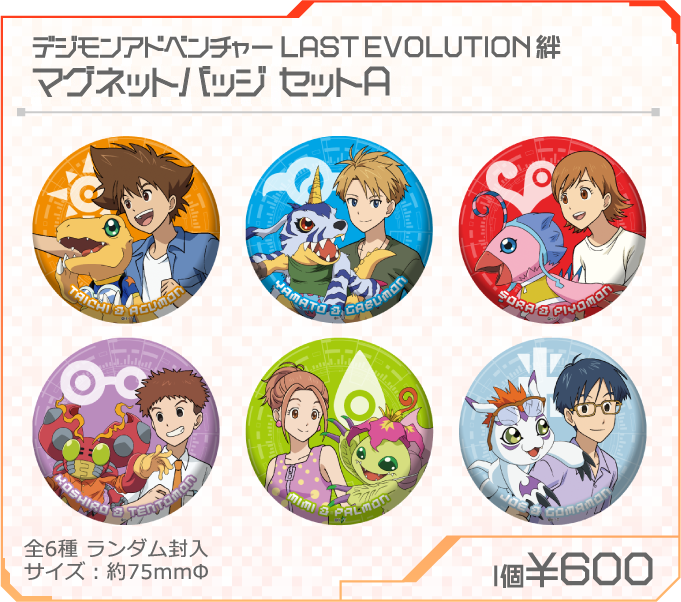 Magnet Badge Set A- These magnetic badges use the new key art. There are 6 total, and they come randomly packed for 600 yen.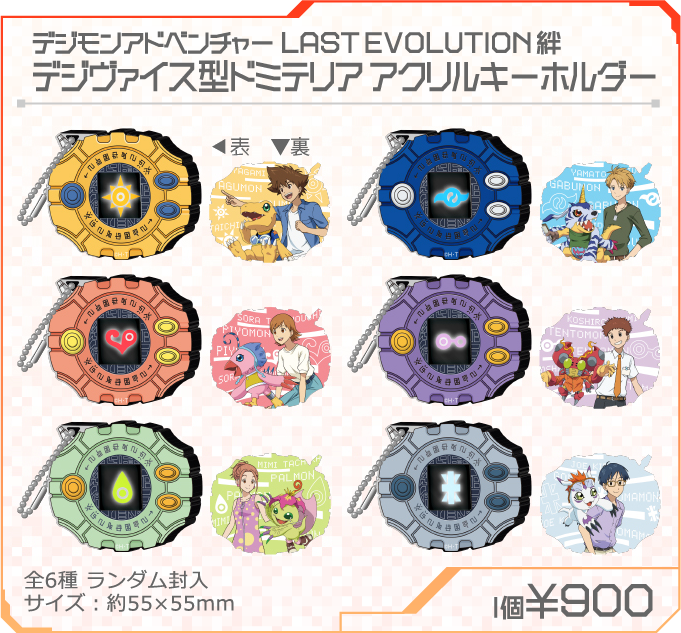 Digivice-shaped acrylic keyholder. These have an activated Digivice and crest design on the front, and character art on the back. There are 6 total, and they come random packed for 900 yen.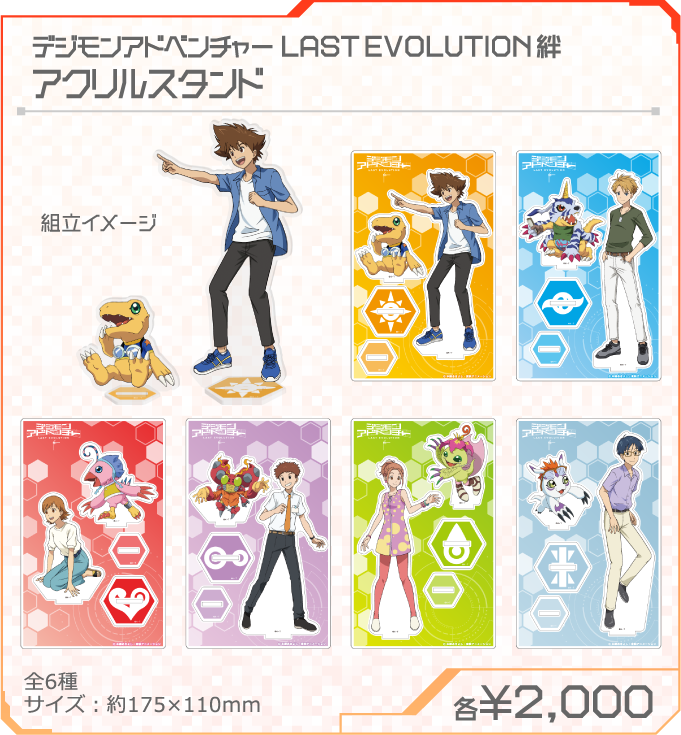 Acrylic stands of the new art! There are 6 of these and each of these is 2,000 yen.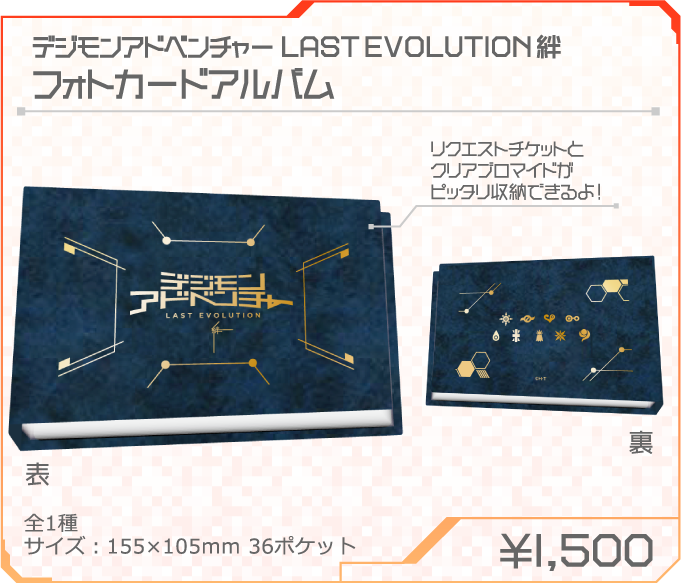 Last Evolution Photocard Album- This classy lookign album is designed to fit request tickets and clear bromides perfectly, along with whatever else you want to put in them. It costs 1,500 yen.
Lots of interesting menu items, and fun looking products this time.
You may have noticed a bunch of things seem to end on March 5th, and a number of characters are missing... on March 6th the cafe changes...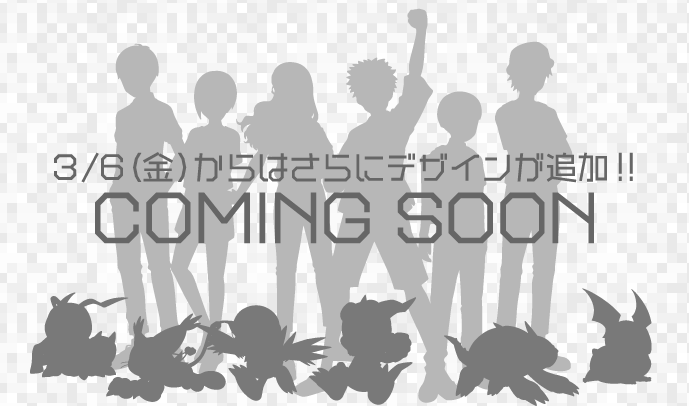 The silhouettes aren't 'quite' as obvious as seeing the key art from Adventure for the other kids, but it's pretty clearly the poses they are in from the end of Zero-Two's opening.
Thanks to onkei for translation help.
As for anyone who wants Meeting Cafe products...
You'll want to contact an intermediary to get these items sent to you. WtW is not affiliated with any, but here are a selection of intermediaries that have worked well for various WtWers and their friends in the past:
From Japan
Rider Proxy
Nippon-Yasan
Be aware many intermediaries do not carry items from specialty shops since they can't be ordered online. You will need to ask them and explain what you want very carefully (perhaps with a photo.) Some intermediaries will potentially still not be willing to get the item (or may only be willing to at great cost.) Realistically to get anything from the cafe at a reasonable cost you'll have to find someone who is actually going and ask them to pick you up something.
Some of the intermediaries have a full store front and may have the item listed, so you may want to check that first.