Show User Social Media
Hide User Social Media
Joined

Sep 8, 2006
Messages

14,746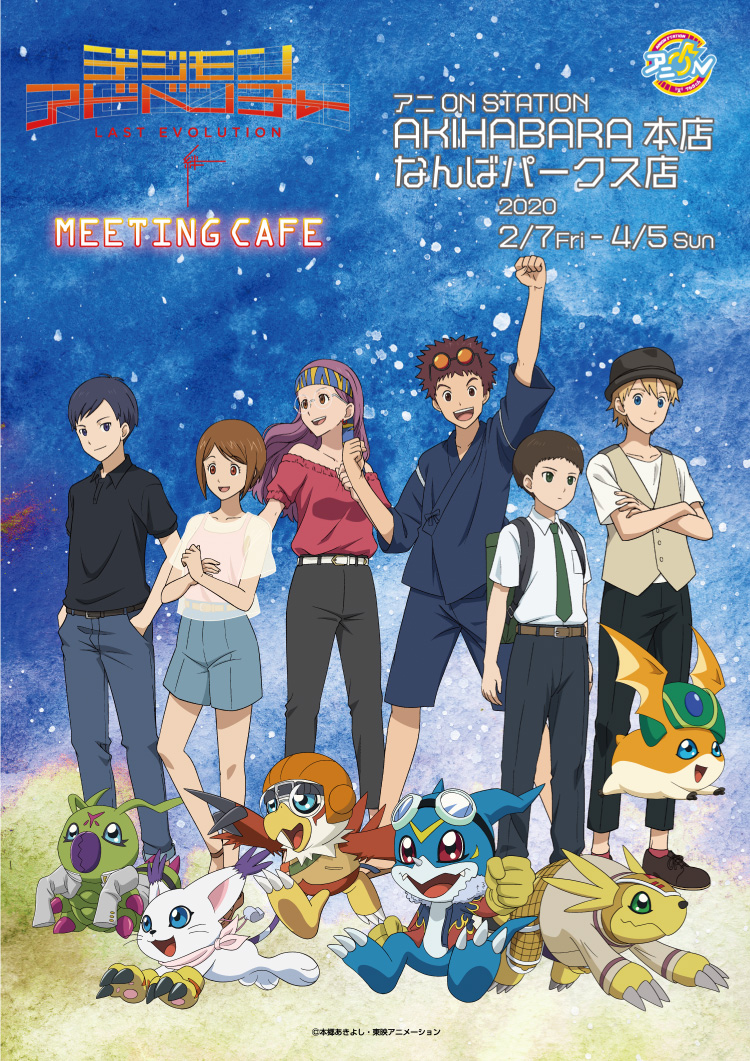 When we got details for the Last Evolution Meeting Cafe at Ani-On Station last month
, they teased that part 2 would feature the 02 team.
With only a week to go t
hey've finally announced the part 2 details!
The key art this time features the 6 younger characters, with their Digimon partners having raided their childhood wardrobes, in a recreation of the end shot from the opening of Adventure 02.
The Digimon Adventure: Last Evolution Kizuna Meeting Cafe will take place at 2 Ani-On Station locations, the Akihabara Main Store and Namba Parks locations through April 5th. 'Part 2' begins on March 6th.
Various elements from Part 1 will carry over (such as some food and products, etc.) We will only be going over the new stuff. Prior details can be found
here
.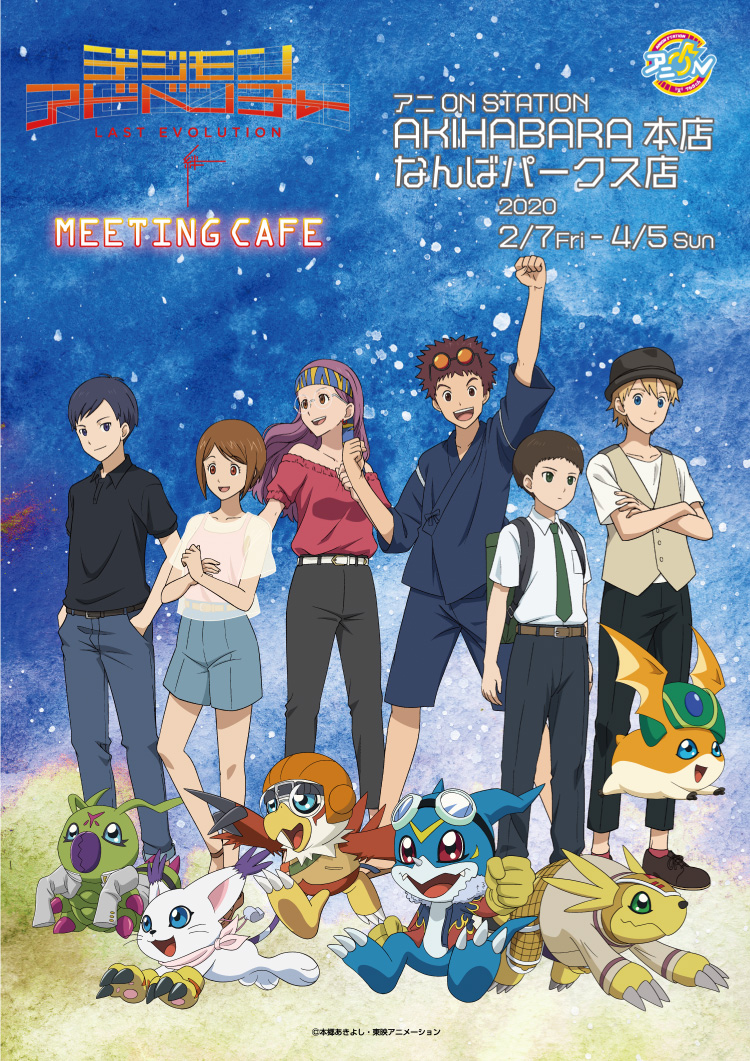 (Both the new and original image for comparison.)
When you enter you will receive one 'Jukebox Rock On' ticket for the cafe (you will also get additional tickets when you order menu items, or buy products.)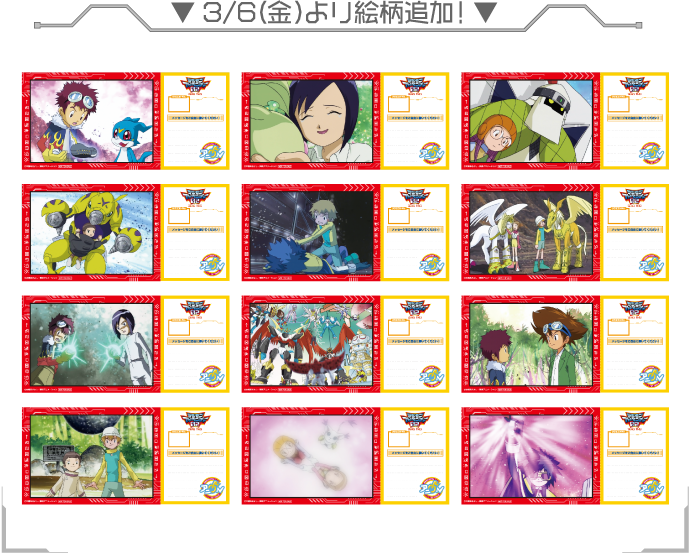 The Adventure 'Rock On' tickets will continue to be given out, but a selection of 02 themed ones will be added.
Then we have the menu!

The drink menu for period 2 runs March 6th until April 5th..
Drinks will have an AR aspect to them. If you aim your camera at one of the drinks using the Cocoar2 app, characters will jump out of the drink for you to take photos.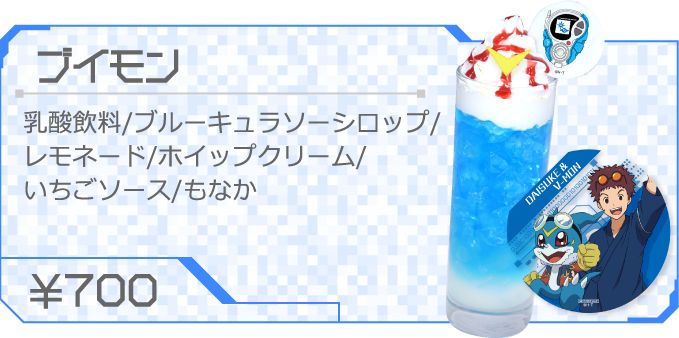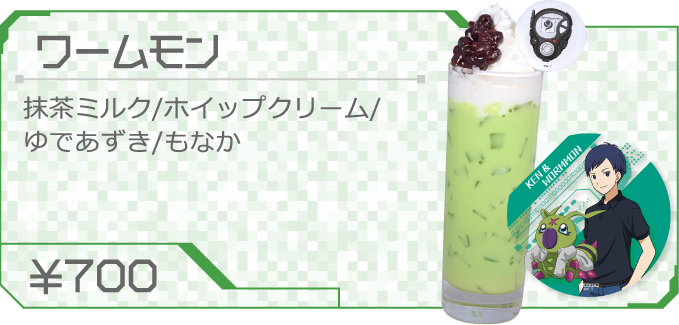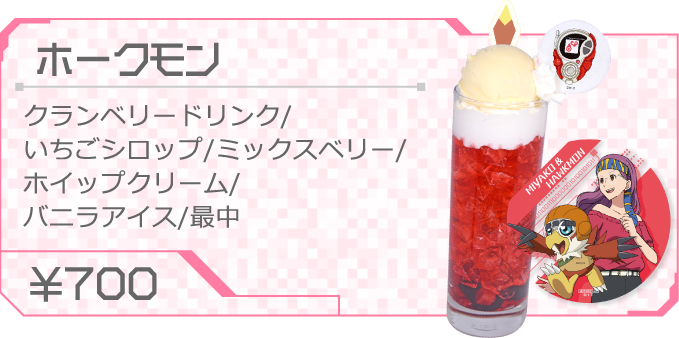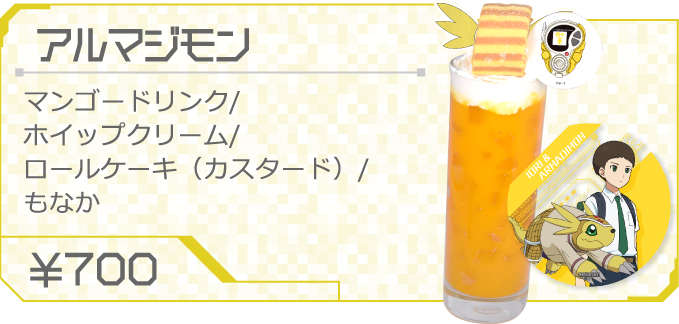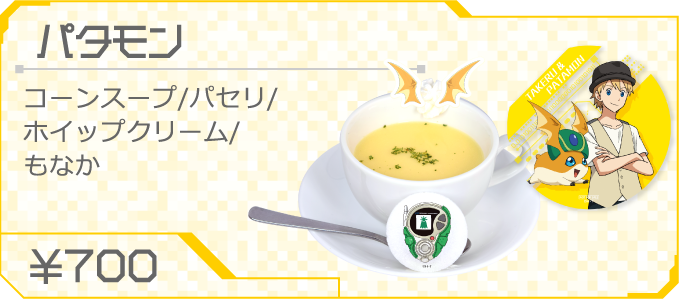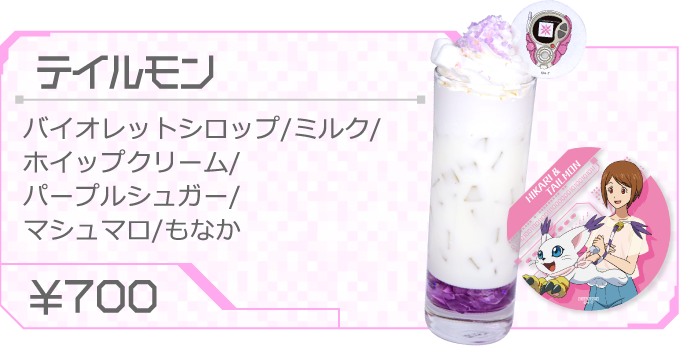 Each drink is 700 yen and named after a partner Digimon!
V-mon- Lemonade, mixed with lactic acid and blue curacao syrup, topped with whipped cream, strawberry sauce, and a D-3 shaped monoka.
Wormmon- Matcha milk, topped with whipped cream, yuzu, and a D-3 shaped monoka.
Hawkmon- Cranberry drink, mixed with strawberry syrup and mixed berries, topped with whipped cream, vanilla ice cream, and a D-3 shaped monoka.
Armadimon- Mango drink, topped with whipped cream and a custard filled roll cake, and a D-3 shaped monoka.
Patamon- Corn soup, topped with parsley. A glob of whipped cream with Patamon shaped monoka is on the cup, with a D-3 shaped monoka is on the side.
Hikari- Violet syrup and milk, topped with whipped cream, purple sugar, and a D-3 shaped monoka.
Then we have the food menu!
The 'In commemoration of the movie opening!' plate will continue to be served, but have new themed monoka on it.

Then we have the food items that will only be available during the second period of March 6th through April 5th.
Daisuke's Worlds best Delicious Ramen is 950 yen. It's a blue salted ramen base with boiled pork, menma, sliced egg, onion, and a monoka of the kizuna logo.
Amazing Power! Omegamon Parfait! is 850 yen. It's berry jelly, nata de coco, champagne gold jelly, mixed fruit, whipped cream, and manga gelato, with an Omegamon monoka on top.
Between March 6th and April 5th you will get a gift for each food item you order.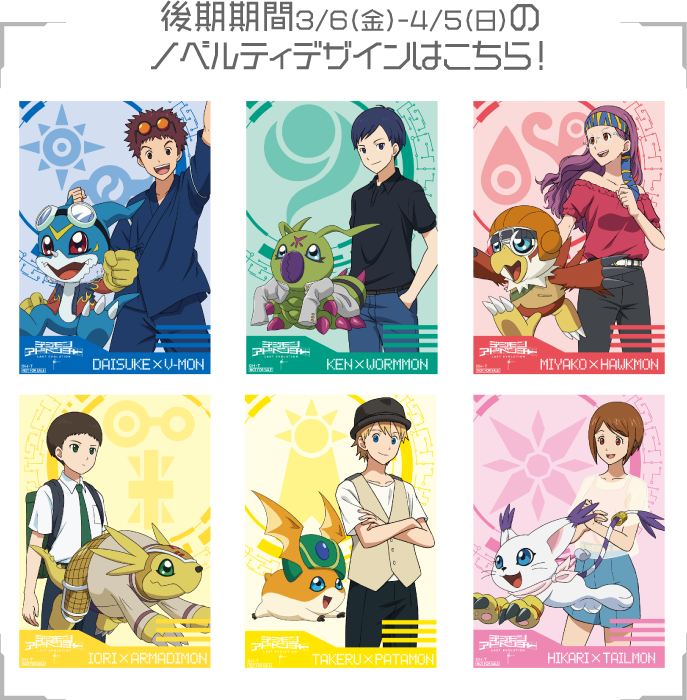 One of these six clear bromides at random.
Then there is never an event like this without stuff to buy! All items from Part 1 will continue to be sold alongside these new items.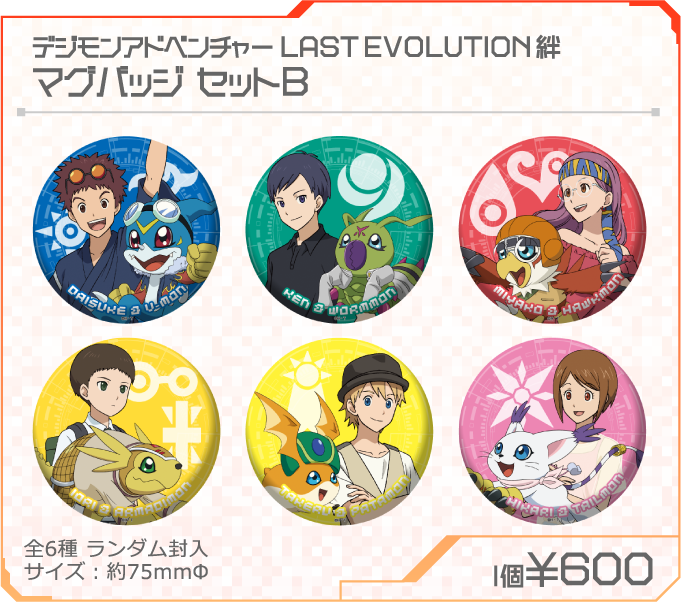 Magnet Badge Set B- These magnetic badges use the new key art. There are 6 total, and they come randomly packed for 600 yen.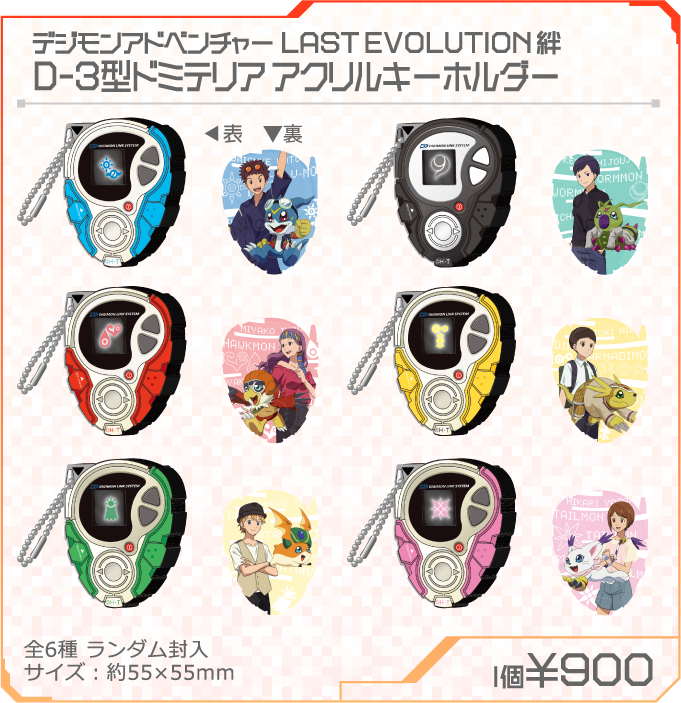 D-3-shaped acrylic keyholder. These use the 'modern design' D-3, with crests on the front, and character art on the back. There are 6 total, and they come random packed for 900 yen.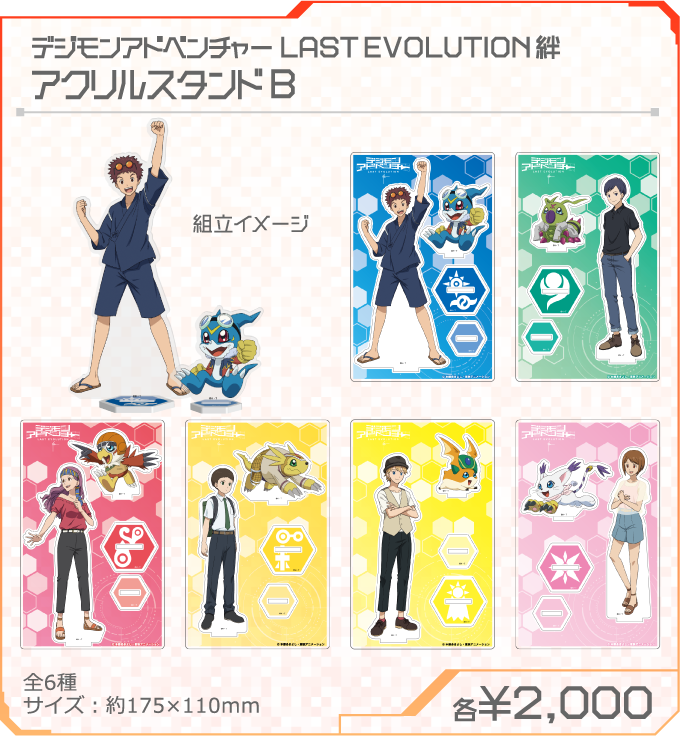 Acrylic stands of the new art! There are 6 of these and each of these is 2,000 yen.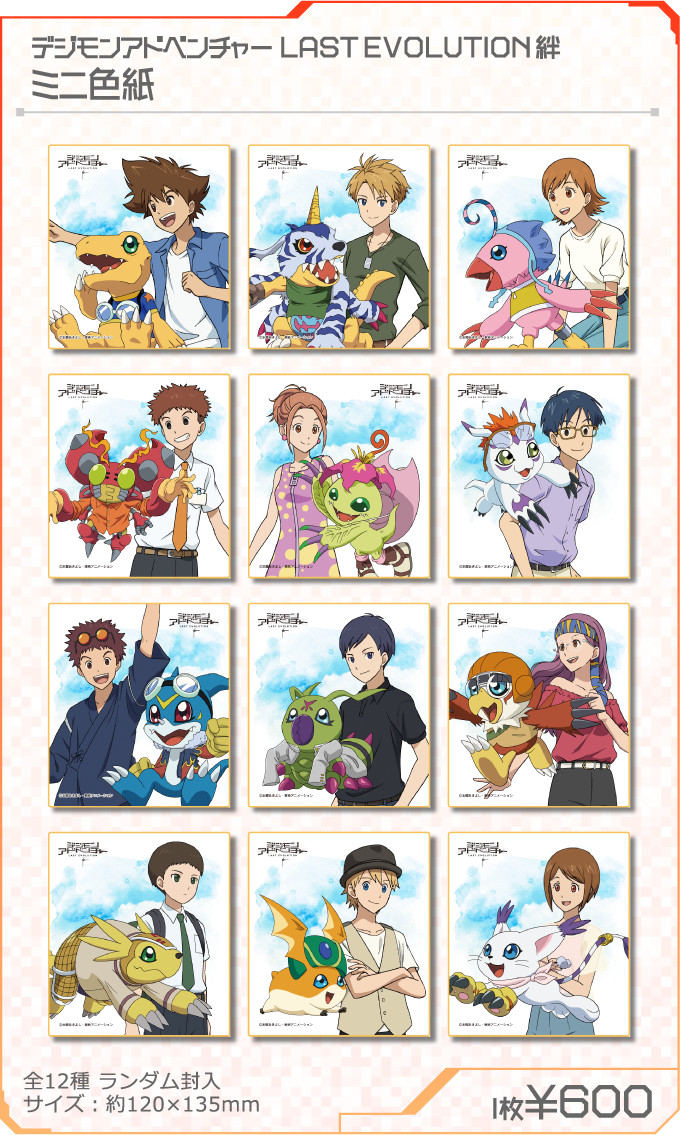 Mini shikishis. These 12 mini shikishis feature the new artwork from both parts of the cafe and are 600 yen each.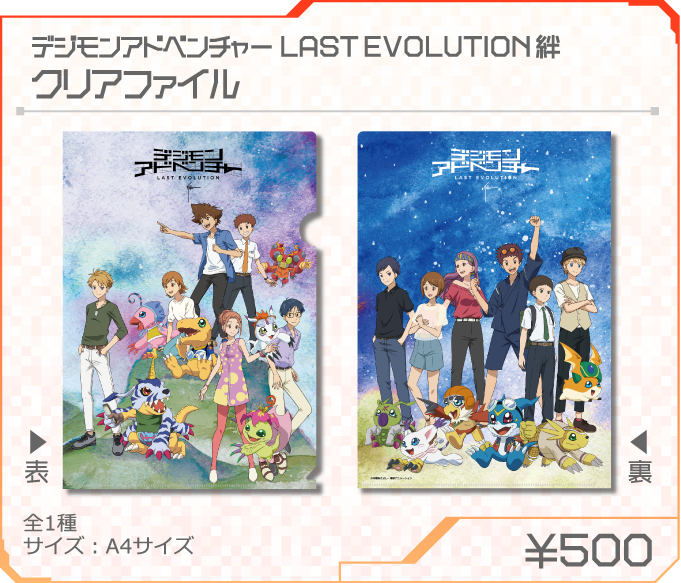 This A4 size clear file features both pieces of key art, one on the front and the other on the back. It's 500 yen.
In addition...
Namco's Toruma Twitter
tweeted about an A5 size acrylic sheet featuring the new art. Toruma is for giveaways, so it looks like it won't be sold, but rather a giveaway item.
More menu items and some nice product updates. Part 1 content can be checked
here
.
As for anyone who wants Meeting Cafe products...
You'll want to contact an intermediary to get these items sent to you. WtW is not affiliated with any, but here are a selection of intermediaries that have worked well for various WtWers and their friends in the past:
From Japan
Rider Proxy
Nippon-Yasan
Be aware many intermediaries do not carry items from specialty shops since they can't be ordered online. You will need to ask them and explain what you want very carefully (perhaps with a photo.) Some intermediaries will potentially still not be willing to get the item (or may only be willing to at great cost.) Realistically to get anything from the cafe at a reasonable cost you'll have to find someone who is actually going and ask them to pick you up something.
Some of the intermediaries have a full store front and may have the item listed, so you may want to check that first.