Show User Social Media
Hide User Social Media
Joined

Sep 8, 2006
Messages

13,196
Last Evolution Kizuna Collaboration at Kiddy Land & Plushes Early at Village Vanguard
More exclusive stuff!
The Kiddy Land chain of stores in Japan had a number of collaborations with Digimon Adventure tri. with exclusive and early products, and
they're doing it again for Last Evolution Kizuna
via what they call the 'Korokoromon Fair'.
The new key art this time is the kids in plush eggs based on their Digimon at their lower levels.
It will be at 5 Kiddyland stores between February 15th and 28th:
Harajuku
Musashi Kosugi
Otaka
Osaka Umeda
Fukuoka Parco
Onto the products! Minus a few we've seen before, all use the new key art.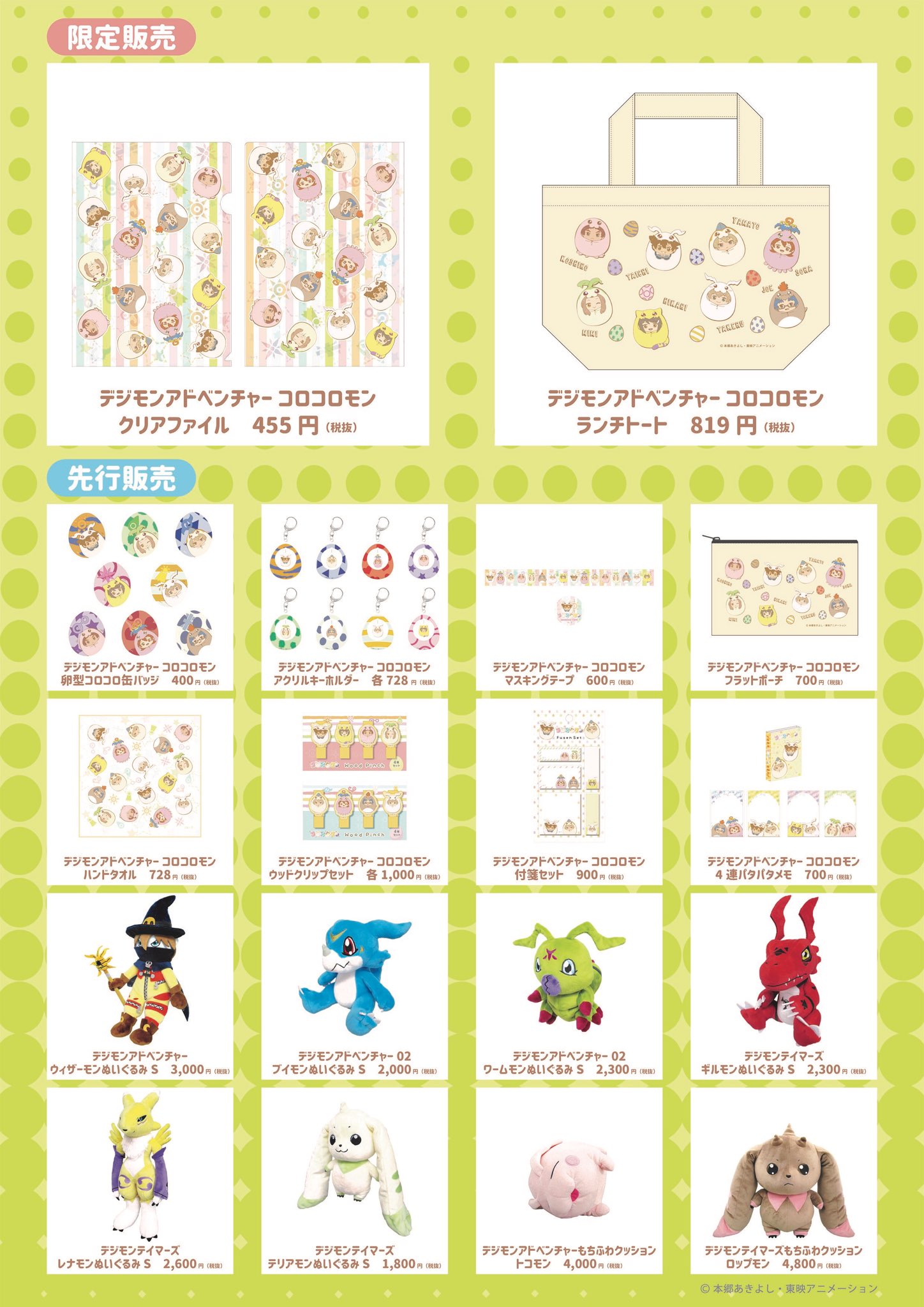 Items exclusive to Kiddy Land.
A clear file, 455 yen.
A lunch totebag, 819 yen
There will also be a number of items sold early at Kiddy Land, but they will get a standard release later.
Egg-shaped can badges, 8 types, 400 yen each
Acrylic keychainsm, 8 types, 728 yen each
Character masking tape, 600 yen
A flat pouch with a zipper, 700 yen
Small hand towel, 728 yen
Wooden clip set, 2 sets of 4 clips, 1,000 yen each
Sticky memo set (post it notes with character art), 900 yen
Memo Pad with 4 page designs in a single pad, 700 yen
On top of that, they will have an early release for the
new wave of small plushes and cushions
that were announced late last year:
Wizarmon, 3000 yen
V-mon, 2000 yen
Wormmon, 2300 yen
Guilmon, 2300 yen
Renamon, 2600 yen
Terriermon, 1800 yen
Tokomon cushion, 4000 yen
Lopmon cushion, 4800 yen
That's all the products, but as a bonus...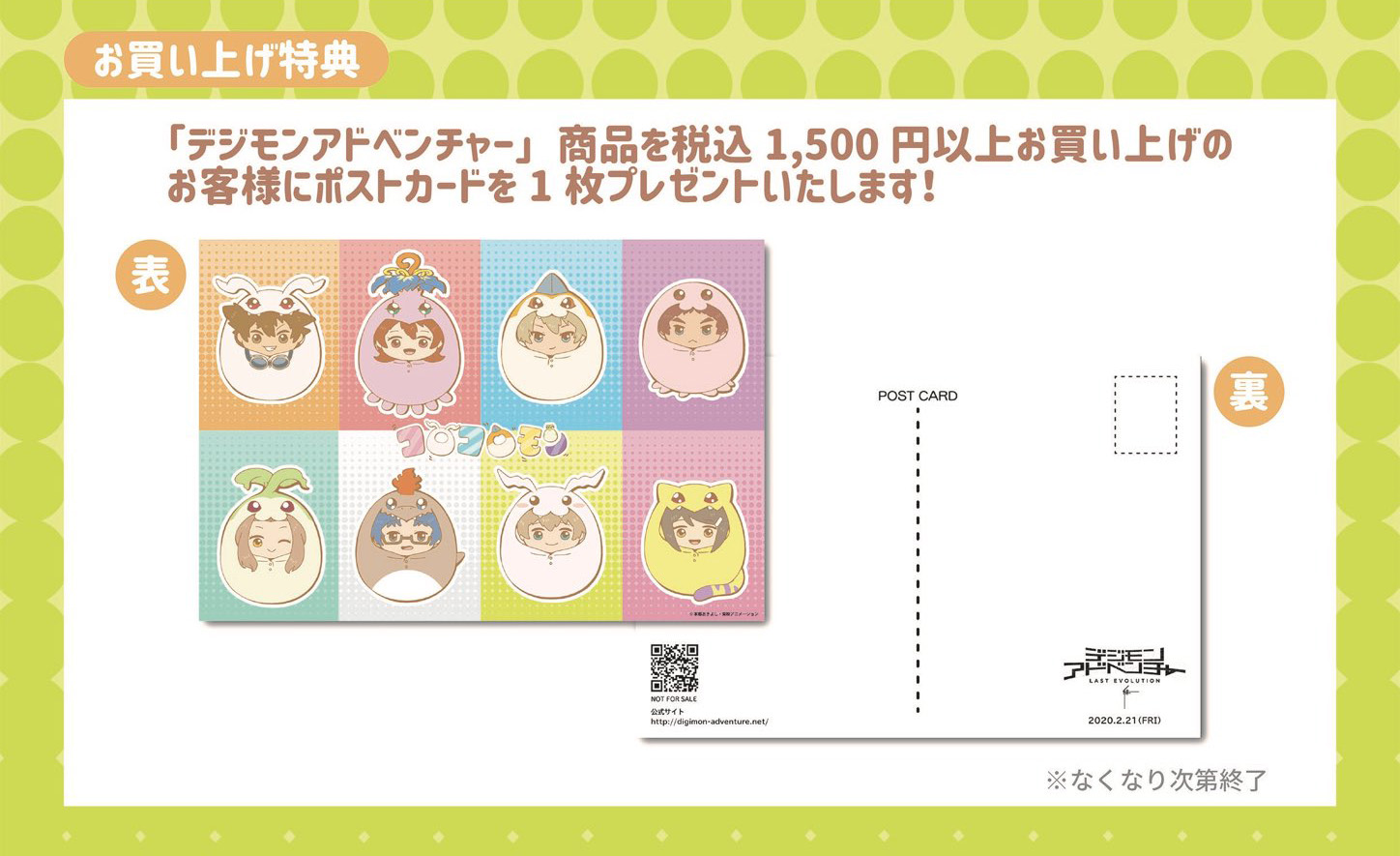 For every 1,500 yen spent on Digimon items you get a postcard featuring the new artwork.
The Digimon Adventure Twitter
put up alternate images that are a bit easier to see in some cases...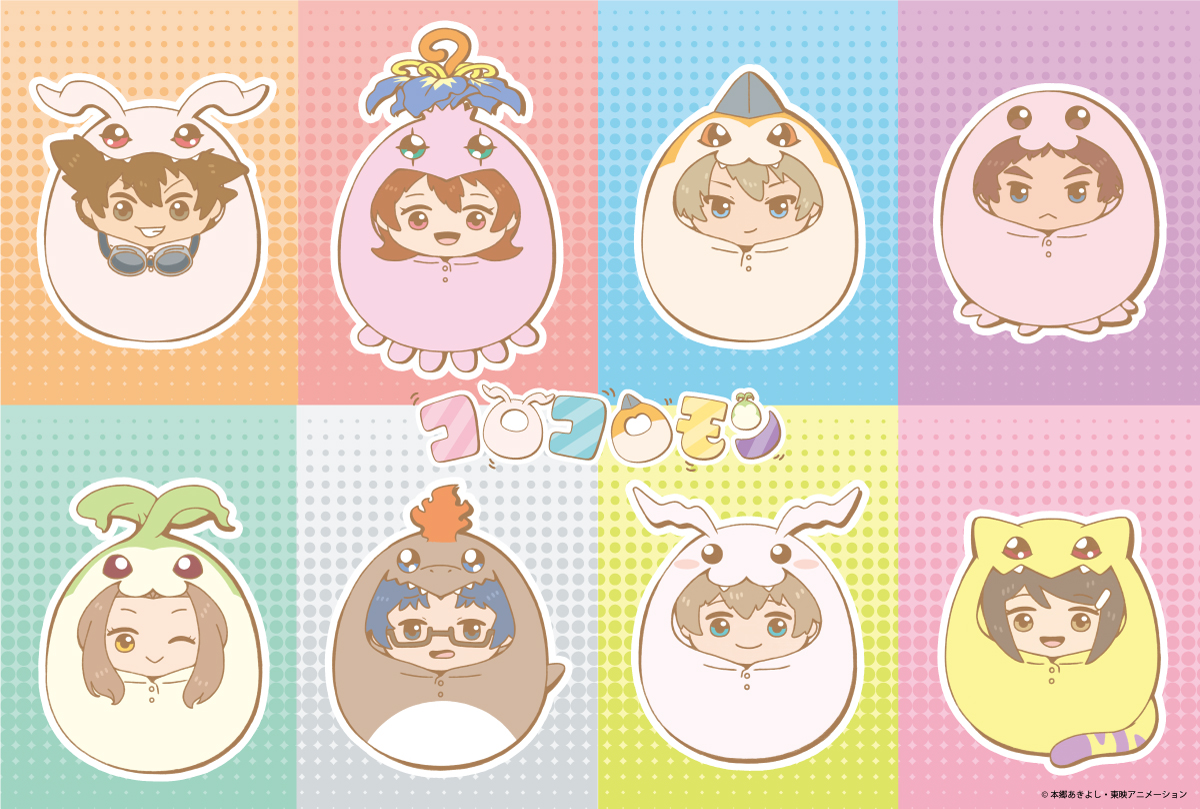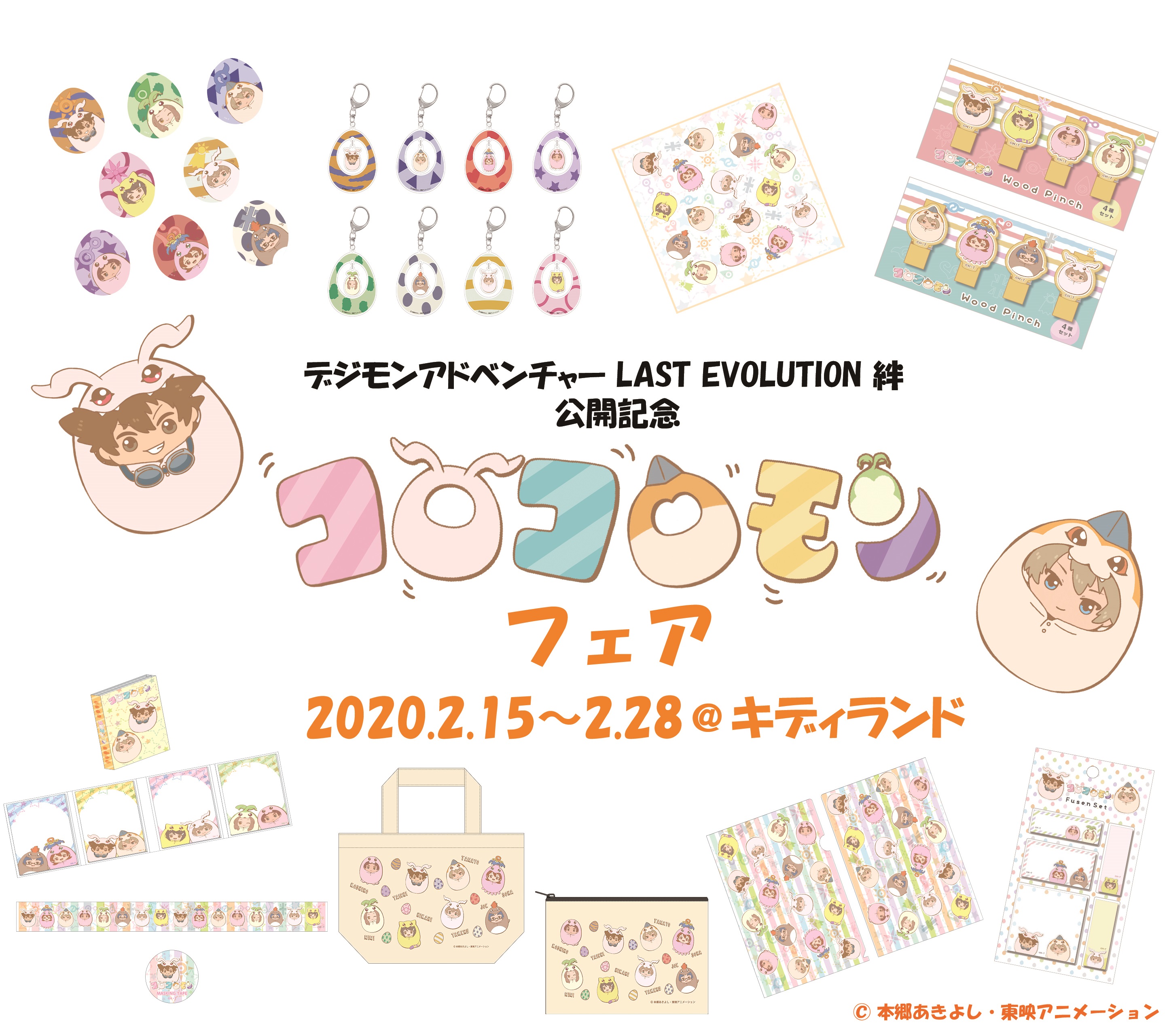 On top of that, Village Vanguard is having a small promo...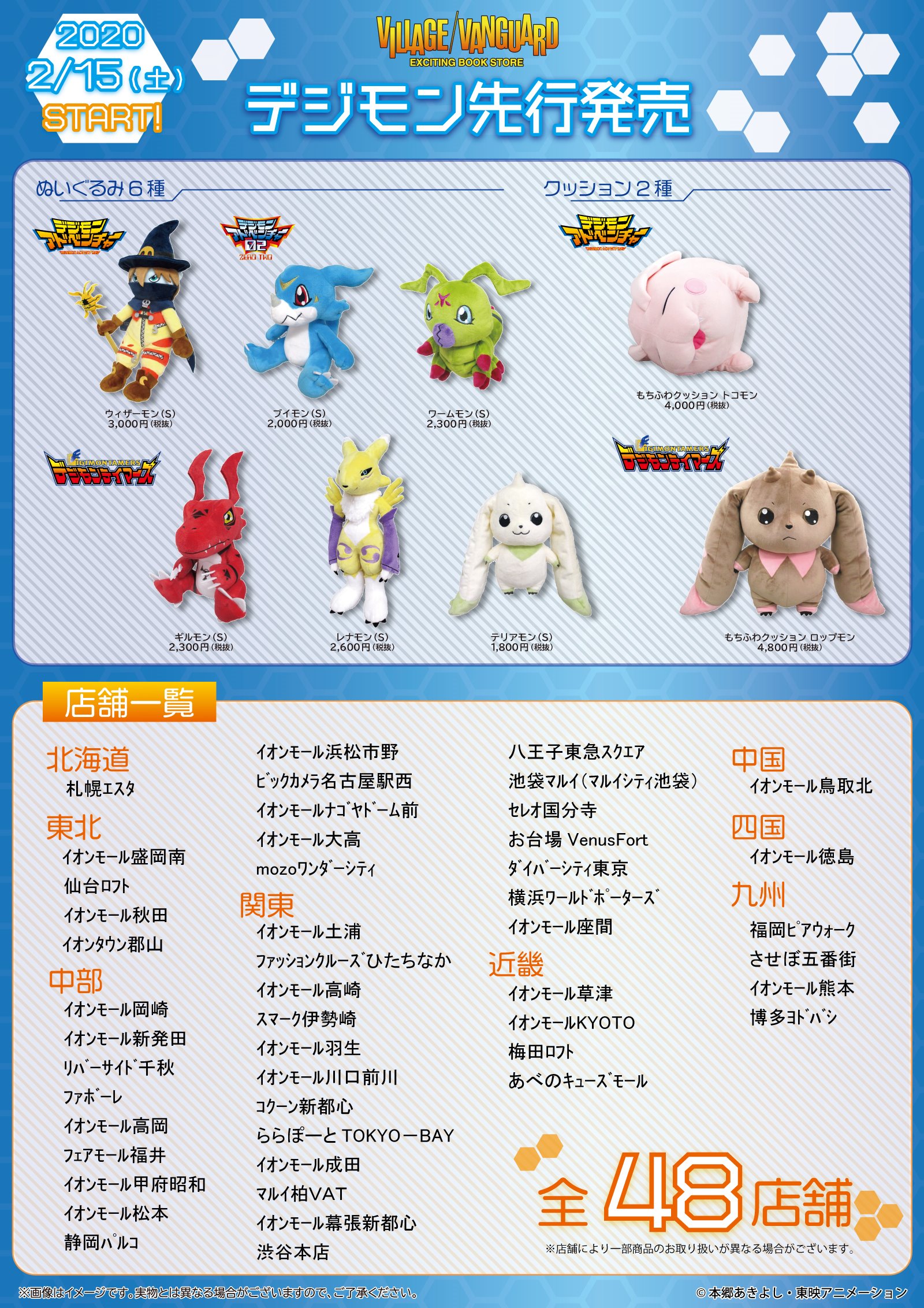 San-ei-boeki, the makers of the small plushes and cushions,
have announced
that Village Vanguard will have them early.
There is no special pricing here, they'll just be available February 15th (the same day the Kiddy Land collaboration begins) in 48 Village Vanguard stores.
We aren't going to translate all the stores (we're tired), but here is a list of prefectures and how many Village Vanguard stores will have them in each area if you're going to be there and want to check:
Hokkaido (1)
Tohoku (4)
Chuubu (14)
Kanto (19)
Kinki (4)
Chuugoku (1)
Shikoku (1)
Kyuushuu (4)
Thanks to onkei for translation help!
You'll want to contact an intermediary to get these items sent to you. WtW is not affiliated with any, but here are a selection of intermediaries that have worked well for various WtWers and their friends in the past:
From Japan
Rider Proxy
Nippon-Yasan
Be aware many intermediaries do not carry items from specialty shops since they can't be ordered online. You will need to ask them and explain what you want very carefully (perhaps with a photo.) Some intermediaries will potentially still not be willing to get the item (or may only be willing to at great cost.) Realistically to get anything from the cafe at a reasonable cost you'll have to find someone who is actually going and ask them to pick you up something.
Some of the intermediaries have a full store front and may have the item listed, so you may want to check that first.