Show User Social Media
Hide User Social Media
Joined

Sep 8, 2006
Messages

12,059
Kizuna Updates- Masako Nozawa & AiM, More Standees, Updates at Toei Museum & More!
We have multiple smaller Kizuna things to go over...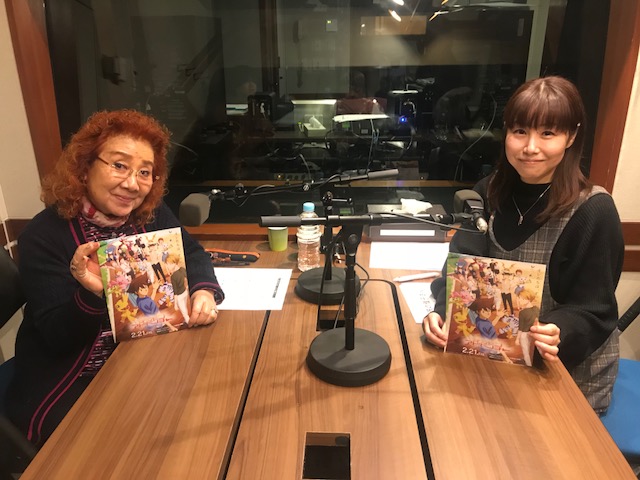 First up, tweeted out by both the
Digimon Music Producer
&
AiM
, AiM will be a guest
on Masako Nozawa's radio show
.
Masako Nozawa is, of course, one of the best known and most liked VAs there is with far more than we could ever reasonably go over including, but not limited to: Goku, Gohan, and Goten in the Dragon Ball franchise, Tetsuro in Galaxy Express 999, and of course, Guilmon and his evolutions in various parts of the Digimon franchise, most notably Digimon Tamers.
Her show is on Tokyo FM (80.0Mhz) Sunday nights at 10:30pm to 10:55pm.
It's described as a way to relax on a Sunday night and it's a show where various people come and talk with Nozawa.
AiM recently recorded an episode of the show with her to talk about Digimon. It looks like during the episode we will get previews of both of AiM's Digimon songs from her Kizuna CD, Even if We're Apart and Ashita wa Atashi no Kaze ga Fuku -2020 Version-.
The episode will air February 9th and 16th.
All 4 Kizuna CDs are out February 19th and available to pre-order at CDJapan: (Links are CDJapan affiliate links. If the links don't appear disable your ad blocker for WtW, we don't post ads, just relevant links.)
Opening Theme- Butter-Fly
Insert Song- Brave Heart ~Last Evolution version~
Insert Song- What Lies Ahead
Ending Song- Even if We're Apart
On top of that,
Natsuki Hanae did an interview
in the newest issue of Cinema Square about Last Evolution Kizuna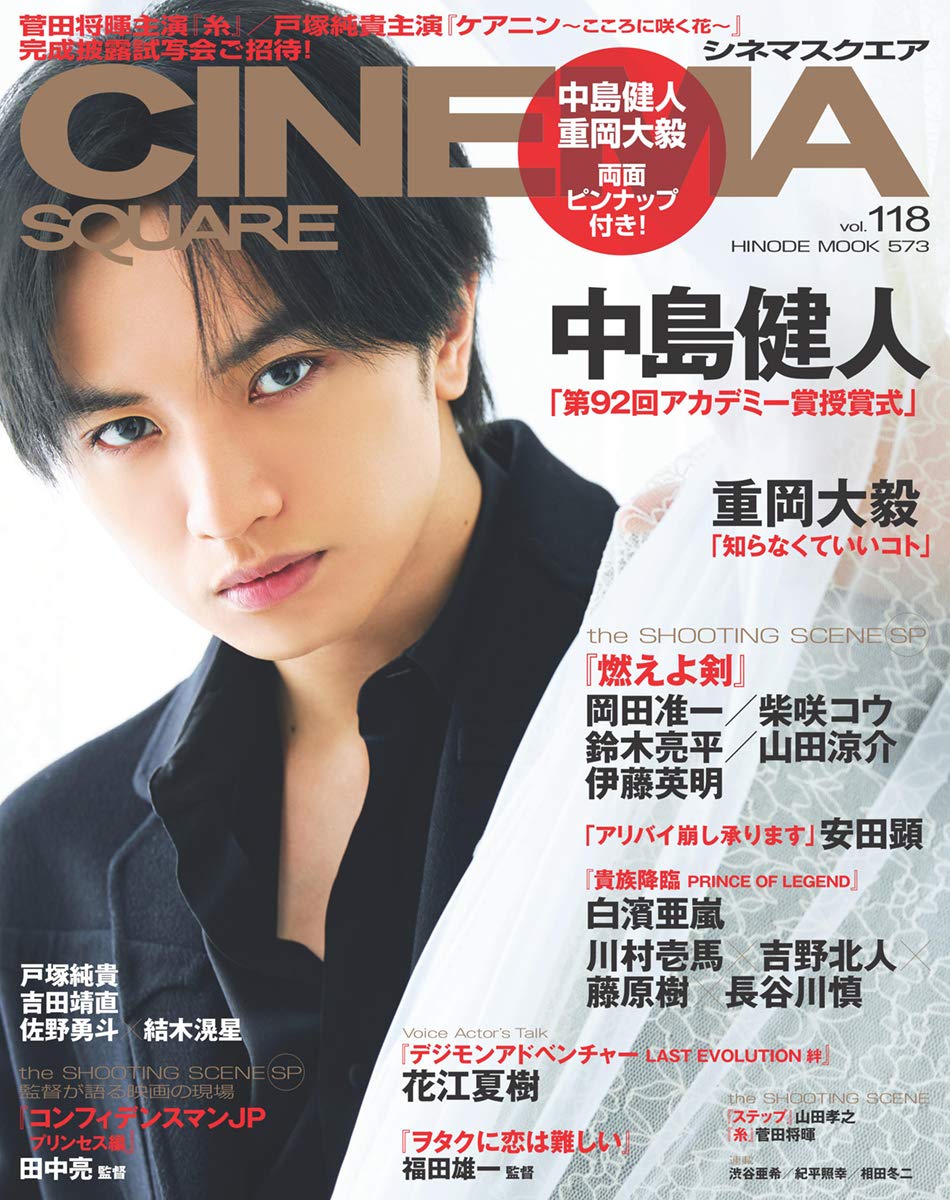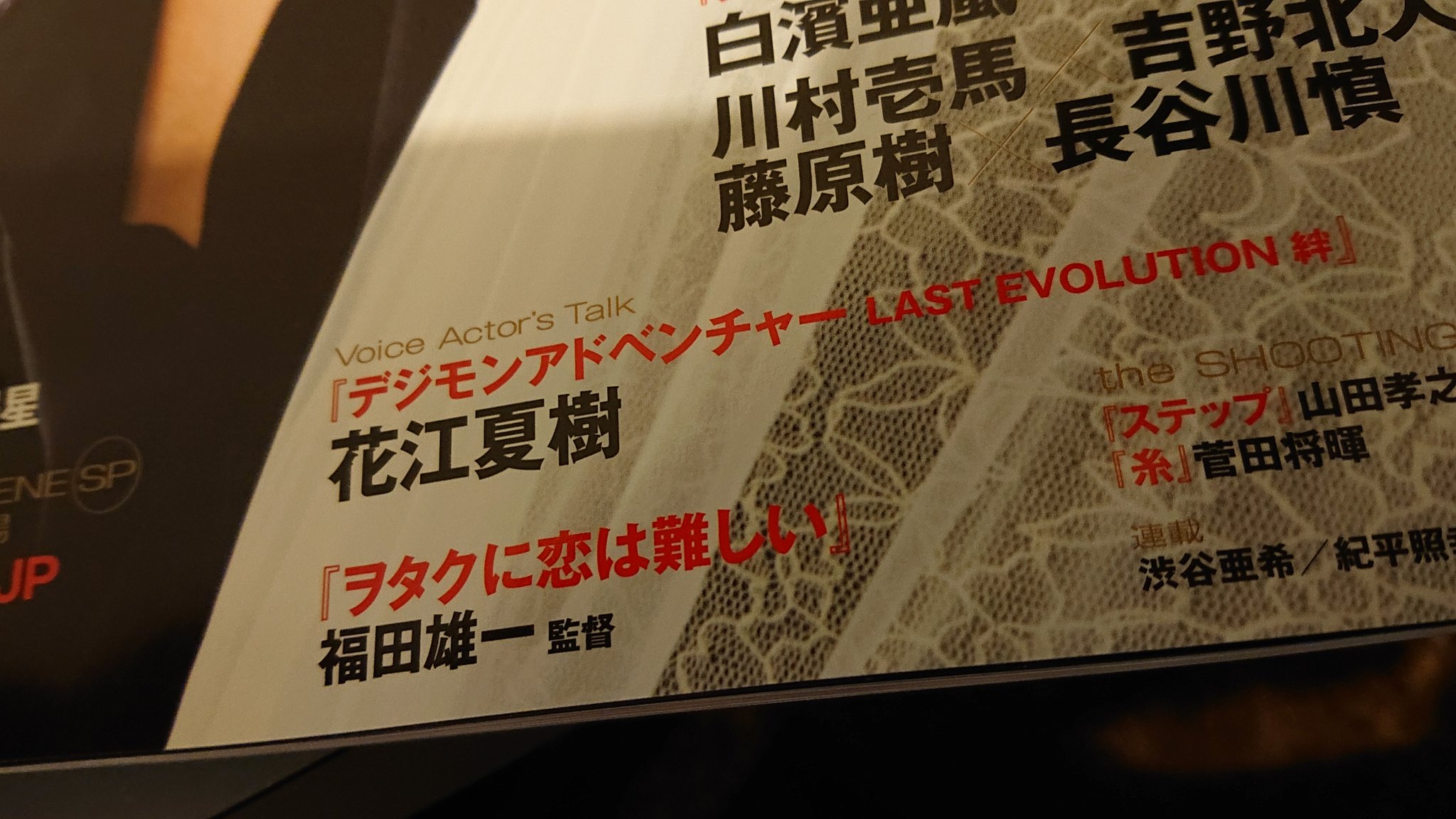 If you want to nab a copy, they're available at CDJapan: (Affiliate link)
Cinema Squad Volume 118
Next up, is an update for Kumamon Adventure!
Getting an update for this
when we only
found out about it a week ag
o is fun.
In addition to posting a map of the route the campaign busses will be running on, it looks like there will be 3 of the themed busses on the route.
Also, as teased, they announced the Twitter campaign for those in Japan, which has 4 main components.
First, have a Kizuna ticket stub.
Then have one of the following:
A photo of the inside of a collaboration bus
A photo of the big Kumamon on the 5th floor of the Sakura Machi Kumamoto (a large shopping center in Kumamoto)
A photo of one of the collaboration posters on display
Take a photo of your ticket stub and one of the other 3 to twitter along with the hashtag #くまモンデジモン産交ギャラリーバス to be entered to win one of a few different prizes...
Kumamon Adventure Good Mug Cup (5 people)
Sanko Bus Goods (10 people)
a Kizuna themed mobile battery (15 people)
if you enter with all 4 (the ticket stub and all 3 choices together) you end up in a second prize lottery with additional prizes:
Kumamon Adventure poster (5 people)
Kumamon Adventure collaboration tote bag (10 people)
They reiterate as was mentioned before that various goods from this collaboration will 'only' be released as part of the campaign.
The campaign content will run February 21st thru March 20.
Then we have an update on Kizuna at the Toei Museum...
As announced a few days ago
, the Kizuna exhibition has begun at the Toei Museum. The
Toei Museum
and
Mega Girls Hobby
have both posted a few images as a preview.
The exhibition includes various production materials from Adventure, 02, and Last Evolution Kizuna.
The image above looks to be a photo spot with standees for Taichi, Agumon, Yamato, and Gabumon.
Previous details
suggest there are only 2 full sets
of the characters
being exhibited around Japan.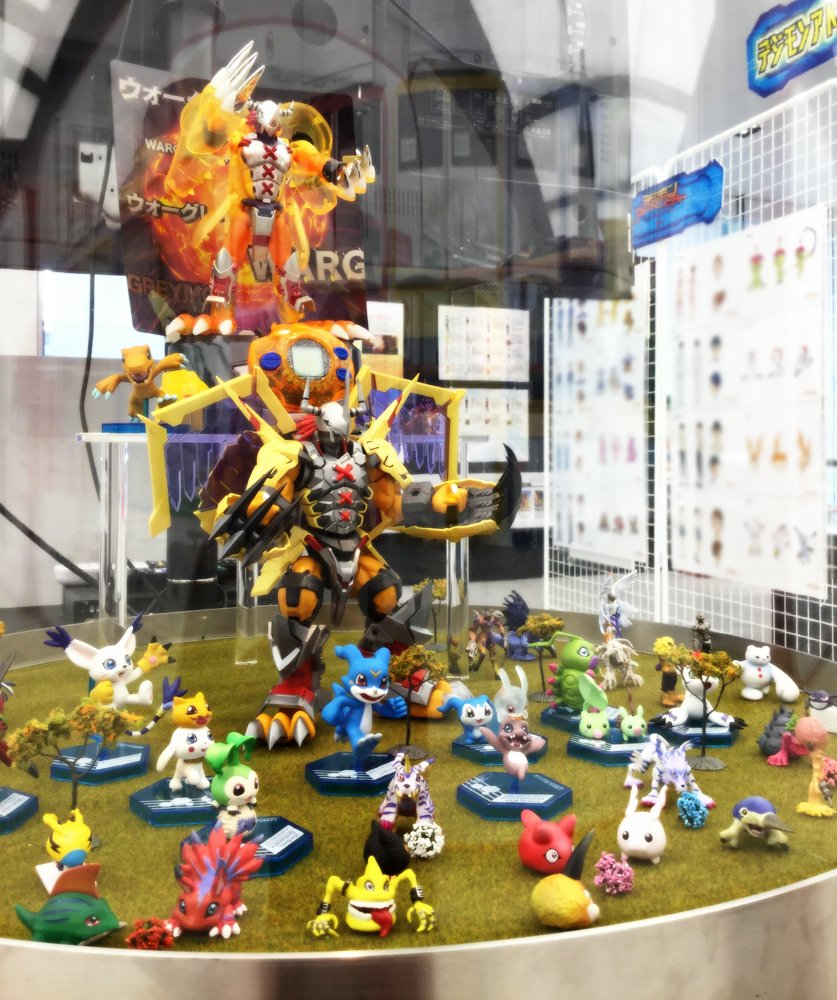 In the left photo we can see a bunch of Digimon products that have been released in the past (plus some production images in the background.)
In the right photo we can see the recently released Precious GEM Omegamon and towards the background we can see Stuffed Collection Wormmon, who goes up for pre-order soon!
And speaking of the standees...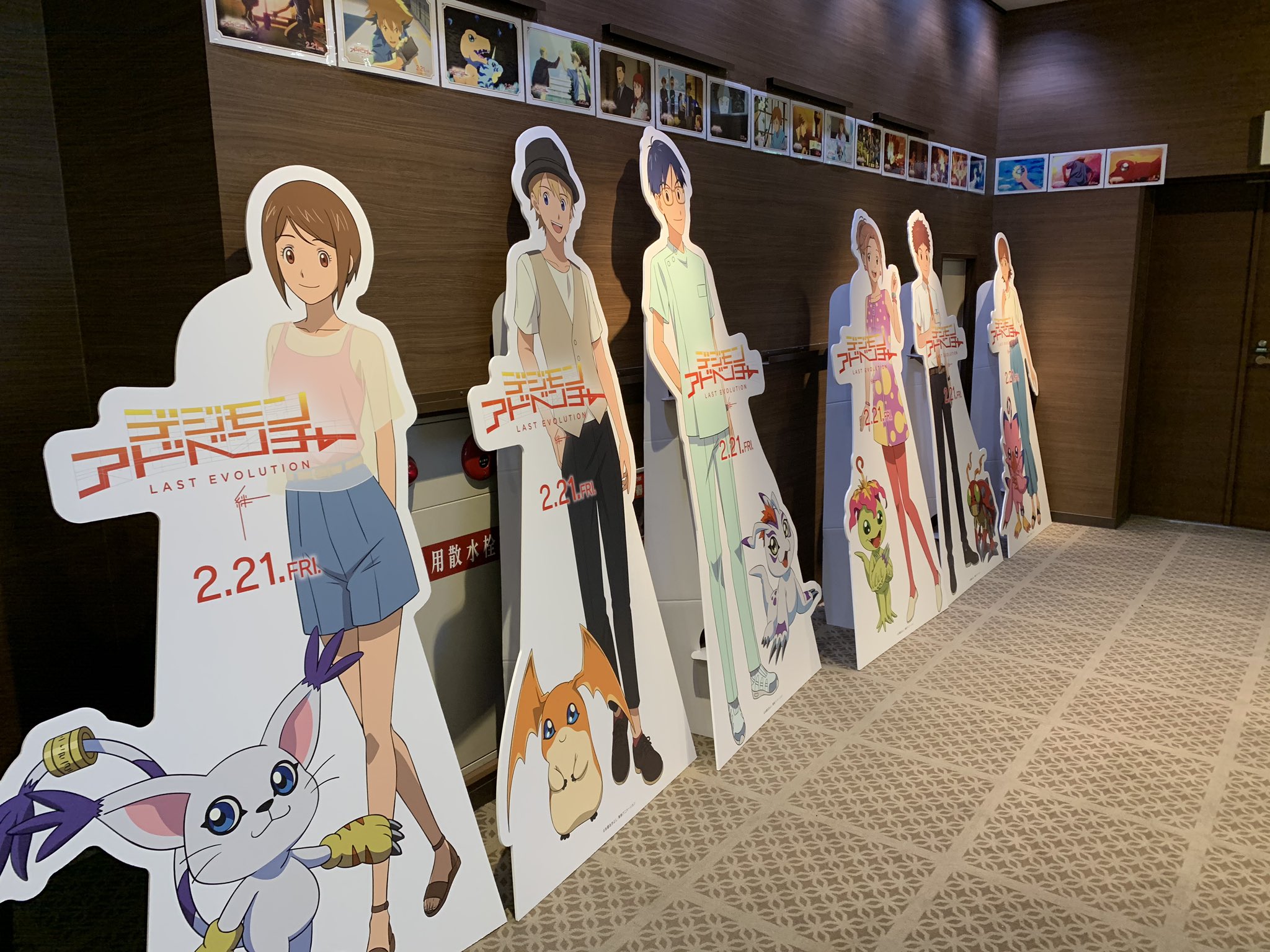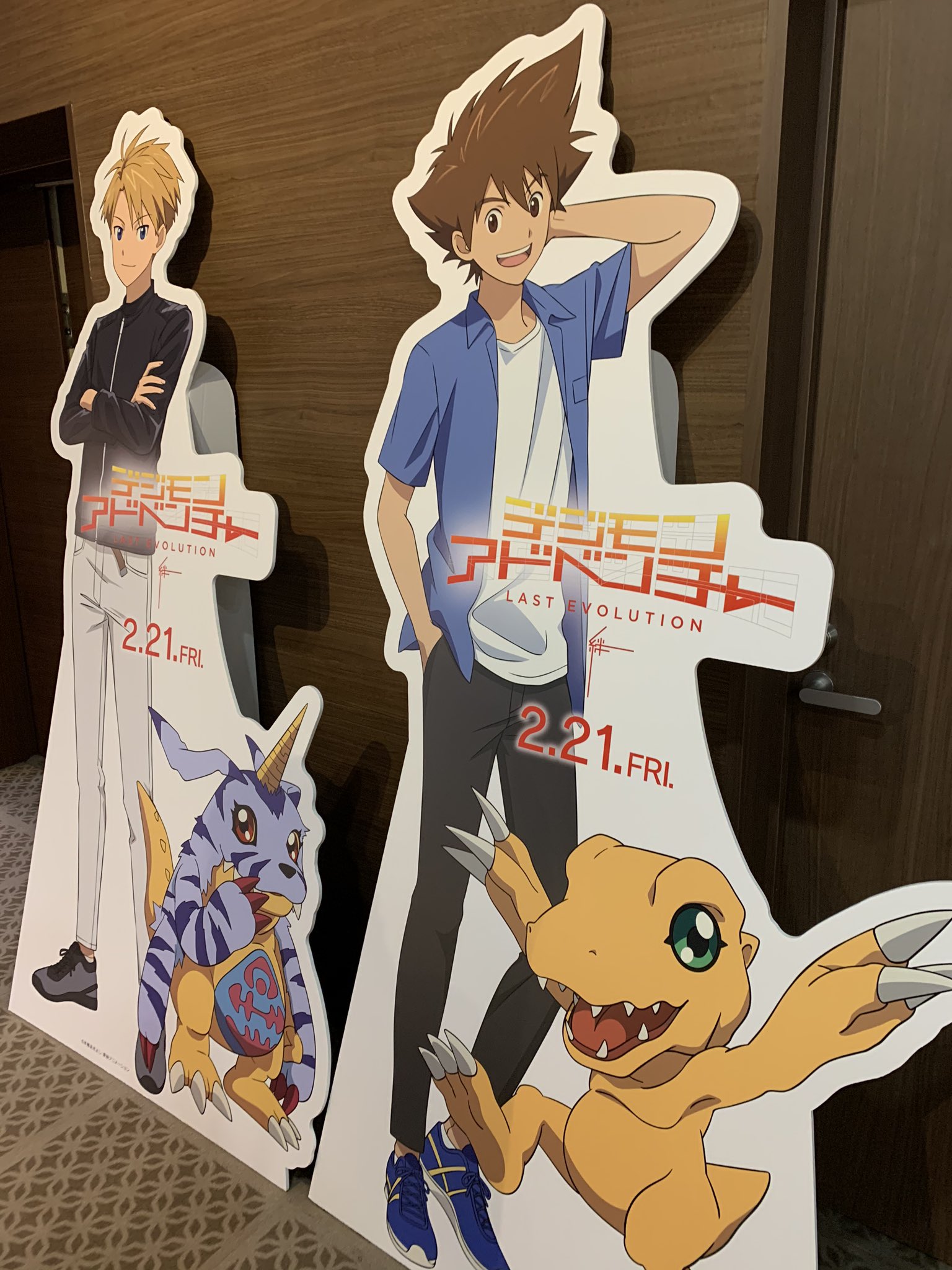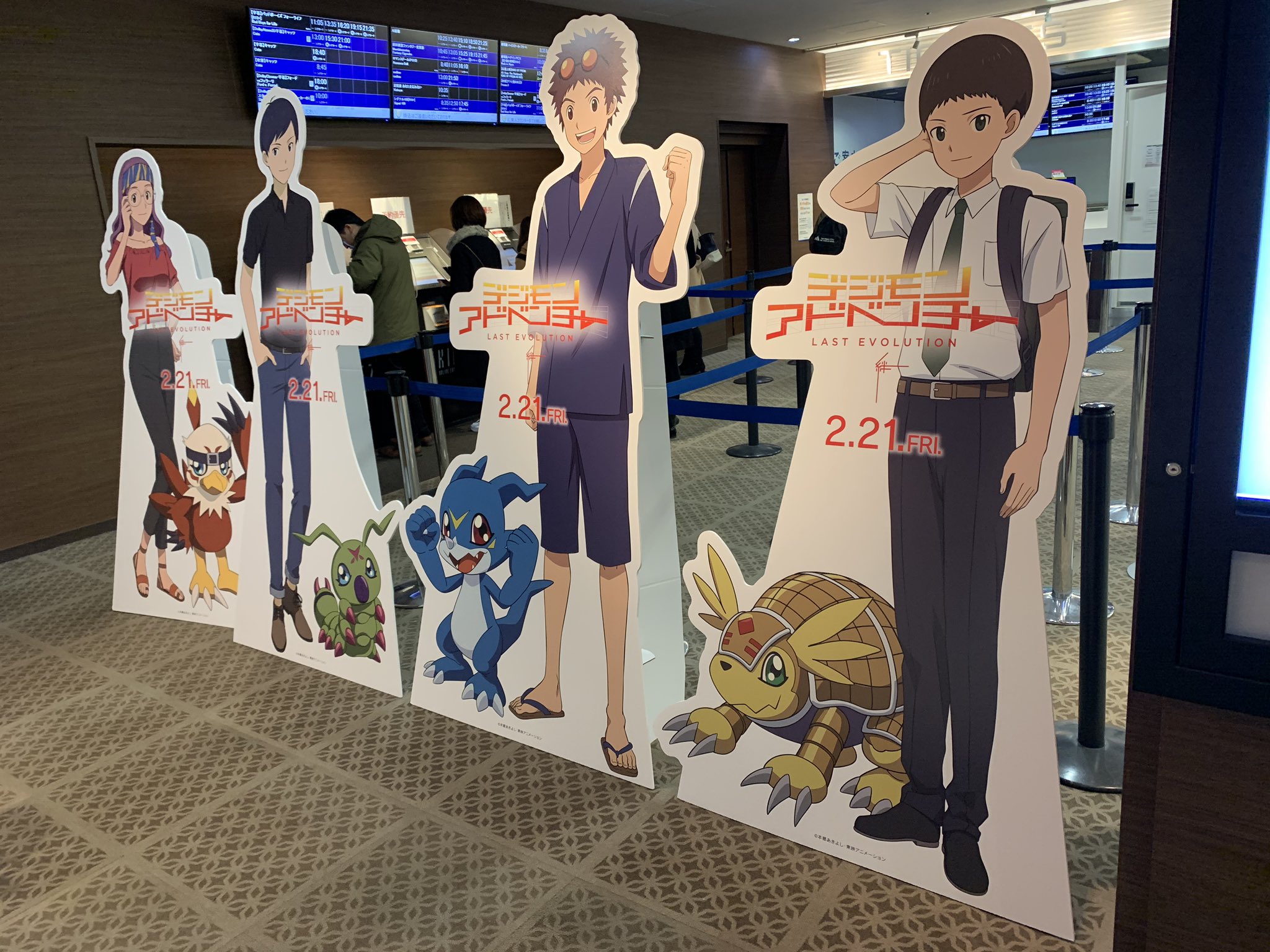 We finally have photos of all of them from the Umeda Burg 7 theater (thanks to
mojyo_t
). Plus they added promotional screenshots above the standees on the wall.
We had previously seen all of these except the 02 kids.
A massive set of little bits of news regarding promotion of the new movie!
Digimon Adventure: Last Evolution Kizuna, the 20th Anniversary film for Digimon Adventure, comes out February 21 in Japan and
March 25th in the US
.