Show User Social Media
Hide User Social Media
Joined

Sep 8, 2006
Messages

14,177
Some things to go over...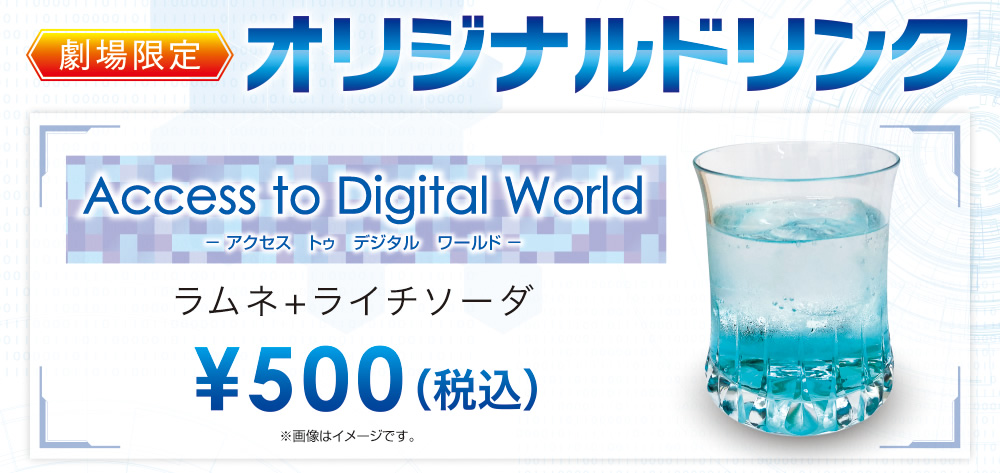 First up, an update for a number of the theaters that will be showing Kizuna.
Much like what happened
with tri.
, various theaters will have Digimon stuff added to their menus for Kizuna.
The drink costs 500 yen and is called 'Access to Digital World' and is made with ramune and lychee soda.
It will be served beginning Februaty 21st at concession stands in the following theaters: Shinjuku Wald 9, T-Joy Prince Shinagawa, T-Joy Seibu Oizumi, Yokohama Burg 13, T-Joy Soga, T-Joy Niigata Bandai, T-Joy Kyoto, Umeda Burg 7, Hiroshima Baltic 11, T-Joy Izumo, T-Joy Hakata, T-Joy Kurume, T-Joy River Walk Kitakyushu, T-Joy Park Place Oita, Kagoshima Mitte 10.
They will continue to sell it until they run out of the materials.
The Wald 9 will also have the drink on February 4th for
the early Kizuna screening
.
Those who buy the drink will get a bonus...

1 of 4 Kizuna postcards randomly (first come first serve.)
Plus a contest entry.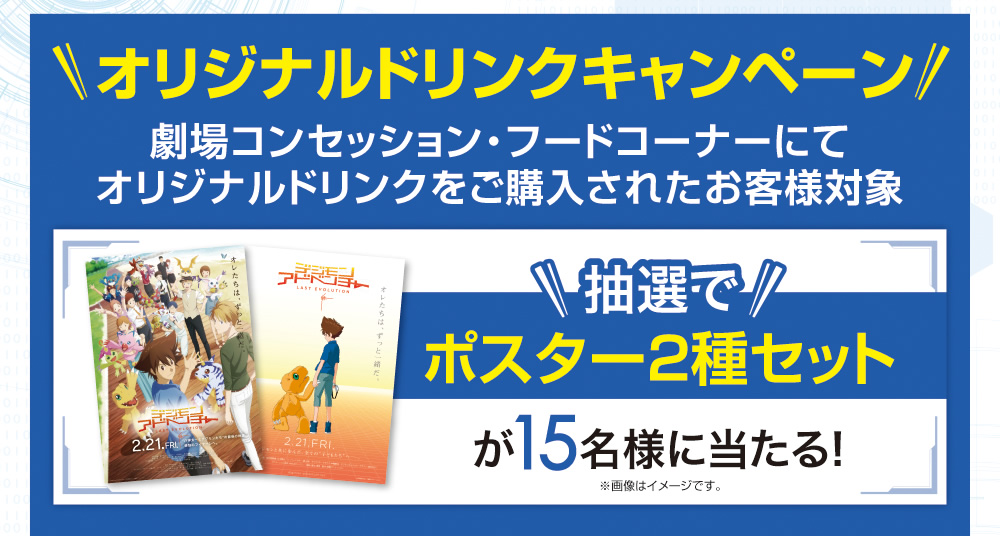 A code on the drink receipt will allow people to enter a lotto to win 1 of 15 Kizuna poster sets.
Two of the theaters will also have a small Digimon themed menu at their in theater cafes.

The cafe oase at the Wald 9 and and the cafe OASE at the Yokohama Burg 13. Both will run February 7th through March 12th.
Onto the menu. First up, items at both cafes! (Items at the cafes will also give away the same postcards shown above.)
For 500 yen, Access to Digital World will be sold at the cafes while they are open (this is in addition to them being at the concession stands during that time period.)
Evolution of Kizuna! French Toast & Chocolate Evolution! will be 800 yen. It's french toast with chocolate sauce, chocolate pocky, and whipped cream.
Then each theater will have a different sandwich for 800 yen.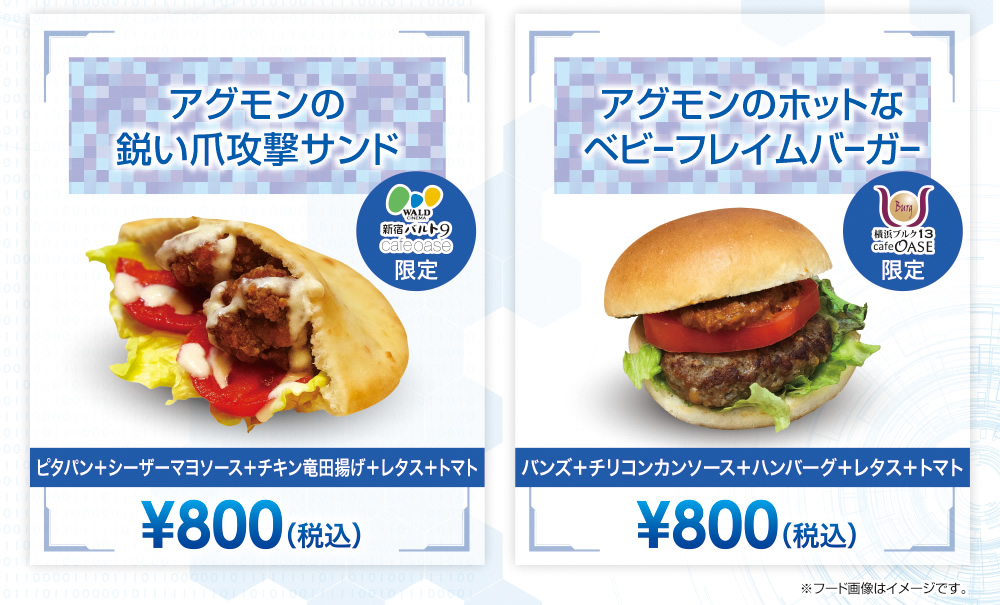 At the Wald 9 is Agumon's Sharp Nail Attack Sandwich. It's Japanese-style fried chicken in pita bread with lettuce, tomato, and a caesar mayo sauce.
The Yokohama Burg 13 gets Agumon's Hot Baby Flame Burger. It's a hamburger on a standard bun, topped with lettuce, tomato, and a chili con carne sauce.
Plus the cafes have their own contest!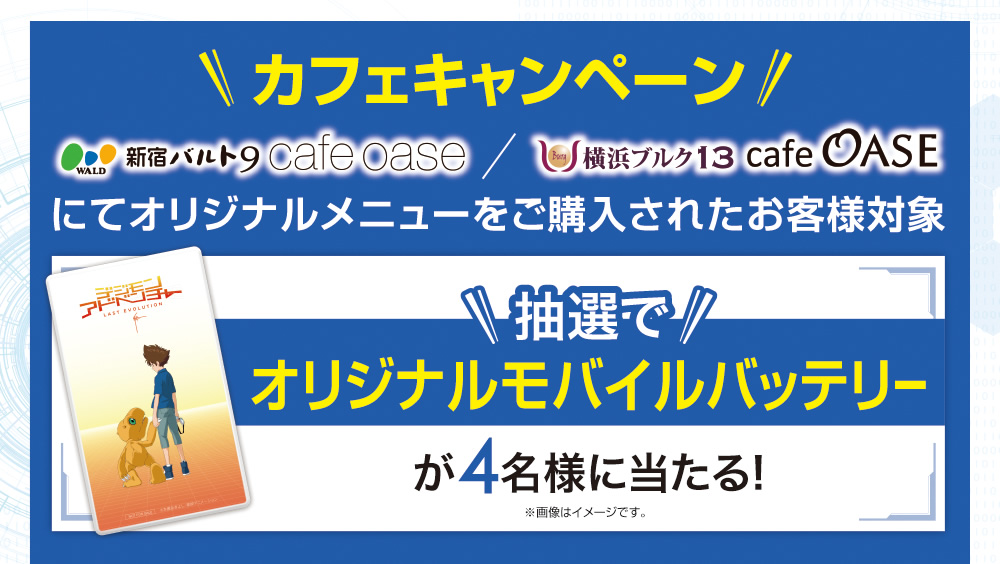 A code on the receipt will allow people to enter a lotto to win 1 of 4 Kizuna mobile batteries.
Neat smaller little things to try if you are going to any of the theaters in Japan.
Digimon Adventure: Last Evolution Kizuna, the 20th Anniversary film for Digimon Adventure, comes out February 21 in Japan and
March 25th in the US
. Many theaters in the US are already selling tickets early, so it may be worth checking at Atom or Fandango.
On top of that, a small preview of more Digimon Card Game art!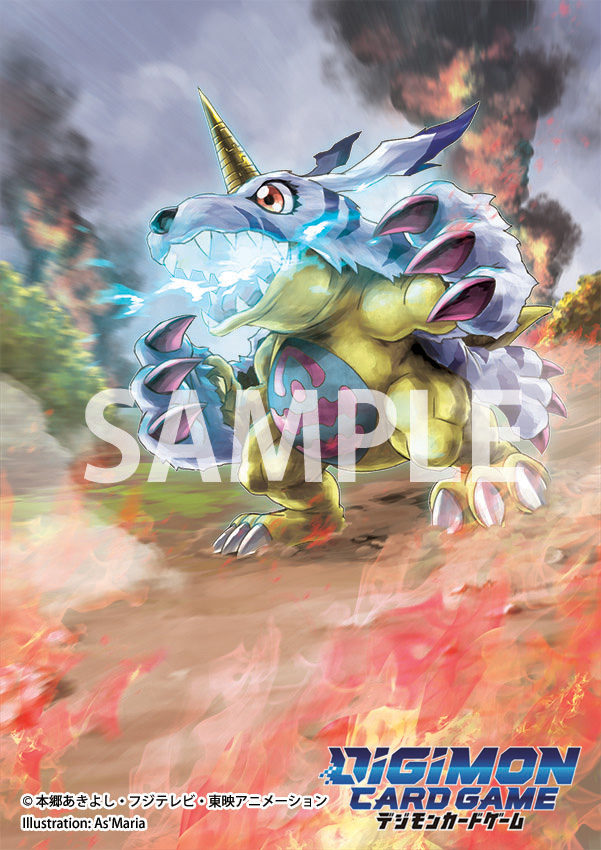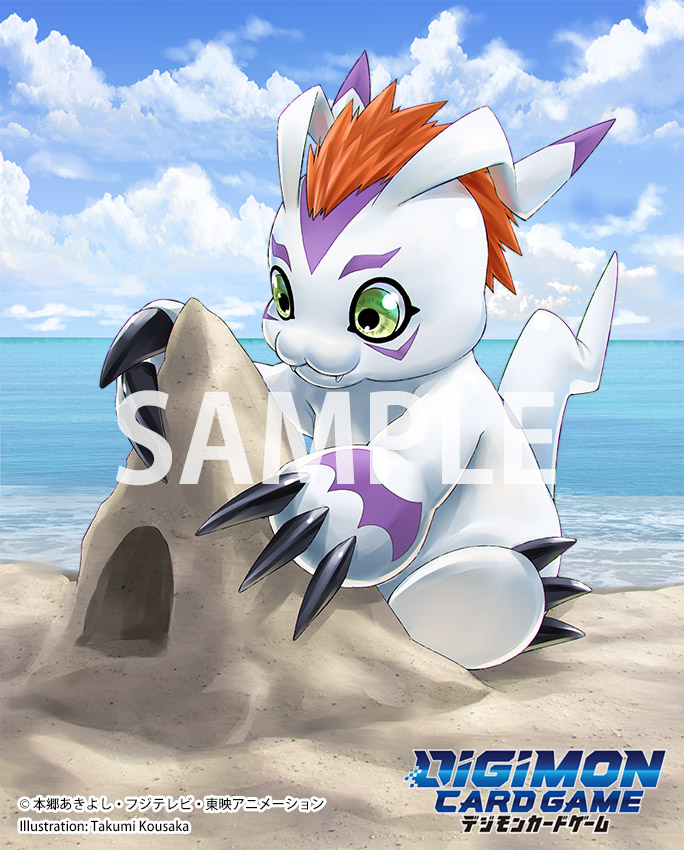 More Gabumon and Gomamon
have been put up
! Just a few days ago
we got a good look at their art
from the Version 0.0 promo booster.
This time the art is of their cards from the Cocytus Blue starter set.
Interestingly, not only are both drawn by As'Maria and Takumi Kousaka, the same as their 0.0 cards, it appears both are going with themes.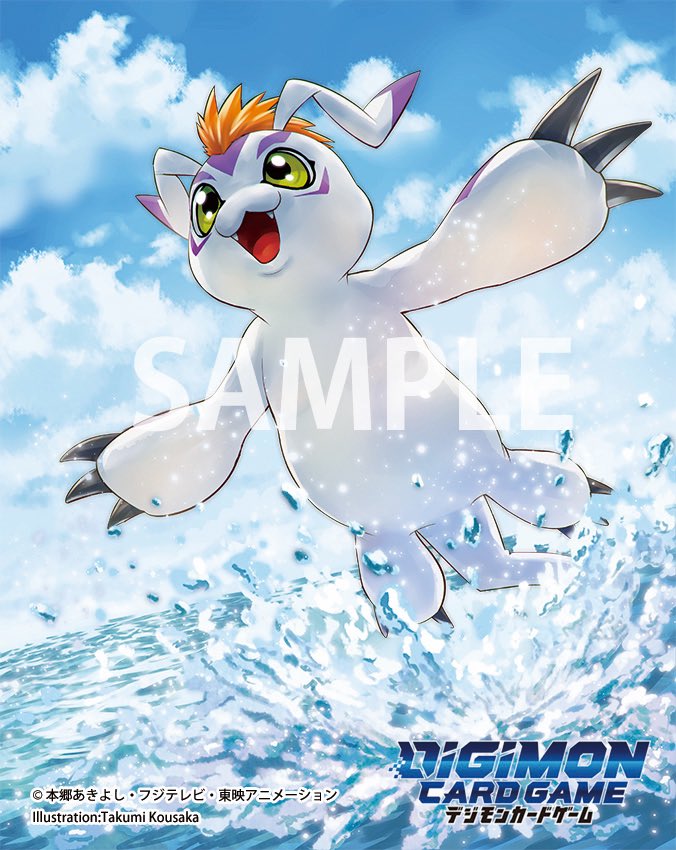 (The prior shown card art for 0.0)
The Gabumon cards show him in the midst of a battle (in fact, it looks like it's the same battle as the other card...), while the Gomamon cards show him playing at the beach.
It'll be interesting to see if future cards have any sort of noticeable continuing theme to them.
Digimon Card Game pre-orders are open and details can be found
here
.
The new Gabumon image was CMYK, which will probably look wrong on the setup most people have. The image above has been changed to a different colorspace to look correct. The original version of the image follows: