Show User Social Media
Hide User Social Media
Joined

Sep 8, 2006
Messages

15,785
Another collaboration!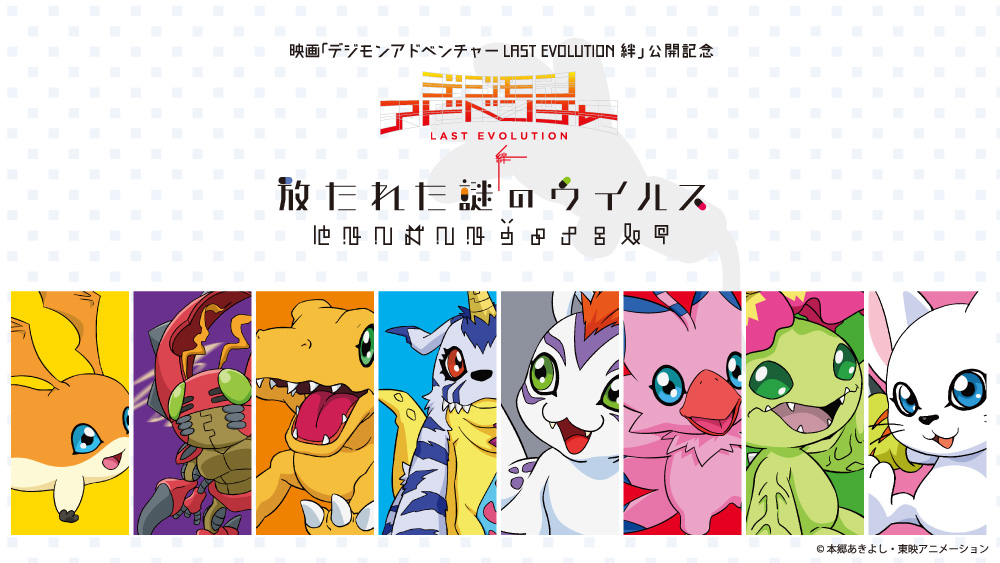 Since being announced with
a teaser last August
, we've been waiting for the details of the 3rd Digimon escape room.
It opens tomorrow in Japan, so we finally have some details!
To commemorate the opening of Digimon Adventure: Last Evolution Kizuna, the new escape room lets you experience the world of Digimon Adventure in:
Digimon Adventure: Last Evolution Kizuna in Nazotomo Cafe: The Mysterious Virus Unleashed
The escape room will take place in the following Nazotomo Cafe locations: Shinjuku, Kyoto Shinkyogoku, and Namba Parks.
It runs February 14th through May 10th.
The story for the escape room:
One day, household appliances went crazy.

Then suddenly, a Digimon who called himself Koromon popped out of your smartphone screen.

Koromon says he came from a place called the Digital World, and he mustn't be in this world.

According to Koromon, the digital world and the earth were connected by a mysterious computer virus that was released in the city.

In order to stop the runaway appliances, you need to purge the computer virus to disconnect the earth and the digital world.

Can you and Koromon stop this threat?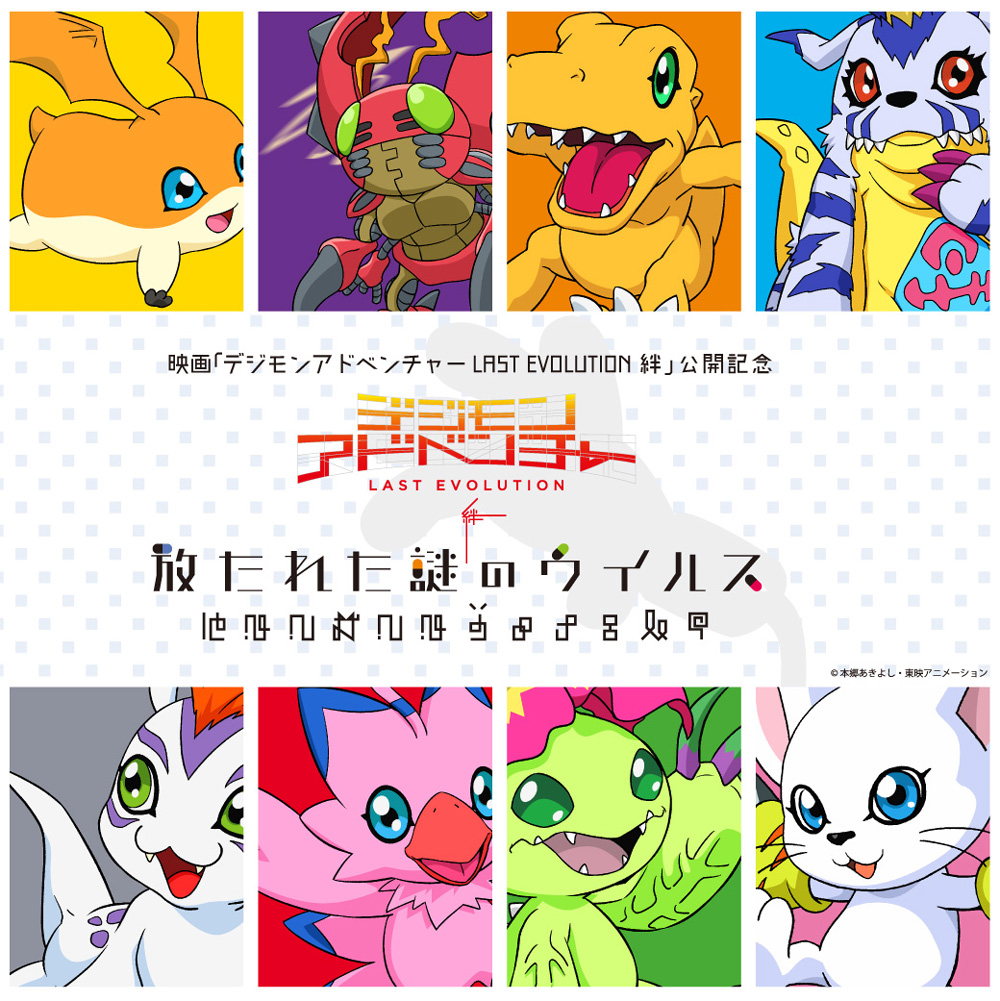 They rank it 3 out of 5 for difficulty.
The genre/categories listed are exciting, heart pounding, and unlimited time.
The price is 1,500 yen per person. You get an original collaboration sticker with it, and there is no time limit.
You are given a 'riddle kit' that will help you solve the puzzles (it includes booklets and other tools) while traveling around the designated play area.
You will also need a mobile device with the
COCOAR2 app
installed on it.
While there is no time limit, they give 60 to 90 minutes as a general guide for this event. They also mention there is a tip site you will have access to for people who aren't good with mysteries and still want to try.
Goods will be announced soon.
If the art they show is accurate, it appears the stickers and goods will use the memorial art of the Digimon.
They will also be doing a combined Collaboration Campaign with Ani-On Station,
which opened their Kizuna collaboration cafes
just a few days ago.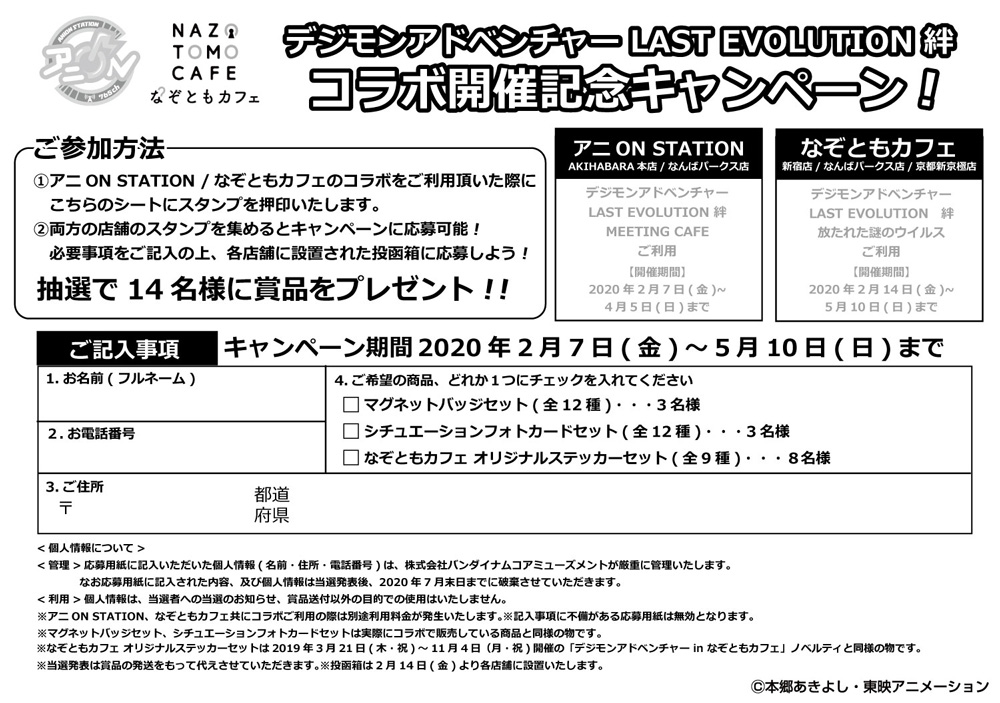 Forms will be given out at Ani-On Station and Nazotomo Cafe, go to both and have them stamp your form and you can send it in to win a prize. Only 14 winners will be chosen.
Ani-On portion is February 7th thru April 5th
Nazotomo portion is February 14th thru May 10th.
Prize people can enter for either one of these three choices.
A set of 12 magnet badges (3 winners only)
A set of 12 photo cards (3 winners only)
A set of 9 Nazotomo Cafe Original Stickers (8 winners only)
Some fun if you are going to be in Japan (and can understand Japanese well enough to do puzzles.
Digimon Adventure: Last Evolution Kizuna, the 20th Anniversary film for Digimon Adventure, comes out February 21 in Japan and
March 25th in the US
. Tickers are currently on sale for the US screenings, so check Fandango, Atom, or wherever you would normally check for tickets.
The Kizuna page on Fathom's website
lists theaters.
Thanks to onkei for translation help.
Last edited: