Show User Social Media
Hide User Social Media
Joined

Sep 8, 2006
Messages

16,155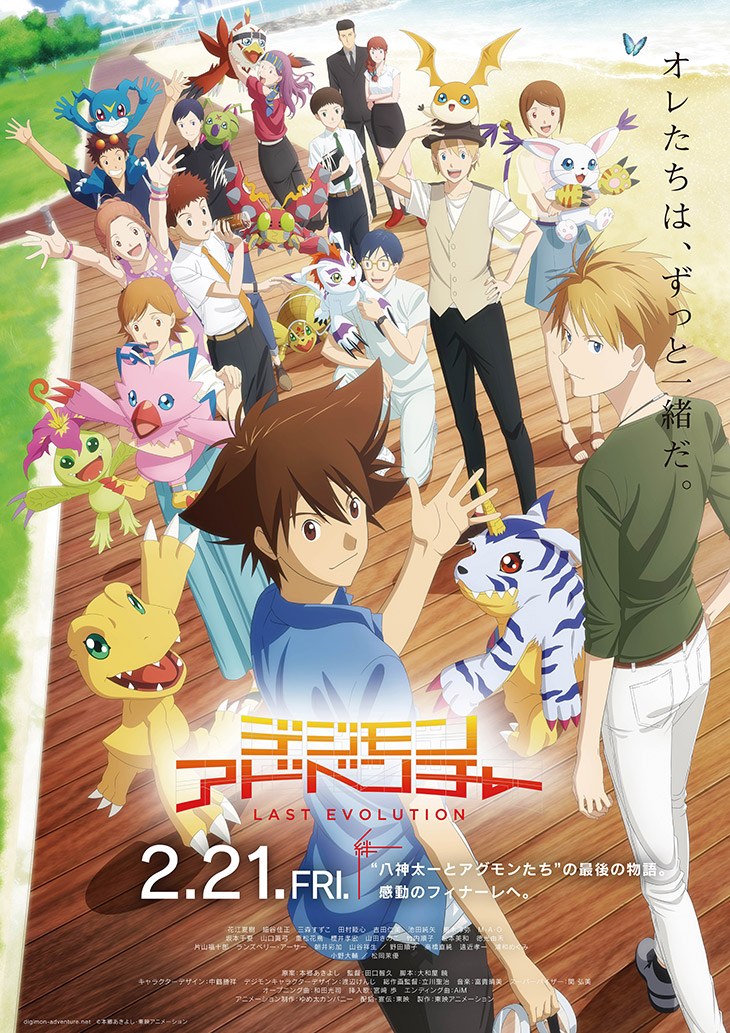 With the weekend over we are starting to get some more solid box office numbers for Digimon Adventure: Last Evolution Kizuna.
The numbers were delayed by a day because Monday was a holiday in Japan.
Some quick context.
tri. Part 1 when it came out was on 10 screens and sold roughly 36,000 tickets for its opening weekend. Based on the exact numbers different sites used, it made roughly between $356,000 and $480,000 that opening weekend.
Opening weekend in this case being 'just' Saturday and Sunday. tri. opened on Saturday, and weekend numbers for Japan are of those 2 days, even if a film opens on Friday.
Kizuna being an actual movie instead of an OVA with a theatrical release, it opened wider, but was still a reasonably limited release of 48 screens.
For the weekend (Sat/Sun) we don't have the 'actual' numbers for Kizuna yet, just estimates, which is 65,000,000 yen ($586,000.)
Kizuna opened on Friday, and there was the Monday holiday, and we 'do' have the actual number for the full 4 day period, which is 127,630,400 yen ($1.2 million) and sold 78,437 admissions. It's past the halfway mark on outgrossing tri. Part 1 from it's first 4 days.
Overall nothing crazy, but a reasonably impressive showing for the first extended weekend the film is out.
In addition, Filmmarks, one of the larger movie review services in Japan, has Kizuna being the most positively user reviewed film (out of 11) to come out last weekend. It's average at the moment is 4.16 out of 5, a solid B.
A few different users who were in theaters in Japan have also said trying to get theater goods was like a madhouse, with storms of people appearing and things being gone leaving behind some hair scrunchies and Patamon plush pass cases. (By Sunday it appears places were having issues with any form of restocking.)
Even the online store that was stocking the items
has only now begun to show a number of items are orderable again (with many still listed as sold out.)
Digimon Adventure: Last Evolution Kizuna, the 20th Anniversary film for Digimon Adventure, is out in Japan and comes out
March 25th in the US
.
Thanks to
Corpse
for the numbers and
Film Magazine Filmaga
for the review info.
Update- Weekend 2. Coronavirus fears and many things shutting down did knock around the box office a bit for all movies, but Kizuna has done alright.
It's 2nd weekend numbers were 32,197,700 yen and in total since day 1 it's done 196,270,300 yen ($1.8 million.)
It should still likely pass the top grossing portions of tri. in the next few days, but it's hard to gauge at the moment since theaters could close, etc.
Some other coronavirus related effects on the box office for anime...
Shirobako opened for the weekend and got knocked around a bit more than expected. It had over 3x the theaters of Kizuna, had been waited for for a number of years and didn't quite pull out much more than Kizuna did its first few days.
Also, a number of expected to be decent performing films have been delayed, most notably a new Doraemon film, the new Pixar movie Onward, and Mulan.
Update- Weekend 3. It's 3rd weekend drop was actually quite small overall, especially compared to other films.
It's 3rd weekend numbers were 22,680,400 yen and in total since day 1 it's done 244,336,900 yen ($2.3 million.)
At this point it appears to have passed each part of tri.
Weekend 4 includes
a decent theater expansion
, possibly due to a number of releases being delayed due to coronavirus.
Last edited: