Show User Social Media
Hide User Social Media
Joined

Jan 26, 2021
Messages

3
Age

26
Finalgreymon: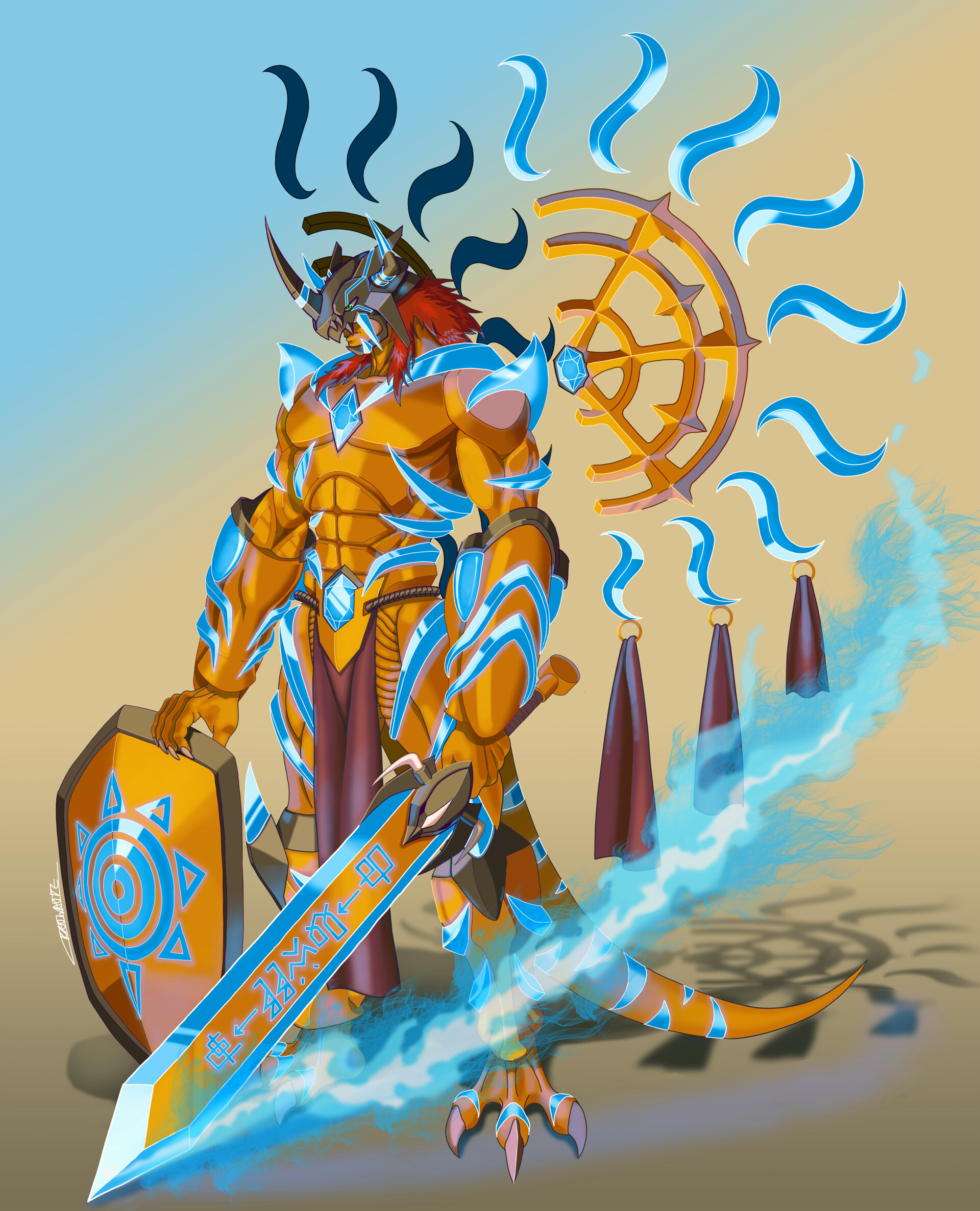 My attempt at improving the Agumon: Bond of Courage Kizuna design which I have very mixed feelings on. I just feel like his design is too simple, naked and overtly humanoid. Waaaaay less cool than wargreymon, who had none of those flaws (wargreymon is my favorite digimon so the bar is high).
This is my attempt at creating a digivolution that takes from all agumon's forms. I always thought that grey sword + brave shield should be incorporated into one design, also the blue stripes + brown helmet brought back into the kizuna design was the best aspect of it. I wanted to add in some metal greymon elements too, hence the purple fabric and red hair. The overall body plan is Wargreymon's of course, but adding back in the more 'dinosaur-ey' elements of a tail. Also I thought it would be a downgrade not to be able to let this guy fly, so I added in some sun wings based on the crest of courage. I tried to minimize the human jaw and mouth by making the helmet more 'Kaiser-greymon esque', in fact his whole form looks more like Kaiser greymon in my new design, just with a couple of colours and details switched around.
I think because of his elevated power, he can command blue flame, vs the red that the other Greymon's command, it also matches the energy in his stripes and sword. His attacks consist of an explosive shieldbash, a generic blue flaming sword slash and a beam of blue solar energy which comes from his wings when they snap together into a sun shape.
I hope you like him! What do you guys think about the Kizuna design and what could be done to improve it?
Finalgarurumon: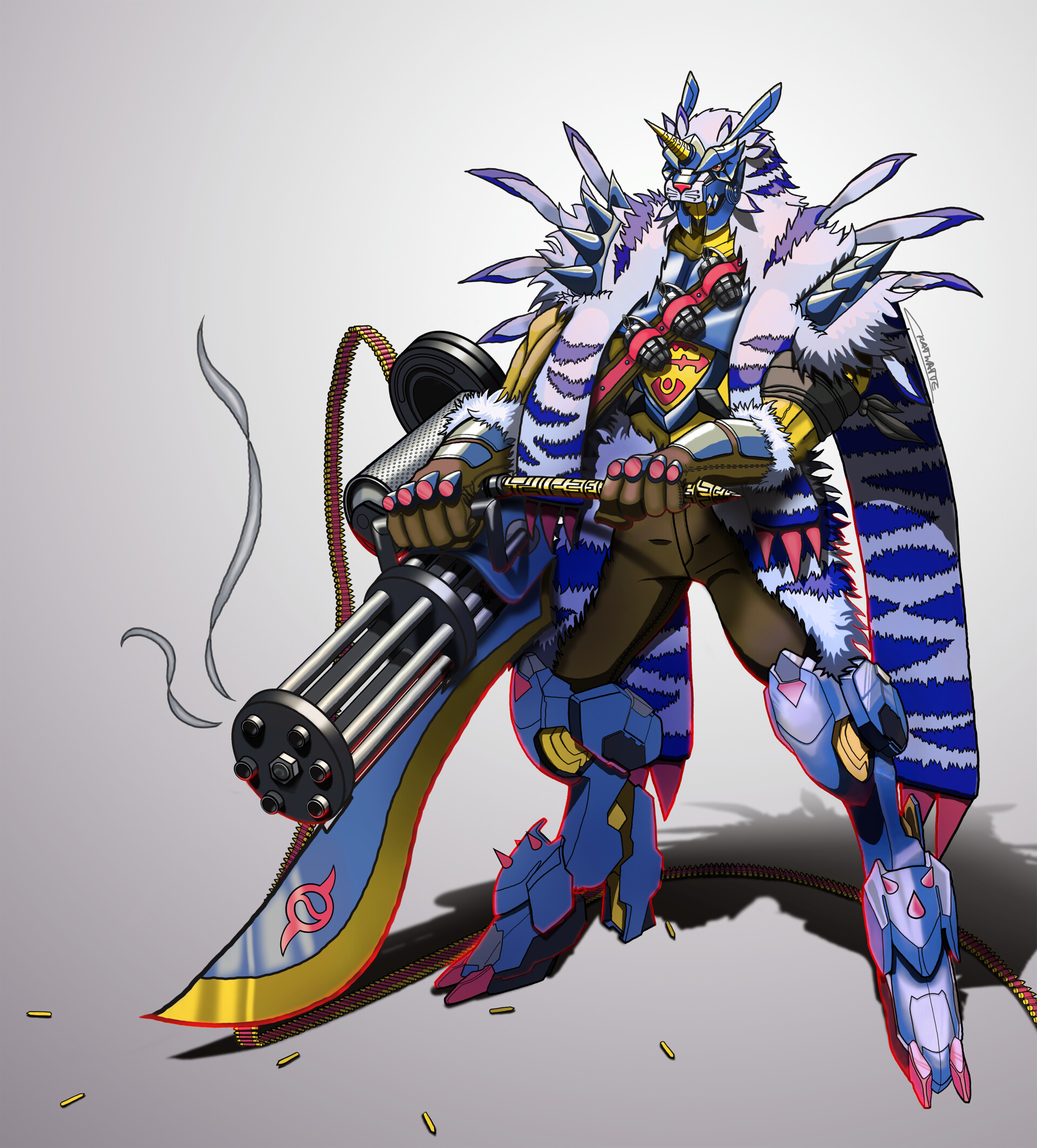 With the advent of "Digimon Adventure: Last Evolution Kizuna". I wanted to give you guys my own interpretation of what a Metalgarurumon digivolution would look like.
I wanted to add elements from the entire digivolutionary line into this design, hence the name: Finalgarurumon. I gunned for what I thought the zenith of the garurumon digivolutionary family would embody. What do you guys think? PS: the Gundam legs I used for him, suit him perfectly. Didn't design them myself. Based off a Gundam Barbaratos.
Finalphoenixmon:
Continuing on my series of final "god" forms of the Digimon from "Digimon Adventure", here's my take on Biyomon's final form!
Again, tried to incorporate all forms into one design, whilst trying to give her a unique weapon, a massive native american spear which she can carry in her talons. Not having Garudamon's male torso also has the benefit of giving her a more androgynous design, always thought that discrepancy was weird, but whatever
I really wanted to use Biyomon's pinks and blues, whilst using a little gold from phoenixmon to create the overall colour scheme. It was really difficult to add in designs for birdramon, who is literally on fire, and whose colours, I don't think really match what I was going for. Hopefully you like what I did with the spear and the belt.
Obviously overall the design looks like a natural progression from Garudamon, the Biyomon line's most awsome form. Really love the native american influences and the overall bipedal nature of it all. Frankly even the X-antibody version couldn't improve upon the design and even I struggled with where I could go about trying to create a naturally flowing digivolution, which didn't look like it jumped the shark like from Garudamon to Phoenixmon. I still love Phoenixmon's design, it's just not as good as the Ultimate forms.
Finalgatomon: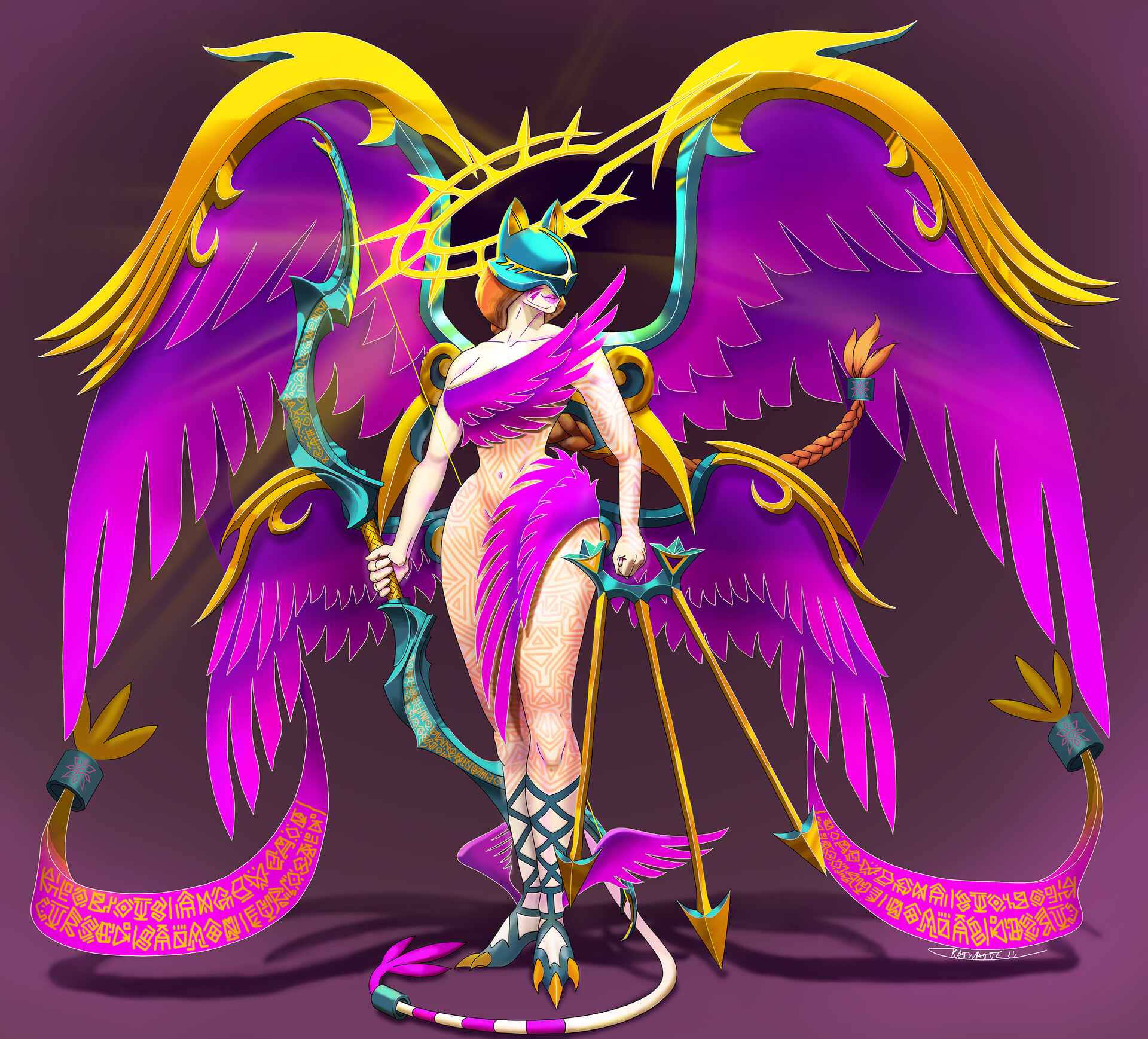 Finalgatomon/Finaltailmon (can't think of a better name)
Man it was hard to come up with a design for her. For Gatomon's evolution line , we have a cat, a dog, a sphinx, a half-dressed lady angel, a fully armoured lady angel and a freaking pink dragon. Eventually I had to pick and choose which forms I wanted and what aspects of each. I knew I wanted to go purpley-pink, trying to integrate some colours from Angewomon, Tailmon and Magnadramon, and that I also wanted to have more feline aspects in the form too. Ultimately, not sure how proud I am of the final result. Oh well, here's my best shot.
I tried to incorporate the metallic teal colour from Ophanimon and as far as I'm concerned Nefertimon went straight out the window (although I love her design).
Really trying to keep the colour schemes unique between these final evolutions from the Digimon adventure roster, hopefully this more purple scheme is different enough from my Finalphoenixmon. I've got so many more of these to do, with additional designs on the way, really not looking forward to figuring our how to do a final Patamon evo.
Nitrorapidmon:
Never really been happy with Megagargomon's design, thought Rapidmon was dope. Here's my interpretation of a Terriermon final evolution. Heavily influenced by Gundam mechas, let me know if you can identify the models.
KingLeomon: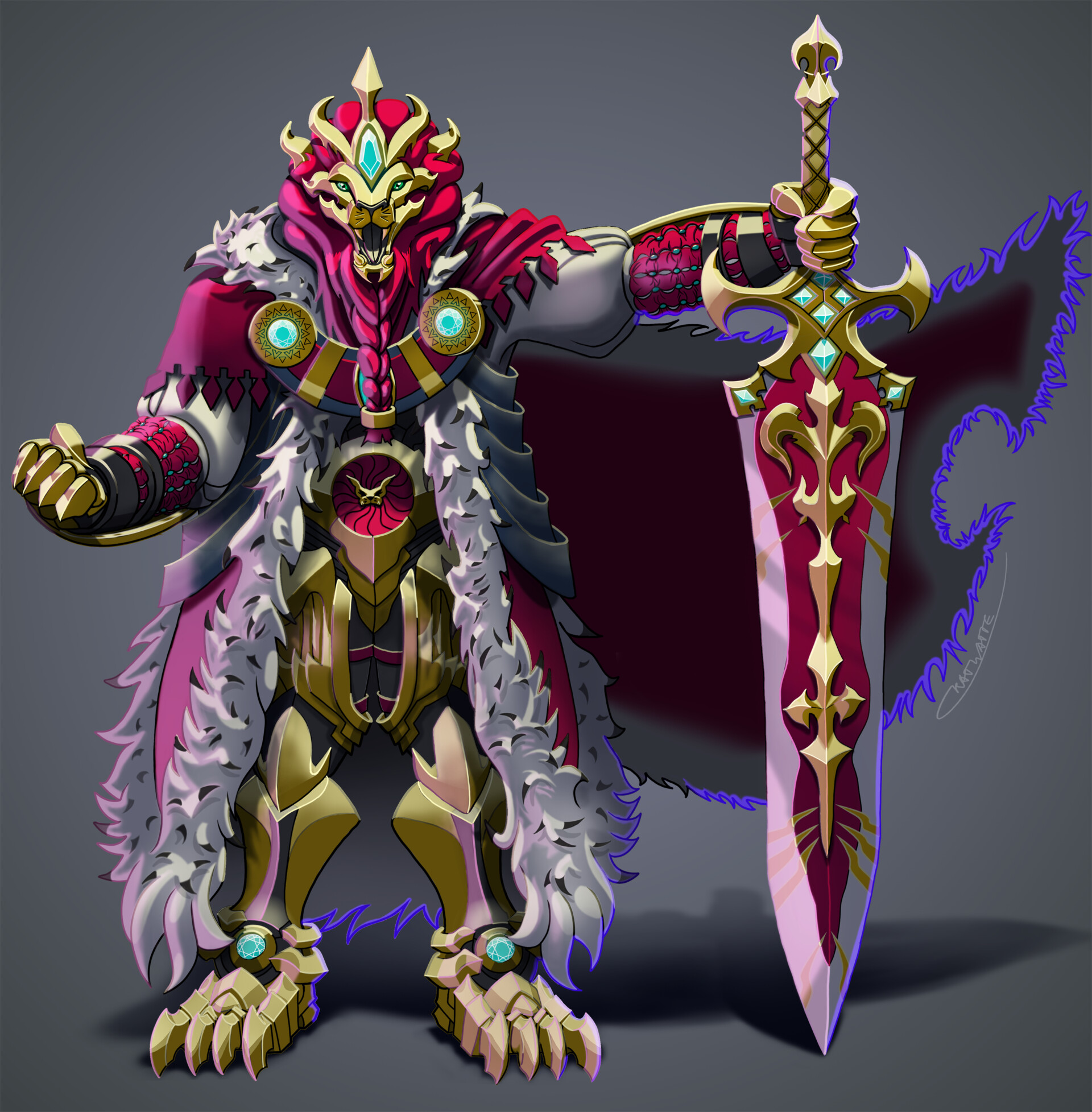 Another in my series of designs to create some god level megas for some of my favourite Digimon. This time with no "final" prefix, I just decided to design this guy with little homage to any of his past forms.
Leomon's digivolutions are solid, all of them. Leomon: awsome, Grapleomon: Awsome, Saberleomon: Awesome, Madleomon: Awesome, Heavyleomon: Cool- ish, BanchoLeomon: Disappointing, also Bancho is very similar to a swearword in one of the most common languages spoken on the planet
I just thought that a regal Leomon form with design concepts of royalty, gold and kingliness would be a natural take for a final form. Originally I experimented with gold-blue and gold-purple schemes but ultimately because I wanted the mane to not look weird I went with a lovely royal burgundy-gold scheme, tried to push the red as close into purple as possible whilst still keeping it "red". Think it came out well. He's got a kingly mantle on, made sure the fur parts had black tipped feathers in them, his mane + head horns came out looking a lot like a British crown too, happy surprise.
Since i'm shite at designing swords, I found a concept online which perfectly suited what I needed for him and tweaked it ever so tinily. I can't take credit for the sword design. Unfortunately I've lost the link and believe me I've spent hours and hours, delving through thousands of pins on pinterest to try find the source. Please, guys if anyone finds the original concept can you send me the link so I can give the very talented creator some credit.
Edit: u/Kuraltus on reddit pointed out that it is the Final Fantasy XIV Curtana sword.
----------------------------------------------------------------------------------------------------------------------------------------------------------------------------------------------------------------------------------------------------------------------------------
So, which ones are your favourite? Any constructive criticism too is much appreciated. Also guys if you do feel so inclined and want to help me out please follow me on the relevant social medias.
Artstation:
PROFILEChenuka RatwatteAmateur Artist
Deviantart:
https://www.deviantart.com/chenks-r
Instagram:
https://www.instagram.com/chenks_r
Much love.