Show User Social Media
Hide User Social Media
Joined

Sep 8, 2006
Messages

16,451
Time for a V-Jump preview!
Most of the more interesting stuff this month we've already seen, but there are still a handful of things to take a look at...
First up, a preview of the upcoming Digivolving Spirits AtlurKabuterimon. This time we see the figur ein various poses, and what appears to be mid transformation.
We also get a quick preview of Digivolving Spirits Alphamon, who is out in July in Japan
Both of those figures are up for preorder:
#05 Alphamon (Affiliate links):
Digivolving Spirits #05 Alphamon at CDJapan
Digivolving Spirits #05 Alphamon At Amazon USA
#06 AtlurKabuterimon (Affiliate links):
Digivolving Spirits #06 AtlurKabuterimon at CDJapan
Digivolving Spirits #06 AtlurKabuterimon at Amazon USA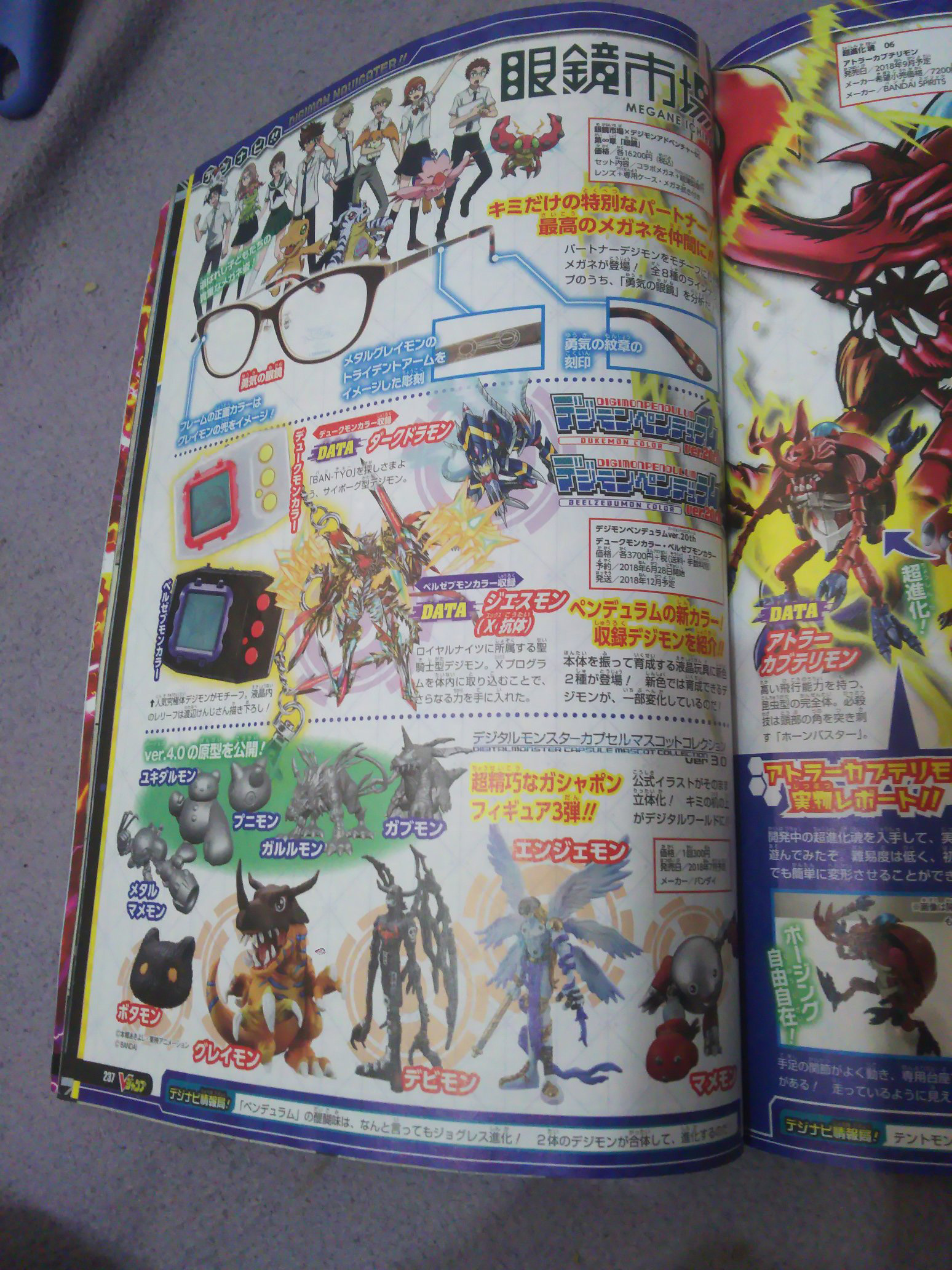 Next up we have a product spread with a few different items, all of which we've seen in the last few days:
The line of Digimon Adventure tri. glasses from Megane Ichiba.
The 2nd wave of 20th Anniversary Digimon Pendulums.
The 3rd and 4th series of the Digital Monster Capsule Mascot Collection gashapon figures.
And last up...
A nice two page Digimon ReArise spread.
We'll get it translated once a better image shows up, but much of it appears similiar to things we've seen recently, at least at a glance.
Two things do seem to be new though...
It appears there will be an 'evolution festival' (an event I assume) involving Garurumon and WereGarurumon (shortly after launch?)
Plus... we can see the little girl character from prior previews, but the photo cuts off her name and voice actress, so hopefully we get a better image soon to check that.
Thanks to
spring8green9
for the images.
The camera used seemingly had some dirt on the lens, I've cleaned some of the larger bits off the images.