Show User Social Media
Hide User Social Media
Joined

Sep 8, 2006
Messages

16,120
It's the 21st anniversary of the theatrical release of Digimon the Movie! It came out October 6th, 2000.
(Various bits below have been used in prior articles.)
The film was a combination of both Adventure films, and the first Zero-Two film, with a bit of story added to carry between them.
All 3 films were altered to work for 'the Movie' to differing degrees (Children's War Game felt like it was touched less than Hurricane Touchdown for example), and people still like to talk (both joking and seriously) about how much they like the soundtrack that the film was given in the US.
Recent anniversary articles for those 3 films that talk about them in more depth:
the first Digimon Adventure movie
Our War Game
Hurricane Touchdown
The DVD has been out of print for years as rights have reverted, but it's still reasonably easy to track down a copy cheaply enough if you want one.
To celebrate the 20th anniversary of the film last year, writer/director Jeff Nimoy recently wrote about the
behind the scenes of making the movie and it's a pretty great read
that really goes into it.
And this year he's began to put up
an audio narrated version
.
A bit over 2 years ago we did a breakdown/review of the original Digimon the Movie DVD
, going over it in detail as we would any modern release.
In the past,
we've shared some high resolution scans
of promotional film slides from when the movie originally came out in theaters. Included are 2 different poster related images, along with the best look at a well known promotional screenshot we've ever gotten.
And October 6th celebrates something else big for Digimon, which is also a movie!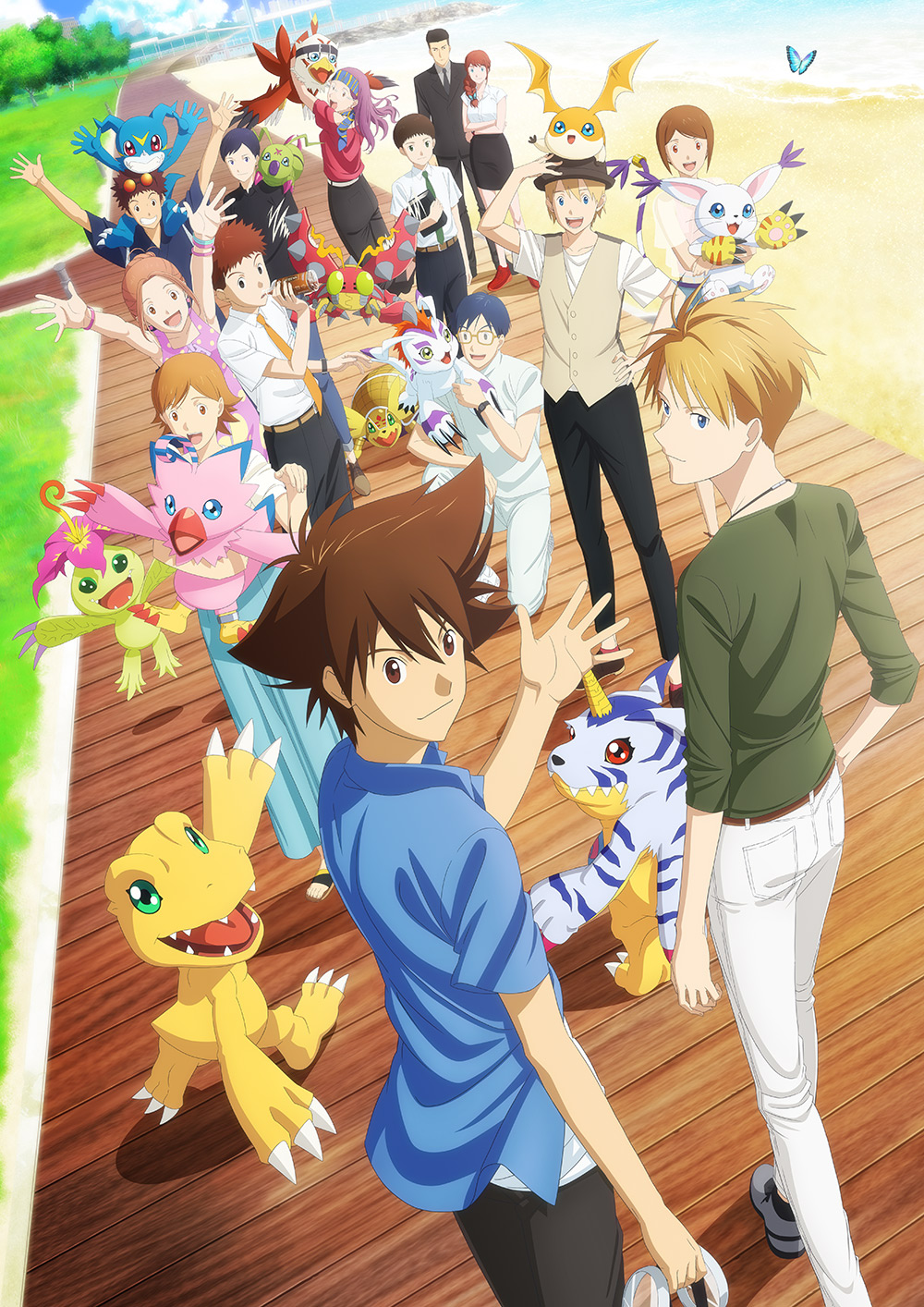 October 6th is the first anniversary of the release of Digimon Adventure: Last Evolution Kizuna in the US. Specifically the home video release.
The English release of the film was originally intended to come out in US theaters a month after it came out in Japan. Covid hit, and plans changed. We ended up getting a digital first release shortly before the 'full' home video release on Blu-ray and DVD.
The 20th Anniversary film for Digimon Adventure, despite coming out as Covid was really getting going and getting delayed in various countries, acted as an overall springboard for a relaunch of the brand, which about a year and a half later has proved successful and we are still getting gobs of new stuff (with a new anime TV series starting just a few days ago, Ghost Game.)
The film was generally received well, selling tickets in a number of countries that did well despite the obvious issues of releasing a film currently. On home video it ranked high in countries where it's been released so far (with more still coming even now.) In Japan it came as close as the franchise has for matching Adventure on Blu-ray, while in the US it was the top selling anime title for a decent chunk of time, and 3rd overall for the week it came out (only losing out to perennial holiday seller Hocus Pocus and the first Picard Blu-ray), while also ranking in the top 10 digital films on iTunes.
The film took heavy inspiration from Our War Game, as many Digimon things do, continuing a theme that has shown up in Digimon stories for the last few years, having to do with growing up. We've talked about the movie a lot, so we won't go into it much more than that, although if you haven't seen it, it's a great character watch with probably the best animation the franchise has had.
The marketing to the film promised 'the end' (of a sort), and the film itself gives what was promised, while also nodding at the end that the story would continue (whether or not the viewer is aware of the existing epilogue), it was always just a matter of if that 'new' material would ever exist, or be left in the minds of those imagining how the epilogue would be reached.
At DigiFes a few months ago,
what was expected was announced
. A new untitled movie that they are just referring to '02' for now. Tomohisa Taguchi is directing again and Akatsuki Yamatoya is writing again, with Yosuke Kinoshita producing again, bringing back various core members of the Kizuna team.
In interviews since then Kinoshita confirmed it would focus on the 02 cast, which isn't a shock (the trailer says it also), although technically speaking they haven't clarified it following up on Kizuna, although with Daisuke's Kizuna actor narrating the teaser in character, it feels like a near-certainty.
So at the moment, it's just a matter of waiting until the next Digimon movie.
Our Kizuna discussion thread is
here
.
Our podcast special where we discuss Kizuna, at length with guests onkeikun and jeffinitelyjeff can be found
here
.
Our scans/breakdown/review of the US Blu-ray of the movie can be found
here
.
Our scans/breakdown/review of the Japanese Deluxe Blu-ray of the movie can be found
here
.
A few additional Kizuna highlights:
Our Interview with Joshua Seth
Interview with Producer Kinoshita
Kizuna Audio Drama Translation featuring the 02 characters
The US release of Kizuna can still be ordered from Amazon: (Affiliate links)
Digimon Adventure: Last Evolution Kizuna Blu-ray Combo
Digimon Adventure: Last Evolution Kizuna DVD
As can the Japanese releases of the movie from CDJapan: (Affiliate links)
Digimon Adventure: Last Evolution Kizuna Blu-ray Deluxe Version (CDJapan)
Digimon Adventure: Last Evolution Kizuna Blu-ray (CDJapan)
Digimon Adventure: Last Evolution Kizuna DVD (CDJapan)
Last edited: