Show User Social Media
Hide User Social Media
Joined

Sep 8, 2006
Messages

16,654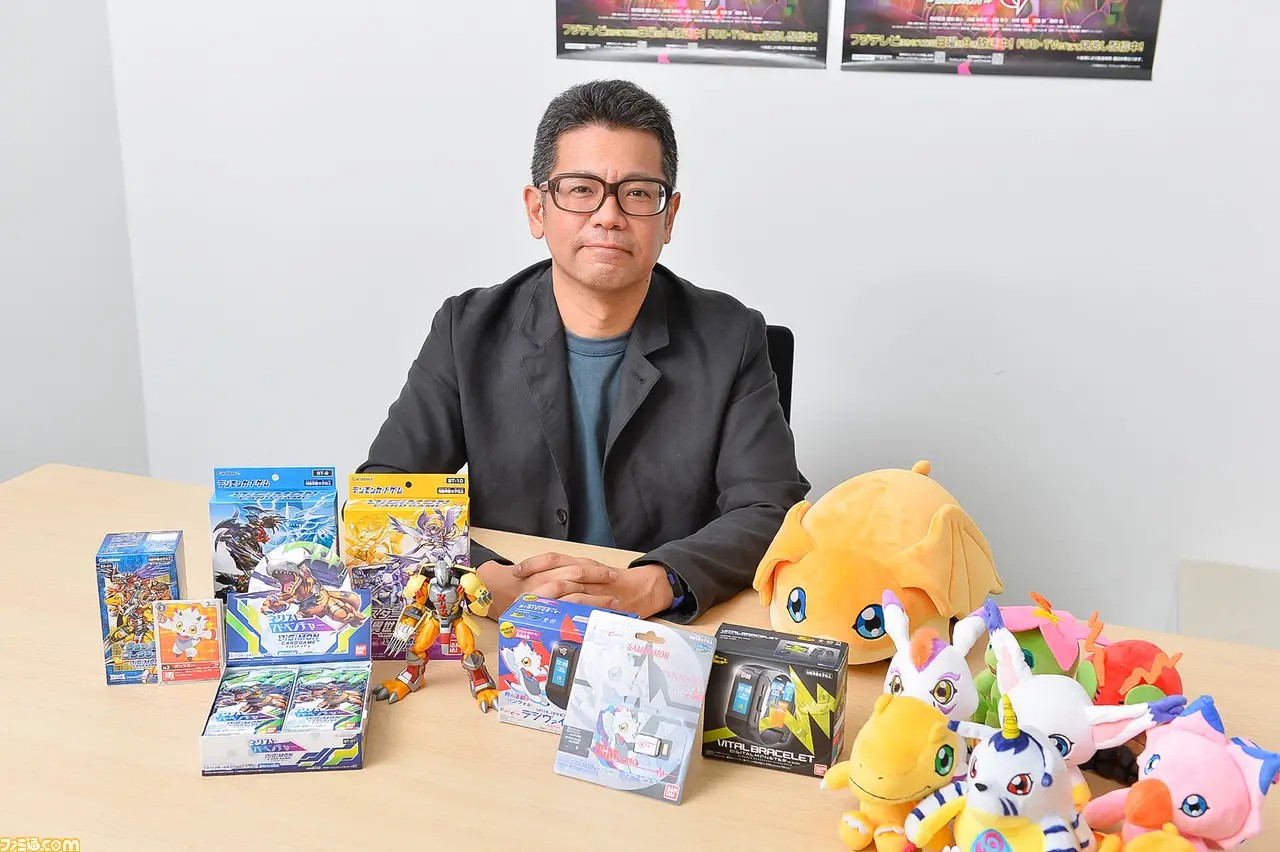 Masashi Harada
, who is in charge of Digimon related projects (Digimon Project for short) was
interviewed by Famitsu
.
Harada is the modern day equivalent of Volcano Ota, who previously was in charge of Digimon at Bandai, before retiring a number of years ago to chase after his dream of being a voice actor.
The interview was lined up with the announcements of
Digimon Con
and the
Digimon Illustration Competition
.
A decent focus of the interview is Digimon outside of Japan, as Digimon has always done quite well outside of Japan.
These are quicky translations of various key bits, as the interview itself is quite long.
Vital Bracelet sales have been very good. Worldwide sales for the Vital Bracelet are about 10x higher than the limited release Premium Bandai only Digivice:, which was available to order for a bit over a month.
Including the Vital Bracelet, about 14 million Digimon LCD toys have been sold. (8 million of those are from the original V-Pet series.)
They believe the last few years of properly aiming at Digimon fans has worked quite well, and the current Vital Bracelet is sold in many countries around the world. They are still unsatisfied and aiming at more people who have never played with a Digimon V-pet before.
Ghost Game and the Digivice V are currently seen as a way to aim at new potential users. [As you would expect.]
One element of Ghost Game that was done on purpose was to have Digimon come to the real world, rather than the kids stuck in the digital world (they note Tamers also did this.)
Various Digivice V changes were made based on Vital Bracelet feedback from customers.
The Vital Bracelet Digimon often fall asleep around 8pm, it's tough for working people.
They see the average person 'finishing' a Dim Card in about 2 months, so new Dim Cards every 2 or so months is about what they are aiming for. They mention the set having Jellymon and Angoramon finishing off the main partners from Ghost Game.
Some of the evolutions in the Ghost Game Dims will appear in the anime, but not all. They mention some of them already being in the show intro. Everything appearing in the show isn't something they are aiming for. They give the example that in the original V-Pets, once a Digimon evolves, that's it, you have that Digimon until it evolves again, but in Adventure, they would shrink back (noting it would have been hard to walk around with a large Digimon.) They try not to over determine how things should be and give the world of Digimon space to expand based on the material.
They mention how the Digimon Project of the Vital Bracelet was able to be expanded to other characters. The idea being fans of Ultraman and Kamen Rider would also feel connected and want such a project. Kamen Rider Kuuga and Ultraman Tiga were specifically aimed as early choices because the most likely buyers for those lines would be adults. [They don't mention it, this is likely why the 'hero' line bracelets come with larger bands.]
They aim for Digimon to continue development for a few years, at which point it will grow into a character where they imagine there will be even more parents and children fans, referring to it as 'two generations'.
Part of Ghost Game is aiming the Vital Bracelet more directly at children.
The lack of appeal to kids of the Vital Bracelet was part of what decided this route.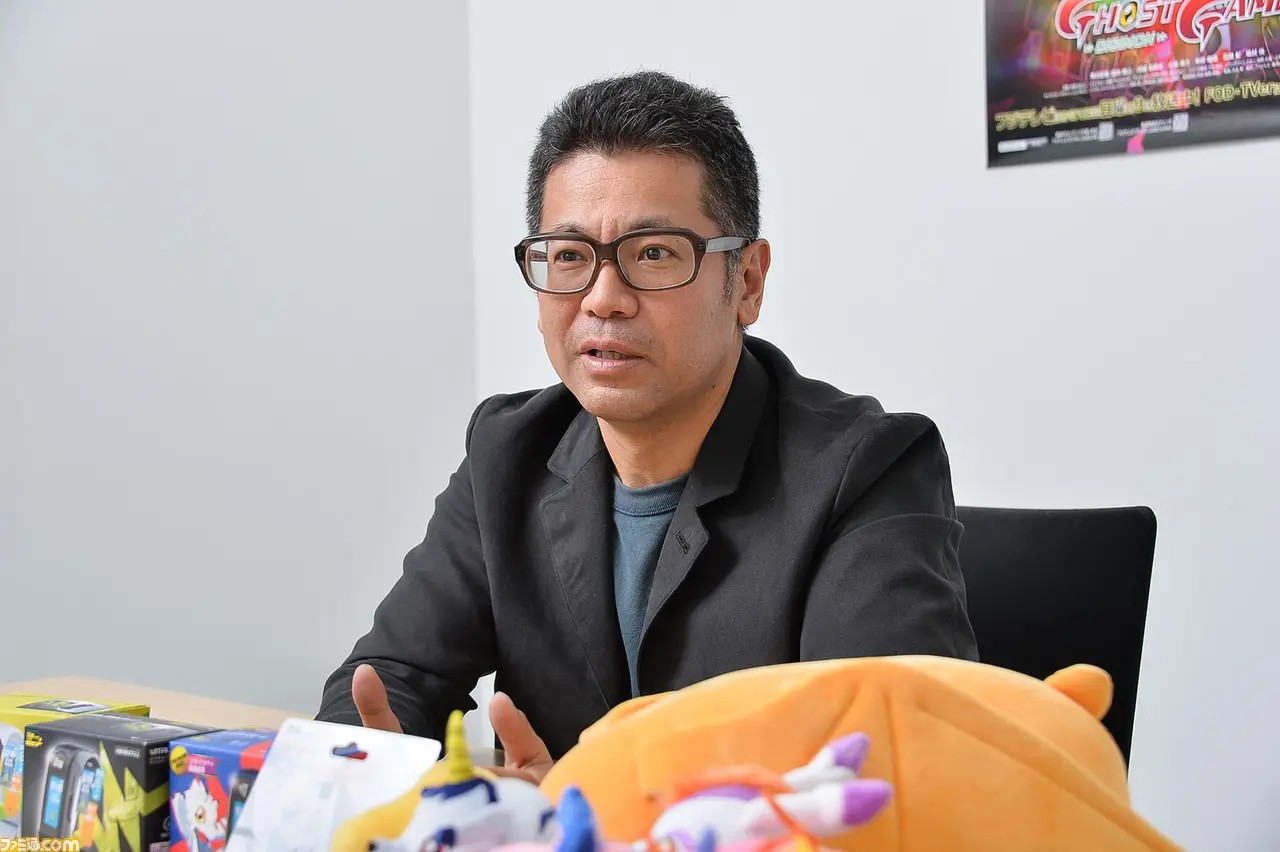 The Digimon Card Game is doing very well.
Harada first became aware of the passionate Digimon fans overseas regarding Cyber Sleuth sales (they mention HM, but this appears to be a reference to HM in Japan being 'all' of Cyber Sleuth) and the game sold over 1 million units worldwide.
The Digimon Card Game was built on the promise that 'people in the world like Digimon'. When they tried to sell it in the US and Europe it did better than expected, especially among existing Digimon fans. Digimon Card Game sells 4x as much in the US & Europe as it does in Japan.
They consider Digimon a strong IP for Bandai as far as sales ratio goes [sales ratio referring to the ratio they have of sales in and out of Japan.] Sales from Bandai in Japan are high, compared to the games, which has a high ratio overseas. Bandai Toy Hobby sees it as a promising IP for them, and they are looking at a focus on overseas expansion. They want to expand with the 2 axis of the Digivice V and Card Game, and a 3rd axis of the video game group.
They've analyzed reception to Digimon overseas. Elements like the Card Game doing well they have matched the players outside of Japan to being the same group who would have watched and been a fan of Digimon Adventure on TV in the west when it originally aired.
They also believe that Japanese card games haven't had an easy development time outside of a few titles internationally, but fans like Japanese content. With fans liking the anime, and TCG content in general, it allows something like Digimon, with known characters to fit into the TCG genre. High quality art has also been a focus, along with careful planning with staff that knows Digimon allows things to be evaluated carefully.
Regarding coronavirus, they believe playing online, especially in North America, has shown there is an audience for the card game, even if local events haven't been an option. Once they can, they will have more offline events and spread the game more.
When asked about North American being prominent in the Digimon market, and if any other areas were like that, Harada responded that he wanted to be able to show Digimon information to many fans via Digimon Web [this is a reference to them slowly adding more languages for the 'mostly' machine translation feature.] He notes that Bandai Namco sells different things region by region, but they hope to have more unified products and services so Digimon fans can communicate and have fun across countries.
They know the fan base can be different based on how someone entered Digimon. Stuff like the reference book and the new 'Digimon Profile' is a way to have more of a database for fans to look up information easily, no matter where they started, from anime to LCD, from card game to anime, etc. He also notes the reference book has a stable number of page accesses, which is good for the management team of the site.
At the moment the pages can be translated to English, Traditional Chinese, and Simplified Chinese, so fans overseas can enjoy themselves on the site.
The encyclopedia is part of a database they are building, so they can update elements regularly, by having a team for it. He points out that different Digimon can have different names based on the country, the medium it is in, etc. It's a lot of work to go through the history, look up, and understand those common and necessary elements, but he believes it's a good idea.
He thinks growing Digimon as an IP required that sort of database of information.
They don't want the reference book/encyclopedia text to be different language to language, but there are translation issues. A Digimon like Sephirothmon has no meaning to the name if you don't understand the reference, so the translation may be different.
Digimon Partners is based on the idea that they normally are a manufacturer and not a service provider, and that those tend to mix with something like Digimon, where fans are passionate and want to give opinions about their favorites. Having something that focuses on fans makes it easy to grow, since fans end to invite new fans and call in other fans.
When asked about the types of posts fans make, the interviewer points out Japanese posts are often text and product photos, and many from outside of Japan like sharing art. Harada responded with the worldwide service being formally open. He mentions how fans from English speaking countries and South Korea are considered to be quite strong for Digimonj fans. He hopes fans from all over the world can interact.
Digimon Con is based on the idea of letting fans around the world enjoy an event together. It will be in Japanese and English, and more details will be soon.
Digimon Illustration Competition is a way for them to show off fan illustrations to show off the charm of much loved characters, they welcome the creators of the Digimon generation to join them.
The interview ends with Harada being asked for a message for Digimon fans.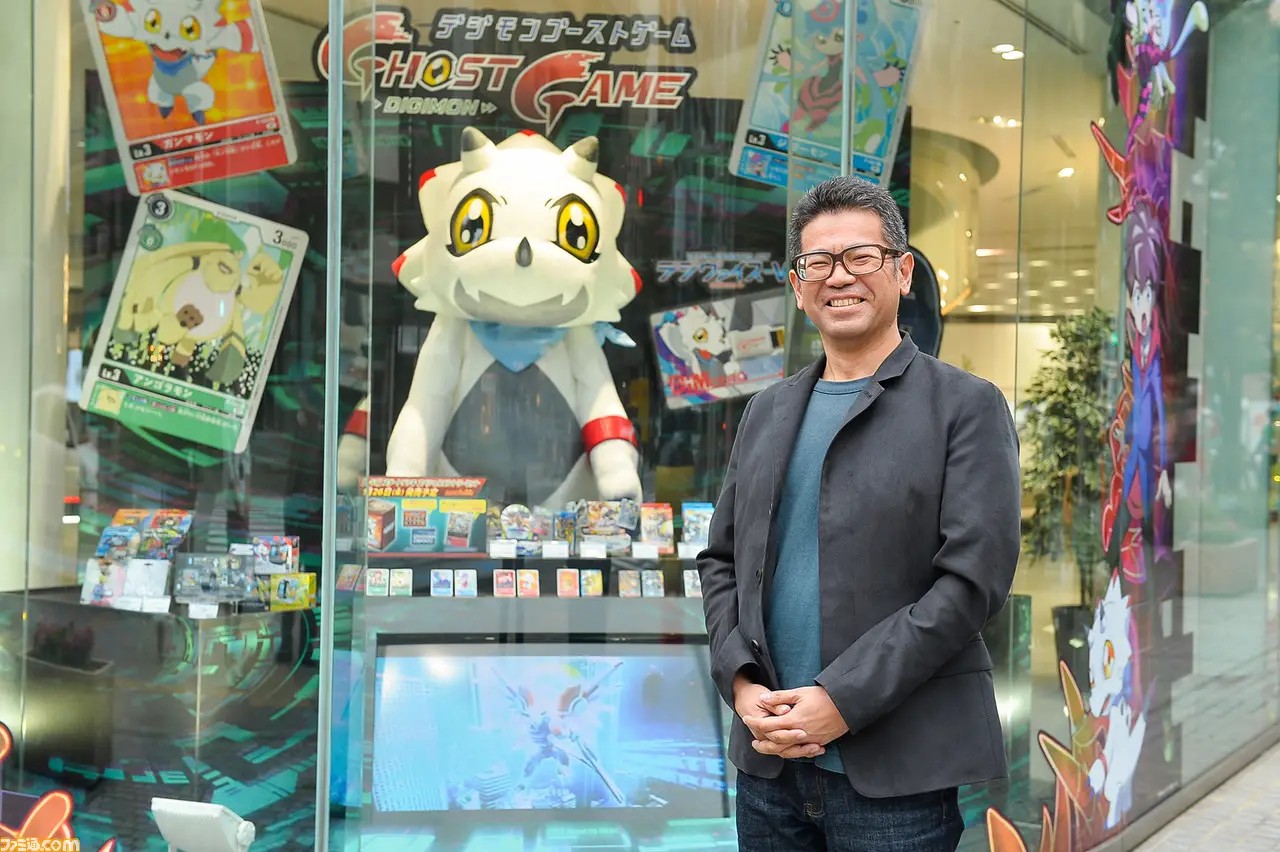 Harada- It's been 24 years since we started. Thanks to the support of our fans and all the companies/people involved. Now, all the project members are working hard to continue creating the foundation so that everyone can enjoy new Digimon. We hope that all Digimon fans will be able to participate in Digimon Con, so please start clearing your schedule now. Also, next year will be the 25th Anniversary of Digimon, so we hope to make this year more exciting as well, please look forward to it.
Lots of interesting details, including further confirmation that Digimon, a brand that's always done well outside of Japan, is growing even larger in various countries, with North America being a heavy focus, as it historically has for the brand.