Show User Social Media
Hide User Social Media
Joined

Sep 8, 2006
Messages

12,017
Not huge news, but a bit fun.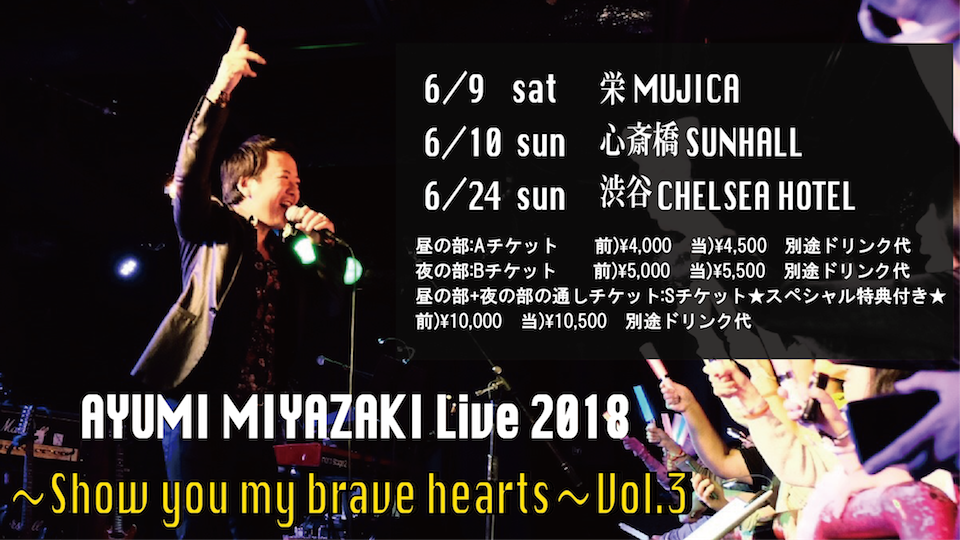 In late December Show You My Brave Hearts Volume 3 was
announced
, a new series of Ayumi Miyazaki concerts in June. And then last month we got all kinds of fun details showing just how much the event had expanded, along with early ticket details.
Now we have images of the tickets, drawn by Kenji Watanabe for the events. Each event's ticket features Stradion, the character Watanabe designed for the original Show You My Brave Hearts event, along with a little touch that makes the tickets unique based on the city where each event is being held.
Various information below is reused from our prior article where appropriate.
Volume 3 will feature 3 concert events at different locations. Each will feature an 'A' part in the afternoon, with a 'B' part at night.
The A part will be a talk show with an acoustic mini live concert.
The B part will be a one-man live performance with a band.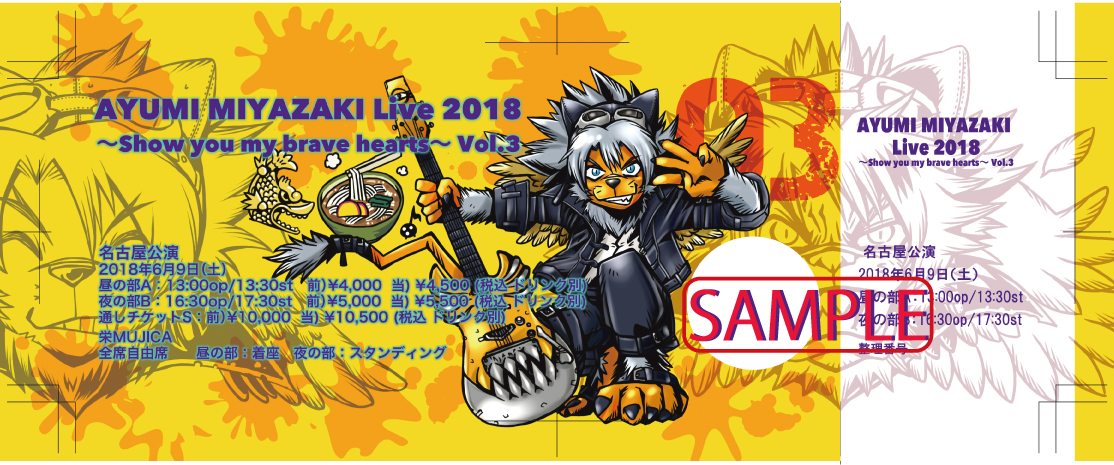 Live House Mujica
in Nagoya
June 9th
A part- 1:30pm (doors open at 1pm)
B part- 5:30pm (doors open at 4:30pm)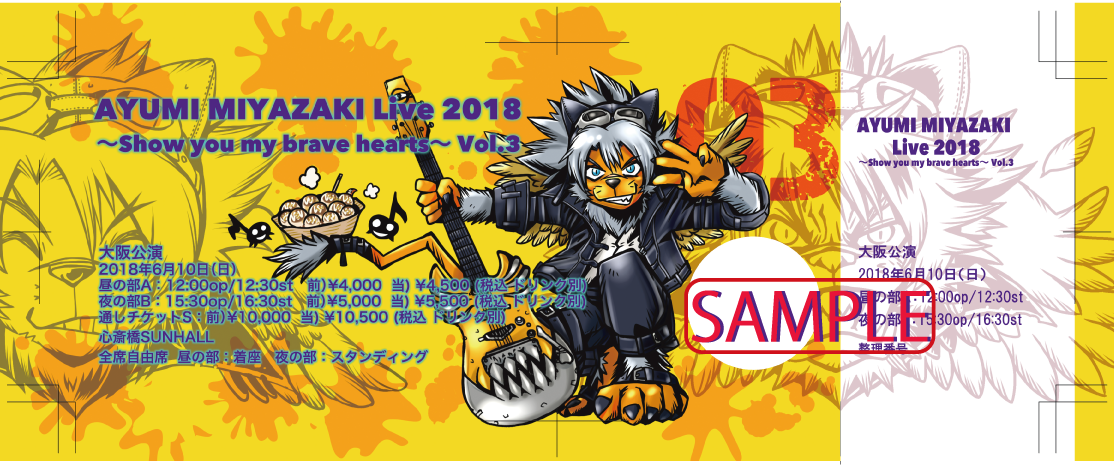 Shinsaibashi Sunhall
in Osaka
June 10th
A part- 12:30pm (doors open at noon)
B part- 4:30pm (doors open at 3:30pm)
Shibuya Chelsea Hotel
in Shibuya
June 24th
A part- 12:30pm (doors open at noon)
B part- 4:30pm (doors open at 3:30pm)
Different tickets will be available:
S tickets, which get you into both the A and B part, are up for pre-order now. Pre-sales end March 23rd at 6pm. S tickets will have limited numbers based on the space at each event. S tickets will also get a few additional items including: entry to an autograph session, an original acrylic key holder, and and and a mini-sign color paper (basically a small print on paper.)
Tickets for the separate A and B parts will begin on March 30th at noon. Sales end May 7th at 6pm.
S tickets will be seated first, and based on if S tickets sell out A tickets may not be available.
S tickets are 10,000 yen, A tickets will be 4,000 yen, and B tickets will be 5,000 yen. The handling fee for purchasing a ticket will be 600 yen and will not include drinks at the venue.
If tickets don't sell out online additional will be available at the venue for 500 yen extra.
We expect exclusive products to be announced closer to the concert dates.
The previous thread for the concerts can be found
here
.