Show User Social Media
Hide User Social Media
Joined

Sep 8, 2006
Messages

17,396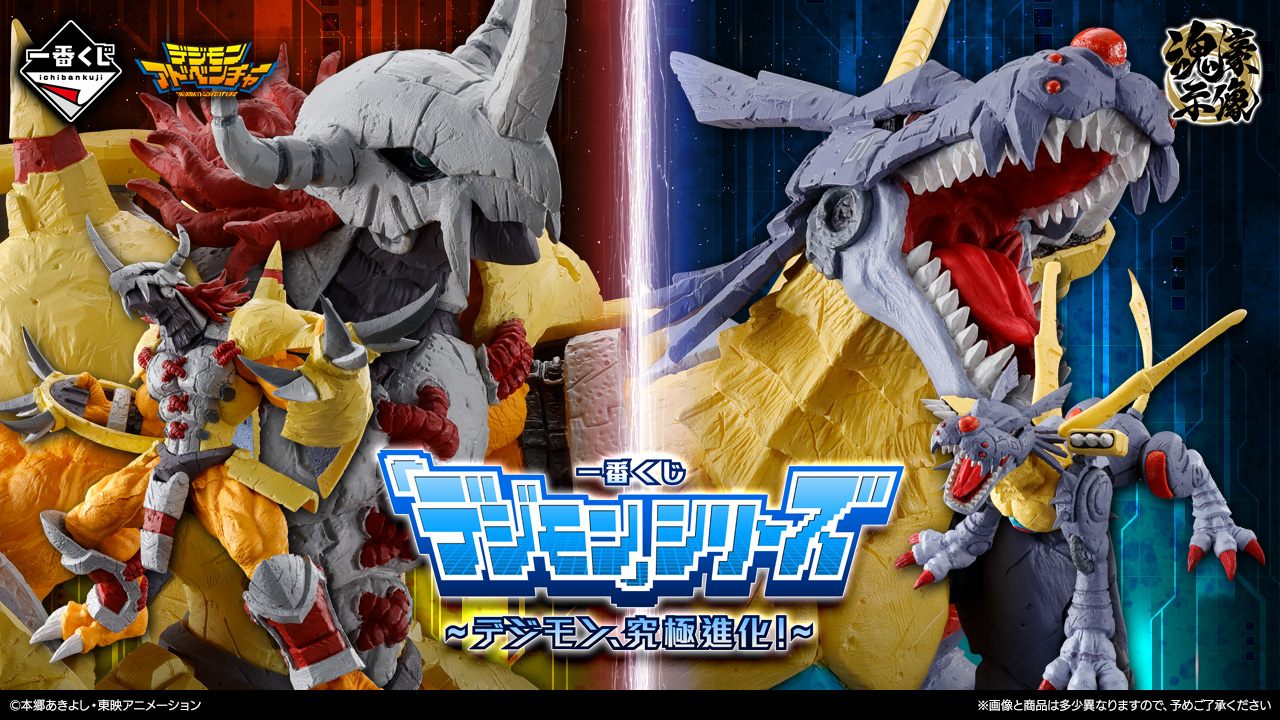 We only found out about it recently
, but we already
have some of the images
for the upcoming Ichiban Kuji Digimon product lottery series 'Digimon, Ultimate Evolution!'
Much of the text below will be the same as last time.
Digimon, Ultimate Evolution! will start on July 29th, 2023 at various book stores, hobby shops, arcades, online, & anywhere that takes part in Ichiban Kuji product sales.
For those not familiar, Ichiban Kuji is a product lottery. You pay 850 yen per ticket to find out what prize you win, and the shop has (most of) the prizes on hand for you to get immediately.
The figures this time use the kongoujizou style branding, which use a pseudo 'leap out of a painting style' that are meant to have a powerful and unique look.
​
The Ultimate Evolution! Ichiban Kuji series features Digimon Adventure themed prizes: (the earlier the letter, the higher ranked the prize)
A- WarGreymon Figure (15cm tall)
B- MetalGarurumon Figure (10cm tall)
C- Agumon & Gabumon Figure (4.5 cm tall)
D- Stand (likely acrylic)
E- Towel
F- Clear poster
G- Rubber Coaster
A number of these may have different designs (for example, the stands, coasters, etc. will likely have any number of designs, of which a winner at that level will get 'one' item, per ticket.)
There are also a few additional prizes...
Last One WarGreymon- The person who buys the last ticket will also get the 'Last One' WarGreymon figure. Last One figures generally feature different coloring from the main figure. Since the last ticket being sold means it's over at the store, many stores will also offer the 'Last One' buyer any of the signage, posters, etc. for the Ichiban Kuji.
Anyone who enters can use the code on their Ichiban Kuji ticket online in the 'Double Chance' campaign for a second chance to try and get a WarGreymon figure.
While those of us outside Japan won't be able to do the Ichiban Kuji to get these, the figures sold in Ichiban Kuji lotteries in Japan are often sold as normal products in various countries (including the US) under the Ichibansho brand, so we will see if these show up. (For example, the Adventure: Ichiban Kuji, the 'A Prize' Omegamon figure and 'B Prize' WarGreymon figure both were later sold as Ichibansho figures.)
The A, B, and C prizes look rather nice. We'll see what the others look like, although the figures are always the most wanted prizes for these.