Show User Social Media
Hide User Social Media
Joined

Sep 8, 2006
Messages

14,746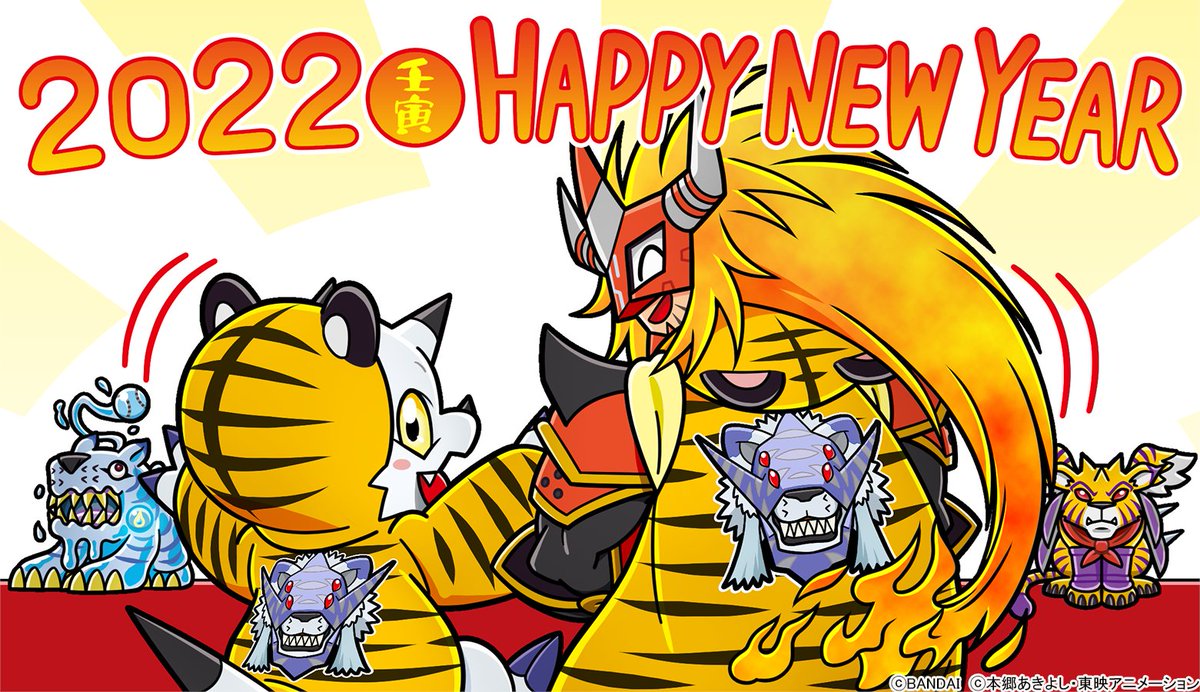 Happy 2022! Time for another "what's going on" New Year's article.
First up, some official Digimon New Year's messages...
To start with,
Digimon Web
put up a fun image for the new year, along with a message:
Happy New Year 2022

This year is the year of the tiger

And it's the 20th anniversary of Digimon Frontier & the 25th anniversary of Digimon❗️

Celebrate the New Year with Gammamon & Agnimon

We look forward to seeing you in 2022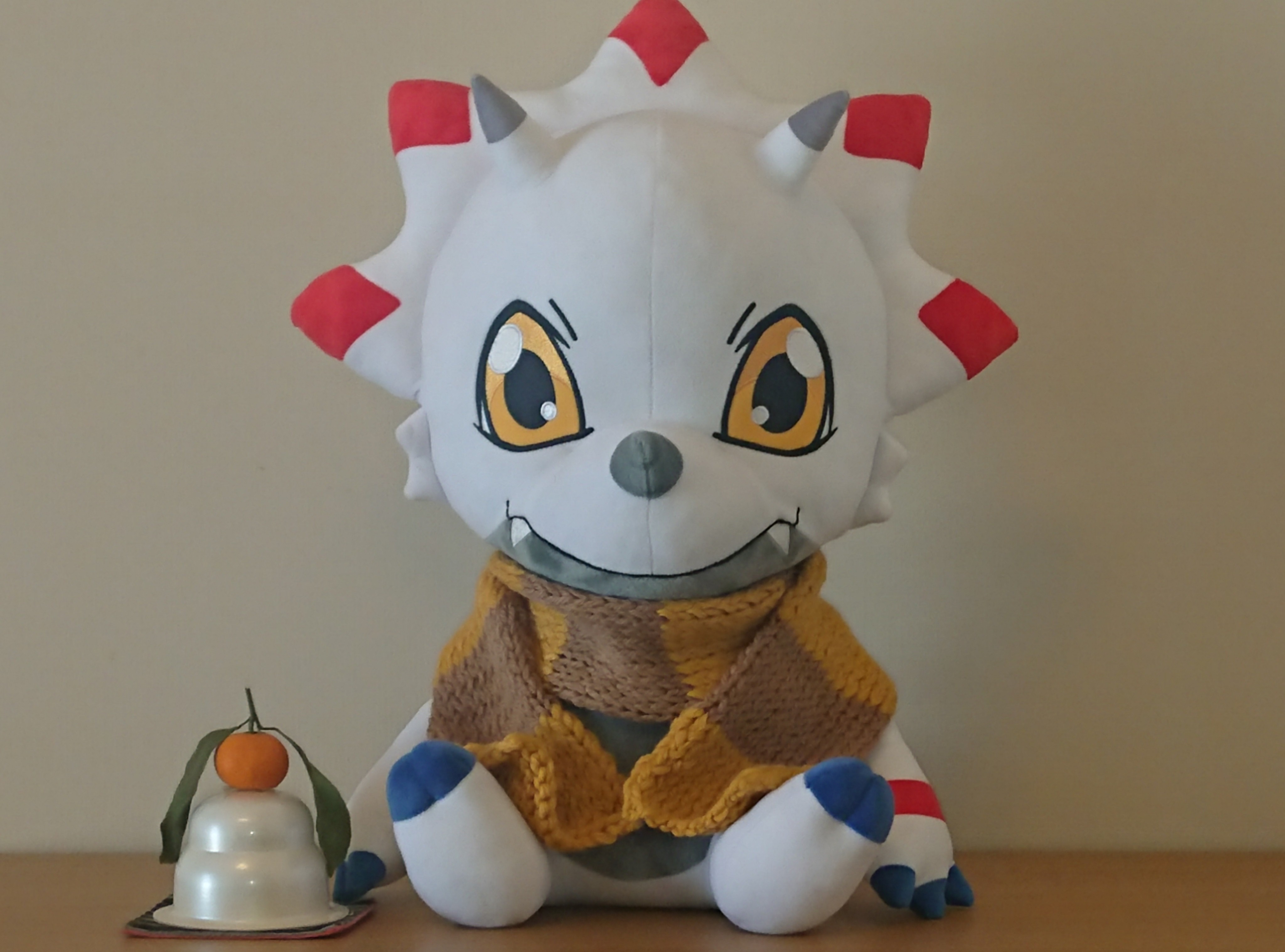 Then from
Digimon TV,
a photo of the Gammamon plush celebrating the new year, and reminding you there is no Ghost Game tomorrow. The attached message:
2022

Happy New Year

Broadcasting in the New Year will start on January 9th. An episode will not air tomorrow. Whether on vacation, at work, or studying, we wish you a peaceful New Year!

We look forward to your support again this year

(S)
And finishing with a couple more before we start..
From
the Digimon Card Game
we get card art of BushiAgumon and a message:
Happy New Year everyone!

We hope you will have a good time playing the Digimon Card Game this year as well.
And then from
ReArise
we get the girls in New Year's kimonos:
Happy New Year! Today we're showing off the gorgeous Michi, Mayu, Chihiro, & Nozomi in their New Year's outfits!

Currently, Digimon ReArise has a New Year's Eve Sale & New Year's Login Bonus! Don't miss the 3.5th anniverawsry limited gacha & challenges!
These will also be in the weekend 'stuff' post tomorrow, along with a not quite official one or two.
Last year was an odd year. It was big for Digimon, but the site itself was mostly as it was. After big changes in 2020, 2021 was mostly continuing on, with some milder software updates.
2021 continued the theme of a lot of stuff for Digimon. The Vital Bracelet came out, Tamers had it's 20th Anniversary, Adventure: continued on for much of the year, handing off to Ghost Game when it started towards the end of the year, so we had quite a bit:
Tamers had a bunch of collaboration stuff for the 20th anniversary, lots of new Tamers art.
The Vital Bracelet came out, as did many Dim Cards.
Adventure: ran for most of the year, finished, and for the first time in 20ish years we had a new series begin immediately...
Which walked directly into Ghost Game beginning.
Along with Ghost Game, we got a mild followup to the Vital Bracelet, the Digivice V.
The first ongoing manga for Digimon in half a year, Digimon Dreamers began, with Tenya Yabuno returning to work on it.
The card game got an almost endless amount of new content it feels like, and isn't slowing down. And of course, the English version of the card game only had a full launch in 2021.
The Digimon X got a full release in the US.
Digimon Partners ran and has ran a few polls for new products to be made.
A number of new music releases came out for Adventure:, Ghost Game, and even a few for 02.
Adventure and 02 got a fancy Blu-ray box, and home video releases for Adventure: are nearing their end.
The new Digimon 02 movie was announced.
ReArise has continued on, with more mobile games in various countries.
Can't even figure out where to start with the various figures and other products.
2021 was a big year with just a lot of stuff, a lot of which wasn't mentioned above just due to not being able to list everything (more model kits, figures, and no doubt tons of other stuff.)
And it ended with some official art and messages from the
Digimon Web
Twitter account.
2022 has a lot to look forward to for Digimon fans. A bunch of big things have already been announced, so it'll be interesting to see what we get on top of what has been announced... (Again, not everything, just what came to mind while writing, along with a quick skim)
Ghost Game is continuing on.
The X2 will be out in the US
More Dim Cards and items for the Vital Bracelet.
Adventure: finishes off Blu-rays, with more likely to come for Ghost Game.
Survive will (in theory) finally come out. [Copy pasted from last year!]
Booster Set 9 of the card game has been announced for Japan, with various releases upcoming in the US.
The various video shows and streams covering the card game, products, and more will be continuing.
With the first big one being Digimon Con in February!
And just waves and waves of figures and other products.
More news about the new movie, hopefully.
As for various site bits...
First up, the negative.
There hasn't been that much to be honest. The main negative has been my own lack of time means I've prioritized news and other more timely articles, with various breakdowns sitting in different stages of unfinished to someday be finished and thrown up. (Same as last year.)
Then the positives.
Things ran well in general, the site worked, etc. It feels like more is happening, meaning more time needs to be spent on just the basic work of keeping people up to date with news.
The
Discord
has gotten even larger with lots of people chatting and popping in and out to chat as they can.
Our
podcast
has ran pretty well this year. The weekly shows with AR & Dev have continued along, and we even had Derek Stephen Prince as a guest on one episode earlier in the year. (My internet went out near the end.)
The
Patreon
has been mostly stagnant for support in 2021. It's not a huge surprise, I don't generally put stuff behind a paywall, so it's more akin to a tip/support jar. We appreciate all of you who are able to support us, whether it be money, or the occasional help elsewhere.
Doing a rough skim of news 2021 was pretty huge for Digimon and the site. A rough count came up with... 1248 articles for 2021. Which is insane.
As for breakdowns/reviews...
in 2020
(by my count) we had 18, and in 2021 we had... 0.
Breakdowns/reviews require, to differing degrees: scanning, screencapping, editing, rewatching things to write up insights and thoughts, photography, and so forth. At the moment there are a good few dozen things that have been started, or need to, that might show up soon(ish), or perhaps fodder for a future Digimonukkah.
My own lack of time (will show that later) has meant that prioritizing news has been the goal, with free time being minimal enough that I've been using free time as actual free time.
We aren't done doing that sort of thing, it's just a matter of proper time.
And while these aren't breakdowns, these are some of the more informative and/or interesting articles and things we've done over the past year... Going thru links, there ended up being way too many of these, so I pared them down quite a bit to just a handful...
Our updates from the Kizuna commentary livestream
- The first time we got even a whiff a new movie might be coming.
Our 100th episode Podcast
, with Derek Stephen Prince
A few DigiNavi livestream coverage threads
(
2
), which included new Vital Bracelet shorts. (I believe there was one or two others, but having issues finding them)
Updates from DigiFes
The announcement of Ghost Game
The announcement of movie '02'
One of the first big data dumps of Ghost Game info and pictures.
Early Ghost Game Interview
Ghost Game Premiere Day
Interview with Masashi Harada, the Man in Charge of Digimon- Translated Pieces
Me running the place for 15 years
And also, earlier in the year, our weekly 'weekend stuff posts' going over various new background details of the production of Digimon Tamers.
You can help us continue to do these by joining our
Patreon
or
donating
. There are some real fun things coming up (not to mention the eternal hope of numbers being good enough we can simply do more) that we need donations for.
In addition, there are a lot of people to thank, in no particular order... (and not dissimilar to prior lists)
Vande- Vande does a lot of the moderating.
onkei- Onkei has always made herself available whenever possible to help, larger translation things, double checking smaller things, etc. It makes a lot end up smoother having her helping.
Lost- Running the tech behind the scenes.
AR, Devkyu- The podcast has run smooth this year, with some really fun episodes, despite us all being kind of exhausted week by week. We know those of you who listen live, or nab the podcast after, have been enjoying it.
Materials providers- A number of people provided images and information for articles, which couldn't have been done without their help.
The mod staff- Having multiple people to keep an eye on things helps things run generally smoothly.
Patreon members and donators- You guys help with the costs of running the place and help to make sure we're able to get ahold of a lot of the stuff we break down, and have made running the place easier and significantly more stress free.
I'm sure I've missed someone, and if I have, thanks to you also.
2021 was very up and down for most people in general, but despite the bad things, I feel like I came out relatively well with a number of positive things happening during the year amidst the problems. So, like last year... both Conan gifs I've used in recent years based on how the year went feel correct.
​
Hopefully things pick up in 2022 for everyone.
2021 was a pretty good year for Digimon with the first anime handoff we've had in 20 years. With any number of things in the work, and no doubt unannounced things, 2022 feels like it's going to be a good year for fans, not just with things happening, but finding out about things fo the future.
No huge site updates coming. We have various updates and cleanup to do on the portal and elsewhere, but the site is working well.
How was 2021 for everyone? Looking forward to 2022? Any suggestions for the site, etc? What Digimon stuff did you enjoy from the prior year?
And as mentioned above, there was a huge lack of time on my part, and since I don't often talk about it on the site itself, a quick bit of showing might be helpful.
First up, in less time consuming news,
I guested on the Nerd Impact Podcast
to talk about Digimon. Not running the show myself, it was a bit more casual with different conversations than I tend to be involved in, and it was a good listen.
As for my day to day busyness...
If you weren't aware, I actually work on anime day by day. I go over everything that ends up on releases, make recommendations, help improve things, sometimes I'm writing marketing copy, etc. I also run the social media for an anime company and design the marketing that ends up on the social media.
But outside of the more nondescript 'do social media', like I said, I directly work deeply on releases for various companies, which sucks up time. In 2021 I also wrote liner notes and an essay that ended up on a release, not to mention writing, directing, and acting in an English dub that will be released shortly.
For 2021 I made an image chart of everything I worked on...
Just to give a basic idea & explanation of where my time goes in a year like 2021 when there weren't breakdowns and reviews. Basically, I spent a lot of time working this year, and a lot of time relaxing from work, writing all the articles inbetween.