Show User Social Media
Hide User Social Media
Joined

Sep 8, 2006
Messages

14,527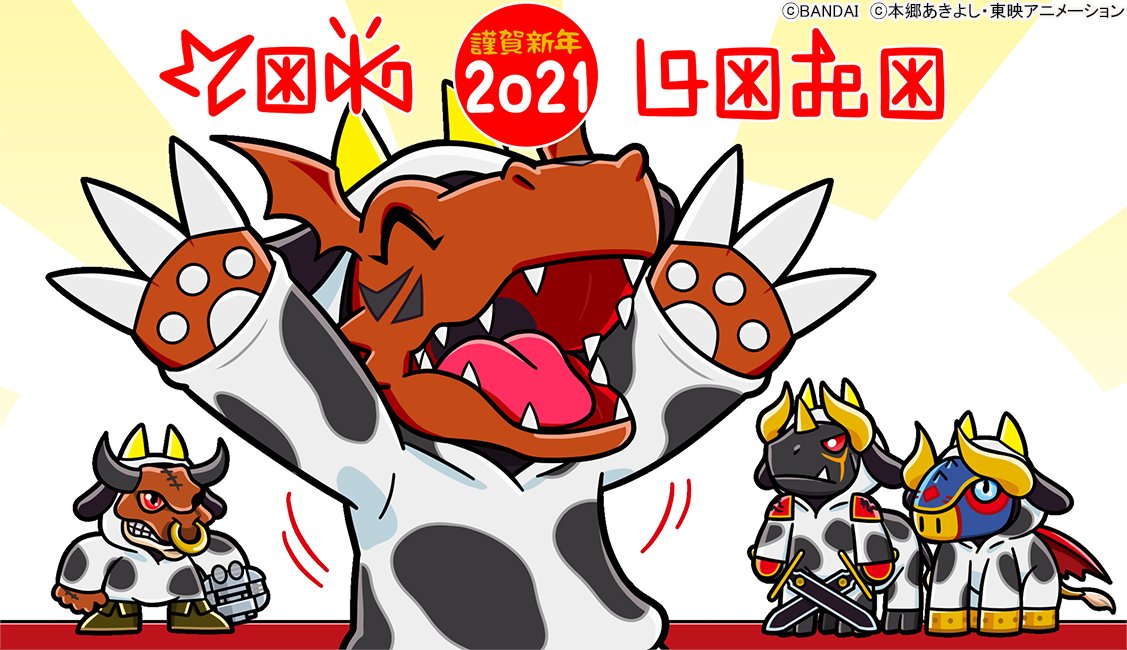 Happy 2021! Time for another "what's going on" New Year's article.
First up,
Digimon Web
put up a fun image for the new year, along with a message:
⛩Congratulations! 2021! Happy New Year

This is the year of the ox!

Minotaurmon, Vajramon, Bullmon

And this year is the 20th Anniversary of Digimon Tamers, so Guilmon is joining us to celebrate the New Year~

☀Let's have a good 2021 together!
Last year we relaunched the site using new software, without actually announcing it ahead of time, choosing to do the work behind the scenes. And it worked... oddly well. A few small bugs got squashed after the new forum launched, and everything has worked reasonably smoothly, even with the growth from new users and lurkers from all the new Digimon stuff in 2020.
2020 was the tail end of the 20th anniversary of Digimon Adventure, with it feeling like one of the largest years from the franchise in a long time, which has been a continuing theme for the last few years. This isn't everything, but a few notable things... (with a number of things no doubt missing because... a lot has happened this year with Digimon... and others I likely just forgot.)
Kizuna came out in Japan in theaters. Releases in other countries were affected in various ways due to the coronavirus.
It came out on home video in Japan and the US, with theatrical releases in various other countries. (And the home video release in Japan came with an 02/Kizuna focused audio drama.)
3 more of the Memorial Shorts came out, and the Blu-ray with all 5 was shipped out just a week ago.
Adventure: was announced, began (with a simulcast for most of the world), went on hiatus due to coronavirus, came back, and hit 30 episodes before the year ended.
V-Tamer got a new chapter, a crossover with Adventure:!
A new card game launched, and is already 4 booster sets in, and appears to be doing quite well, with card after card showing fantastic art.
The English version of the card game has had a pre-launch, with the full release beginning this month, and releases already announced going thru the middle of the year.
V-Pets had a big year with the X3 coming out, the Pendulum Z coming out, the Z2 on the way, 2 more waves of US versions of the 20th Anniversary V-Pets, not to mention a number of Digivice releases including an updates version of the 15th, one based on the Digivice: from Adventure, plus a CSA based on the Digivice as it appears at the end of Kizuna.
And that isn't even including the announce of the Vital Bracelet.
ReArise has been trucking along with season 2 and movie collaborations launching.
It'd be hard to go over the piles of products that have shown up in the past year, but it is constant and neverending it feels like.
2020 was a big year with just a lot of stuff, a lot of which wasn't mentioned above just due to not being able to list everything (ULForceV-dramon figure!)
And it ended with some official art and messages from the
Digimon Web
&
Digimon Adventure
Twitter accounts.
2021 has a lot to look forward to for Digimon fans. A bunch of big things have already been announced, so it'll be interesting to see what we get on top of what has been announced... (Again, not everything, just what came to mind while writing, along with a quick skim)
Adventure: is continuing.
The Pendulum Z2, as mentioned above, will be out.
The Vital Bracelet is just a few months away.
Adventure and 02 are getting a giant Blu-ray box.
Survive will (in theory) finally come out.
Booster Set 5 of the card game has been announced for Japan.
The proper release of the card game in the west, plus everything up through Booster Set 4 has been announced.
The US release of the Digivice: via Premium Bandai, plus hints, leaks, and more telling us we will get more releases of V-Pets in the west.
The various video shows and streams covering the card game, products, and more will be continuing.
And just waves and waves of figures and other products.
As for various site bits...
First up, the negative.
There hasn't been that much to be honest. The main negative has been my own lack of time means I've prioritized news and other more timely articles, with various breakdowns sitting in different stages of unfinished to someday be finished and thrown up.
Then the positives.
Things ran well, the new version of the site was well received, and things just generally worked. Although I admit, more and more stuff to do makes things more tiring.
The
Discord
has gotten even larger with lots of people chatting and popping in and out as their schedule allows.
Our
podcast
has changed setup radically, with weekly episode reviews and news. May left due to scheduling, with Devkyu joining up after an earlier guest slot.
The
Patreon
has gone down a decent chunk in 2020 to be honest (more a negative, but support is support.) It's not a huge surprise, most people have had to tighten things up, and it's understandable. We appreciate all of you who are able to support us, whether it be money, or the occasional help elsewhere.
Doing a rough skim of news, breakdowns, reviews, etc. it appears 2020 went up cartoonishly compared to 2019 (which was a bit lower than 2018 and 2017, which were roughly equivalent.) It was basically double 2019. That makes sense when you consider 2020 was basically a soft relaunch of the brand in half a dozen different ways.
As for breakdowns/reviews...
in 2019
(by my count) we had 19, and in 2020 we had 18. These involved, to differing degrees: scanning, screencapping, editing, rewatching things to write up insights and thoughts, photography, and so forth. At the moment there are a good 6 to 10 things that have been started, or need to, that might show up soon, or perhaps fodder for a future Digimonukkah.
These aren't in chronological order, just ordered in a somewhat clean fashion (although it feels like I might have missed one or two while looking for them... as I expect I always have.)
What Lies Ahead (Kizuna Insert Song) CD- Scans & Product Breakdown
Brave Heart -Last Evolution Version- (Kizuna Insert Song) CD- Scans & Product Breakdown
Even if We're Apart (Kizuna Ending Song) CD- Scans & Product Breakdown
Butter-Fly (Kizuna Release Version) CD & DVD- Scans & Product Breakdown
Digimon Adventure: Last Evolution Kizuna Original Soundtrack- Scans & Breakdown
Aiha Headphone Kara (Standard Version, w/ Adventure: ED1) CD- Scans & Product Breakdown
Unidentified Airship (Adventure: Opening Theme & Inserts) CD- Scans & Product Breakdown
Digimon Adventure: OST Volume 1- Scans & Breakdown
Digimon Adventure: Last Evolution Kizuna is out on Blu-ray (Deluxe version) in Japan! Scans, Screencaps, & Discussion!
USA Digimon Adventure Last Evolution: Kizuna Blu-ray & DVD Review- Breakdown, Scans, Screencaps
Translation of Digimon Adventure: Last Evolution Kizuna Audio Drama- Where Should We Go?
Interview with Director Tomohisa Taguchi from Japanese Kizuna Deluxe Blu-ray Booklet
Digimon Adventure: Last Evolution Kizuna Thanks from Staff Booklet- Scans & Translations
tri. Blu-ray Box- Breakdown and Scans
Digimon Adventure tri. Best Hit Parade- Scans & Breakdown
GEM Yamato & Garurumon Breakdown, Scans, and Photos
Digimon Card Game (US) Trial Pack- Breakdown & Scans
Digimon Adventure: 2021 Calendar- Scans & Breakdown
And while these aren't breakdowns, these are some of the more informative and/or interesting articles and things we've done over the past year... Going thru links, there ended up being way too many of these, so I pared them down quite a bit... (A number of the breakdowns above would be down here if they weren't up there.)
Digimon Project Trailer
- With the brand relaunching in 2020, this trailer was a sort of statement of intent. Showing off a ton of things, and it just looked... fun.
Kizuna Announced for US theaters
- This didn't end up happening due to coronavirus, but this was the first time we got a whiff that a new TV show was coming.
Digimon Memorial Story Short- To Sora, with subtitles
Last Evolution Kizuna Preview Screenings Begin
- Preview screenings beginning means we got a lot of neat photos, and info from people who saw it began to show up.
Final Kizuna Trailer, Plus Screening Event Translations
- The last Kizuna trailer came out a few weeks before the movie was released, and we also got details from a screening event which we translated.
Translated Kizuna content from March 2020 issue of Animage
Digimon Adventure: Last Evolution Kizuna is out!
- When the film came out in Japan, we got to see some new art.
Kizuna Design & Production Art from Animedia
- Animedia had over a dozen pages of Kizuna product artwork in an issue earlier this year.
Kizuna Box Office Numbers
- Box office numbers for the first month of Kizuna's release in Japan.
Last Evolution Kizuna Artwork by Yu Yuen-wong
- Yu Yuen-wong, creator of a number of Digimon manhua did artwork to help promote the release of Kizuna in China after he was invited to a screening.
Week 1 Sales Numbers for Kizuna on Blu-ray/DVD in Japan, Comparison with other Releases
- Kizuna came out on home video and did crazy well.
Digimon Adventure: Last Evolution Kizuna is Out Digitally!
- In the US, Kizuna came out digitally a week before Blu-ray and DVD.
Joshua Seth Interview! His Thoughts on Digimon Adventure: Last Evolution Kizuna & More!
- Right as Kizuna was coming out we had the chance to interview Joshua Seth on his thoughts playing Tai for 20 years. Hopefully we did an interview that was interesting and fun.
Art from Digimon Adventure 20th Memorial Story Project Booklet- Illustrations from Creators & Preview of Memorial Story 5
- Right after Kizuna came out, people in Japan started getting some of the 'early release' content for the Memorial Story Project. This included art from a few different people who have worked on the Digimon franchise over 20 years.
Digimon Adventure: Poster, Details, & V-Jump Images
- Our first solid details on Adventure: were via V-Jump. We had gotten them a bit before we had images, so some initial information was misunderstood.
Adventure: Teaser and Website
- Once the show was announced, we just started to get information fast.
Staff Comments on Adventure:
- That included comments from the producers, Kenji Watanabe, and original Adventure director Kakudou.
Translated Interviews with Tenya Yabuno & Atsuhiro Tomioka
- Tenya Yabuno & Atsuhiro Tomioka did a couple of interviews to help promote the new anime, and the new chapter of V-Tamer.
And as mentioned...
V-Tamer returned for a one of
f after almost 20 years of being away!
Translated Interview with Adventure: producer Hiroyuki Sakurada & director Masato Mitsuka
- Adventure: producer Hiroyuki Sakurada & director Masato Mitsuka explain a number of things including Omegamon and the :.
DigiFes 2020 Online Stream Updates
- DigiFes happened this year and was online. We did stream updates live.
Digimon April Fools Joke- Omedamon & Medabots April Fools Joke- OmegaKnight
- This year we had an April Fools collaboration between Digimon and Medabots featuring some familiar looking characters on both sides...
Algomon Rough Design from Soh Moriyama
- Digimon designer Soh Moriyama showed off an rough early design for Algomon Ultimate from the Savers movie.
Butter-Fly Ranks 4th in AniSong General Election
- In a vote for favorite anime songs earlier in 2020, Butter-Fly ranked 4th.
Michihiko Ohta Performing Slas
h- Ohta put together a recording setup early in the pandemic so he could perform and upload videos. He did a number of Digimon songs he worked on behind the scenes, but Slash was a high point, since he was the singer of that one that people are familiar with.
Behind the Scenes of Digimon the Movie from Jeff Nimoy
- Longtime Digimon writer and director Jeff Nimoy had often told stories, good and bad, about making the English Digimon the Movie. In an extended blog post he writes about in quite a bit of detail.
Digimon the Movie Score Uploaded by Composer Udi Harpaz
- It was a fun surprise when Udi Harpaz uploaded nearly the entire Digimon the Movie score, and fans were quite pleased to get it.
Digimon Vital Bracelet Announced, Project VB is Digimon V-Pet Health Tracker, Releasing in March 2021
- After teases we finally got details for the Digimon Vital Bracelet, the upcomingf V-Pet/fitness tracker.
Contest Winners & Entries- Kizuna Prize Packages & More!
- We had some great entries for our Kizuna contest, and were happy to share them once winners got their prizes.
The leadup also ran for part of the year. Since Kizuna's release was delayed, we kept going until Adventure: started!
Then we brought it back during the hiatus.Each week a new anime or movie is featured to watch in the leadup to Last Evolution Kizuna. Some weeks are me recommending content, and we've also had a few different guests. The link is to the most recent week, which also includes an index of prior weeks.
And there are still a few days left to get
the first 2 volumes of V-Tamer in Japanese for free
.
You can help us continue to do these by joining our
Patreon
or
donating
. There are some real fun things coming up (not to mention the eternal hope of numbers being good enough we can simply do more) that we need donations for.
In addition, there are a lot of people to thank, in no particular order... (and not dissimilar to prior lists)
Vande- Vande does a lot of the moderating.
onkei- Onkei has always made herself available whenever possible to help, larger translation things, double checking smaller things, etc. It makes a lot end up smoother having her helping.
Lost- Running the tech behind the scenes.
AR, Devkyu, May- Podcast had a number of changes this year, but it's been fun and amusing, and hopefully that will continue.
Materials providers- A number of people provided images and information for articles, and for a number of breakdown articles, which couldn't have been done without their help.
The mod staff- Having multiple people to keep an eye on things helps things run generally smoothly.
Patreon members and donators- You guys help with the costs of running the place and help to make sure we're able to get ahold of a lot of the stuff we break down, and have made running the place easier and significantly more stress free.
I'm sure I've missed someone, and if I have, thanks to you also.
2020 was a hard year for most people in general, but despite the bad things, I feel like I came out relatively well with a number of positive things happening during the year amidst the problems. So... both Conan gifs I've used in recent years based on how the year went feel correct.
​
Hopefully things pick up in 2021 for everyone.
2020 was a pretty strong year for Digimon despite various delays and issues. That energy going into 2021 feels like hopefully we will have another huge year.
We have some upgrades coming to the forum soon. Nothing as huge as last year, but some small polish and tweaks.
How was 2020 for everyone? Looking forward to 2021? Any suggestions for the site, etc? What Digimon stuff did you enjoy from the prior year?