Show User Social Media
Hide User Social Media
Joined

Sep 8, 2006
Messages

17,385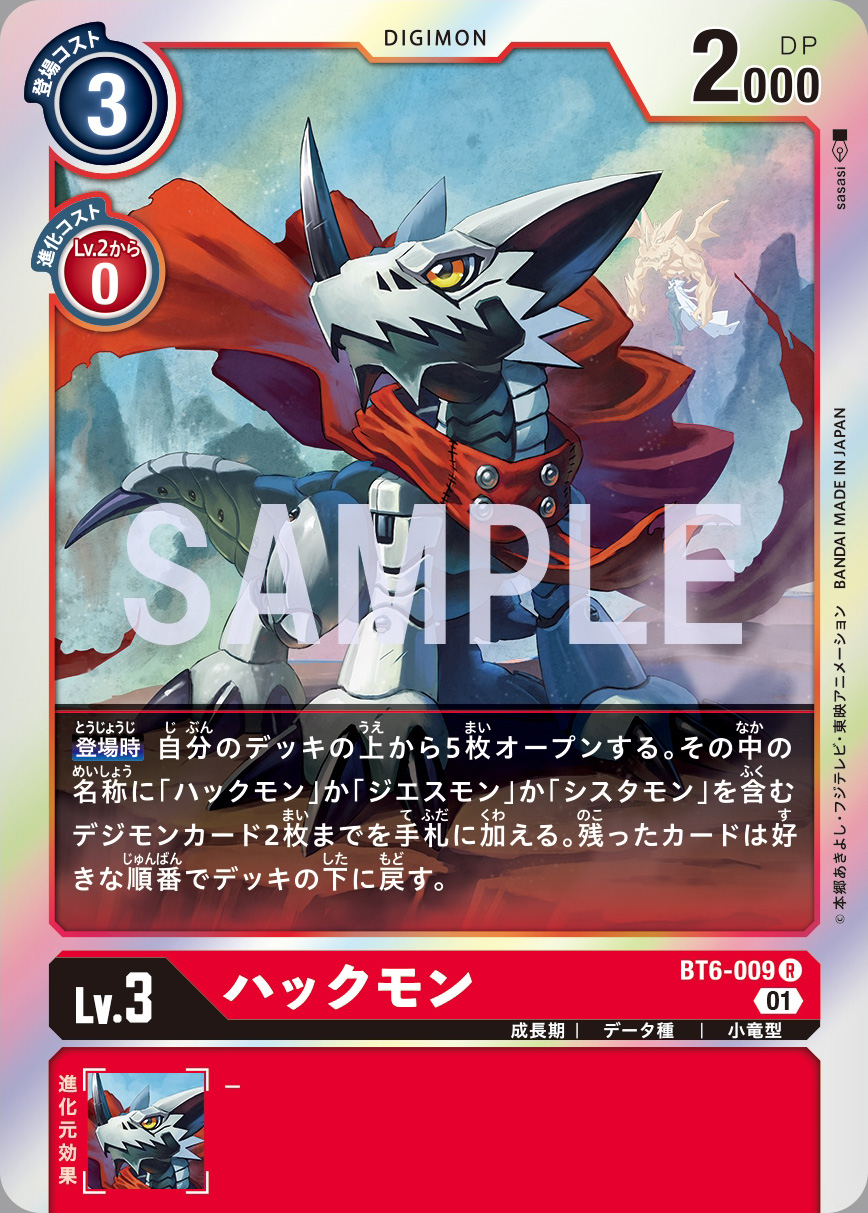 The Digimon Card Game Twitter
has updated with a card preview from Booster Set 6 Double Diamond. This time it's Hackmon.
Hackmon gets some nice regal looking art for his card. His hood is off, with his cape blowing in the wind. In the background you can see Gankoomon & Hinukamuy standing on a rock, in a very animeish hero pose.
Plus a bit extra...
Bandai put up a catalog page for Booster Set 6
, which includes a few images.
First up, a higher resolution at the booster pack and booster box.
Second up, looks at 5 cards we've seen before, although not all of them cleanly, so a nice little additional update: Agumon, Gabumon, Pulsemon, Sistermon Noir, and Sistermon Blanc.
Booster Set 6 Double Diamond is scheduled for release on May 28th.
Previous Card previews for Booster Set 6:
We have clean card images for Starter Decks 7 & 8, plus Delay Promos, Tamers Battle Pack 5, 1st Anniversary Promos, & Pulsemon.
We've also begun to get previews for Booster Set 6 Double Diamond
, which will feature characters from Kizuna!
We've also gotten our
first details for Booster EX-01 Classic Collection
!
Plus we have the first details
for the 1 year anniversary of the card game, including a number of fun things!
And images from previous Digimon Card Game releases:
Starter Decks 1, 2, and 3, and first 10 promo cards
Booster Set 1 New Evolution
Booster Set 2 Ultimate Power
V-Tamer Promo Cards
Purple/Black Promo Set
Tamer Battle Pack 1 and Tamer Battle Winner's Card
Booster Set 3 Union Impact
Starter Decks 4, 5, & 6, plus Tamer Battle Pack 2 & winner's Card 2, & 1st 2 scene vote cards
Booster Set 4 Great Legend, Tamer Battle Pack 3, 3rd Scene Vote, Dark Digimon Promo Pack, & Apparel Cards
Booster Set 5 Battle of Omega, plus Tamer Battle Pack 4, 4th Scene Vote, & Vital Bracelet Pack-In Cards