Show User Social Media
Hide User Social Media
Joined

Sep 8, 2006
Messages

16,891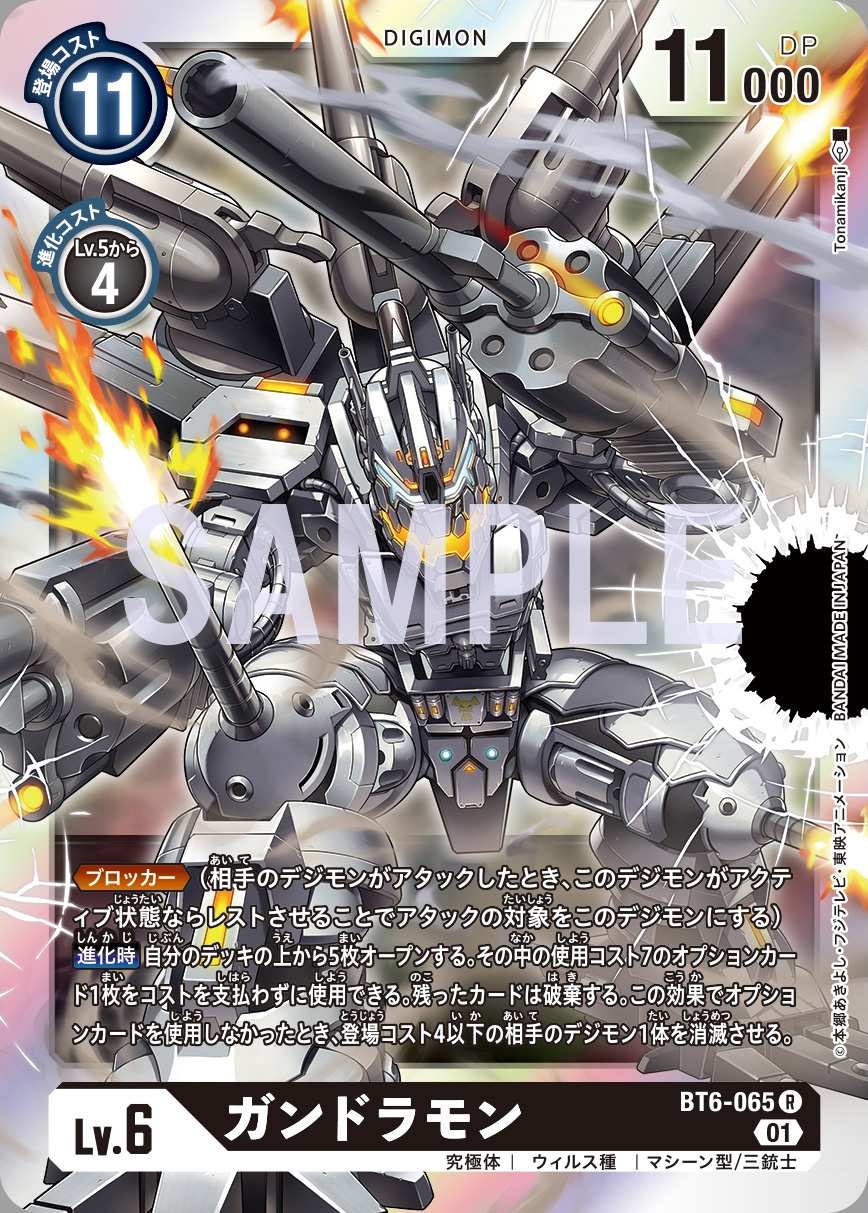 The Digimon Card Game Twitter
has updated with a card preview from Booster Set 6 Double Diamond. This time it's Gundramon.
Gundramon doesn't have much art (and doesn't show up that often, although he's had a few different appearances recently), and the art on this card gives it a really nice and fancy look. He appears to be doing his Gewaltschwärmer attack (basically just him going nuts and firing). A high point of the card art is the attacks actually breaking the 'camera' of the card showing us the artwork.
Booster Set 6 Double Diamond is scheduled for release on May 28th.
Previous Card previews for Booster Set 6:
Sistermon Blanc & Sistermon Noir Titamon Dynasmon Kizuna Character Cards from V-Jump Gankoomon Pulsemon Packaging Preview, plus box topper Chaosmon: Valdur Arm Parallel Card Mojyamon, Shoutmon, Mamemon, Arbormon, Babmon, SkullGreymon, Grave Memory Booster, & Takeru and Hikari Flamon & Strabimon Machmon Bulkmon Kinkakumon & Ginkakumon ModokiBetamon Hackmon, plus Higher Resolution Packaging & Updated Looks at Agumon, Gabumon, Pulsemon, & Sistermon Noir and Blanc Jesmon Petaldramon
We have clean card images for Starter Decks 7 & 8, plus Delay Promos, Tamers Battle Pack 5, 1st Anniversary Promos, & Pulsemon.
We've also begun to get previews for Booster Set 6 Double Diamond
, which will feature characters from Kizuna!
We've also gotten our
first details for Booster EX-01 Classic Collection
!
Plus we have the first details
for the 1 year anniversary of the card game, including a number of fun things!
And images from previous Digimon Card Game releases:
Starter Decks 1, 2, and 3, and first 10 promo cards
Booster Set 1 New Evolution
Booster Set 2 Ultimate Power
V-Tamer Promo Cards
Purple/Black Promo Set
Tamer Battle Pack 1 and Tamer Battle Winner's Card
Booster Set 3 Union Impact
Starter Decks 4, 5, & 6, plus Tamer Battle Pack 2 & winner's Card 2, & 1st 2 scene vote cards
Booster Set 4 Great Legend, Tamer Battle Pack 3, 3rd Scene Vote, Dark Digimon Promo Pack, & Apparel Cards
Booster Set 5 Battle of Omega, plus Tamer Battle Pack 4, 4th Scene Vote, & Vital Bracelet Pack-In Cards