Show User Social Media
Hide User Social Media
Joined

Sep 8, 2006
Messages

17,382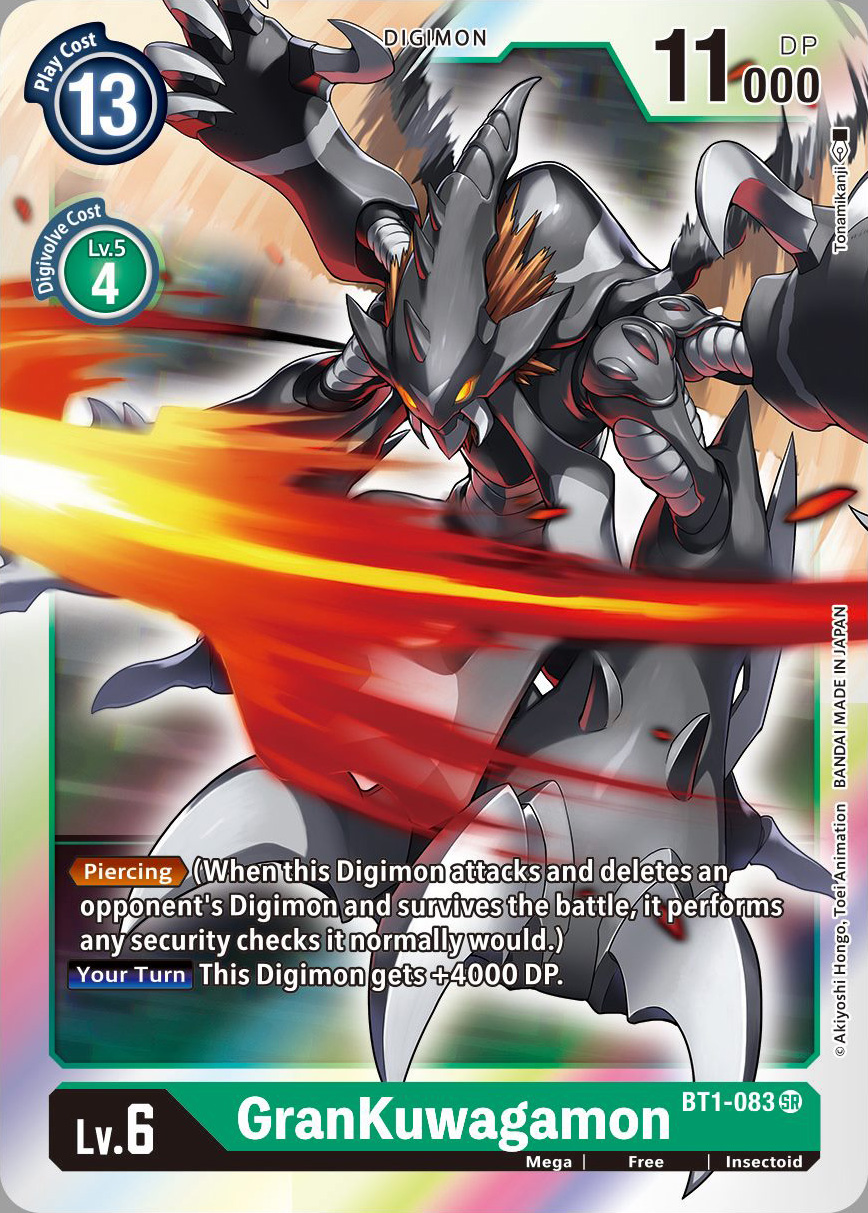 Special Booster 1.5 previews continue for the US version of the card game!
Won't go over them in detail, since it's the same cards that came out awhile ago in Japan. We get
a new preview
of GranKuwagamon
US Boosters 1.0 and 1.5 will contain all the cards from Japanese boosters 1, 2, and 3, featuring their original numbering.
Special Booster 1.5 will be out in February.
Previous Special Booster 1.5 Previews:
The pre-sale for the first wave of English Digimon Card Game releases is out. It includes the first 3 starter decks and special booster 1.0 (a larger than normal booster set containing a selection of cards from the 1st 3 Japanese boosters. When paired with the upcoming special 1.5, it contains all the cards as those boosters in Japan.)
All the day 1 cards (the 3 starter decks, special booster 1.0, and a bunch of promo cards) we have clean images for, which can be found
here
.
Various rules and other updates for the early release of the Digimon Card Game English version can be found
here
.
We also have info about the release of Starter Decks 4, 5, and 6 and Booster Set 4 in English
here
.
Early packaging and promo card details for special booster 1.5 can be found
here
.
Details of the upcoming Premium Pack & Great Dash Pack can be found
here
.
Then we have a few card shows to go over...
Digimon Card Battle is back with episode 12.
This week Digimon Card Battle has a bit of a Christmas theme to it, and also has video gamer & card player
Kano Sayaka
as a guest.
The main focus of this episode is that we get two different matches!
Before each match they go over cards that are key to their current decks. Lots of Booster Set 4 shown off as you'd expect.
The first match features Sayaka vs Hideyoshi from Fun Digica.
The second match features co-host Hikaru vs Cody from Fun Digica.
After the matches we get the same general housekeeping episodes often has, going over products we've heard about before, etc.
The preview for the next episode shows everyone getting into two 5 person teams.
And last up...
Digimon Classroom spinoff/side series 'Road to Digimon Card Master' continues.
Gachos and Kyotin have a sample match with cards from Booster Set 4, with narration by Goto P explaining elements of the match.
A few screenshots...
Booster Set 4 is out in Japan!
We have clean card images for Booster Set 4 Great Legend.
We also have begun to get
details about Booster Set 5 Battle of Omega
, including
our first look at art via DigiNav
i! It's scheduled for release on February 26th.
And images from previous Digimon Card Game releases:
Starter Decks 1, 2, and 3, and first 10 promo cards
Booster Set 1 New Evolution
Booster Set 2 Ultimate Power
V-Tamer Promo Cards
Purple/Black Promo Set
Tamer Battle Pack 1 and Tamer Battle Winner's Card
Booster Set 3 Union Impact
Starter Decks 4, 5, & 6, plus Tamer Battle Pack 2 & winner's Card 2, & 1st 2 scene vote cards
Index of Fun Digica & Card Battle episodes:
Previous episodes of Digimon Classroom: