Show User Social Media
Hide User Social Media
Joined

Sep 8, 2006
Messages

16,119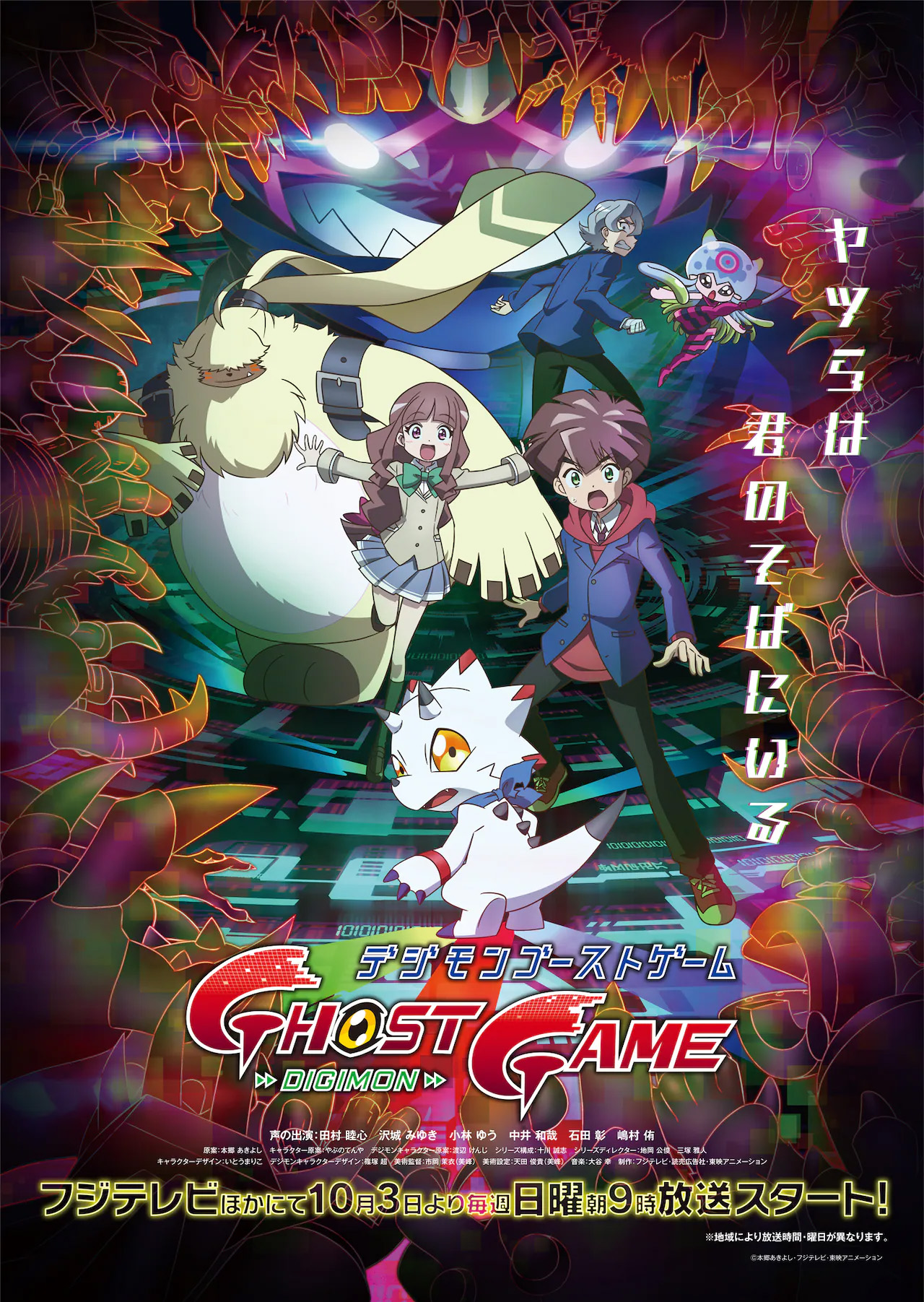 We under a month to go, we have a bunch of details for Ghost Game!
First trailer this weekend after Adventure: episode 65.
The official site
has updated with tons of info!
A key art poster shows the main kid and Digimon trio, an evil Digimon behind them, and various Digimon reaching for them as they are in a digital space.
A plot teaser...
The story takes place a bit into the future, where a new technology has been developed.
On social networking sites, there circulate rumors of mysterious phenomenon of unknown origin called "hologram ghosts."
First year junior high school student, Hiro Amanokawa, activates a mysterious device left by his father, known as a 'Digivice'.
When activated he can see unknown creatures that ordinary people can not see, "Digimon."
From the day he meets the Digimon "Gammamon," entrusted to him by his father, Hiro gets caught up in all kinds of bizarre phenomenon, such as the 'Mouth Stitching Man' who steals human time, and a 'Mummy Man' who wanders around at night and kidnaps people.
Hologram ghosts are right next to us, and out to get us.
From here on out, comes a story of the other side of the world that no one knew. Together with Gammamon and his friends, Hiro steps into the mysterious world where Digimon live.
Then we have animation designs for the characters, plus the cast!
Hiro Amanokawa, played by Mutsumi Tamura, known to Digimon fans as Koushiro in tri. and Kizuna.
A 1st year junior high student at private school Hazakura Academy, 13 years old. He is a levelheaded boy who handles most things on his own, with others often relying on him. He never turns down a request. He has a highly inquisitive mind, and takes an interest in Digimon after meeting Gammamon.
Gammamon, played by Miyuki Sawashiro, known to Digimon fans as Mirei from various games, and Yuma in Savers: Another Mission.
A Digimon who came to Hiro through his father, Hokuto. He is very curious and has a tendency to try and bite everything. He is mischievous, but listens to his friends. His favorite food is chocolate, which he calls 'the strongest'.
Ruri Tsukiyono, played by Yu Kobayashi, who played Makoto in Hunters, but is probably best known as Sasha from Attack on Titans, Ayame in Gintama, Setsuna in Negima, and many other roles.
A 13 year old first year junior high student at an integrated junior high and high school for girls. She runs an immensely popular social media account called 'Rirurun'. She is sociable and has many friends. She is looking for what fits her best and wants to be involved in everything.
Angoramon, played by Kazuya Nakai, known to Digimon fans as Gaomon in Savers.
A large Digimon who uses his long ears to fly slowly in the sky. He has a keen sense of hearing and can distinguish distant noises. He is always calm and has a mature personality. He knows a lot about the digital world. He likes to listen to Ruri play the piano.
Kiyoshiro Higashimitarai, played by Akira Ishida, is known to Digimon fans as Wizarmon in Adventure/02/etc.
14 years old and in eighth grade, head of the boys student dormitory at Hazakura Academy. He is a genius who skipped grades and graduated from grad school in the US, but for some reason is now living a student life in Japan. While he normally speaks with a condescending and arrogant attitude, he is actually quite a coward, but once his switch is flipped...?
(We had previously translated his name as Seishirou in prior articles.)
Jellymon is played by Yu Shimamura, known to Digimon fans as Offmon from Appmon.
A soft bodied Digimon with a jelly-like head. She can easily slip through the ground and walls. She is strong willed like a queen and hates to lose. She finds human activities amusing and tries to participate in them as if they were a game. She likes to scare Kiyoshiro.
Some clean versions of the character art, plus facial expressions for the kids!
There are also comments from the cast
! Update- Translations thanks to onkei!
Mutsumi Tamura:
I'm happy to be involved in a Digimon series once again. I have the impression that Hiro is a rather normal kid. He's serious-minded, thoughtful, and a studious student.
While he seems to be rather inquisitive, I'm still trying to figure out what sort of kid he is as I go about with recording. I look forward to seeing all sides of him in the future!
This series combines Digimon with the bizarre, so I sense that it will have a different feel from all of the works before it. I hope you all enjoy it!!
Miyuki Sawashiro:
I'm Miyuki Sawashiro, who gets to be with Gammamon, a very energetic Digimon who (apparently) loves chocolate. I'm recording now with the stance that Gammamon comes to see you, watching across the screen, every week with super hyper cheerfulness!
The "Ghost Game" words in the title are bigger than "Digimon"...! I'm sure the story will be just a little bit scary(?!) too. The rumor is that it'll be even scarier than "Gegege no Kitaro"?!... That can't be, right??
Please watch to find out for yourself!
Yu Kobayashi:
I am very happy to be involved in "Digimon Ghost Game," the latest addition to the long and historic Digimon series timeline that is loved by many fans. I'm both grateful and excitedly anxious to play the heroine, Ruri Tsukiyono-san. I hope to move forward one step at a time with Ruri-san. This is a series that can be enjoyed by men and women of all ages. Please look forward to a story of everyone's growth!
I hope you enjoy it.
Kazuya Nakai:
I'm really happy to be a part of Digimon once more after more than a decade. Thank you.
Angoramon is big and fluffy, but I can see intelligence in his eyes. It'll be fine, I sure we can understand each other. I think the two of us can get along.
Because it has "ghost" in the title, would that mean it's a scary story? I'm nervous.
I'd like to overcome both the scary and the non-scary elements while enjoying myself with everyone who watches. Please come along for the ride.
Akira Ishida:
As the recording has just started, I only have a small glimpse of what sort of role he has, but already from the name "Kiyoshiro Higashimitarai" - it has 7 kanji characters. Given that he's already being teased in this way [with an outlandish name], I anticipate episodes in the future that put focus on troublesome aspects of his personality.
As the title "Ghost Game" implies, this series combines Digimon with spiritual phenomena. I think you will find it a bit thrilling. Please look forward to it.
Yu Shimamura:
I have always loved watching jellyfish at aquariums, and I dreamed of owning one as a pet someday. I never thought that I would *become* a jellyfish before actually having one. I'm so happy!
And, when it comes to Digimon, it's all about the "bonds with your partner"! I'm greatly looking forward to seeing how the queen-like Jellymon interacts with Kiyoshiro and the others. I hope you enjoy it too.
And then staff info...
Character designs by Tenya Yabuno
Digimon designs by Kenji Watanabe
Planning/design cooperation:
Tenya Yabuno
Hiroshi Izawa
(both returning from Digimon V-Tamer)
Series Composer: Masashi Sogo, who was the series composer for the first 200 episodes of Bleach, Tokyo Mew Mew, the first 75 episodes of Princes of Teenis, Great Teacher Onizuka, Gantaz, Fairy Tail, among others, and has written for many anime projects.
Series Directors:
Kimitoshi Chioka, assistant director, storyboard artist, and episode director for Adventure, 02, Tamers, Frontier, and Savers. Was also the series director for the first 46 episodes of Dragon Ball Super, and worked on many other anime.
Masatao Mitsuka, series director and episode director for Digimon Adventure:, episode director for Xros Wars. Also worked on Dragon Ball Super, Kitaro, One Piece, and other franchises.
Character Design by Mariko Itou, who worked on a number of anime including Log Horizon.
Digimon Design by Cho Shinozuka, who did various artwork and animation for Adventure:, Pretty Cure, Kitaro, Dragon Ball, and more.
Art Direction by Mai Ichioka, who has done art for Adventure:, World Trigger, Pretty Cure, and More.
Art Design by Toshiaki Amada, who did the same for Appmon and Adventure:, Full Metal Panic 5, Kitaro 2018 and more.
Music by Kou Otani. Otani is a very prolific anime composer. Including but not limited to (franchise names, not necessarily specific shows)- City Hunter, Shin-Chan, Eyeshield 21, Gunslinger Girl, .hack, Gundam Wing, Outlaw Star, Shakugan no Shana, Tenchi, You're Under Arrest, Zatch Bell, Zoids.
And then a clean version of the key art and logo...
Ghost Game premieres on October 3rd in the same timeslot Digimon Adventure: airs in.
Update- Various translations above updated thanks to onkei.
Last edited: