Show User Social Media
Hide User Social Media
Joined

Sep 8, 2006
Messages

17,382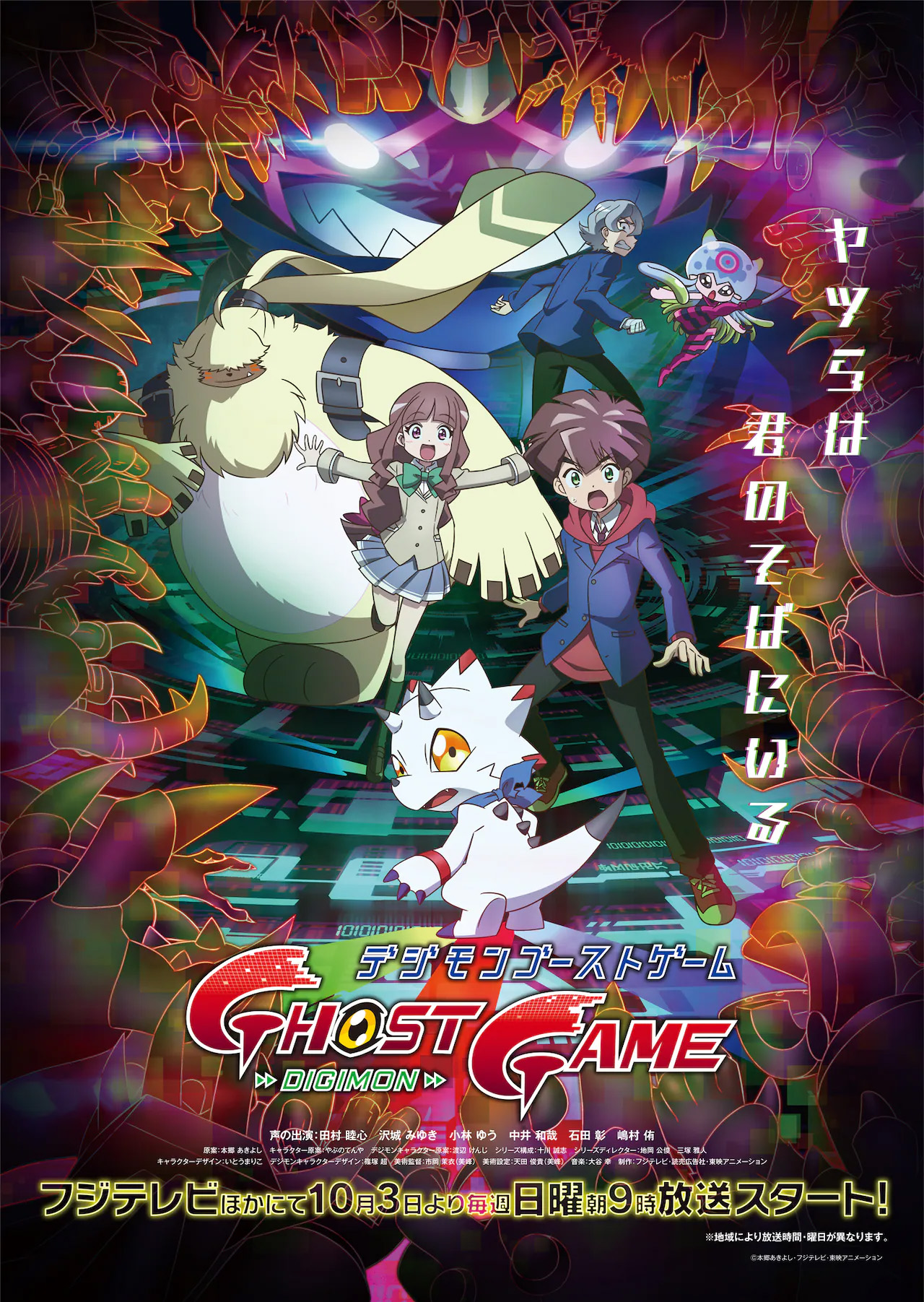 New guide listings for Digimon Ghost Game!
These have episode titles and plot synopsis' for episodes 59 thru 62 (the official episode title translations in the end may very well be different than these).
Plot synopsis/descriptions by their nature will have minor spoilers, so consider this fair warning.
Episode 59- Jiraiya (January 15th)
Kiyoshiro Higashimitarai goes to the countryside for IT-related work, where he meets Meru Aiba, a woman with otaku hobbies, and hits it off with her immediately. Meru invites Kiyoshiro to go see a performance together, called the "Kuraishi Sentai Jiraiyaz." That's where they encounter the giant frog hologram ghost, TonosamaGekomon, and its henchman Gekomon. Kiyoshiro shows up with such vigor that TonosamaGekomon mistakes him for a Jiraiya and forcefully puts Kiyoshiro on his back to exterminate villains. Every time Kiyoshiro feels fear, he's slowly pulled into TonosamaGekomon's back and loses freedom of his limbs. His back is covered with the faces of other humans that he's absorbed into his body in this way. Meanwhile, Hiro Amanokawa and co. hear from Meru that Kiyoshiro has been taken away, and go into the city in search of him. However, Meru tails them, finding their behavior suspicious.
Episode 60- Water Ghost (January 22nd)
Hiro and co. visit a seaside town, where they come across a strange rain. When people are drenched by this rain, they drown and their bodies stiffen, vomiting up water from their mouth and eyes. The rain was "Digital Water" created by a group of Hangyomon. The city is soon submerged in Digital Water, and Hiro and co. take refuge in a park on high ground. That's where they find out about the "mummy-like object that was discovered two weeks ago," and they go to the shrine where it is propped in. The mummy-like object turns out to be Cthyllamon, their body dried up from being on land. Absorbing the Digital Water revives Cthyllamon, and it renders Hiro and Ruli Tsukiyono powerless, stiffening their bodies and making them vomit water, before joining up with its Hangyomon minions. Cthyllamon makes it their mission to have all humans over the world vomit water, and dives into the Digital Water's sea. Kiyoshiro and Thetismon go in pursuit, but Cthyllamon's attacks put them in near mortal peril. Just then, Kiyoshiro and Thetismon's wills synchronize...
Episode 61- Revival (January 29th)
Ruli's friend Kotoha asks to meet her for some advice, so she goes with Hiro and Kiyoshiro to visit her. They find a woman's dead body lying in the bed of Kotoha's older brother's room. The woman's name is Manami, and she is Kotoha's brother's fiancee who passed away from an accident a few days ago. Ruli and co. are horrified to learn that Kotoha's brother brought Manami's body back home without telling anyone, and that the body moves around on its own at night. What's more, ever since her brother brought Manami back, strange things keep happening inside the house. Ruli and co. decide to stay at the house to determine the cause, but they get caught up in a series of strange incidents.
Episode 62- The Phantom Floor (February 5th)
Ruli's best friend, Aoi Udagawa, lives in a high-rise apartment building where weird things are said to be happening. The residents are scared and begin to move out in droves, while the building is called "Fear Condo" on the internet. Aoi asks Ruli to investigate. When Ruli and Aoi arrive at the apartment building and go on the elevator, they hear a suspicious sound of a lock clicking, and the elevator stops at the 13.5th floor. Aoi is terrified, saying that there is no such floor. When the doors open, they find themselves in a strange place that they'd never seen before.
The show continues on, and we get toku heroes, more water, some bodies, and condos.
Thanks to a friend of the site for the information and onkei for the translations.