Show User Social Media
Hide User Social Media
Joined

Sep 8, 2006
Messages

17,396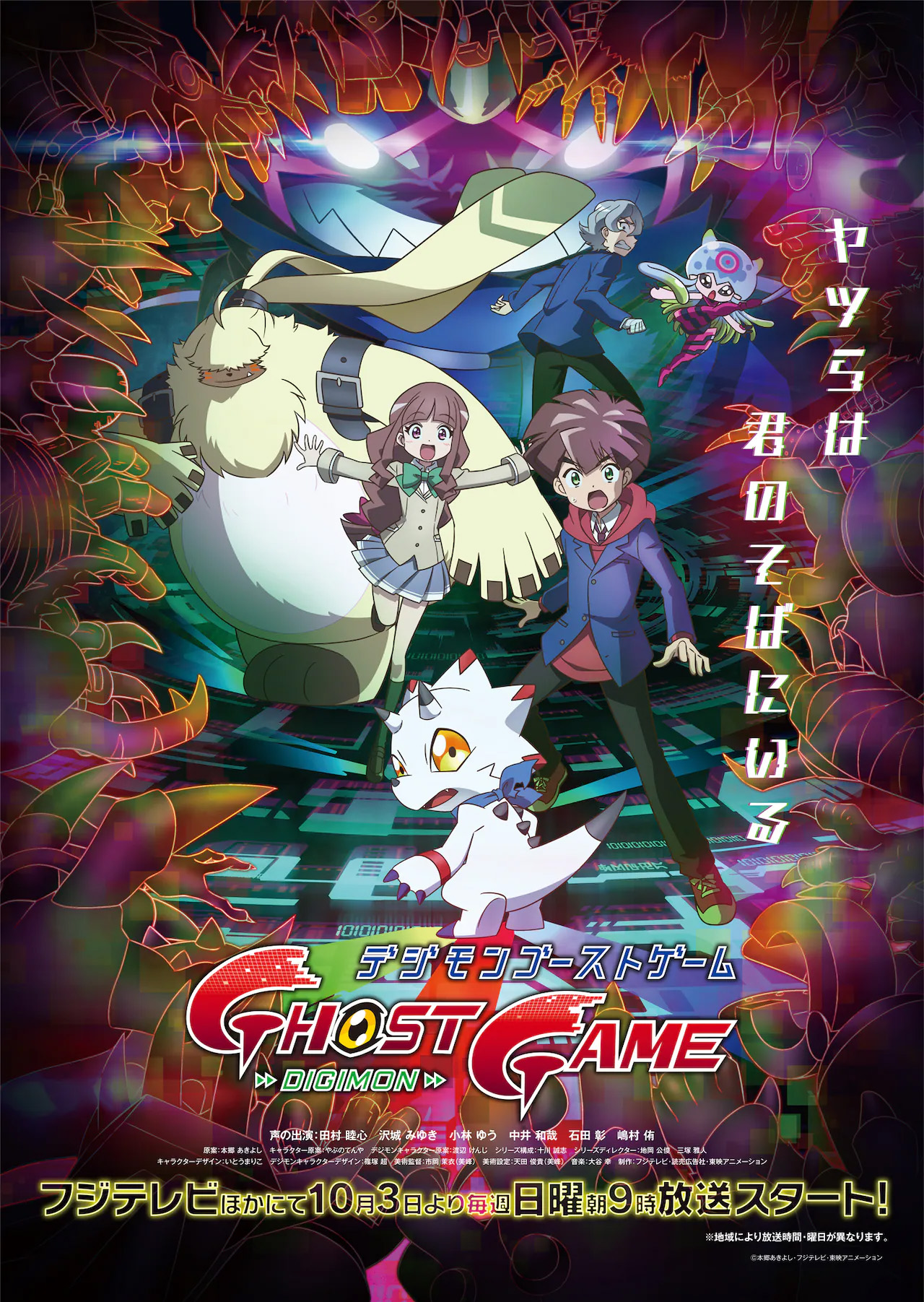 New guide listings for Digimon Ghost Game!
These have episode titles and plot synopsis' for episodes 51 thru 54 (the official episode title translations in the end may very well be different than these). Obviously in the case of 51 we already have the title since it's airing today.
Plot synopsis/descriptions by their nature will have minor spoilers, so consider this fair warning.
Episode 51- Headless (November 13th)
A rumor spreads that eerie headless ghosts are haunting the town. These ghosts appear with the fog, wear the armor of warriors, and for some reason only target students from Hiro Amanokawa's school. Eventually, Kiyoshiro Higashimitarai is victim to their attack. When an unconscious Kiyoshiro is rushed to the hospital, Hiro sets out to investigate and notices that the victims all have something in common. What could that be?
Episode 52 - Ghost Lake (November 20th)
Hiro and friends go to a lake that is rumored to contain kappas that pop out of it and drag humans underwater. Ruli Tsukiyono, intrigued by this rumor, was the one who dragged the others there to check it out. Kappa really do appear and kidnap Ruli, except they aren't kappa but a Digimon named Gwappamon. It gets revealed that there is the existence of another vicious Digimon who the Gwappamon call their "boss." Although they kidnapped Ruli, the Gwappamon momentarily release her for some unknown reason. Why in the world...? When the Gwappamon start coughing strangely, Ruli begins to think that something is wrong and can't leave them be. She tries to take action but falls prey to the Gwappamon's boss, the vicious Digimon Shawujinmon.
Episode 53 - King of Knowledge (November 27th)
During a school trip in Kyoto involving traveling in groups together, Kiyoshiro visits a shrine where he proudly shares his knowledge. Just then, a book in the main shrine begins to float eerily and stare at Kiyoshiro. That night, when Kiyoshiro returns to the dormitory, eerie footsteps approach him and an old-fashioned woman ghost comes to visit. The woman ghost takes control of Kiyoshiro's terror-stricken body and takes him to a deserted shrine. What awaits him there is the floating book that he'd seen earlier. The book claims to be a "god of learning," and challenges Kiyoshiro to a game of knowledge. With nowhere to run, Kiyoshiro accepts the challenge, but after that day, Kiyoshiro begins to act strangely.
Episode 54 - Clairvoyance (December 4th)
One day, Hiro is suddenly able to see the future, predicting accidents and mishaps that Gammamon, Kotaro, and those around him are about to encounter. This was due to Fujitsumon's ability, who had attached themself to Hiro's head. Their ability causes Hiro to have severe headaches and a horn to grow out of his head. Ruli and Kiyoshiro call Octomon, who had been living in symbiosis with the Fujitsumon group, to find out what was going on. They learn that the Fujitsumon group and Octomon had fought, and the Fujitsumon had flounced off to attach themselves to Hiro and other humans. The only way to save Hiro is to convince the Fujitsumon's leader. As Hiro and friends track down the leader's whereabouts, they discover that the leader has attached itself to Espimon. Gammamon, Angoramon, and Jellymon hunt down Espimon, but Espimon, controlled by the Fujitsumon leader, strikes back at them.
The show continues on, and ghosts, a floating book, and octopuses.
Thanks to a friend of the site for the information and onkei for the translations.