Show User Social Media
Hide User Social Media
Joined

Sep 8, 2006
Messages

17,396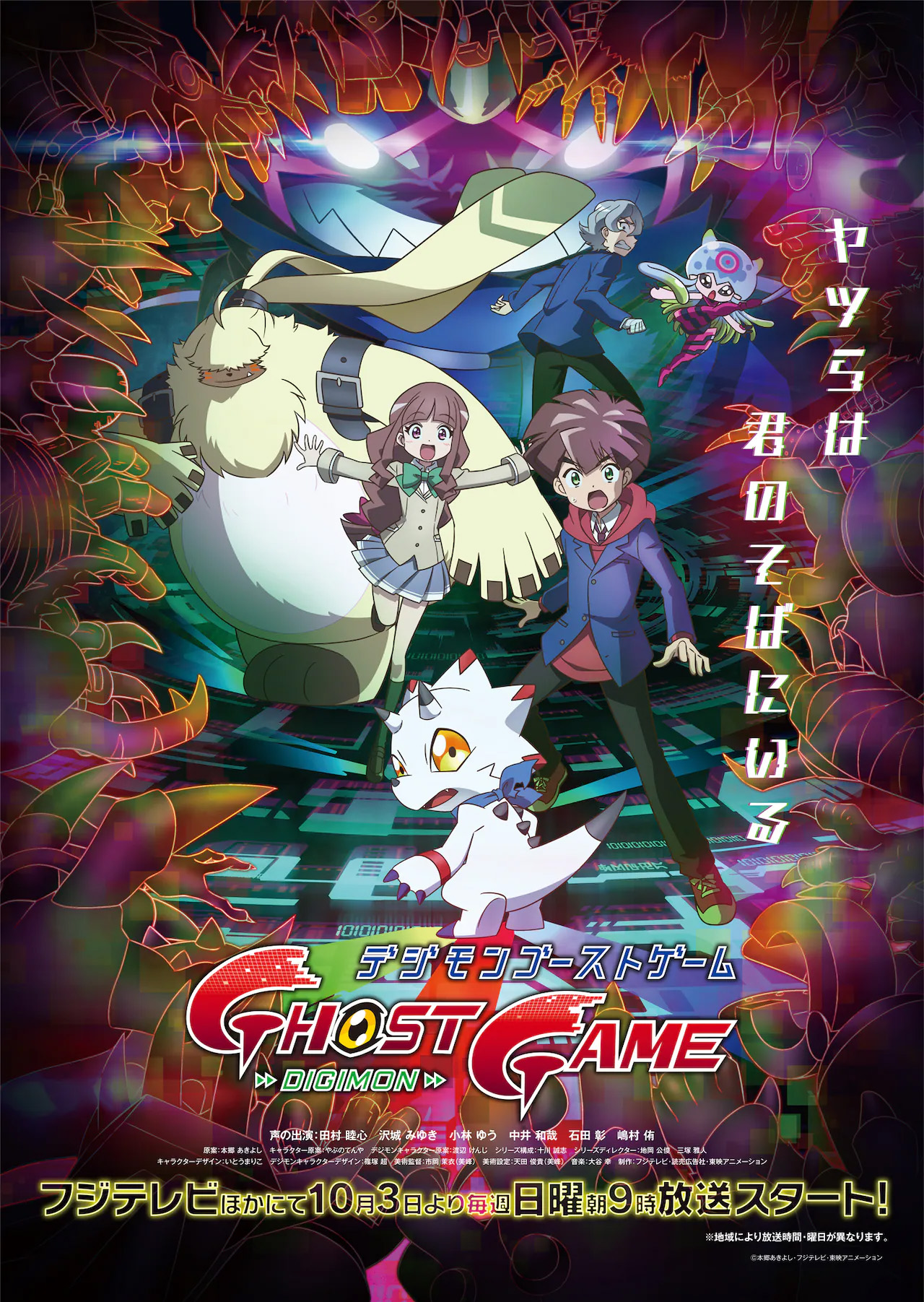 New guide listings for Digimon Ghost Game!
These have episode titles and plot synopsis' for episodes 42 thru 46 (the official episode title translations in the end may very well be different than these). We have the official title for 42, so we're using that.
Plot synopsis/descriptions by their nature will have minor spoilers, so consider this fair warning.
Episode 42- Man Hunter (September 11)
A message that reads "My sister was taken away by demons. I need your help" is sent to Ruli Tsukiyono's social media account Lirurun. Hiro Amanokawa arrives in the local city that is rumored to be haunted by demons, and meets up with Miori, the high school student who had sent the message to Lirurun. He decides to walk down the same street at the same time that Miori's older sister Misaki had been on before she went missing. In a residential area late at night, Hiro and his friends come across a red Oboromon. The red Oboromon tells them to show him something red, and if a human can't do that, he stabs the human with his sword. Hiro falls prey to the red Oboromon, and an enraged Gammamon charges at him but is completely helpless. There are other Oboromon of different colors (blue, green, yellow, black), and they compete on the number of humans that they have hunted. Ruli is hunted following Hiro, and even Gammamon is pierced by the sword. When the clock strikes midnight, the hunt ends. The Oboromon who wins the hunt and is named "king" is given a terrible token...
Episode 43- Red Eyes (September 18)
Emma Haynes, the world's biggest busybody, is an acquaintance of Kiyoshiro Higashimitarai's from his study abroad days, and she comes to Japan from the USA. Kiyoshiro is afraid that Emma will find out about Gammamon and the others and make knowledge of the Digimon's existence spread throughout the world. As he takes Emma on a tour throughout Tokyo, Emma begins to pry into Kiyoshiro's personal affairs in every way that she can. However, something is wrong. Every time Emma pries, she grunts as if in pain. Kiyoshiro and his friends had no way of knowing that with each pry, a strange "red eye" appeared on Emma's body...
Episode 44- Red Rust (September 25)
The dormitory at Hazakura Academy, where Hiro and his friends attend, is buzzing with gossip that "If you ask first-year Riku Fukatsu what you want, he'll deliver it to you the next morning no matter how rare that item is." Meanwhile, Hiro hears from Espimon a rumor of a strange phenomenon: When a person living in a condo hears a strange whispering in the middle of the night, that building shakes. He goes to investigate the site late at night and sees a single condominium building shaking nearby. He even finds strange rust and cracks within the building. Hiro talks to Ruli about this, and Ruli tells him that there's been a lot of talk on the internet recently about "Reward Elves," dwarves who deliver things that people want. Hiro begins to suspect a connection between the Reward Elves and Fukatsu. He then comes upon the suspicious website that Fukatsu said he'd stumbled on.
Episode 45- Ghost Newspaper (October 2)
One day, Hiro and his friends receive a mysterious news e-mail called "Bubbly News." It contains an article describing what will happen the next day. The contents were trivial at first, but they gradually get more and more extreme, and people who are named in the articles start getting involved in unfortunate accidents. Even Kiyoshiro and Ruli's friends get into accidents, and they're on pins and needles over what will happen next. While this is underway, a news article reaches them that a member of the popular idol group D★topics has died. Kiyoshiro, a D★topics fan, is shocked by the news and is determined to protect the girls. Hiro and his friends infiltrate the TV station and...?
Episode 46- The Queen's Supper (October 9)
Hiro encounters his classmate Kotaro Nomura in the dorm bathrooms. Something seems strange about Kotaro: he's afraid of the bathtub and runs away, screaming something incomprehensible. The next day, Koutaro gets scared over seeing an ordinary puddle of water. When Hiro asks him what's wrong, Kotaro admits that he's been having eerie hallucinations whenever he sees water after he'd gone to the pool. Thinking that it might be a Digimon, Hiro and his friends set out to investigate. Then, a mysterious shadow approaches from behind Ruli when she is alone in a locked room.
The show continues on, and we get a number of appearances of red, along with a few horror-themed standbys.
Thanks to a friend of the site for the information and onkei for the translations.