Show User Social Media
Hide User Social Media
Joined

Sep 8, 2006
Messages

15,199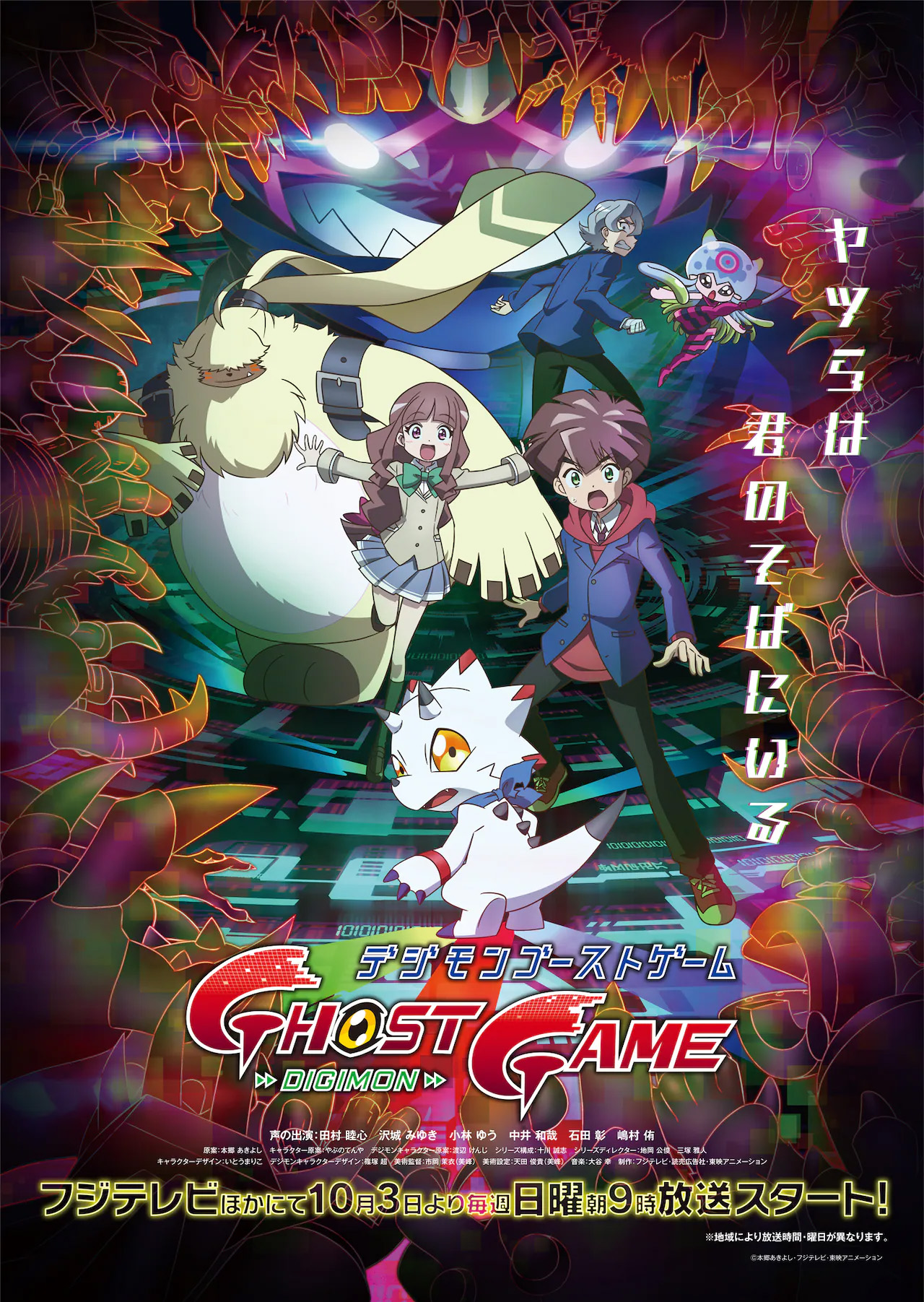 New guide listings for Digimon Ghost Game!
These have episode titles and plot synopsis' for episodes 25 thru 28 (the official episode title translations in the end may very well be different than these).
Plot synopsis/descriptions by their nature will have minor spoilers, so consider this fair warning.
Episode 25- Crimson Banquet (May 15)
Using crimson as its image color, the comprehensive brand "Esse Vu" has rapidly gained popularity for its accessories, clothing, sweets, and so on. However, the CEO of this company, a man named "Kyogoku Aviel" is actually a vampiric Digimon named Vamdemon. Esse Vu was the "bloodsucking tower" homebase of Vamdemon's, with the purpose of gathering beautiful women influencers to suck their blood and manipulate them through his bats. Ruli Tsukiyono, invited to Esse Vu's headquarters as a popular influencer, discovers this fact. While Ruli evades having her blood sucked, she manages to escape to the roof. Hiro Amanokawa and the gang enter Esse Vu's headquarters to save Ruli when they are attacked by Vamdemon.
Episode 26- Hungry House (May 22)
One day, Angoramon reunites with Digitamamon, who was his best friend in the Digital World. Digitamamon tells him that he lives alone in an empty house. Angoramon immediately brings Ruli with him to visit. At first, the conversation is friendly, but Digitamamon's behavior gradually turns strange. Meanwhile, Hiro and the gang learn of an eerie rumor about the vacant house where Digitamamon lives.
Episode 27- Essence of Beauty (May 29)
While looking up urban legends on the internet, Hiro comes upon a post titled "Called by Water." It is said that the sound of water dripping is heard, as though beckoning a person, and people who have been "called by water" several times have disappeared without a trace. This event gradually grows more frequent, until Niijima, the caretaker of Hiro's dormitory, is "called by water." Hiro and Gammamon, who are there when it happens, see Splashmon turn Niijima into a ball of water. They chase after Splashmon, who can move freely through the water supply, in order to save Niijima, but...?!
Episode 28- Face-Snatcher (June 5)
Hiro and the gang, concerned that their classmate Kotaro Nomura has been holed up in his dorm for several days, go to check on him. They find Kotaro languishing in darkness in his room, wearing a mask that covers his face from the nose up. The bottom half beneath that mask was a featureless face. It was Ashuramon, a grotesque-looking Digimon, who was attacking people and taking their faces. Ashuramon wears the faces it steals like a mask, in order to taste human emotion. Its evil actions escalate, and as its victims grow weaker and weaker, Ruli and Kiyoshiro Higashimitarai also fall prey.
The show continues on, with some interesting well known Digimon showing up.
Thanks to a friend of the site for the information and onkei for the translations.