Show User Social Media
Hide User Social Media
Joined

Sep 8, 2006
Messages

16,162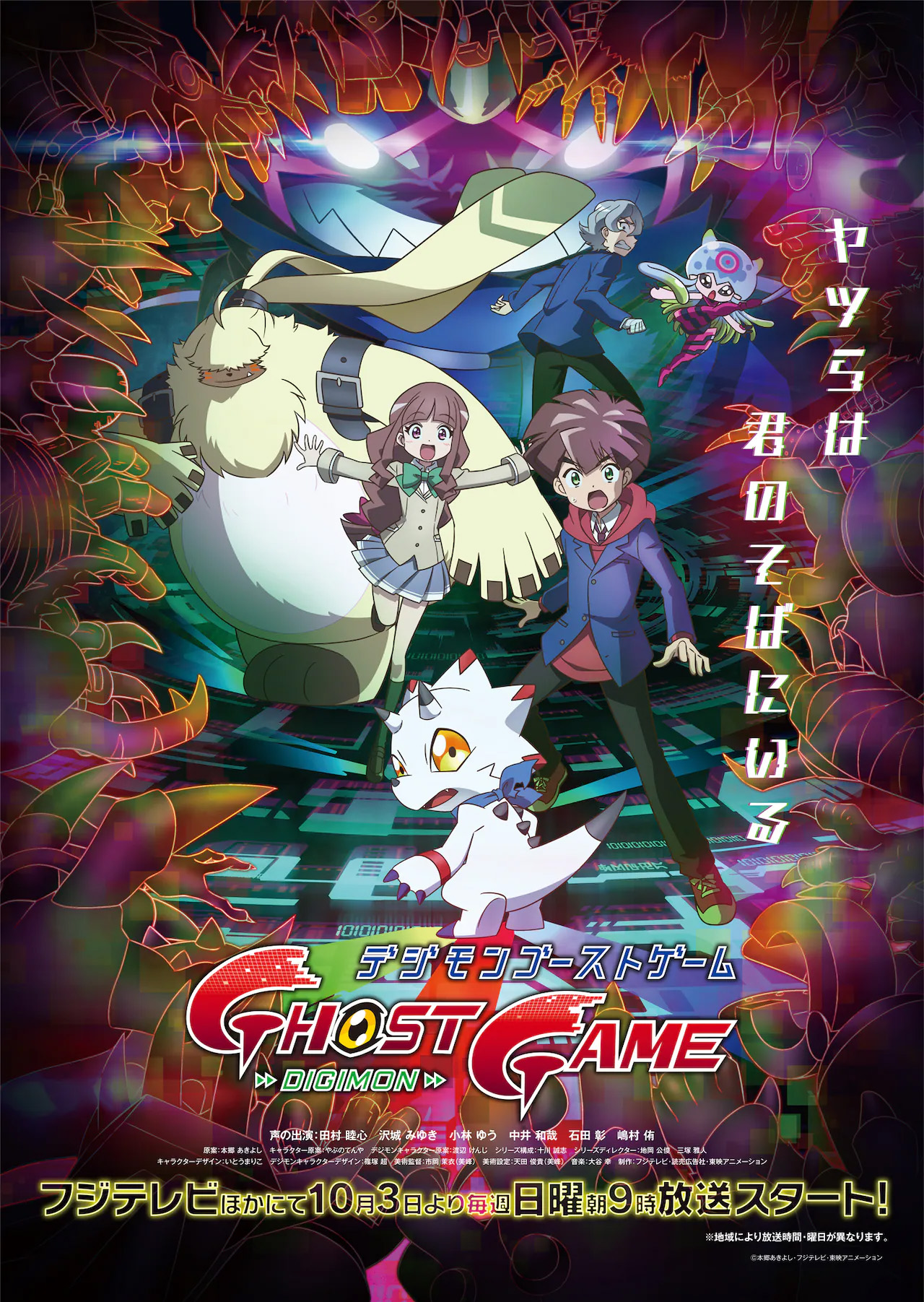 New guide listings for Digimon Ghost Game!
These have episode titles and plot synopsis' for episodes 10 thru 12, plus the title of 13 (the official episode title translations in the end may very well be different than these).
The source of the guide data asked that no image of it be shared.
Plot synopsis/descriptions by their nature will have minor spoilers, so consider this fair warning.
Episode 10- Game of Death (December 12)
A rumor spreads that if you win consecutively in a fighting game called "Fighters Kingdom," then a mysterious beautiful character will appear and drag away the losing player. Upon hearing that Kiyoshiro Higashimitarai, who happens to be hooked on that game, swears to "never play such a frightful game like that ever again." But one of Hazakura Academy's dorm students Kotaro plays "Fighters Kingdom" and gets taken away just as the rumor stated. The culprits are Kinkakumon and Ginkakumon, two sibling Digimon (older sister, younger brother). They have been taking losing players as "spoils of war" and changing them into sake. Kiyoshiro challenges Kinkakumon and Ginkakumon in the game in order to save Kotaro.
Episode 11- Kamaitachi (December 19)
A kamaitachi attacks the wintry city. The sharp, strong winds cause blackouts, make cracks in the asphalt, and bring much harm to people's lives. While this is going on, Ruli Tsukiyono falls into an awkward situation with her partner Angoramon and wanders the town by herself. At night, at the bamboo garden park, Ruli meets the cause of the kamaitachi, Reppamon. Ruli stays on her guard... but something is not right. Reppamon will attack Ruli persistently, then back off and let her escape. Their actions are inconsistent and leave Ruli confused, when Reppamon's blade finally swings down upon her.
Episode 12- Letter of Misfortune (December 26)
Kiyoshiro receives a strange email from a professor he knows, which reads like a letter of misfortune, and he deletes it. At that moment, a swarm of Zassoumon suddenly appear from within his video game. At the same time that this is happening, Ruli and the others are at a goldfish cafe and they receive the same email from Kiyoshiro. The moment they delete it from their smartphones, a swarm of Zassoumon appears. The Zassoumon grow bigger whenever they drink water, and they appear from people's smartphones and computers throughout the city in search of water. Hiro Amanokawa and the others ask for advice from Bokomon-sensei, who says that if they don't do something about them, the entire world will be buried under Zassoumon. Kiyoshiro opens a lake field in the pseudo-digital world to draw the Zassoumon towards the lake. However, the ever growing giant Zassoumon puts Hiro and the others through quite a tough battle.
January 2nd- Hiatus
Episode 13- Executioner (January 9)
At a glance, it looks like various evolution episodes might be popping up, plus a break as the New Year starts.
Thanks to a friend of the site for the information and onkei for the translations.