Show User Social Media
Hide User Social Media
Joined

Sep 8, 2006
Messages

14,491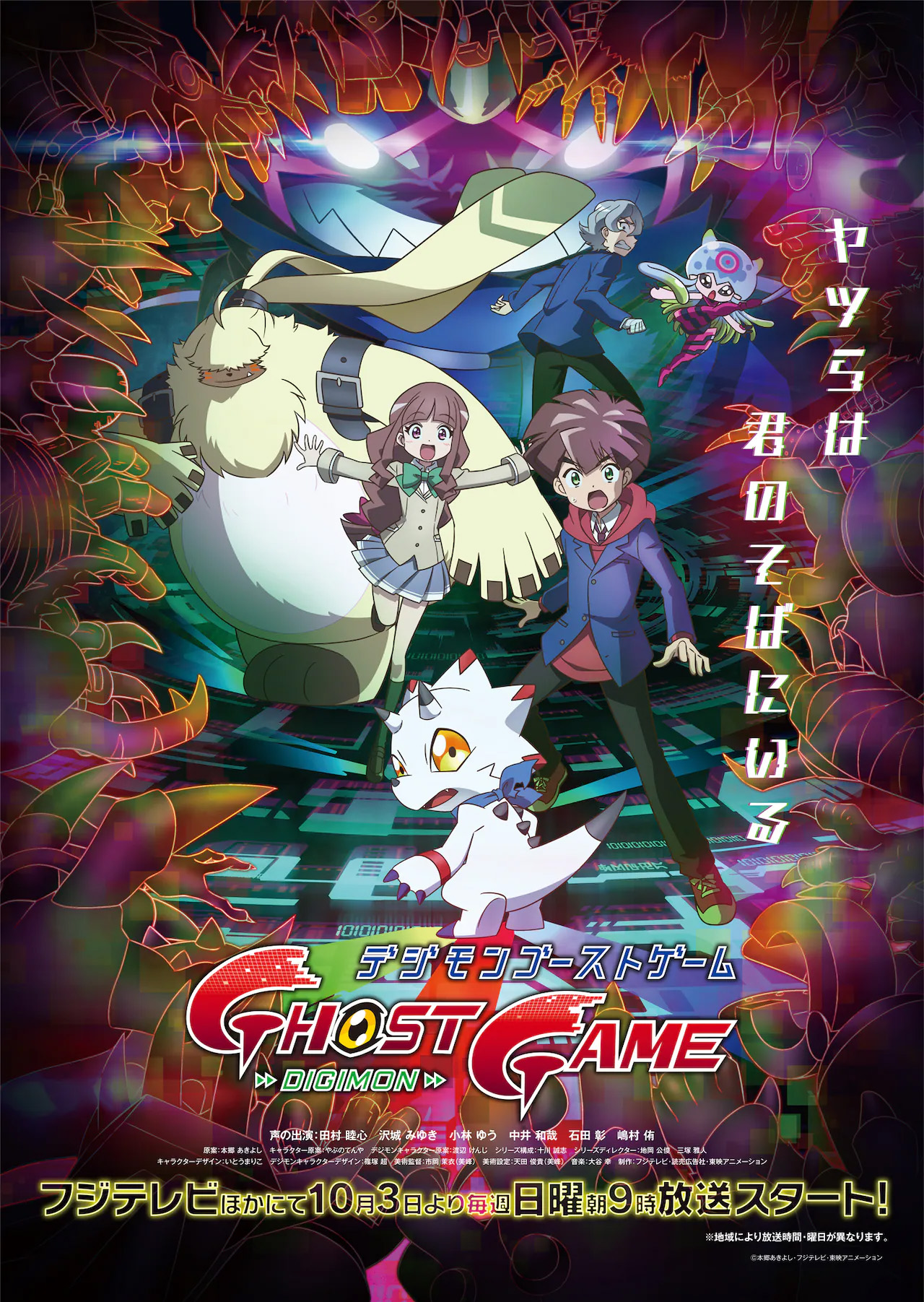 From
the November issue of V-Jump
, an interview with Director Kimitoshi Chioka, half of the directing team for Ghost Game.
It also provides a few short character descriptions:
Hiro Amanokawa: Seventh grader in Hazakura Private Academy who cannot turn down a request. He has a solid head on his shoulders and an inquisitive mind.
Gammamon: A highly curious individual with a tendency to bite first. His favorite food is chocolate.
Ruri Tsukiyono: Seventh grader who attends an all-girls school. She's sociable with many friends, and popular on social media.
Angoramon: Very laid-back. He likes listening to Ruri playing the piano.
Kiyoshiro Higashimitarai: Eighth grader who is dorm leader of Hazakura Academy's boys dorms. He's a genius who graduated from grad school.
Jellymon: She can slip through walls and the ground. She hates to lose.
Q: Chioka-san, when did you get involved in the production for this series?
A: Producer Sakurada-san reached out to me as the project was beginning to be planned out. This was at the time when they were thinking of having it be "episodic" with "a taste of horror." But after collecting all of the ideas that came out upon our meetings and meetings of planning, I brought these forward and submitted them as a springboard for discussion into the production of the series.
Q: What is the main concept of this series?
A: "Digimon Ghost Game" is a horror series, so the Digimon will be fashioned in the manner of yokai. The Digimon's way of life, their ideas of justice, interests, inability to harmonize with humans cause fear in humans and trouble to human life. The main characters solve these incidents. Because the Digimon will have their own original views of the world, creating this series involves reinterpreting the lore created for them by Bandai, and deciding how to show a more "horror" part out of them. Digimon are chosen for each episode not only on those details, but also based on their appearance.
Q: What kind of characters are Hiro Amanokawa and Gammamon like?
A: Even in the Digimon world, Gammamon is treated as a "new species" who has no fear or hesitation. He learns a variety of new things in the human world. He acts like how you would expect a third or fourth grader to act. Because Gammamon has a very cute design, I create the scenarios so there's always a cute scene from him in each episode. Hiro Amanokawa isn't the type to stick his own neck into incidents or cause problems, but his curiosity in incidents where Digimon are involved is what spurs him into action. He's also someone who thinks deeply before approaching a situation.
Q: What did you think when you first saw Tenya Yabuno-sensei's character designs?
A: The other characters had to go through multiple drafts, but I was immediately impressed by Kiyoshiro's design at the very first go. Hiro and Ruri's designs were finalized around him after.
Q: What to look forward to in episode 1?
"Clockmon" and what bizarre phenomena it creates will be the main story of episode 1. First, we'll be taking the time to set up exactly how Digimon create a "horror" mood. How Digimon think, interact, and move in regards to humans will be very different from how that was portrayed in previous series, and I hope the viewers enjoy it as something completely new. Various Digimon will show up after episode 2, creating all kinds of bizarre phenomena - look forward to it. We want to make this series have a really "scary" story. While Digimon have different levels of child, adult, perfect, the "scariness" of the thematic Digimon [in the episode] will change based on its level. Depending on how to story changes, Gammamon could also evolve, or the level of the opponent Digimon could increase, upping the scary factor. There will be some Digimon who can never be scary no matter how much they try though lol. Please look forward to it.
So, the main focus of the interview is discussing horror aspects, how that might work in Digimon, plus character elements. An interesting first interview from one of the directors.
Thanks to onkei for translations!
And we've gotten a lot of Ghost Game news lately, so a quick news index!
Ghost Game Key Art, Text Teaser, Show Designs, Cast, Character Info, & Cast Comments
1st Ghost Game Trailer
- Just a short teaser, but the first footage of the show.
November 2021 V-Jump
- Where the above interview is from, 4 pages was dedicated to Ghost Game content.
Ghost Game Dim Cards Lineup
- Not the full lineups quite yet, but we have most of the Digimon appearing in the initial Ghost Game Dim Cards.
Reference Book Update
- The Baby 1, Baby 2, and Child forms of the lead Digimon from Ghost Game were added to the reference book alongside profile artwork.
The Digimon Figures
- Ghost Game is getting figures as part of the 'The Digimon' line. These will be standard retail releases instead of Premium Bandai. No news about releases outside of Japan yet.