Show User Social Media
Hide User Social Media
Joined

Sep 8, 2006
Messages

16,660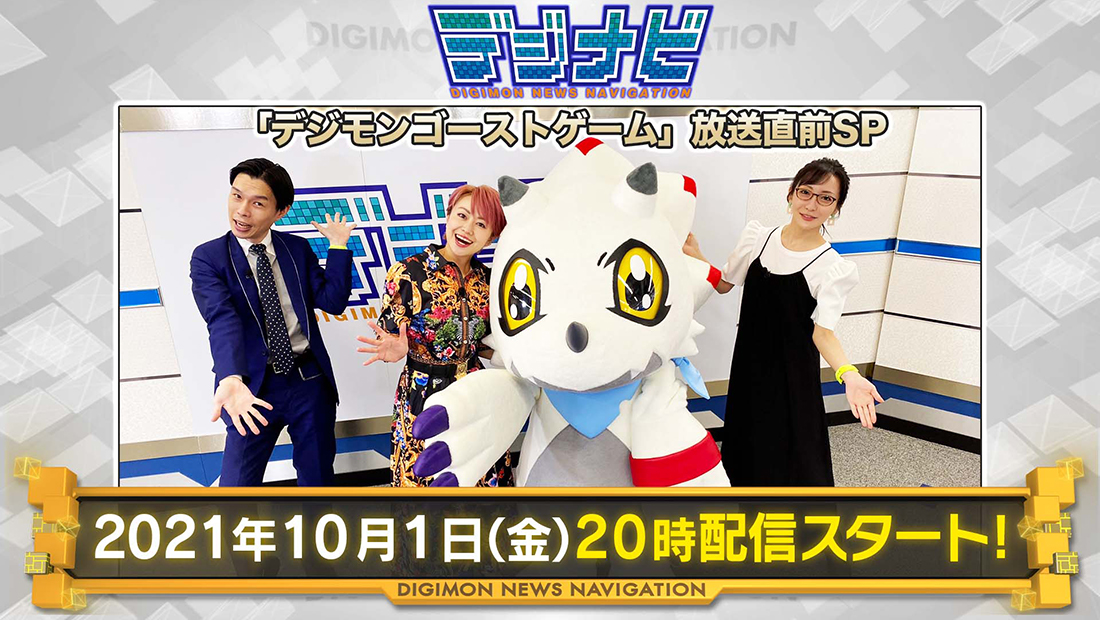 With a few days to go before Ghost Game, that means it's also a few days to go before the DigiNavi Ghost Game Special! And we finally have details for it!
And our first look at a Gammamon mascot!
The 7th full DigiNavi is on October (just a week to go!) at 8pm in Japan. That's 4am Pacific, with
a time converter here
.
The new DigiNavi is formally called "DigiNavi- Ghost Game, Just Before the Broadcast Special!"
It will once again be hosted by Yuki Iwai (a comedian, actor, writer, radio host, and manga/anime fan), who hosts Digimon Card Battle.
Also on hand, as expected, will be Chiaki Matsuzawa, host of various Digimon events including some DigiFes and DigiNavi events, and also cameoed in tri. will also be there to introduce content.
Mutsumi Tamura, Hiro in Ghost Game (and Koushiro in tri./Kizuna) will be on hand as a special guest, as you'd expect for a special right before Ghost Game starts.
As they often are, comedy duo Cocolo will be there. That should give card game fans hope, as with 3 members of the Card Battle cast on hand, there's always good hope for some fun card game news.
There will be pre-recorded appearances from series director Chioka Kimitoshi and Miyuki Sawashiro, the voice of Gammamon!
Announced locations for the stream are: (many of these link to general accounts, not standby pages for the stream.)
Bandai Youtube
Bandai Line
Digimon Web on Twitter
Niconico
And we also have a trailer!
As for the trailer... it confirms it will have English subtitles once again!
And a preview of the content from the trailer...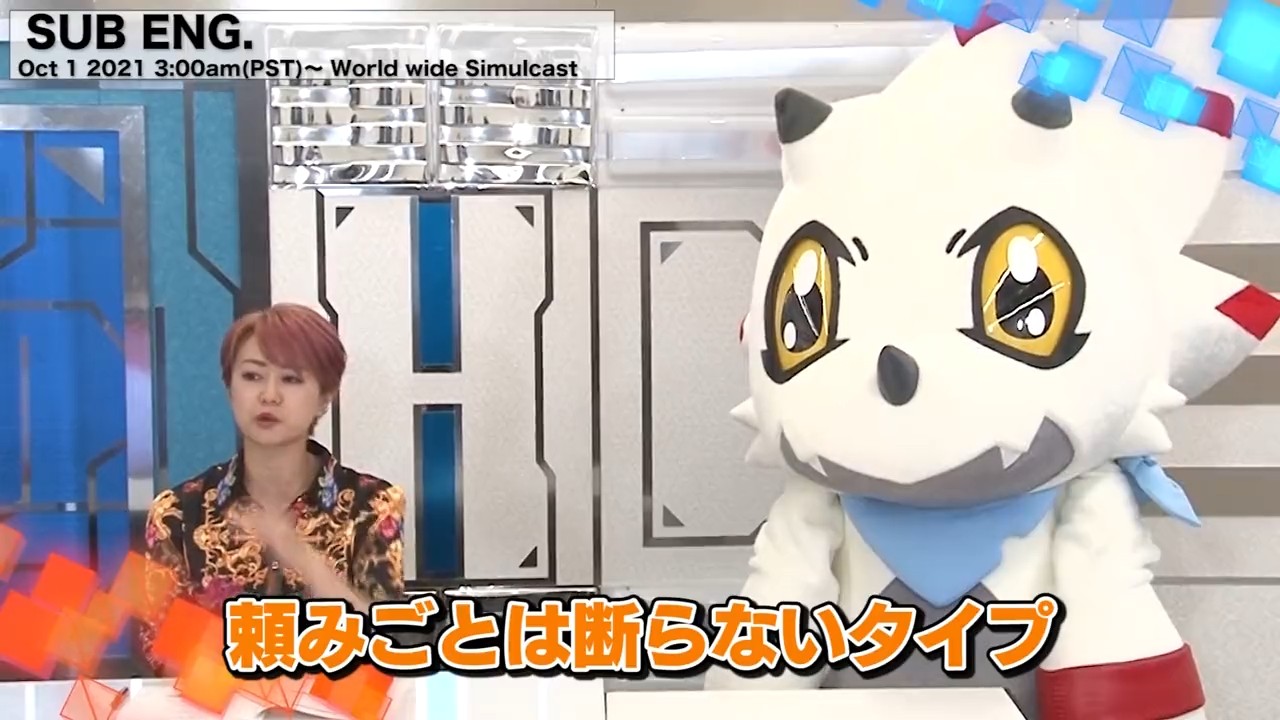 That new mascot costume is quite nice.
A look at some of the pre-recorded Ghost Game bits.
A look at the Digivice V itself, and the trailer also shows off that the 'Digimon Project' shorts will be continuing, with Ghost Game & Digivice V themeing.
A preview of products to be shown off include English Card Game releases, the upcoming Figure-Rise Standard WarGreymon model kit, and the Ghost Game 'The Digimon' figures.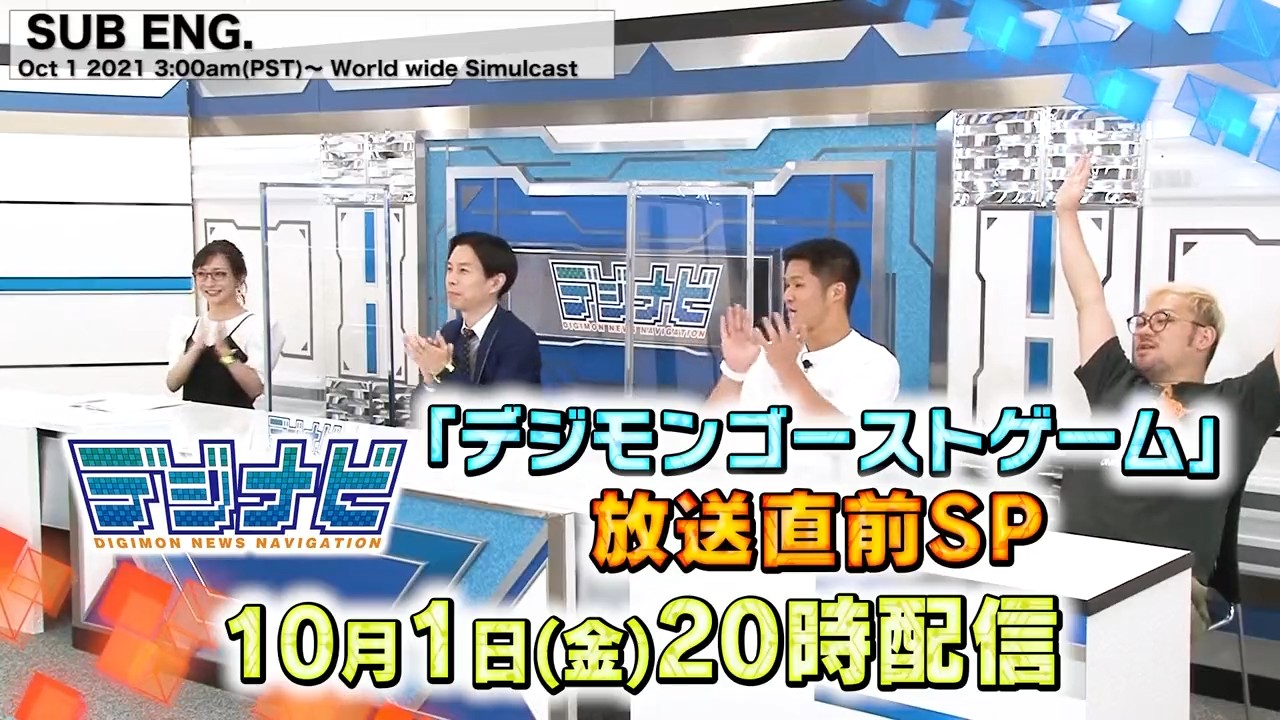 The DigiNavi page on Digimon Web
has been updated to a standby page for the new stream.
Just a few days to go... for the DigiNavi, Ghost Game, Dreamers, and more!