Show User Social Media
Hide User Social Media
Joined

Sep 8, 2006
Messages

15,595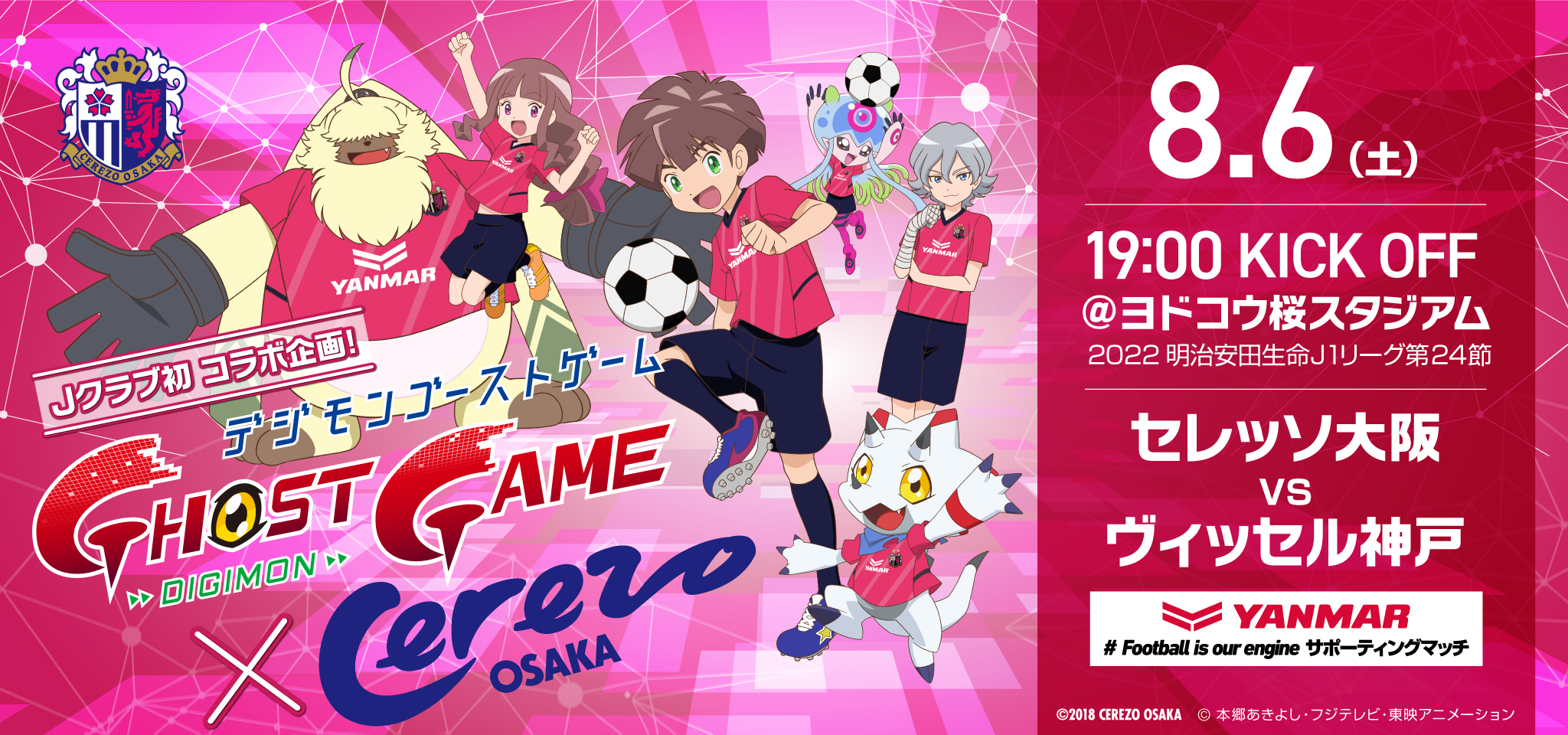 We found out about it roughly a month ago
, and kick-off is in about an hour for the game at the center of the Ghost Game collaboration with the Cerezo Osaka soccer team.
Cerenzo has posted details
of the various collaboration products.
Before a look at the products...
​
Digimon TV
and the
Cerenzo Goods Twitter
(
2
) (
3
) have been posting photos of the various shops at the stadium selling products, plus some of the Digimon displays.
Onto the products.
All of these are also on sale at
the Cerezo online store
, although it appears they may be pre-order products, with items shipping on August 10th. (And a number of items appear to be close to selling out.)
All items use the Ghost Game collaboration art of the characters in Cerezo gear.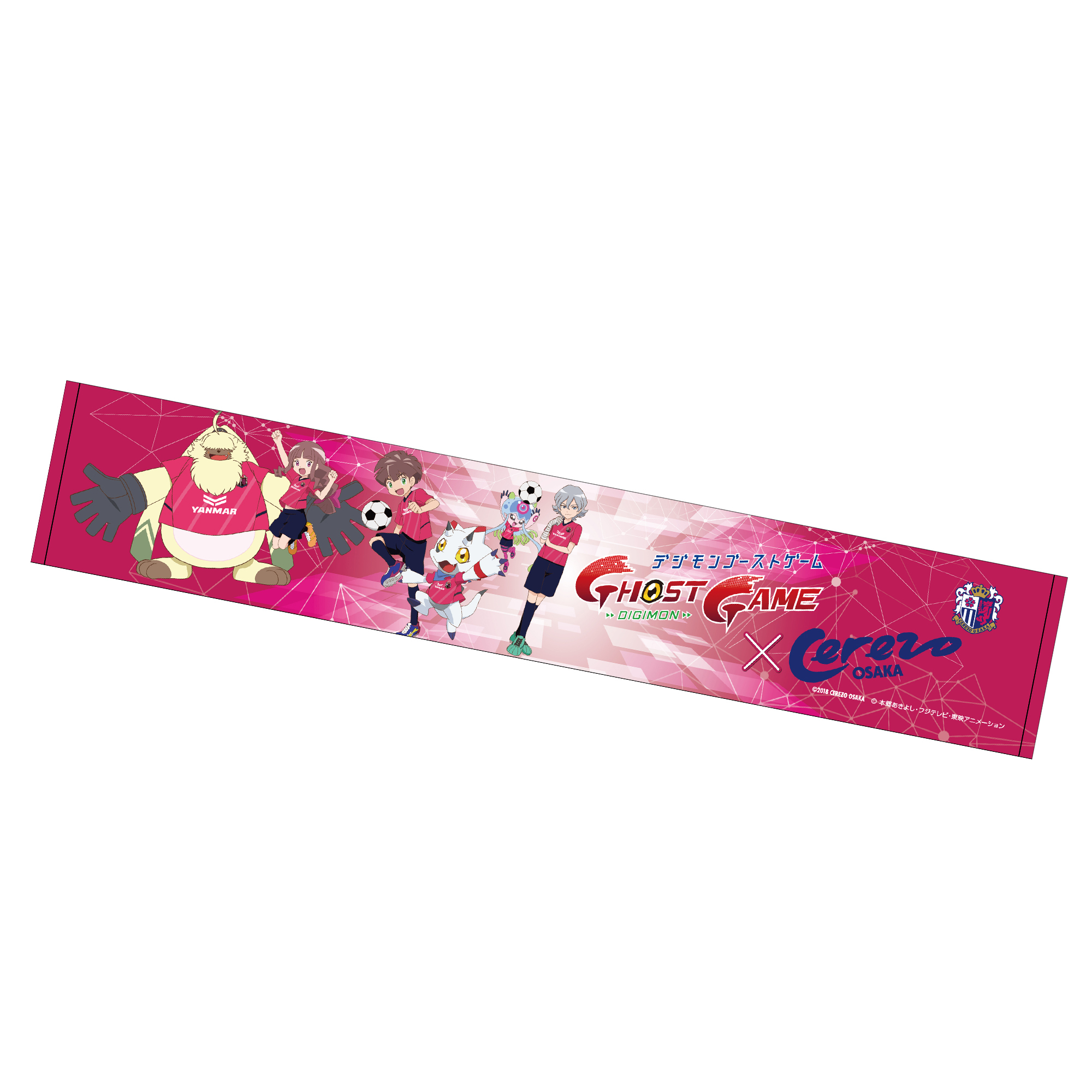 A muffler towel
for 2,350 yen.
22 デジモンコラボタオルマフラー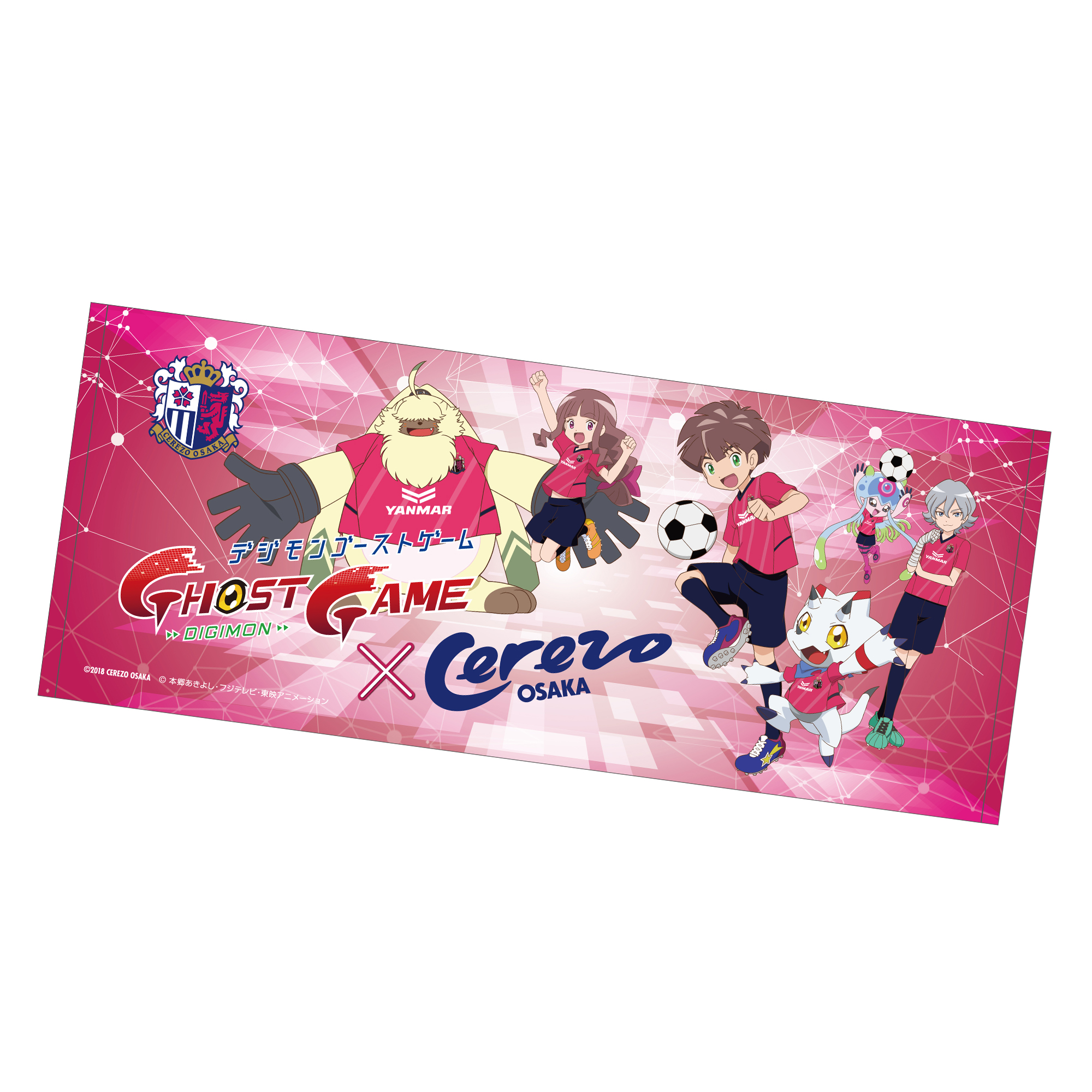 A face towel
for 2,350 yen.
22 デジモンコラボフェイスタオル

​
An acrylic stand
of all the characters for 2,200 yen.
22 デジモンコラボアクリルスタンド
A set of a small drawstring bag and an acrylic keychain
of all the characters for 1,900 yen.
22 デジモンコラボ巾着 (小) + アクリルキーホルダー
Can badge sets (2 can badges) and an acrylic keychain. Each features one of the kid/Digimon pairs per set and is 1,650 yen each.
Hiro & Gammamon
22 デジモンコラボ缶バッジ 2個セット + アクリルキーホルダー(天ノ河 宙×ガンマモン)
Ruli & Angoramon
22 デジモンコラボ缶バッジ 2個セット + アクリルキーホルダー(月夜野 瑠璃×アンゴラモン)
Kiyoshiro & Jellymon
22 デジモンコラボ缶バッジ 2個セット + アクリルキーホルダー(東御手洗 清司郎×ジェリーモン)
Generally basic items, but overall they look decent, and just having a few items instead of a mass means there are some decent collections that aren't sky high in price.
You'll need an intermediary to order, so...
A few extra bits...
Some intermediaries will want not only want the urls of the items above, but may ask for the product name in Japanese as written on the page. Those names are given above, directly below the pre-order links.
If you want to be sure to nab something...
We've currently pared down the list of intermediaries we list due to some places closing and others becoming iffy in their communication, calling into question their reliability. If you have any stories, positive or negative, about any intermediaries, DM me with them so we can figure out who might be worth adding (or re-adding), since these aren't affiliate links or anything, simply suggested ways to make it easier for fans to nab stuff.
You'll want to contact an intermediary to get these items sent to you. WtW is not affiliated with any, but here are a selection of intermediaries that have worked well for various WtWers and their friends in the past:
From Japan
Rider Proxy
You'll want to provide your chosen intermediary with the link to the item. Just copy paste the link to the product pages for what you want and send them a message about it and they'll take care of it after they discuss pricing and their policies with you. The links embedded in the news article for the products are exactly what you'll need to send them.
Some of the intermediaries have a full storefront and may have the item listed, so you may want to check that first.
Last edited: