Show User Social Media
Hide User Social Media
Joined

Sep 8, 2006
Messages

16,417
A new episode of Fun Digica English Special Edition!
This episode has Jason and Mitsuki going over release info for the English version of the Card Game for the first wave of starter decks, both special booster 1.0 and 1.5, and various promo cards.
This is mostly information we've seen before, but there are a few new things involving a number of promo cards...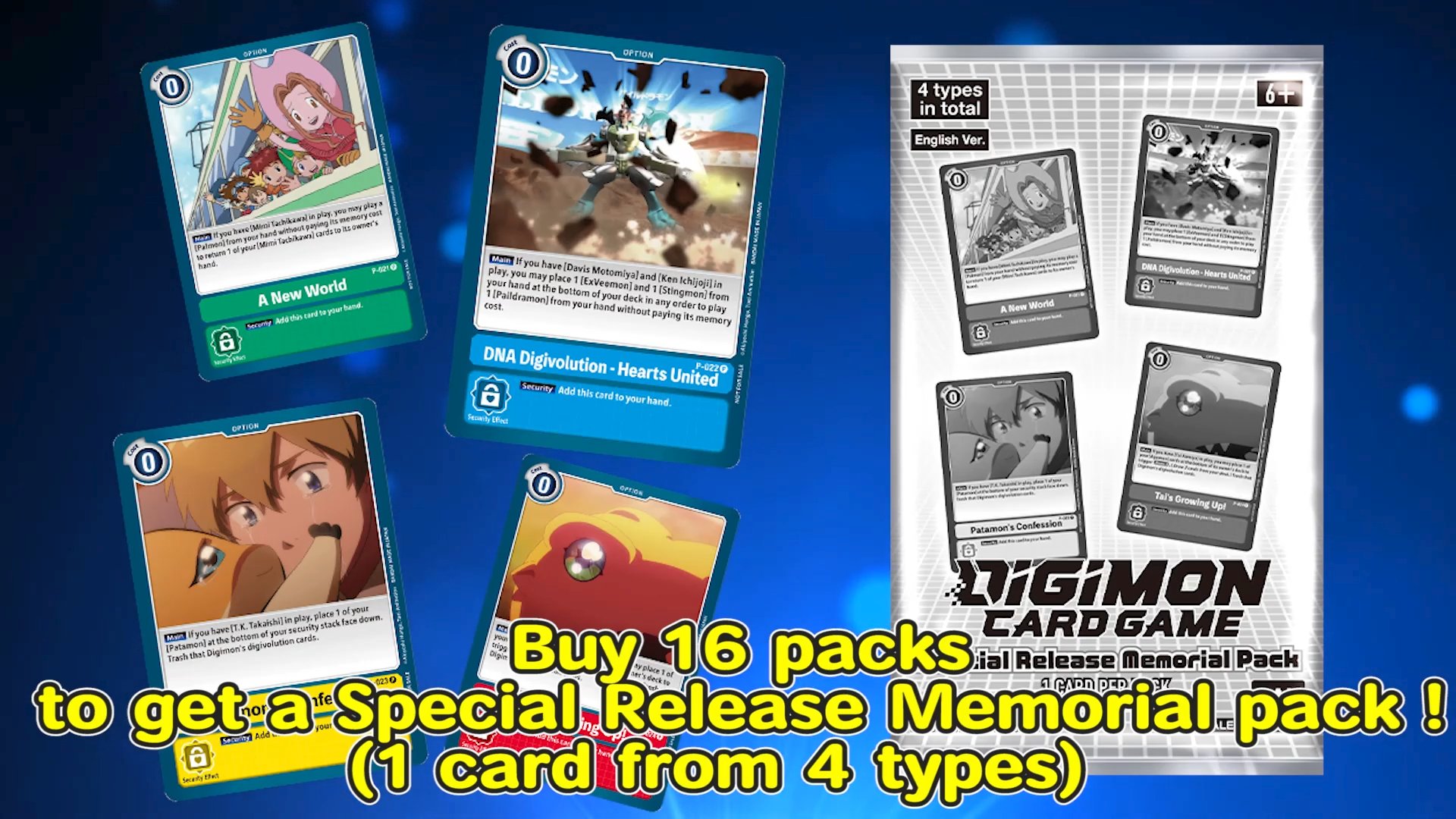 First up, another promo pack for when 1.5 comes out.
Buying 16 booster packs of 1.0 and 1.5 (they can be mixed in any order, including ones that stack with other multi-pack purchase offers) gets you a Memorial Pack.
The Memorial Pack includes English versions of the scene vote cards. These cards featured the top scenes from Adventure, 02, tri., and Kizuna, as voted on by fans.
Each pack includes 1 of the 4 cards.
The last Japanese scene vote card update is
here
.
And then for those who like tournaments...
They announce and show off Tournament Kits. This is on top of
the Tamer Party promos
they've shown previously.
These kits will allow local stores to have tournaments, and the set is formatted so stores can run them as they prefer:
One big 32 person tournament
Four smaller 8 person tournaments.
They don't show the actual cards included, but based on the pack art and information we can guess pretty solidly... (although take with a grain of salt, since it's always possible they won't line up.)
The participant prize will be Tournament Pack Volume 1. Everyone who enters get this, and it includes 1 card. Based on the art & card numbers it appears these will be the 8 cards from the black/purple promo pack in Japan.
The Winner prize will be Tamer Battle Pack 1. It appears this will just be English versions of one of the 4 Tamer Battle Pack 1 cards.
Lots of fun coming up, and it really has been nice to see them announcing various promo card releases to get things lined up with the Japanese release.
If you missed it,
a small delay
has been announced for the English version of the card game..
The pre-sale for the first wave of English Digimon Card Game releases is out. It includes the first 3 starter decks and special booster 1.0 (a larger than normal booster set containing a selection of cards from the 1st 3 Japanese boosters. When paired with the upcoming special 1.5, it contains all the cards as those boosters in Japan.)
All the day 1 cards (the 3 starter decks, special booster 1.0, and a bunch of promo cards) we have clean images for, which can be found
here
.
Various rules and other updates for the early release of the Digimon Card Game English version can be found
here
.
We also have info about the release of Starter Decks 4, 5, and 6 and Booster Set 4 in English
here
.
Early packaging and promo card details for special booster 1.5 can be found
here
.
Details of the upcoming Premium Pack & Great Dash Pack can be found
here
and
here
.
Details of the January Tamer Party promo cards & rule and Q/A updates can be found
here
.
Index of Fun Digica & Card Battle episodes: