Show User Social Media
Hide User Social Media
Joined

Sep 8, 2006
Messages

16,417
Episode 128 recently Fun Digica went up.
The new episode of Fun Digica has Cody and Miyano introduce cards from Booster Set 10 Xros Encounter! This time we get a small stack of cards with a focus on Blue Flare.
Jump into the cards. Mostly cards we've seen before, but with a surprise.
We start off with a few cards we've seen before including Greymon, MetalGreymon, and Kiriha.
Blazing Memory Boost!! is one we haven't seen before, it features Greymon in blue flames, with a digital silhouette of MetalGreymon behind him.
And after Fun Digica went up,
they put up slightly larger previews which have the sample text
(
2
)
Due to a mispost, the tweet didn't have the MetalGreymon card on it, which was added in a later post. It originally had...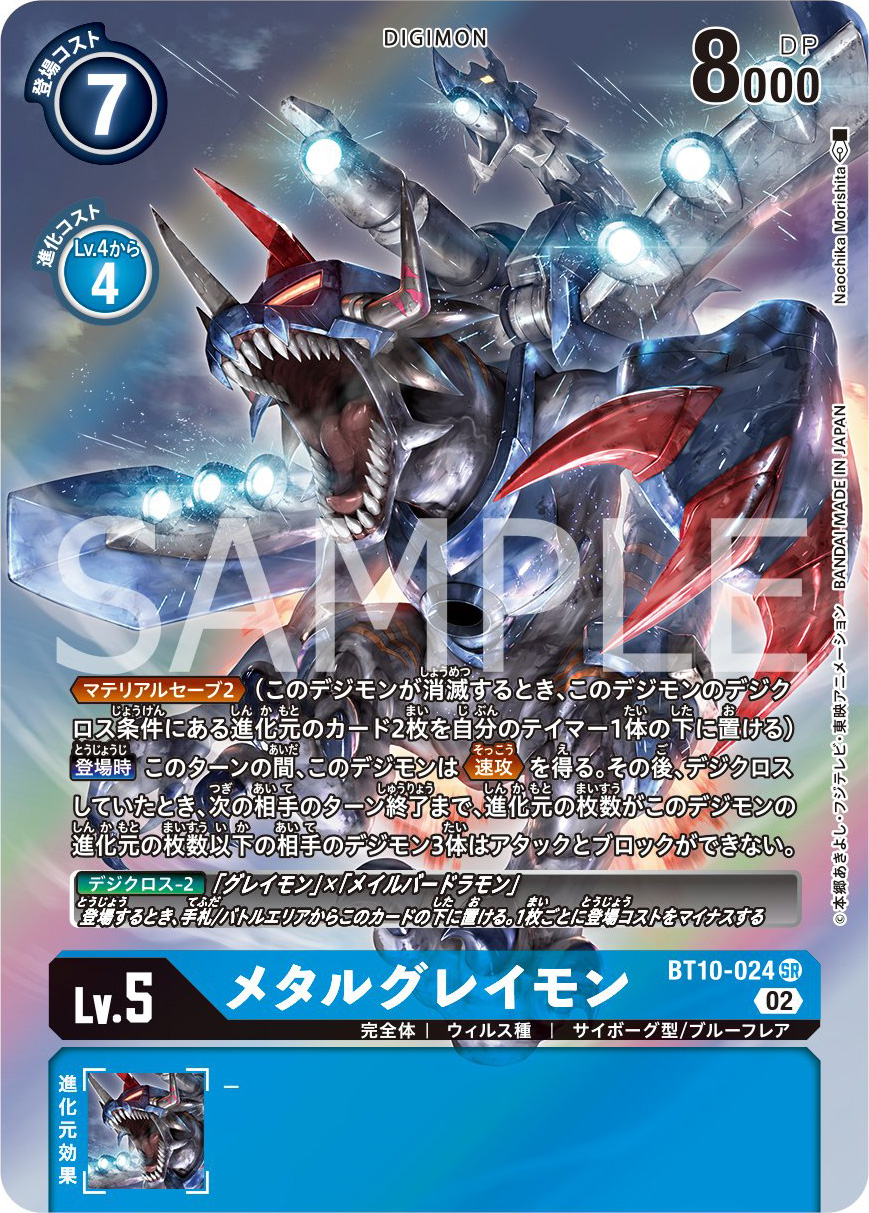 A parallel card of MetalGreymon! They left the original tweet up once the mistake was noticed, and simply posted the correct MetalGreymon card and a short explanation in the follow-up tweet, so a nice early look at a parallel card.
The various Blue Flare cards, with a focus on Greymon shows off a good stack of Blue Flare related cards that will be in the set.
Previous previews for Booster Set 10 Xros Encounter:
Packaging, Shoutmon, Shoutmon x4, Taiki, & More
Dorulumon & Ballistamon
Pickmons & Starmons
Gaossmon & MailBirdramon
Troopmon & MadLeomon
Bosamon & Angoramon
SymbareAngoramon & Ruli
Breaclaw & Pyon Dump
Sanzomon
Venusmon & Healing Therapy
Tyutyumon & Damemon
Bunbun Fist
Magazine Previews- Sparrowmon, Shoutmon x5, Shoutmon x5B, Kiriha, Greymon, & MetalGreymon
Blucomon & Regalecusmon
Assaultmon & Cannondramon
Asuramon & PileVolcamon
Shoutmon x5 & Sparrowmon & DeckerGreymon Magazine Preview
V-Jump Previews
Minervamon
Monimon & Hi-VisionMonitamon
Coatlmon & Sandiramon
Golemon & Gogmamon
SkullKnightmon: Big Axe Mode & DarkKnightmon
Renamon & Kyubimon
Taomon & Strengthening Plug-In O
Sakuyamon: Miko Mode & Defense Plug-in C
Justimon: Critical Arm & Justice Kick
Dondokomon
Flying Hero! & The Immortal Champion
Booster Set 10 Xros Encounter will be out on May 27th.
We have the first details for
Booster Set EX-03 Dragon's Roa
r
We have clean card images from
Starter Decks 12 & 13, Luxury Finished Tamers, plus Battle Pack 11
.
And images from previous Digimon Card Game releases:
Starter Decks 1, 2, and 3, and first 10 promo cards
Booster Set 1 New Evolution
Booster Set 2 Ultimate Power
V-Tamer Promo Cards
Purple/Black Promo Set
Tamer Battle Pack 1 and Tamer Battle Winner's Card
Booster Set 3 Union Impact
Starter Decks 4, 5, & 6, plus Tamer Battle Pack 2 & winner's Card 2, & 1st 2 scene vote cards
Booster Set 4 Great Legend, Tamer Battle Pack 3, 3rd Scene Vote, Dark Digimon Promo Pack, & Apparel Cards
Booster Set 5 Battle of Omega, plus Tamer Battle Pack 4, 4th Scene Vote, & Vital Bracelet Pack-In Cards
Starter Decks 7 & 8, plus Delay Promos, Tamers Battle Pack 5, 1st Anniversary Promos, & Pulsemon
Booster Set 6 Double Diamond Cards, the 1st Anniversary Adventure Pack, and more
Booster Set EX-01 Classic Collection, plus Tamer Battle Pack 6 & 7, Tyranomon & dual Zeromaru Promo Cards
Booster Set 7 Next Adventure, Campaign Cards, & Tamers 20th Promo Cards
Starter Decks 9 & 10, plus Tamers Battle Pack 8, Ghost Game Promos, Online Promos, Tamers Evolution Box 1, & Amazon Starter Promos
Booster Set 8 New Hero, Starter Deck 11, plus Tamer Battle Pack 9 & Event Cards
Booster Set 9 X Record, plus Battle Pack 10, Special Promo Pack 2022, Update Pack, & Evolution Box 2
Index of Fun Digica & Card Battle episodes:
Fun Digica English Special Edition Episode #1- Introduction to What is Out Today Episode #2- How to Play Episode #3- Red/Blue vs. Black/Purple Deck Match, Plus New Host Episode #4- Release Info, plus Memorial Pack Promos & Tournament Kits with Promo Cards & Tamer Battle Pack 1 Fun Digica Episode #0- Preview/Announcement of Show Episode #1- Basic Rules Episode #2- Gaia Red Starter Deck Details Episode #3- Cocytus Blue Starter Deck Details Episode #4- Heaven's Yellow Starter Deck Details Episode #5- Starter Deck Battle Episode #6- Starter Deck Battle Part 2 Episode #7- Free Play Battle from Teaching App Episode #8- Rule Questions Episode #9- Starter Deck Battle Part 3 Episode #10- Mixed Deck Match Episode #11- Which Is Stronger? Level Mismatch Battle Episode #12- Booster Set 1 Card Previews Episode #13- Double Starter Deck Match Episode #14- More Parallel Cards Plus Secret Rare Cards Episode #15- Double Starter Deck & Promo Match Episode #16- Booster 1 Unboxing Episode #17- Booster Set 1 Battle Episode #18- Viewer Suggestion Battle Episode #19- Viewer Suggestion Battle Part 2 Episode #20- Viewer Suggestion Battle Part 3 Episode #21- Viewer Suggestion Battle Part 4 Episode #22- What to Say Before a Match Episode #23- Booster Set 2 Card Previews Episode #24- Rule Questions (Part 1) Episode #25- Rule Questions (Part 2) Episode #26- Booster Set 2 Secret Rare & Parallel Cards Episode #27- Booster Set 2 Black vs. Purple Battle Episode #28- Booster Set 2 Unboxing Episode #29- Booster Set 2 Rule Questions Episode #30- Booster 2 Serious Match Episode #31- Booster 2 Match Episode #32- Viewer Suggestion Battle Episode #33- Viewer Suggestion Battle Part 2 Episode #34- Viewer Suggestion Battle Part 3 Episode #35- Viewer Suggestion Battle Part 4 Episode #36- Viewer Suggestion Battle Part 5 Episode #37- Viewer Suggestion Battle Part 6 Episode #38- Viewer Suggestion Battle Part 7 Episode #39- Viewer Suggestion Battle Part 8 Episode #40- Monochrome Tournament Part 1 Episode #41- Monochrome Tournament Part 2 Episode #42- Monochrome Tournament Part 3, plus card previews Episode #43- Monochrome Tournament Part 4- SemiFinals, plus card previews Episode #44- Monochrome Tournament Part 5- Finals, plus card previews Episode #45- Cocolo Double Match Episode #46- Booster Set 3 Card Previews Episode #47- More Cocolo Episode #48- Versus Dannayome Channel with Freedom Evolution Ruleset #48 Followup- Fun Digica at Dannayome Channel Episode #49- Booster Set 3 Super Rare Parallel Cards Episode #50- Booster Set 3 Match Episode #51- Booster Set 3 Unboxing Episode #52- Booster Set 3 Battle Episode #53- Booster Set 3 Battle Episode #54- Booster Set 3 Battle Episode #55- Booster Set 3 Rule Questions Episode #56- Booster Set 3 More Rule Questions Episode #57- Guest in Green vs. Green Battle Episode #58- Booster Set 4 Card Previews Episode #59- Small Tweaks to Starter Decks Battle Episode #60- Booster Set 4 Battle & Booster Set 4 As'maria Parallel Cards Episode #61- Booster Set 4 Match & More Parallel Cards Episode #62- Special Rules (Double Effects) Match with Maguro Episode #63- Booster Set 4 Match Episode #64- New Year's Greeting Episode #65- Plant vs. Blue Source Deck Episode #66- Viewer Suggestion Battle Episode #67- Viewer Suggestion Battle Episode #68- Viewer Suggestion Battle Episode #69- Booster Set 5 Card Previews Episode #70- Viewer Suggestion Battle Episode #71- Viewer Suggestion Battle Episode #72- Secret Rares & Recommended Cards Episode #73- Booster Set 5 Battle Episode #74- Booster Set 5 Battle Episode #75- Booster Set 5 Unboxing Episode #76- 1st Anniversary Parallel Card Vote Winners Announced, 10 Parallel Cards for Booster Set 6 Episode #77- Booster Set 5 Battle Episode #78- Booster Set 5 Match Episode #79- Rule Questions & Answers Episode #80- Rule Questions & Answers Episode #81- Rocks Chiba Wafer DigiCard Match Episode #82- 1st Anniversary Promo Pack Match Episode #83- 1st Anniversary Promo Pack Match Episode #84- Starter Deck 7 & 8 Match Episode #85- 1st Anniversary Adventure Pack Card Previews Episode #86- Match with Rocks Chiba Episode #87- Booster Set 6 Card Previews Update- Cody Leaving New Member Auditions, Part 1 New Member Auditions, Part 2 The New Cohost is... Episode #88- New Cohost Introduction Episode #89 & #90- Matches and EX-01 Previews Episode #91- Match Episode #92 & 93- Match & Booster Set 7 Campaign Card Previews Episode #94- Booster Set 7 Campaign Card Previews Episode #95- Booster Set 7 Unboxing Episode #96- Booster Set 7 Match Episode #97- Digimon Adventure: Match Episode #98- Booster Set 7 Secret Deck Match Episode #99 & 100- Rule Questions & Answers Episode #101- 100 Episodes Special- Highlander Deck Battle vs. Goto P Episode #102- New Effect "Jogress Evolution" Explanation Episode #103- New Starter Decks Match Episode #104- My Deck Demonstration & How Hideyoshi Builds Decks Episode #105- Booster Set 8 Card Previews, and Maybe an Art Easter Egg? Episode #106- Booster Set 8 Card Previews Part 2 Episode #107- Starter Deck 11 Mirror Match Episode #108- Booster Set 8 Unboxing Episode #109- Online Card Event Coverage Episode #110- Booster Set EX-02 Card Previews Episode #111- Booster Set EX-02 Card Previews Part 2 Episode #112- Booster Set EX-02 Unboxing Episode #113- 2021 Look Back Episode #114- Booster Set EX-02 Match Episode #115- Booster Set EX-02 Match Episode #116- Bandai TCG Online Lobby Matches Episode #117- Booster Set 9 Card Previews Episode #118- Booster Set 9 Card Previews Part 2 Episode #119- Cards Looked Forward To Episode #120- Booster Set 9 Unboxing Episode #121- Booster Set 9 Match Episode #122- Booster Set 9 Match Episode #123, 124, & 125- Audience Submitted Decks Episode #126 & 127- Audience Submitted Decks & Starter Deck 12/13 Match Card Battle (Series 1, Tournament) Episode 1 Episode 2 Episode 3 Episode 4 Episode 5 Episode 6 Episode 7 Episode 8 Episode 9 Episode 10 Card Battle (Series 2- News, Battles, & Preview) Episode 1 Episode 2 Episode 3 Episode 4 Episode 5 Episode 6 Episode 7 Episode 8 Episode 9 Episode 10 Episode 11 Episode 12 Episode 13 Episode 14 Episode 15 Large Tamer Exchange Meeting Report Stream Episode 16 Episode 17 Episode 18 Episode 19 Episode 20 Episode 21 Episode 22 Episode 23 Episode 24 Episode 25 Episode 26 Episode 27 Episode 28 Not Quite Digimon Card Battle, Digimon Card Latest Info Update Episode 29 Episode 30 Episode 31 Episode 32 Episode 33 Episode 34 Episode 35 Episode 36 Episode 37 Episode 38 Episode 39 Episode 40 Episode 41 Episode 42 Episode 43 Episode 44 Episode 45 Episode 46 Episode 47 Episode 48 Episode 49 Episode 50 Episode 51 Episode 52 Episode 53 Episode 54 Episode 55 Episode 56 Episode 57 Episode 58 Episode 59 Episode 60 Episode 61 Episode 62 Episode 63 Episode 64 Episode 65 Episode 66 Episode 67 Episode 68 Episode 69 Episode 71 Episode 70 Episode 72 Episode 73 Episode 74