Show User Social Media
Hide User Social Media
Joined

Sep 8, 2006
Messages

16,129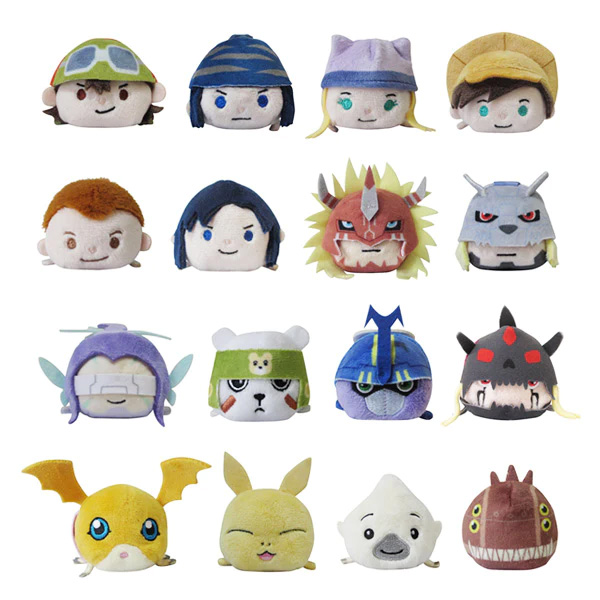 The big wave of Digimon Frontier otedama showed up at Anibirth awhile back in the pop-up shops, and shortly ago on Digimon Partners, but an article didn't get done due to general busyness, but it seemed like a good time to catch up for those who wanted to see them, and potentially order.
In addition, all otedama prices at Digimon Partners have been raised to 825 yen each due to various reasons.
Lots of images for this Otedama set...
The Digimon Frontier otedama
includes all 6 kids, the human spirits for the main 56, Duskmon for Koichi, Neemon, Bokomon, Patamon, and Trailmon.
【デジモンフロンティア】デジデジおてだま
The choices to buy are:
Takuya
神原拓也
Kouji
源輝二
Izumi
織本泉
Junpei
柴山純平
Tomoki
氷見友樹
Koiuchi
木村輝一
Agnimon
アグニモン
Wolfmon
ヴォルフモン
Fairymon
フェアリモン
Blitzmon
ブリッツモン
Chakmon
チャックモン
Duskmon
ダスクモン
Neemon
ネーモン
Bokomon
ボコモン
Patramon
パタモン
Trailmon
トレイルモン
The otedama are roughly 55x47x80mm.
All the Frontier ones look really nice, all the characters come through super well, just great all around.
A few extra bits...
Digimon Partners blocks those from outside of Japan from viewing and ordering their store, so you'll need an intermediary to order for you...
Some intermediaries will want not only want the urls of the items above, but may ask for the product name in Japanese as written on the page. Those names are given above, directly below the pre-order links.
If you want to be sure to nab something...
We've currently pared down the list of intermediaries we list due to some places closing and others becoming iffy in their communication, calling into question their reliability. If you have any stories, positive or negative, about any intermediaries, DM me with them so we can figure out who might be worth adding (or re-adding), since these aren't affiliate links or anything, simply suggested ways to make it easier for fans to nab stuff.
You'll want to contact an intermediary to get these items sent to you. WtW is not affiliated with any, but here are a selection of intermediaries that have worked well for various WtWers and their friends in the past:
From Japan
Rider Proxy
You'll want to provide your chosen intermediary with the link to the item. Just copy paste the link to the product pages for what you want and send them a message about it and they'll take care of it after they discuss pricing and their policies with you. The links embedded in the news article for the products are exactly what you'll need to send them.
Some of the intermediaries have a full storefront and may have the item listed, so you may want to check that first.