Show User Social Media
Hide User Social Media
Joined

Sep 8, 2006
Messages

15,583
Time for another fun one!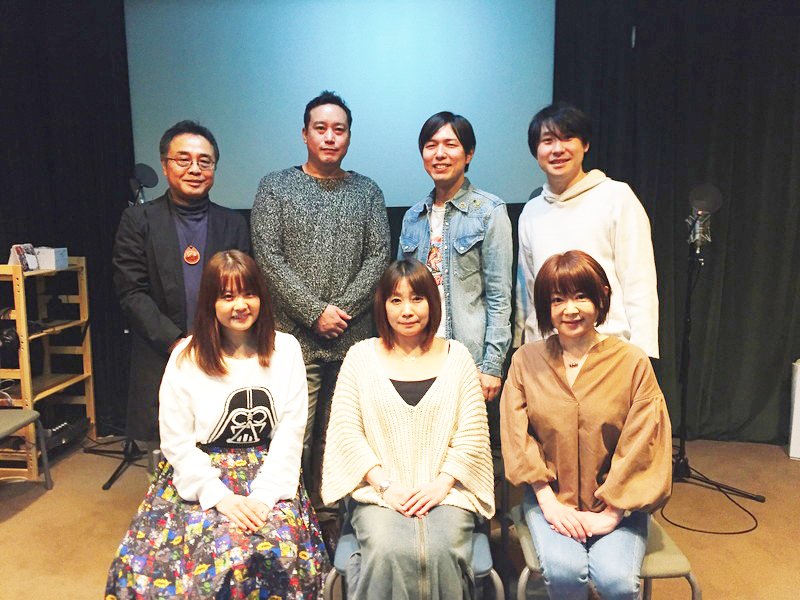 After
the announcement of the title and staff
for the new Digimon Frontier audio drama a few days ago, it was just a matter of time until we got cast info. Luckily the wait was very short!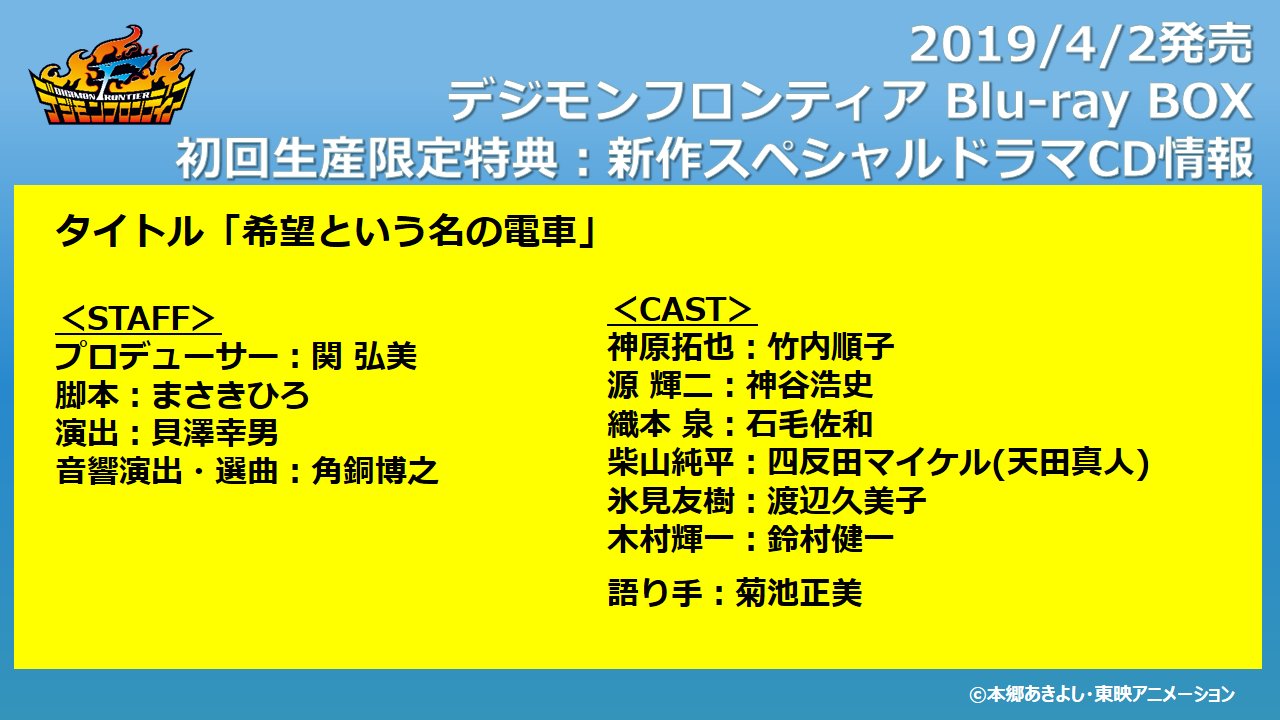 Frontier fans will be very happy with the cast. First up, all 6 cast members for the kids are returning:
Takuya: Junko Takeuchi
Kouji: Hiroshi Kamiya
Izumi: Sawa Ishige
Junpei: Michael Shitanda (This is Masato Amada. He's half American and used to go by Amada as a stage name.)
Tomoki: Kumiko Watanabe
Kouichi: Kenichi Suzumura
The narrator will be Masami Kukuchi. For Frontier fans it's most notable that Kikuchi played Neemon in the series (among a number of other notable characters throughout the franchise.)
The photo at the top is the cast at the recording session for the new audio drama.
In addition, there are comments from the main cast members regarding the new audio drama.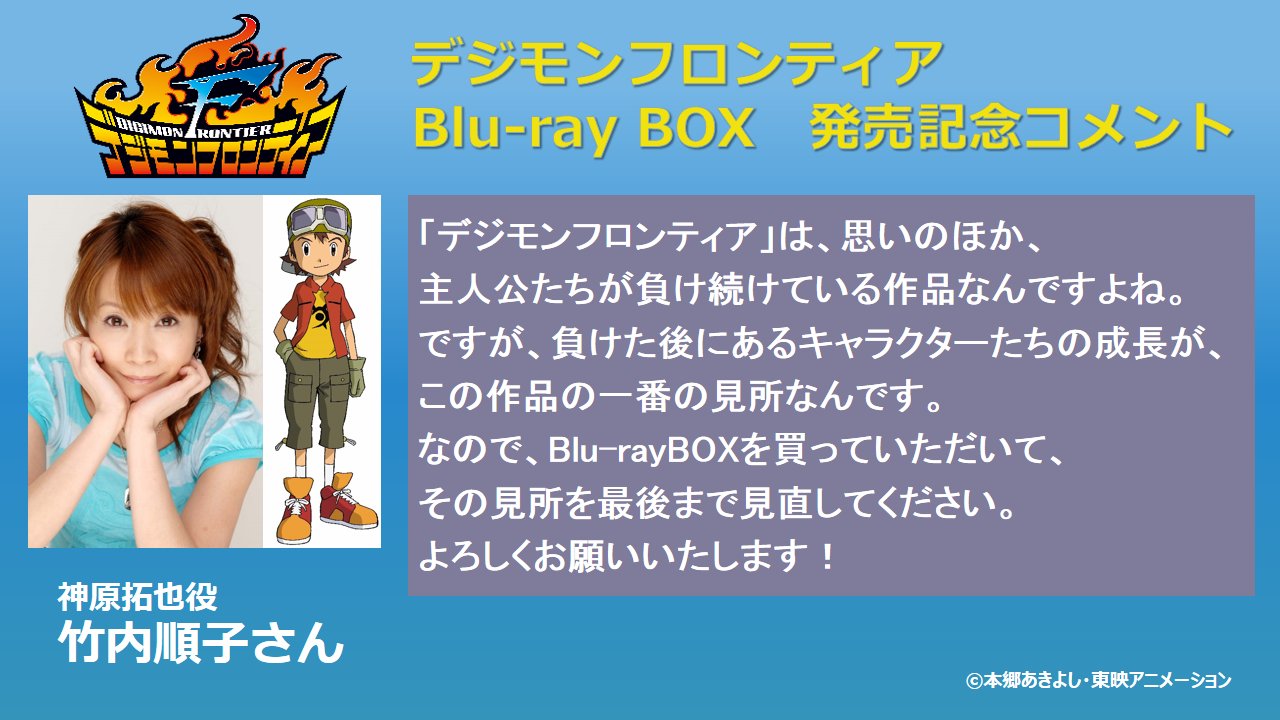 Junko Takeuchi:
In Digimon Frontier, the protagonists are constantly on the losing end, which may come off as surprising. However, I feel that seeing how the characters grow after each loss is one of the highlights of this series. I hope you'll be able to buy this Blu-ray BOX and watch for yourselves all of the highlights this series has to offer. Thank you!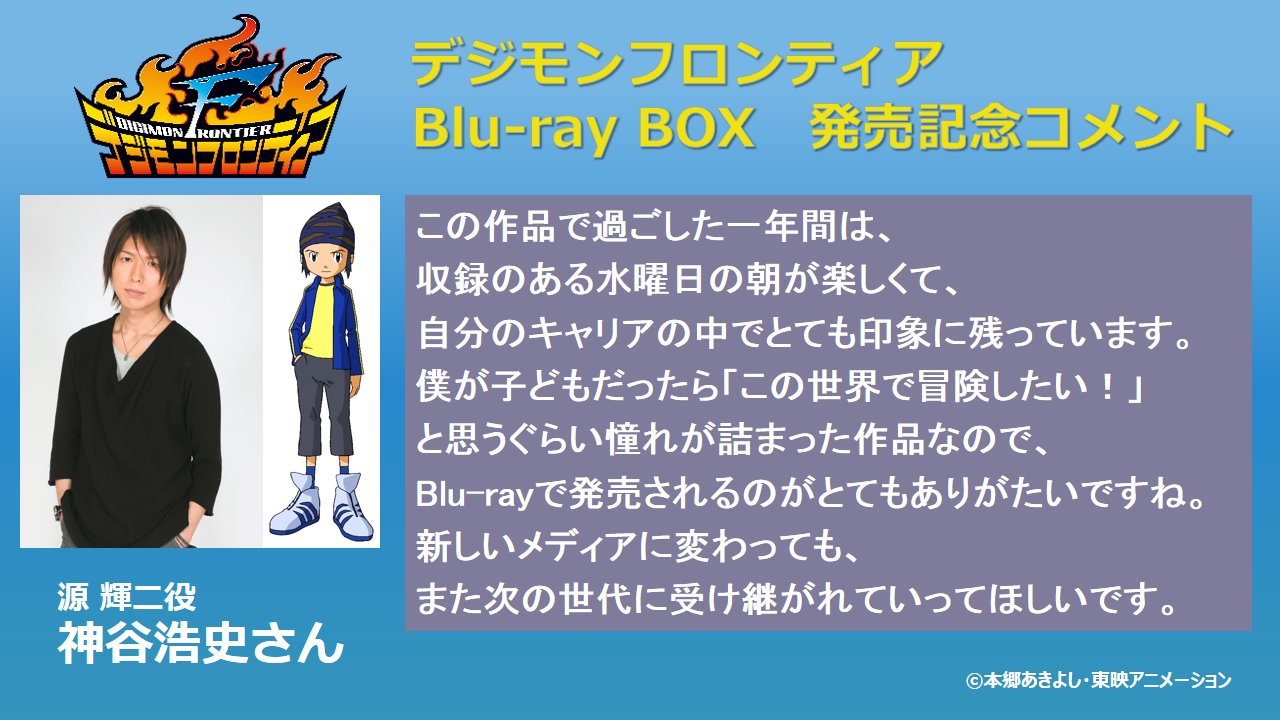 Hiroshi Kamiya:
The Wednesday morning recordings that I enjoyed during this one year run of the series still leaves a deep impression on me, even amongst everything that's happened throughout my career thus far. I admire this series so much that if I were a kid, I'd probably be all "I wanna go on an adventure in the Frontier world!", so I'm very grateful that this series will be collected and sold as a Blu-ray set. Through this new medium, I hope that this series can continue to be passed down to future generations.
Sawa Ishige:
It is a huge honor for me to be a part of a series that has been supported by fans for so long, and I am really grateful to everyone who has continued to support the series for so long. I'd be glad if you could watch the Blu-ray and relive the excitement and enjoyment, as well as be filled with energy, seeing things in a different light as you look forward to tomorrow. This is a series that will stay close to your heart and give you courage 365 days a year, so please enjoy it as much as you can!
Michael Shitanda:
I feel that anime series tell their viewers a message from all the people involved, including the directors, animators, and myself included. As I spoke with fans, I've met people who've told me "this series really cheered me up" or "Junpei's my favorite character". These memories really give us energy, so I'd be happy if you all could continue watching this series over and over again.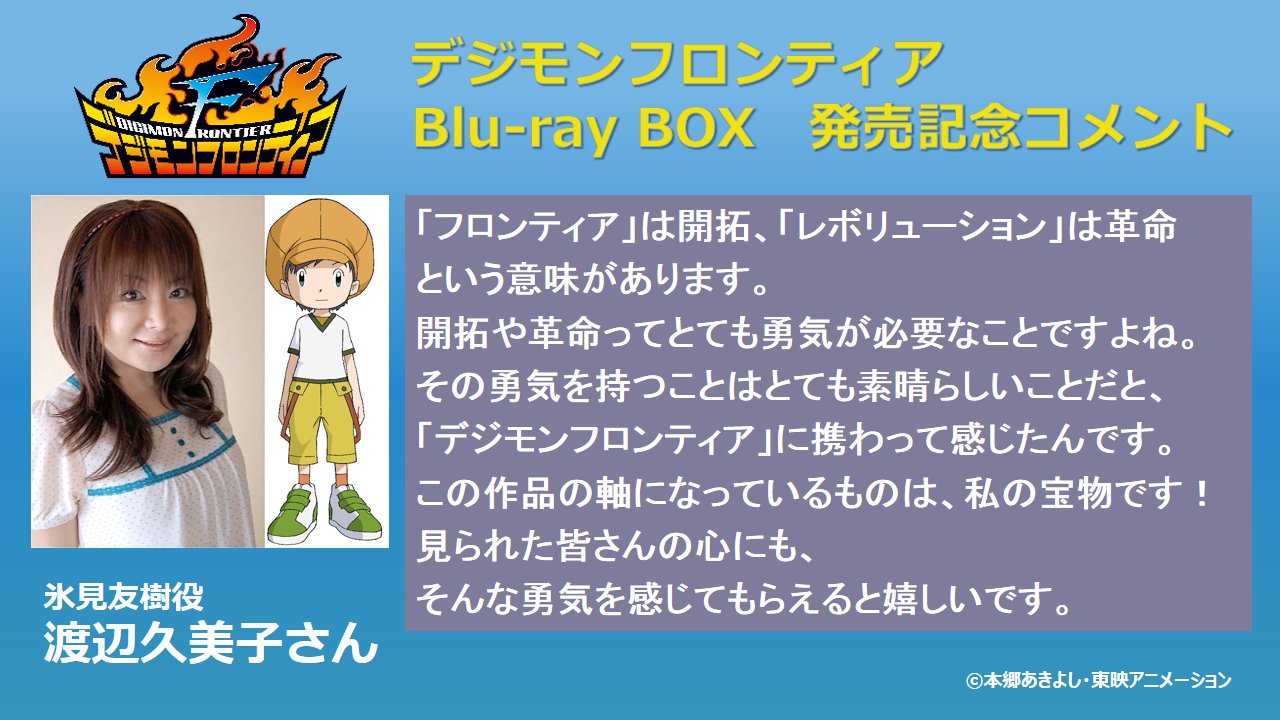 Kumiko Watanabe:
"Frontier" represents breaking new grounds, and "Revolution" represents a complete change for the new. Both revolution and exploring new frontiers require a great deal of courage, and I feel that Digimon Frontier really gets across how wonderful it is to have that courage. It forms the core theme of the series, and I really treasure it! I hope that all the viewers can feel that courage welling up in their hearts as they watch as well.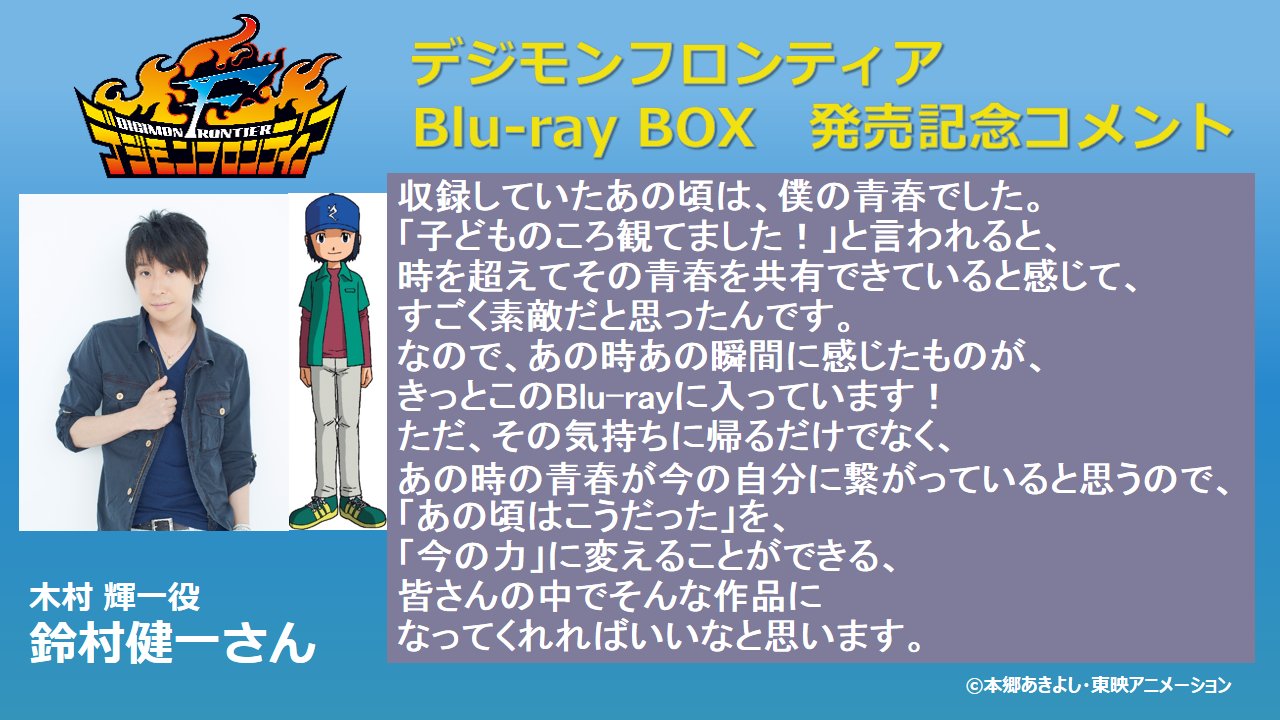 Kenichi Suzumura:
The recording for the series took place back when I was still young. When people tell me "I saw this series back when I was a kid!", I feel as though we shared this same period of youth, unbounded by time, and that's a very wonderful feeling to me. The very same emotions you felt back then as you were watching the show would be packed into this Blu-ray as well! However, we're not just reliving the emotions we felt back then, but also connecting our youth back then to the people we are now. I hope that this series can help us remember how things were like back then, and change that memory into something that gives us strength now.
And last but not least...
A shikishi from all 6 main members of the Frontier cast!
The campaign to win it will run until November 29th.
To win it you follow
the Frontier Blu-ray Box Twitter
and
retweet this tweet
. As is standard, the prize will only be shipped in Japan.
Pre-orders are available for the Digimon Frontier Blu-ray box. It will be available April 2nd, 2019 for 53,800 yen. Early versions of the box will include the new Frontier audio drama that we just received staff info for.
The first link is a CDJapan is an affiliate link that helps the site.
Digimon Frontier Blu-ray Box
Digimon Frontier Blu-ray Box Amazon Edition
- Includes mini shikishi and 6 acrylic keychains.
Update- Added translations of the cast comments thanks to garm.