Show User Social Media
Hide User Social Media
Joined

Sep 8, 2006
Messages

16,452

Digimon Karaoke collaborations have been popular since they began with tri., and this time Frontier gets a go! This time it's once again
with Karatez Karaoke
.
The Ghost Game collaboration
ends soon, and one for the 20th anniversary of Frontier will begin before Ghost Game heads out hte door.
The main key art will be the Frontier 20th art we've seen in a few places so far.
The collaboration will run between July 29th through August 31st at the following Karatez locations: Ikebukuro East Exit Sunshine, Shinjuku Ooguard, Akihabara Showa Street Exit, & Funabashi
First up is the collaboration drink menu.
Each collaboration drink is 612 yen.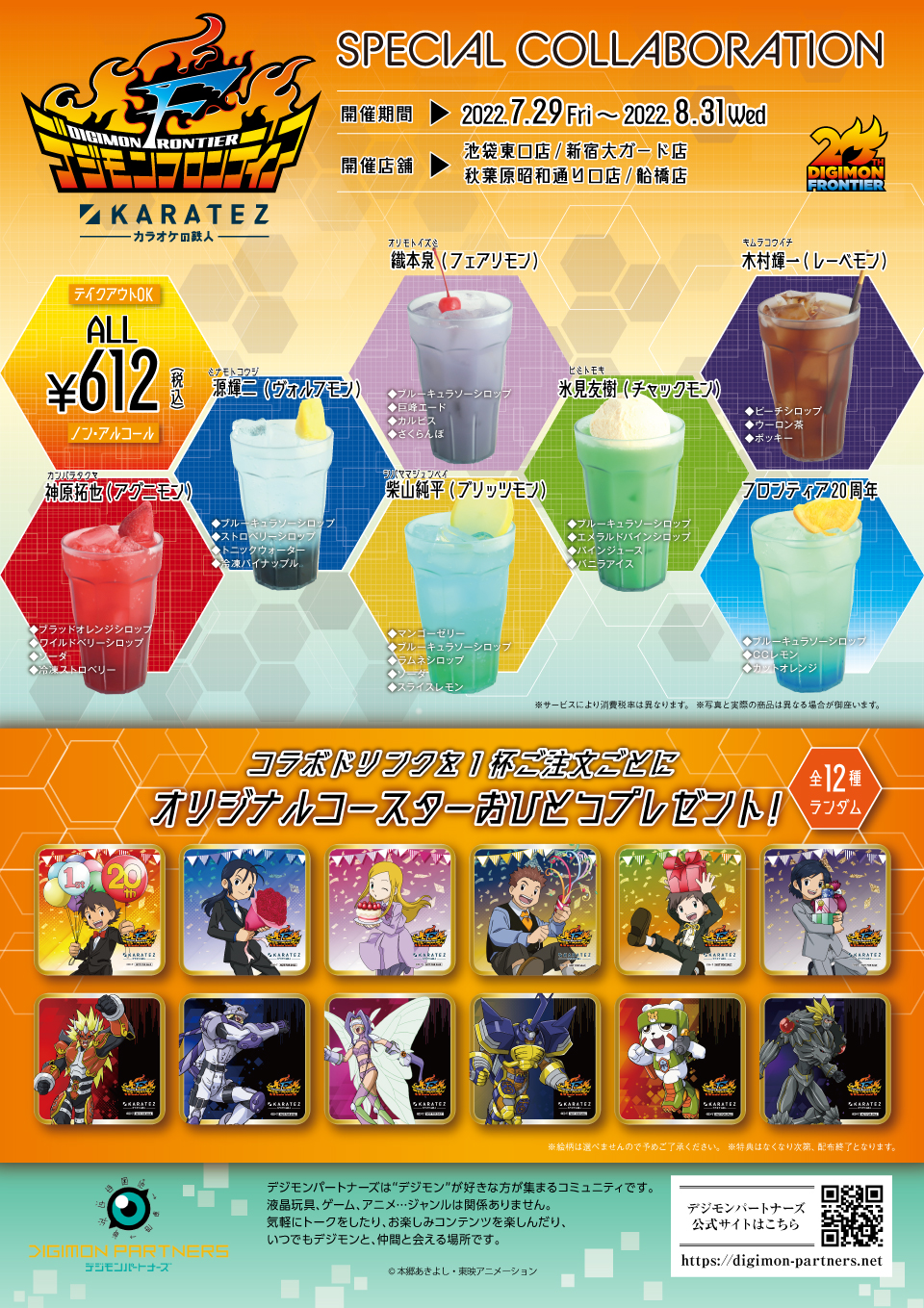 The drinks continue the general style we've seen at collaboration events in the past, with similar flavors appearing.
Takuya- Blood orange syrup and wild berry syrup mixed in soda water and topped with a frozen strawberry
Kouji- Blue curacao syrup and strawberry syrup mixed in tonic water and topped with frozen pineapple
Izumi- Bue curacao syrup and kyoho grape-ade mixed in calpis and topped with a cherry
Junpei- Mango jelly, blue curacao syrup, and ramune syrup mixed in soda water and topped with a lemon slice
Tomoki- Blue curacao syrup and emerald pineapple syrup mixed in pineapple juice and topped with vanilla ice cream
Kouichi- Peach syrup mixed in oolong tea with a pocky stick
Frontier 20th Anniversary- Blue curacao syrup mixed in CC Lemon and topped with an orange slice.
Each drink order gets you one coaster (at random) featuring the artwork of the kids or Digimon (the art of the Digimon I 'think' is new.)
Collaboration drinks can be ordered for take-out, and take-out can be ordered without doing karaoke at the front desk.
Then we have products for sale, which will feature the art of the kids and Digimon. In addition to the 2 collaboration locations, Animate online will also be selling these.
Big can badges will be 660 yen each. There are 12 and they are random packed.
Mini shikishi will be will be 550yen each. There are 7 and they are random packed.
Acrylic stands are 1,650 yen each. There are 6.
Products are only available at Ikebukuro East Exit Sunshine and Akihabara Showa Street Exit.
Animate online orders will be available September 1st through 30th.
And to celebrate them doing it...
They're running a Twitter contest.
For those in Japan to enter:
1-
Follow this account
2-
RT the contest tweet
5 winners will get all 12 coasters. It closes July 29th.
Nice to see Frontier get in on the karaoke game, but would have been nice if they went a little wilder for the 20th anniversary, since this is basically in line with some of the other 'smaller' ones ala, Ghost Game (and even a bit less since it doesn't have the combo set.)
Thanks to onkei for translation help.
A different formation of the key art tile.